Back to selection
NYFF 2017: Let the Sunshine In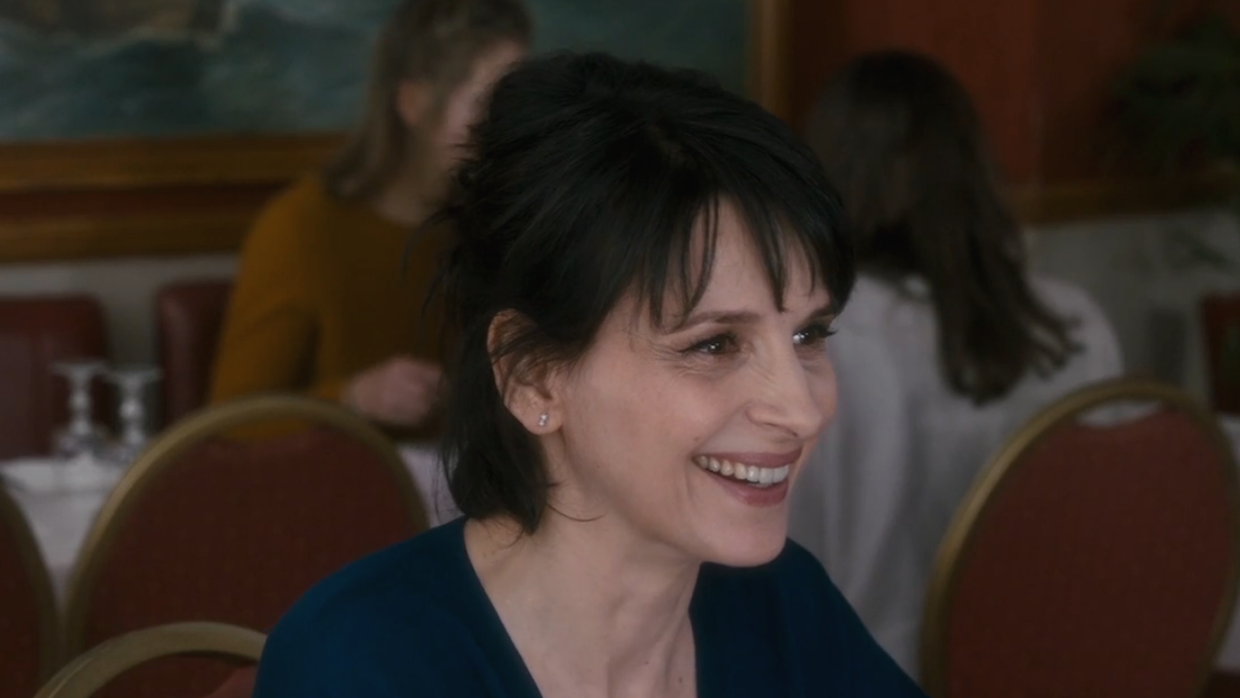 Juliette Binoche in Let the Sunshine In
At Cannes, Claire Denis's Let the Sunshine In (subtitled Bright Sunshine In on the DCP) premiered to many nonplussed reactions. By some considerable measure her talkiest film, Sunshine tracks a painter, Isabelle (Juliette Binoche), as she slams straight from one romantic dalliance into another. That is, effectively, the entire plot: there are a few scenes that do not involve men, but in general the film marches inexorably and restlessly through a series of failed partnerships. The dance and sex scenes are very familiar — Denis still gets defamiliarizingly close to skins and heads — but the rest is not, necessarily. Denis has a track record of being refreshingly nonjudgmental about hooking up (Friday Night is an all-time classic on the topic), and she hasn't suddenly turned condemnatory, but this is not a happy film — Isabelle wants a relationship, or says she does, but marching through a sea of men defective in one way or another does nothing for morale.
Denis's film hit NYFF a few months before the first publication of her co-writer Christine Angot's work in English — fortuitous for me, since I've written so much about Denis over the years that it felt like I'd totally run out of new material. Reading Incest (copies are out there already) clarifies some things about where Sunshine is coming from. A controversial cultural institution in France, Angot practices auto-fiction; the title should be taken literally, but it takes a while to get there. Much of the book marches through a relationship and its end, taking the effective form of a long nervous breakdown. A typical excerpt: "She was crying, I had prepared some lines to read to her: Everything in this world is suffering, only love is a reason to live, Racine tells us it's forbidden. And to explain my recent behavior, Dario Fo: the love of paradox, as is well known, often leads to inconsistency." This furious jumble of impulse, where attraction and repulsion don't quite negate each other, is the film's subject, and while Isabelle isn't precisely Angot, she's not that far off as far as I can tell.
In the book, Angot notes a particular fondness for Jean Eustache, especially The Mother and the Whore, one of the all-time classics of sexual restlessness. It took me a few weeks to figure out what else Let the Sunshine In reminded me of: Looking For Mr. Goodbar, an atrociously made but still fascinating relic from 1977. Diane Keaton plays a young woman who doesn't know what she wants but knows precisely what what she doesn't want, which leads her on a series of hook-ups. The film is disgustingly punitive in its endgame, but it's worth seeing just for Keaton's ferocious performance as a woman who will exhaust and endanger herself rather than ever settle. Sunshine is like that, except much better made and without a moral hammer coming down at the end.
It is also, as I mentioned a few weeks ago, a good companion piece to the Garrel and twin Hongs also playing at this year's NYFF. No surprise that Denis is an on-the-record admirer of both, but til now, her work has never reminded me of them. This is an obdurate film, but in a new way for her: not the bad-mood provocation of Bastards or the structurally foreboding The Intruder, but relentless in its march from one man to the next, compressing or eliding the connective tissue of other parts of daily life entirely (it's impossible to tell what stretch of time Sunshine covers). It's admirable and eminently sympathetic, and I was exhausted by the end. This is not a bad thing.