Back to selection
Brett Morgen on Jane, Syncing Philip Glass's Score to Chimp Sounds and Organizing 140 Hours of Archival Footage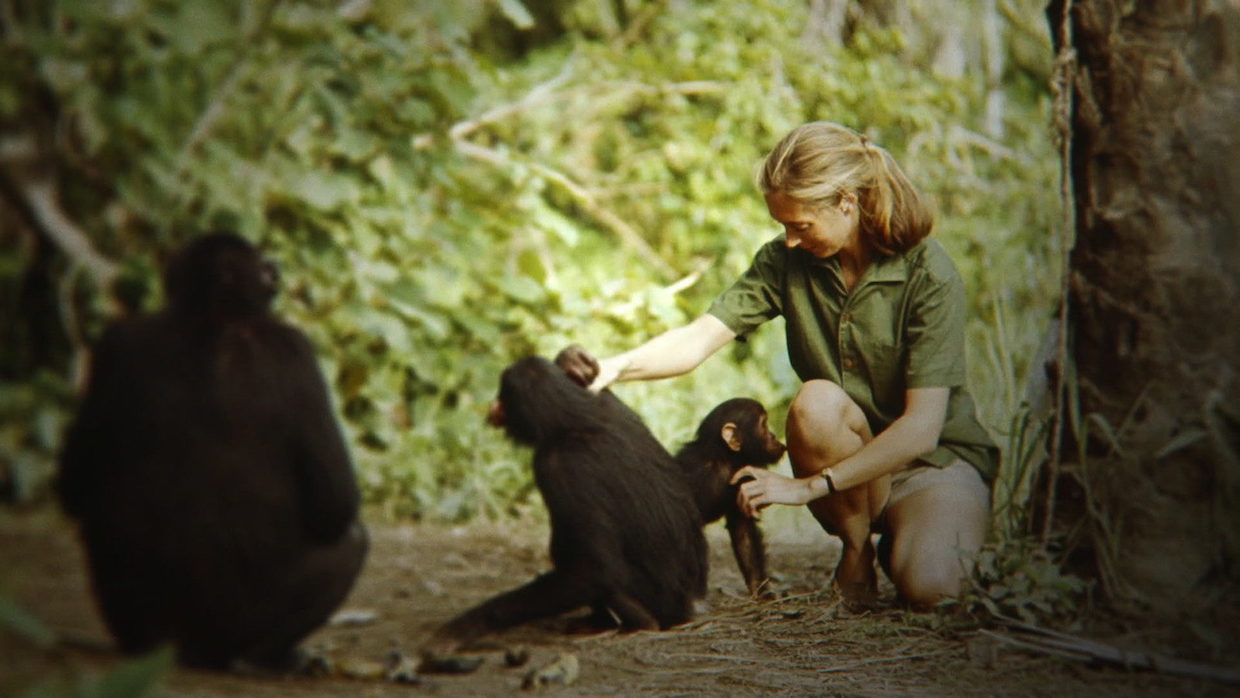 Jane Goodall in Jane
Brett Morgen prides himself on adventurously pushing artistic boundaries in documentaries such as The Kid Stays in The Picture, where he used photo animation to capture Paramount producer Robert Evans' life; Cobain: Montage of Heck, where he integrated the singer's music and sound collages with archive footage and stylised interviews; and June 17, 1994 an episode of ESPN's 30 for 30 series that detailed the sporting events of that day — also the day of O.J. Simpson's police chase — via a 60-minute montage that excluded narration and interviews. He has been Oscar-nominated for boxing doc On The Ropes (1999) (directed with Nanette Burstein) and Emmy-nominated for Cobain: Montage of Heck (2015).
Critical acclaim has again greeted the filmmaker's latest project Jane, which uses National Geographic's never-before-seen 16mm footage to depict chimpanzee primatologist, anthropologist and activist Jane Goodall and her unprecedented research in Gombe in the early 1960s. Using color grading to enhance Dutch videographer (and Goodall's first husband) Hugo van Lawick's footage, which is married here to an emotive score by Philip Glass, Morgen has again created a visionary piece of work. It's also something of a gamechanger for National Geographic Channel US, which, under the new leadership of Tim Pastore, President of Original Programming and Production, is increasing production of larger-scale original content with corresponding theatrical releases. Morgen, who initially balked at the idea of working on "yet another Jane Goodall doc," now credits the channel with giving him the time, budget and creative independence to make the doc he wanted to make.
The film debuted in Toronto, where many, including myself, initially steered clear of watching a nature doc. But after whispers started circulating about the film's understated beauty, I reluctantly made my way into a press screening and left both captivated by Goodall and moved by Morgen's subtle yet affecting "cinematic opera." The writer, director and producer says that while he aims to tell real-life stories using different inventive methods, his projects are ultimately about presenting the past in present tense, something that is now easier thanks to technology, with Jane being a prime example.
The film is currently in U.S. cinemas and will air on National Geographic in 2018. While in Toronto, Filmmaker spoke with the director.
Filmmaker: After working on documentaries such as Cobain: Montage of Heck and The Kid Stays in the Picture, which were both centered around more controversial public figures with darker storylines, what made you decide to next work on a film about Jane Goodall?
Morgen: When I received a call from my agent telling me National Geographic wanted me to work on a film about Jane Goodall, I literally thought they had the wrong number. The whole thing seemed weird to me. I thought, "Why would they want me to direct this?" I was aware of her, but it also seemed like she is in another film every year. So in order to get on the phone with them, I needed them to agree that I wouldn't do this unless I received final cut. They agreed. Even then, I was dragging my feet for months before I agreed to do it. But when they sent me some footage, I remember turning to my assistant and saying, "Can you believe we almost didn't do this?"
Filmmaker: Can you talk more about the archive footage, and the considerable challenges you faced in piecing this film together?
Morgen: I thought this was going to be a documentarian's dream. They [National Geographic] told me they were sending over some drives, the material had already been digitised, we could bring in our editor and start work tomorrow. We were aiming for last year's New York Film Festival, and we totally missed it by a year. Once we started looking at the footage, it became clear that there was 140 hours' worth of shots, and that there were no two consecutive shots that originated from the same camera reel. There was also no chronological — or any kind — of order to the shots. So for example, her study was mainly on one family of chimpanzees, however, there were a lot of chimpanzees and they don't wear name tags. Let me tell you, to make sense of this footage was hell.
To add to this, there was no sound, except occasionally Jane talking to the chimps. So I hired a team of interns to help organise the footage into eight different themes, such as sleeping, eating, grooming and fornicating. That way I had a sense of how to construct the film. I also hired a sound editor to help me sift through the 50 years' worth of audio recordings from the Jane Goodall Institute, with the inevitable task of trying to create synchronised chimp sounds. Our dream was a nightmare.
Filmmaker: The quality of both the audio and the picture is notably pristine and visually stunning. How did you get the material that dates back to the 1960s to look and sound so visceral?
Morgen: It seemed there was a possibility to do something more immersive, to use technologies we have available today both in color grading and audio construction that would allow audiences to feel like they were on a journey with Jane.
With the colors, I did a lot of work, but you can also see the footage was preserved; we did very little to clean it up. It's as good if not better than any film shot in 1962 [when National Geographic hired van Lawick to film Jane's research in Gombe]. It had almost no deterioration, no fogging or the typical stuff I get in archival footage where the colors just disappear or turn purple. Because at the time they shot it, National Geographic knew the relevance of the material. This is one of the most important filmic documents of the 20th century: what Jane unravelled in Gombe in the '60s was this turning point of evolution. The fact that it was all documented in beautiful 16mm reversal film is amazing.
On the sound side, I built a 7.1 mix stage in our office, and worked with a sound editor for two years before we hired our picture editor. I got really lucky in hiring this guy [Josh Paul Johnson] who just graduated from USC. When we eventually hired the sound designer Warren Shaw, who had just worked on Beauty and the Beast, I was assuming he was going to redo half the stuff. But once he saw what we did, he said, "I think we should keep Josh on the project".
Filmmaker: Can you walk us through the timeline and your filmic process, which tends to have a focus on bringing archive footage to life?
Morgen: I started work on this in August 2015, and finished literally the Thursday before the premiere [at the Toronto Film Festival]. We had so much footage in addition to the archive footage, like the impressive 1965 doc Miss Goodall and the Wild Chimpanzees that was narrated by Orson Welles, as well as many of Jane's books. The one thing for me with archival films [is] I read all of the material and I watch all of the footage. Then I write the script and cut the film before I do the interviews. I do it for a very specific reason. If you can cut a film before you layer in your interviews, you are absolutely never going to have a film in which the visuals become a filler for something. Your film will first and foremost speak visually. And then you can take [it] back as you put in the interviews.
Filmmaker: So then what was it like interviewing someone as prolific as Jane Goodall, and subsequently presenting to someone you have never met an already edited version of her life dating back to her 20s?
Morgen: Anyone that makes films knows a film is a collaboration between the subject and the filmmaker. It's an upward battle otherwise — unless you're Nick Broomfield, in which case it's a blessing. Jane had no interest in this — she's written 12 books, she's had films about her going back to 1965, and she is on the lecturing circuit 300 days a year. So when we spoke with her institute for the interview, they were treating us like an ENG crew [electric news gatherers]. They said, "You can film her at this conference and you can have a couple minutes with her backstage." We were like, "We are going to build a set and it's a complicated set-up." Finally, they acquiesced and gave us two days. When we met, she wasn't rude, but she was straight to the point: "What do you want to know?" I think she thought there wasn't anything left for her to say that she hadn't already said.
The best thing for me was when Jane was shown the initial cut of the film. She told me, "My God, you brought me back to Gombe, I feel like I am 26 years old again. I didn't think I could do that." What was incredible is that I wasn't there with her [in Gombe] so I was taking creative license [with temp cards in place of the interviews that noted what Jane would talk about], and yet it resonated with her. She said there wasn't a moment where she felt that's not how she saw this or that. I always find the glibness test is to show a film like this to the subject, to then get a reaction like that makes you feel like it's working out.
Filmmaker: I think one of the most emotive aspects of the film is the score by Philip Glass which is placed over almost every scene in the film. Can you talk about working on such an intensive amount of music, and what it was like collaborating with the legendary composer?
Morgen: My films tend to be operatic, Like with The Kid Stays in the Picture, it opens with red curtains parting as we hear orchestral music. It's a world I feel very comfortable in. With Jane, I knew this was an attempt to create a cinematic opera. Only two composers came to mind, [one being] Brian Eno because of his work on For All Mankind, the film that had the biggest influence on the kinds of films I wanted to make. It was made in 1989 with NASA stock footage, off-camera voiceover from different astronauts and Brian Eno's score. But Eno doesn't score to picture and I knew that would not work, as this film had to be narratively driven.
To me, Jane Goodall and Philip Glass are both titans in their field. They are both in their early 80s, and there's an symmetry to that. He didn't know my work, so I sent him an early sequence we had done with some of his temp score from The Hours. Initially, he fell in love with Hugo's cinematography, but when he sent me the first five cues, he had fallen in love with Jane as well.
My big concern with Philip was his music tends to be cold and we needed a very warm emotional score. We kind of rolled the dice. His first five cues were amazing. I called him up and said, "I am so happy, I am listening to this over and over." And he said "You know, it's alright. You can tell me things you don't like about it." And I told him, "Believe me, we will have a time where that comes up." I think after the first call he thought we would be like this for the whole film. And then we get the next batch and we rejected cues 6 to 31. And so it ended up getting rough. I think he thought it was going to be a two-month process, and it ended up being a six-month process.
Filmmaker: It seemed every cue of Philip Glass's score is perfectly timed with the sounds of the chimps. Was that intentional?
Morgen: It took the first 15 months to have a solid cut of the film, and then we had to keep re-making the film once Philip was on board. I wanted all of the cuts to dance you notice [that] the same way the chimps are hooting and moving is the same pitch as and in synch with the music. In a sense, we used Philip Glass's score to cut the movie so we had a metric montage component. However, when Philip started working with the orchestra, the recording changed — there were certain instruments I was using to cut to that you could no longer hear. I had to go into the stems to pull them out. So we had to edit a complete new pass of the film. Once you started to go down that road, there was no turning back. If you're cutting on the beat for 30 minutes and then three minutes you are not, it's heavily noticeable to the viewer. In my mind, this film could play at the Metropolitan Opera House. It's like Philip created an operatic score for Jane Goodall; it's just we have images as well.
Filmmaker: Where do you place this film within your own larger body of work?
Morgen: This was the first film where I didn't feel like I was challenging existing ideas of nonfiction. When we constructed The Kid Stays in the Picture, to me that is a movie about the essence of documentary filmmaking. The first line in the movie is: "There are three sides to every story — your side, my side and the truth." What I try to suggest in that film is that by embracing the subjective you are achieving a higher truth than by doing an objective portrait. The movie begins, this curtains opens up, and you are in his backyard, but the idea is you are in a theater. The effects we used to show distorted reality and to create sublime imagery to seduce the audience. So everything was a representation of Bob, but also questioning the commentary on nonfiction.
Chicago 10 was one of the first animated documentary films made 00 whatever we didn't have archival footage for, we instead used motion capture animation. And then with Cobain: Montage of Heck, Kurt worked in so many mediums; I was able to use sound design, illustration and music to get inside his head. But with Jane—visually, I knew I needed to be more reserved and, in a sense, more mature with the material. I worked with everything that I love, [like] metric montage and more rapid editing that messes with the pacing. And then color grading, particularly to make certain shots look like they were in different types of climates. And finally with sound — this idea of a cinematic opera doesn't happen that often in narratively invested nonfiction films. [It's] similar to movies like Koyaanisqatsi, that are more essays. However, in this instance, we have wall-to-wall music with this specific narrative that is cutting through. It's unusual, I think.
Filmmaker: Why do you think this film is important now?
Morgen: National Geographic is making changes and is starting to focus more on theatrical experiences, which is something I am immensely passionate about. I think for National Geographic, Jane is also one of their icons. The 1965 doc Miss Goodall and the Wild Chimpanzees was the second TV doc they had done, and it was a huge hit worldwide. They have followed up with her since, so making a film about her makes sense.
I think with everything that is going on right now with Trump and Harvey Weinstein, people want to watch something inspiring. She is a true icon to many women and men. I remember telling National Geographic, "Everyone says they have already seen a Jane Goodall film and they don't feel like they need another one." But I now realize the message of the film is about following your dreams, it's a love story about a woman and her work. The man [van Lawick] gets in her way — he is in service of her work. This film is one of the first times we get to see the cause and effect of her studies and her personal life, and how one impacted the other.