Back to selection
Call Me By Your Name, Strong Island, Get Out Top 2017 IFP Gotham Awards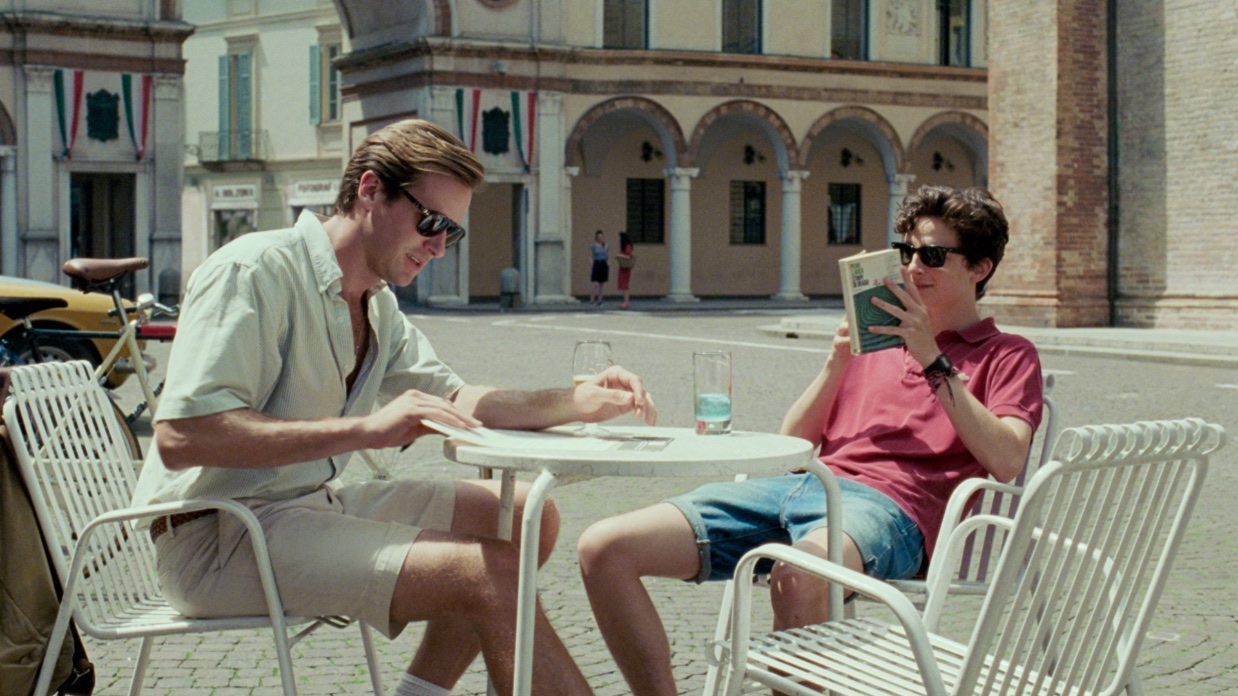 Call Me By Your Name
Luca Guadagnino's Call Me By Your Name and Yance Ford's Strong Island topped the 2017 IFP Gotham Awards, winning Best Feature and Best Documentary last night at a ceremony held at downtown New York's Cipriani. And Jordan Peele's Get Out made a very strong showing, winning the Audience Award, the Bingham Ray Breakthrough Director Award and the Best Screenplay.
The Gotham Awards, presented by Filmmaker's parent organization, IFP, is the first awards show of the Oscar season, and in the past it's been a harbinger of future success for its awarded films. (Previous Gotham Best Pictures include the last three Oscar winners, Moonlight, Spotlight and Birdman.) This year, the Gothams also had the distinction of being the first award show following the wave of news regarding sexual harassment and assault in the film industry, and IFP Executive Director Joana Vicente addressed that issue straight on in her opening comments, hailing the women who have stepped forward and the journalists who broke these stories. And in his opening monologue, Host John Cameron Mitchell eschewed obvious one-liners — "I could have made fun of everybody else, that's what people do at these things, but I wanted to give a pep talk," he said — and gave an "unacceptance speech" that embraced the complexities of the current political and cultural moment. "If all news is fake, then all stories are true, so you have to make the stories good… being a queer guy who survived AIDS, I realized that stories make a difference," he said.
Other on-stage highlights of the evening included Breakthrough Actor winner Timothée Chalamet's passionate acceptance speech, which was the counterpoint to his delicate and subtle Call Me By Your Name performance. He gave shout-outs to his fellow nominees, singling out Mudbound's Mary J. Blige for the inspiration of her success in traversing artistic forms and closed by hailing a list of New York inspirations, who included Blige, the Safdie Brothers, Greta Gerwig and Martin Scorsese.
Also an energetic on-stage presence was Ethan Hawke, who presented a tribute to his close friend, producer Jason Blum. Hawke recalled meeting Blum in the '90s, when Blum was with his ex-girlfriend. When he heard that Blum wanted to be a theater producer, Hawke, who needed someone for his Malaparte Theater Company, thought he should forget about jealousy and bring Blum on. "Every dark night is a lost opportunity," he remembered Blum saying, and went on to speak of all the things Blum would do to make sure the Malaparte space was profitably filled.
Other personal-feeling on-stage remarks included Tributee Al Gore speaking of his friendship with fellow Tribute winner and Nashville neighbor Nicole Kidman, and Tributee Sofia Coppola, who began her thank-yous with one to producer Caroline Kaplan, who commissioned a very early short of hers over 20 years ago.
Director Yance Ford evoked two of the on-screen subjects of Best Doc winner Strong Island — the filmmaker's late brother and mother — in a riveting speech that critiqued a mainstream culture that has rendered the stories of his family invisible before he urged us to get to know them through his film.
Surprise winners included Best Actor James Franco for The Disaster Artist; he dedicated part of his speech to a lovingly enthusiastic tribute to his subject, cult filmmaker Tommy Wisseau.
A complete list of winners follows.
Best Feature
Winner: Call Me by Your Name
The Florida Project
Get Out
Good Time
I, Tonya
Best Documentary
Winner: Strong Island
Ex Libris – The New York Public Library
Rat Film
Whose Streets?
The Work
Audience Award
Get Out
Bingham Ray Breakthrough Director Award
Winner: Jordan Peele for Get Out
Maggie Betts for Novitiate
Greta Gerwig for Lady Bird
Kogonada for Columbus
Joshua Z Weinstein for Menashe
Best Screenplay
Winner: Get Out, Jordan Peele
The Big Sick, Emily V. Gordon and Kumail Nanjiani
Brad's Status, Mike White
Call Me by Your Name,James Ivory
Columbus, Kogonada
Lady Bird, Greta Gerwig
Best Actor
Winner: James Franco, The Disaster Artist
Willem Dafoe, The Florida Project
Daniel Kaluuya, Get Out
Robert Pattinson, Good Time
Harry Dean Stanton, Lucky
Adam Sandler, The Meyerowitz Stories (New and Selected)
Best Actress
Winner: Saorise Ronan, Lady Bird
Haley Lu Richardson, Columbus
Melanie Lynskey, i don't feel at home in this world anymore.
Margot Robbie, I, Tonya
Lois Smith, Marjorie Prime
Special Jury Award For Ensemble Performance
Mudbound, presented to Carey Mulligan, Garrett Hedlund, Jason Clarke, Jason Mitchell, Mary J. Blige, Rob Morgan, and Jonathan Banks
Made in NY Honoree
Michael K. Williams
Breakthrough Actor
Winner: Timothée Chalamet, Call Me by Your Name
Mary J. Blige, Mudbound
Harris Dickinson, Beach Rats
Kelvin Harrison, Jr., It Comes at Night
Brooklynn Prince, The Florida Project
Breakthrough Series – Long Form
Winner: Atlanta
Better Things
Dear White People
Fleabag
Search Party
Breakthrough Series – Short Form
Winner: The Strange Eyes of Dr. Myes
555
Inconceivable
Junior
Let Me Die a Nun