Back to selection
"A Fresh, Intimate Glimpse of Ruth Bader Ginsburg's Life": Editor Carla Gutierrez on RBG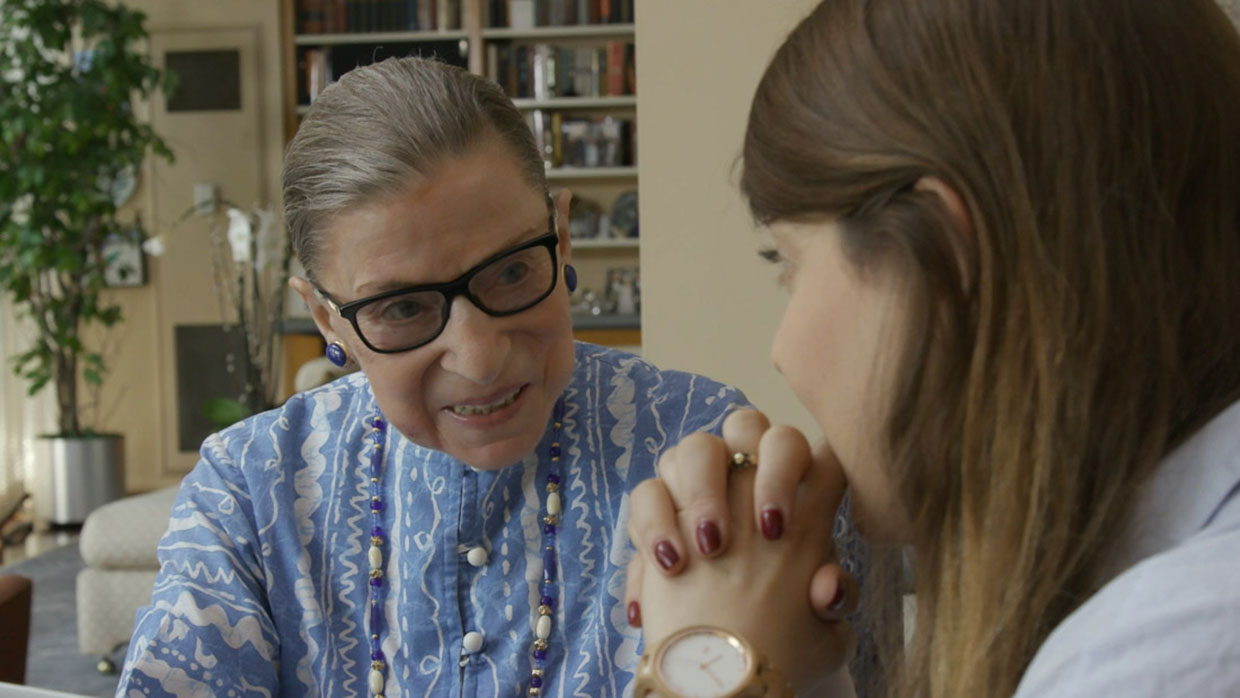 RBG
Carla Gutierrez began her career as a documentary editor in 2006 on Iraq for Sale: The War Profiteers. She has since edited the Oscar-nominated short La Corona, the Emmy-nominated feature Reportero and When Worlds Collide, which won the Special Jury Prize for Best Debut Feature at Sundance in 2016. She returns to the festival having edited RBG, a documentary on Supreme Court Justice Ruth Bader Ginsburg from directors Betsy West and Julie Cohen. Gutierrez speaks with Filmmaker below about blending new and archival interviews and how RBG is a "love story of a woman who strived to accomplish great things and the man who supported her in that endeavor."
Filmmaker: How and why did you wind up being the editor of your film? What were the factors and attributes that led to your being hired for this job?
Gutierrez: I was recommended to RBG directors by someone at CNN Films who was familiar with my work. We met, chatted over tea and I shared a few films I had edited with them. At the time, I was cutting the documentary Chavela, which was built around historical archival and sit-down interviews. RBG was also going to rely upon those elements, and so it was important for them to see how I had constructed some sequences for Chavela. I guess they liked what they saw, which was incredibly fortunate for me. I admired Ruth Bader Ginsburg's work as a Supreme Court Justice, and I was very excited to be able to work with two experienced female directors.
Filmmaker: In terms of advancing your film from its earliest assembly to your final cut, what were goals as an editor? What elements of the film did you want to enhance, or preserve, or tease out or totally reshape?
Gutierrez: It was important for us that the viewer get a fresh, intimate glimpse of Ruth Bader Ginsburg's life and to understand how her personal experiences shaped her identity as a lawyer and as a judge. Many people don't know about the important legal work she did in the 1970s to advance equal rights for women. That part of her journey was a new exhilarating discovery for me, too.
Filmmaker: How did you achieve these goals? What types of editing techniques, or processes, or feedback screenings allowed this work to occur?
Gutierrez: Justice Ginsburg had already told her personal story in interviews many times, but when you marry that narrative with historical and personal archival, you can uncover new emotional insights. Betsy and Julie conducted an amazing interview with Justice Ginsburg, but we also pulled from many archival interviews and talks she has given though the years at public events and law schools. We aimed to create intimacy by drawing from a number of different sources. The segments about her relationship with her husband, Marty, were particularly special to edit. The film in a way is a love story of a woman who strived to accomplish great things and the man who supported her in that endeavor.
Filmmaker: As an editor, how did you come up in the business, and what influences have affected your work?
Gutierrez: I attended the Stanford Graduate Documentary Film Program and quickly realized that what I enjoyed the most was editing. I owe a lot of my creative development to other documentary editors. Right after school I had the fortune to work with editor Kim Roberts on The Fall of Fujimori. That experience taught me a lot about long-form structure. I love talking to other editors about their approaches to building dramatic arcs and problem solving, and I study the work of documentary editors who I admire – re-watching films to understand how they tackle stories.
Filmmaker: What editing system did you use, and why?
Gutierrez: We used Premiere. I learned how to edit on Final Cut, and jumping to Premiere was a pretty smooth transition. I find that as long as the project is well organized from the beginning, things usually run pretty smoothly. I'm all for strict media management.
Filmmaker: What was the most difficult scene to cut and why? And how did you do it?
Gutierrez: It wasn't a scene per se. The challenge was how to approach all the court cases in our film. Before she was a justice, Ruth Bader Ginsburg argued six important women's rights cases to the Supreme Court. It was essential for us to include those arguments, because her words have had a great impact on the lives of women across this country, but legal language can be confusing, complicated and a little dry for us lay people. We worked and reworked those segments to reveal the true power of her words. Betsy and Julie had the fantastic idea of using animation incorporating the actual, text and that helped a lot. There are also many important cases that Justice Ginsburg has heard at the Supreme Court, and the dissenting opinions that have given her the title of Notorious RBG. Our main goal was for people to understand that all these cases have a real impact on our everyday lives. We worked extra hard in the edit to make the legal language approachable and clear.
Filmmaker: Finally, now that the process is over, what new meanings has the film taken on for you? What did you discover in the footage that you might not have seen initially, and how does your final understanding of the film differ from the understanding that you began with?
Gutierrez: I absolutely loved working on this film. It had a strong personal meaning for me as a younger woman. I was shocked to learn about specific laws that bluntly discriminated against women until the late 70s and how little legal protection women had. That's not that long ago. Learning how Ruth Bader Ginsburg and others quietly and diligently took the legal fight to change the law has given me a greater appreciation for the women's movement and for those who have led the path for more gender equality.