Back to selection
"I Wanted My Cinematography to Embrace the Ugly and Mundane": DP Drew Daniels on Arizona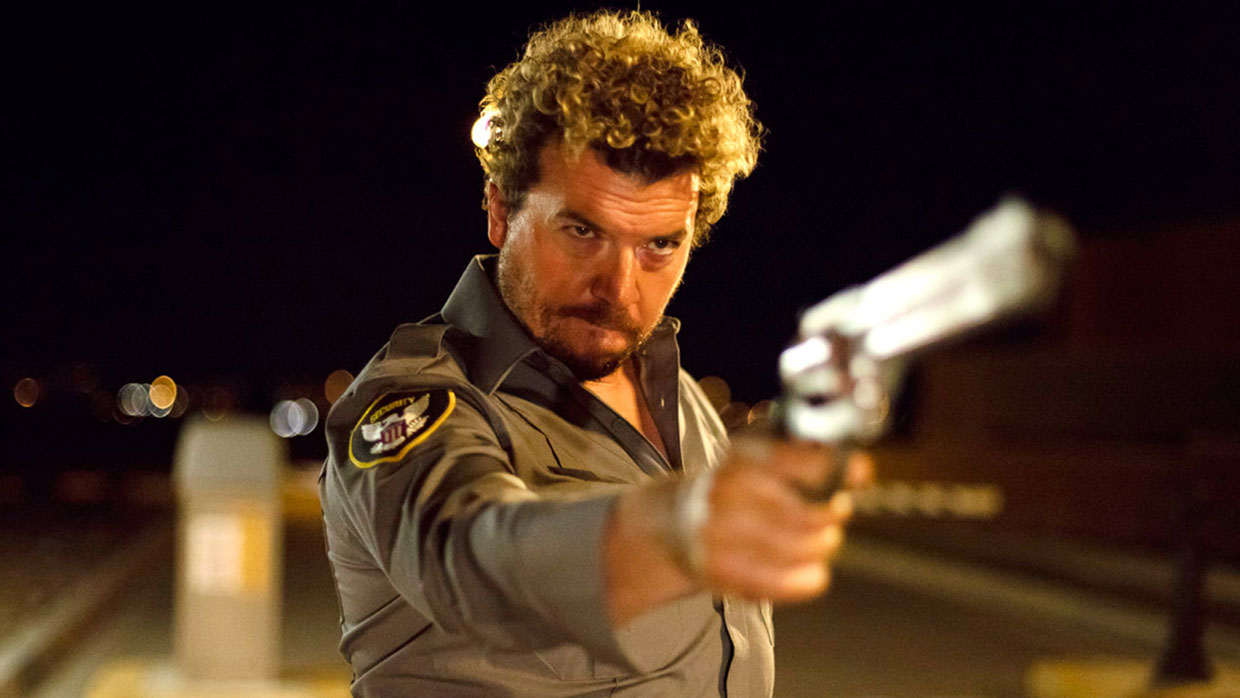 Arizona
Prolific cinematographer Drew Daniels has shot more than 40 shorts and features since 2009. His recent credits include the films of Trey Edward Shults (Krisha and It Comes at Night) and the SXSW-winning short Thunder Road. Daniels was tapped by first-time feature director Jonathan Watson to shoot Arizona, a darkly comic thriller featuring Danny McBride, Rosemarie DeWitt and Seth Rogen. Below, Daniels discusses the film's visual influences, his love of natural light and capturing the "dusty, burnt out quality of the suburban Southwest." Arizona screens in the Midnight lineup at the 2018 Sundance Film Festival.
Filmmaker: How and why did you wind up being the cinematographer of your film? What were the factors and attributes that led to your being hired for this job?
Daniels: I got the job to be cinematographer of Arizona by a meeting set up by my agent, Ann Murphy. I met Jonathan Watson, the director, at a coffee shop by my house and we immediately hit it off.
Filmmaker: What were your artistic goals on this film, and how did you realize them? How did you want your cinematography to enhance the film's storytelling and treatment of its characters?
Daniels: My main artistic goal for this film was to tell the story in a simple, subjective way that wasn't too flashy and didn't distract from the story. I wanted my cinematography to embrace the ugly and mundane.
Filmmaker: Were there any specific influences on your cinematography, whether they be other films, or visual art, of photography, or something else?
Daniels: We had many references going into the film, from No Country for Old Men to Funny Games to Joel Sternfeld's photography in American Prospects.
Filmmaker: What were the biggest challenges posed by production to those goals?
Daniels: The single biggest challenge was the extremely tight shooting schedule full of ambitious action sequences mostly set at night, shooting anamorphic with vintage lenses. It was tough.
Filmmaker: What camera did you shoot on? Why did you choose the camera that you did? What lenses did you use?
Daniels: We shot on the Alexa Mini with Cooke Xtal Express lenses. The director loves vintage anamorphic photography and as this was his first feature, I embraced it 100 percent.
Filmmaker: Describe your approach to lighting.
Daniels: My lighting is usually a subjective, reality based approach. I love natural light, I obsess over it endlessly so I usually start with that then start taking away, but on this film, because we were shooting in New Mexico in the early summer, the clouds would constantly roll in and change the exposure all day long. Because of this, I had to add supplemental lighting but I always tried to make it feel natural.
Filmmaker: What was the most difficult scene to realize and why? And how did you do it?
Daniels: There's a chase sequence in and around a drainage pipe at night. This was a really challenging scene because it was in a tunnel, that was in a ravine, that was prone to flash floods, sudden sand storms, and it was huge. We put the camera at 1600 ISO and used everything from condors with giant LEDs to flashlights to a single butane lighter to light this sequence.
Filmmaker: Finally, describe the finishing of the film. How much of your look was "baked in" versus realized in the DI?
Daniels: I shot the film with a general warm palette and then in post, found inspiration from Joel Sternfeld's American Prospects. Me and my colorist, Damien Van Der Cruyssen, and the director took this and ran with it, and I really like how it came out. It brought out the dusty, burnt out quality of the suburban Southwest.
TECH BOX:
Camera: Arri Alexa Mini
Lenses: Cooke Xtal Express Anamorphic Lenses
Lighting: Available Light, Practical light, LEDs
Processing: Digital
Color Grading: Technicolor/The Mill – NYC with colorist: Damien Van Der Cruyssen