Back to selection
"It Was a Bit of a Scramble Chasing Them All Around the Convention Center": DP Peter Alton on Science Fair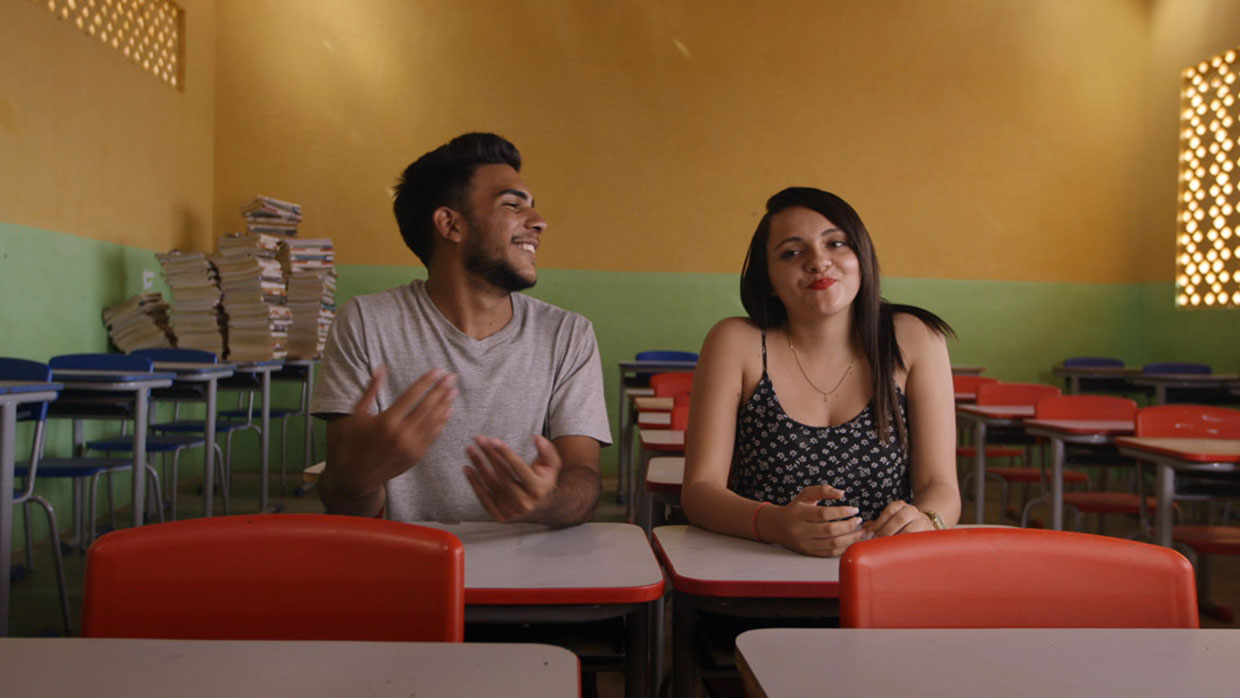 Science Fair
Documentary DP Peter Alton has shot non-fiction pieces on El Chapo, Tupac Shakur and the history of violence along the U.S.-Mexico border. Alton was hired by directors Cristina Costantini and Darren Foster to shoot Science Fair, which premieres at the Sundance Film Festival. The film follows nine students as they arrive at the 2017 International Science and Engineering Fair in Los Angeles. Alton spoke with Filmmaker about his intimate, unobtrusive approach to filming documentary interviews and action.
Filmmaker: How and why did you wind up being the cinematographer of your film? What were the factors and attributes that led to your being hired for this job?
Alton: I had worked with Darren Foster on Borderland for Al Jazeera America, on a documentary about gold mining in Colombia for Discovery and on drug stories for Vice News. He passed my name along to Cristina, and we started talking from there. Above all, I think I was able to tune into their vision of what the science fair was like.
Filmmaker: What were your artistic goals on this film, and how did you realize them? How did you want your cinematography to enhance the film's storytelling and treatment of its characters?
Alton: Rather than impose any personal vision on these kids and their homes, I wanted the kids and their home towns to stand out. I wanted interviews to be intimate rather than overly graphic and presentational. Most of the action is shot in a vérité style, but at times we used slow motion to build tension.
Filmmaker: Were there any specific influences on your cinematography, whether they be other films, or visual art, of photography, or something else?
Alton: I think having shot a lot of news pieces has had a strong influence on my doc shooting. I always prefer standing back and filming a scene as it unfolds, working with the light and the subjects to find interesting moments in a real unobtrusive way that supports their personalities, hopes, or fears.
Filmmaker: What were the biggest challenges posed by production to those goals?
Alton: Time was the biggest challenge for me. Following so many subjects in so many locations gave us limited time with each subject. Also, with so many subjects running around the fair, it was a bit of a scramble chasing them all around the convention center.
Filmmaker: What camera did you shoot on? Why did you choose the camera that you did? What lenses did you use?
Alton: Because we were such a small crew, we shot with my Canon C300 MK II as the main camera, with an additional MK II camera and a Canon C300 as additional cameras. The Canons are extremely versatile, have great audio inputs and controls, and the MK II has the option to shoot 12-bit 444. For lenses, we used Canon L series zooms. Interviews were mostly shot with a Canon 50mm L series prime.
Filmmaker: Describe your approach to lighting.
Alton: I tried to expose for the location and used one soft light to improve what was going on naturally. I used a small assortment of diffusion, Muslins and blacks to shape the light.
Filmmaker: What was the most difficult scene to realize and why? And how did you do it?
Alton: While following the team from Brazil, we met with doctors and children affected by the Zika virus. I found it very challenging personally to turn a camera on those kids and their parents.
Filmmaker: Finally, describe the finishing of the film. How much of your look was "baked in" versus realized in the DI?
Alton: We shot log and added our look at the end. We intended it to play naturally and not comment on the subjects.
TECH BOX:
Camera: Canon C300mkii, Canon 300, DJI Phantom 3
Lenses: Canon L series primes and zooms
Lighting: Available Light Westcott Flex LED light panels
Processing: Digital
Color Grading: Kevin Cannon at Different by Design, DaVinci Resolve Pro