Back to selection
DP Kirsten Johnson on Filming the Kronos Quartet Documentary A Thousand Thoughts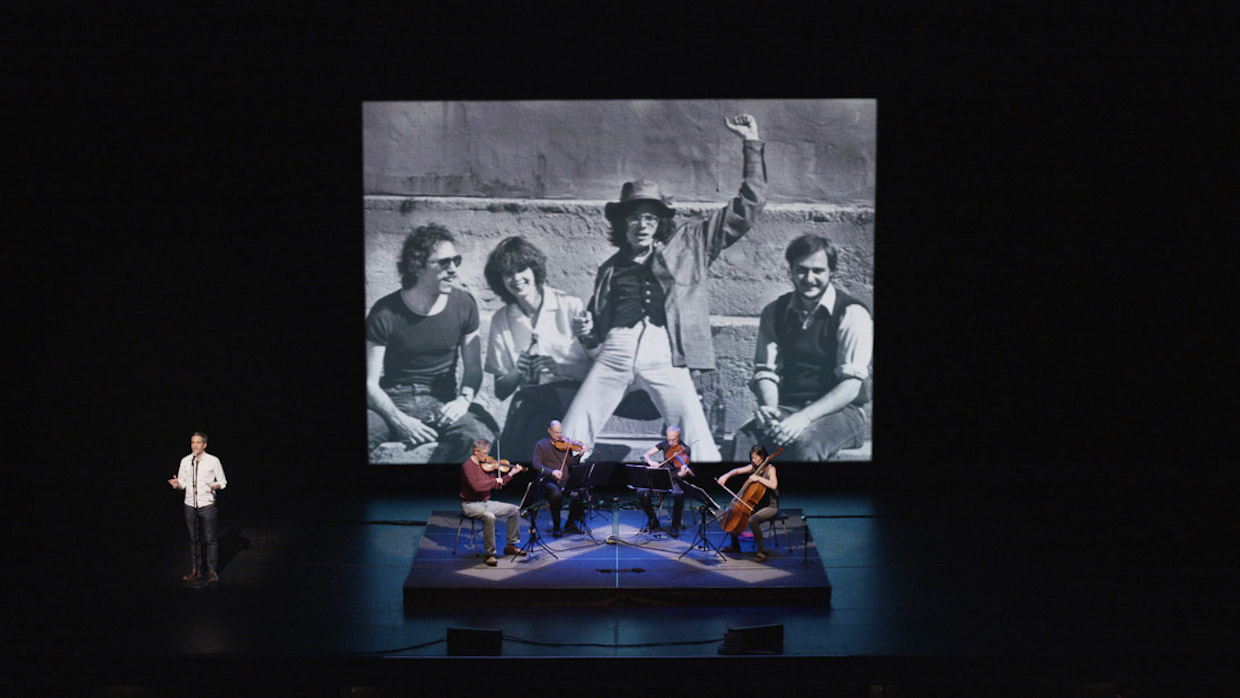 A Thousand Thoughts
Kirsten Johnson was among the most in-demand documentary DPs even before her much-celebrated 2016 film Cameraperson. Johnson has shot more than 50 films for such directors as Laura Poitras, Alex Gibney and Kirby Dick. Her latest film, A Thousand Thoughts, is a doc on the Kronos Quartet from directors Sam Green and Joe Bini. The film will be presented at Sundance as a "live documentary" with Green narrating live and the Quartet conducting the score in person. Before its premiere, Johnson spoke with Filmmaker about finding innovative ways to film a concert and how a shot from Cameraperson wound up in A Thousand Thoughts.
Filmmaker: How and why did you wind up being the cinematographer of your film? What were the factors and attributes that led to your being hired for this job?
Johnson: Sam Green is sui generis. With a giddy grin, he makes connections between ideas and people like nobody else does. I've attended his live stand-up documentaries as long as he's been making them because there's nothing like being in his presence and experiencing the joyride of his curiosity. Years back, I invited Sam to a rough cut screening of mine. In that piece, he saw a long tracking shot I did of the shadow of an airplane landing. He raved about it and said he wanted to use it in something he was making at the time. I was totally taken aback by the chutzpah. He wanted to use a shot that I was already using in my movie! But because it was Sam asking with such genuine enthusiasm all of a sudden I loved the request. It made me think in new ways about how shots can come from anywhere and function like elements in a collage. It made me wonder about why I was so proprietorial. Those thoughts, like the thousands of thoughts Sam generates with this project, became a part of the wondering that made Cameraperson. Turns out, that shot didn't make it into that film of his, but it did make it into Cameraperson and now into A Thousand Thoughts at the length I always wanted to show it at but couldn't make work in Cameraperson. I particularly love this because it means that Cameraperson is not only made of shots from movies that pre-existed it, but it is also made of shots that would come from movies that had not yet been made, like this one! I really wanted to shoot with Sam because I wanted to be in the relationship of creating with him. It meant a lot to me that he wanted to work with me, because he was already working with spectacular people like the wonderfully talented Pete Sillen and his great crew at C41, and he also ended up working with the incredible Yoni Brooks. Along with all of the archival material in the film, the visual elements of A Thousand Thoughts come from many different eyes!
Filmmaker: What were your artistic goals on this film, and how did you realize them? How did you want your cinematography to enhance the film's storytelling and treatment of its characters?
Johnson: Sam was really interested in ways the audience could feel connected to the inner lives of musicians and composers. We wanted a naturalism and intimacy in people's presence, but we also wanted the contexts to reflect some of the aspects of what music is and does. We were interested in symmetry, chaos, repetition, gestures, precision and obsession.
Filmmaker: Were there any specific influences on your cinematography, whether they be other films, or visual art, of photography, or something else?
Johnson: The joy of working with Sam is that he is a tender omnivore. Everything interests him and he is constantly searching for the invisible threads that connect ideas. One of the definite influences for me in this project were Sam's own notebooks, in which for some reason I don't know, he draws a vertical line down the middle of each page. I came to think of the people at the center of our interview shots as expressions of that vertical line down the middle, giving some kind of graphic unity to all that is difference and chaos. When we filmed Tanya Taqaq, I had the impression that a whole world of people and spirits climbed right out of her mouth and it was almost as if that vertical line was splitting down the middle to reveal yet one more set of worlds contained within.
Filmmaker: What were the biggest challenges posed by production to those goals?
Johnson: Sam had a stated purpose of making the shooting of this film as pleasurable as possible. He did that by making time for thoughtful conversations about what we hoped to do and what it might take and leaving lots of time in shoot days to do what we needed to do. We talked extensively and pleasurably before and after shoots. Probably the biggest challenge was my impossible schedule. Sam stayed the course of always finding a way for me to show up for prep meetings and it made all the difference.
Filmmaker: What camera did you shoot on? Why did you choose the camera that you did? What lenses did you use?
Johnson: As often is the case with documentaries, we worked with the camera we did because Sam had good friends who were willing to lend him one. The great folks at C41 provided all of our gear and for all of our New York shoots we were able to work with the extraordinary Sam Schnorr. Sam S. allowed Sam G. and me to really spend time thinking about where we wanted to shoot by taking into hand all of the camera set-up as well as the lighting. When we shot on the West Coast, the equally extraordinary Forrest Pound (who has excellent rope-tying skills which served us with our crazy teleprompter set-up) assisted us. We used the RED Epic as principle camera, and a makeshift teleprompter with a 5D to create the direct to camera address.
Filmmaker: Describe your approach to lighting.
Johnson: We were trying to keep the light soft and naturalist, so we used available light, Joker 800s with chimeras and kinoflos. Many of the spaces we were in had a great deal of natural light that couldn't be controlled over the course of our many-hour interviews, so several times I just let the natural changes in light happen. This was totally the case with the interview with David, the founder of Kronos, which also happened to be one of the most magical and riveting interviews I have ever shot. The changing light felt a part of the very aliveness of his descriptive powers.
Filmmaker: What was the most difficult scene to realize and why? And how did you do it?
Johnson: Our big challenge was to film a Kronos performance and make it look different from ways concerts are conventionally shot. We decided to film in slow motion and I ended up only being interested in very odd fragmentary moments of the hands and instruments. I remember Sam looking over my shoulder, laughing, and saying "Well, I asked for different!"
Filmmaker: Finally, describe the finishing of the film. How much of your look was "baked in" versus realized in the DI?
Johnson: As he completes the film in time for Sundance, Sam is currently working with his longtime color timing collaborator Ayumi Ashley to bring a rich density to the images. One more of the great pleasures of working with Sam is meeting the many people he has worked with for years. For Sam, filmmaking is about friendships, and somehow I think that is visible in the images of A Thousand Thoughts.
TECH BOX:
Camera: RED Epic
Lenses: Cooke primes 18, 25, 50, and 75
Lighting: Available Light, HMI Jokers, Kinoflos
Processing: Digital