Back to selection
"I Would Receive a Call Hours Before a Potential Shoot": DP Alex Pollini on Filming Seeing Allred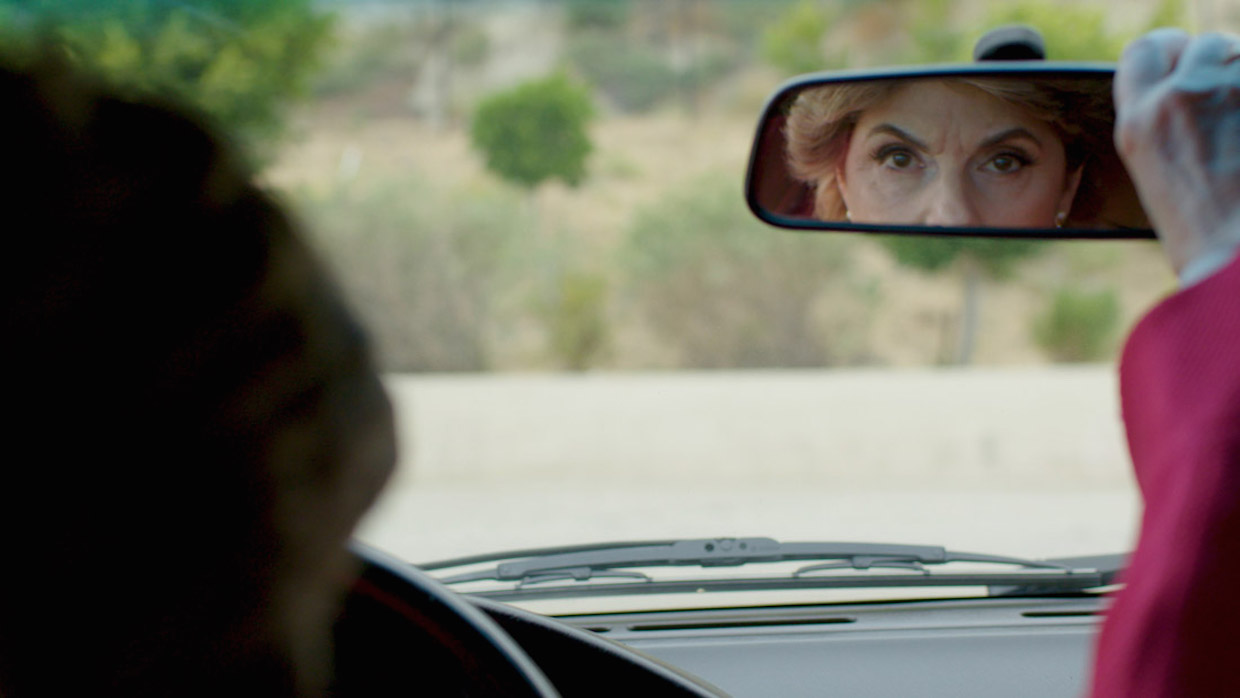 Seeing Allred
From directors Sophie Sartain (Mimi and Dona) and Roberta Grossman (Above and Beyond) comes Seeing Allred, a documentary portrait of famed women's rights lawyer Gloria Allred. The film premieres at the 2018 Sundance Film Festival and will reach Netflix on February 9. Sartain and Grossman tapped Alex Pollini, a DP on many shorts, including more than 30 for CollegeHumor, to shoot the film. Below, Pollini discusses his experiences capturing Allred in her private moments "outside of the press conferences and big public events."
Filmmaker: How and why did you wind up being the cinematographer of your film? What were the factors and attributes that led to your being hired for this job?
Pollini: I was introduced to directors Sophie Sartain and Roberta Grossman through a friend and colleague, Harris Done. During the film's infancy, shoot days were sporadic and unpredictable. We didn't have access to Gloria's schedule and as events would unfold I would receive a call hours before a potential shoot. Over the course of the first several months of production, I had developed a relation with Gloria and the directors. This level of comfort between subject matter and myself secured my position as the cinematographer as the film gained momentum.
Filmmaker: What were your artistic goals on this film, and how did you realize them? How did you want your cinematography to enhance the film's storytelling and treatment of its characters?
Pollini: After learning of Gloria's life work, I realized the press and public had a myopic view of her. My goal was to offer an alternative perspective into Gloria's world: the life she lived outside of the press conferences and big public events. I wanted to take an honest and organic approach with the cinematography through a cinema vérité style. Unlike the clinical and static imagery the public sees of Gloria on the news, I wanted the camera to move dynamically and have a personality. In doing this I hoped the audience would connect with her on a personal level, to understand her purpose and passion for civil rights activism.
Filmmaker: Were there any specific influences on your cinematography, whether they be other films, or visual art, of photography, or something else?
Pollini: Not specific influences, but numerous discussions about story and characters.
Filmmaker: What were the biggest challenges posed by production to those goals?
Pollini: Access to a lawyer is a challenge from a legal standpoint, though Gloria and her clients' willingness to speak on camera elevated this film as a social and political call to action. I am grateful for the individuals who shared their intimate stories with us.
Filmmaker: What camera did you shoot on? Why did you choose the camera that you did? What lenses did you use?
Pollini: In the initial days of principal photography, we shot with a Canon 5D MKIII with Canon lenses. As the project developed, we moved to a Sony FS7 paired with a Canon 17-120mm Cine Servo. We used the Cooke Mini S4IS prime lenses for interviews. I chose the Sony FS7 for its versatility and high frame rates. Also, with Sony's Slog3, I had the option to use a Sony A7SII in moments where a smaller and more guerrilla setup was required.
Filmmaker: Describe your approach to lighting.
Pollini: In documentaries like Seeing Allred, my lighting is often dictated by the environments where we're filming. Outside of interviews, I typically embraced natural light. I intended to shoot in a manner in which the light tells the story or portrays a character's personality.
Filmmaker: What was the most difficult scene to realize and why? And how did you do it?
Pollini: The most difficult scenes were stepping into Gloria's world outside the office – to capture the intimate moments of her personal life. The goal was for the imagery to be honest and genuine. In my opinion this comes from building trust with the subject matter. We had three years to develop this relationship with Gloria and capture those moments.
Filmmaker: Finally, describe the finishing of the film. How much of your look was "baked in" versus realized in the DI?
Pollini: The DI process involved basic saturation and contrast adjustments to the Slog3 color profile. The documentary's color is honest to the environments in which we filmed. The film was colored at Light Iron Hollywood.
TECH BOX:
Camera: Sony FS7, Sony A7S II, Canon 5D MK III
Lenses: Canon 17-120 Cine Servo, Canon 24-105, Cooke Mini S4I
Lighting: Available Light, Arri Skypanel, Litegear Litemats
Color Grading: Light Iron Hollywood