Back to selection
"We Never Managed More than Three Takes on a Shot": DP Benjamin Kracun on Beast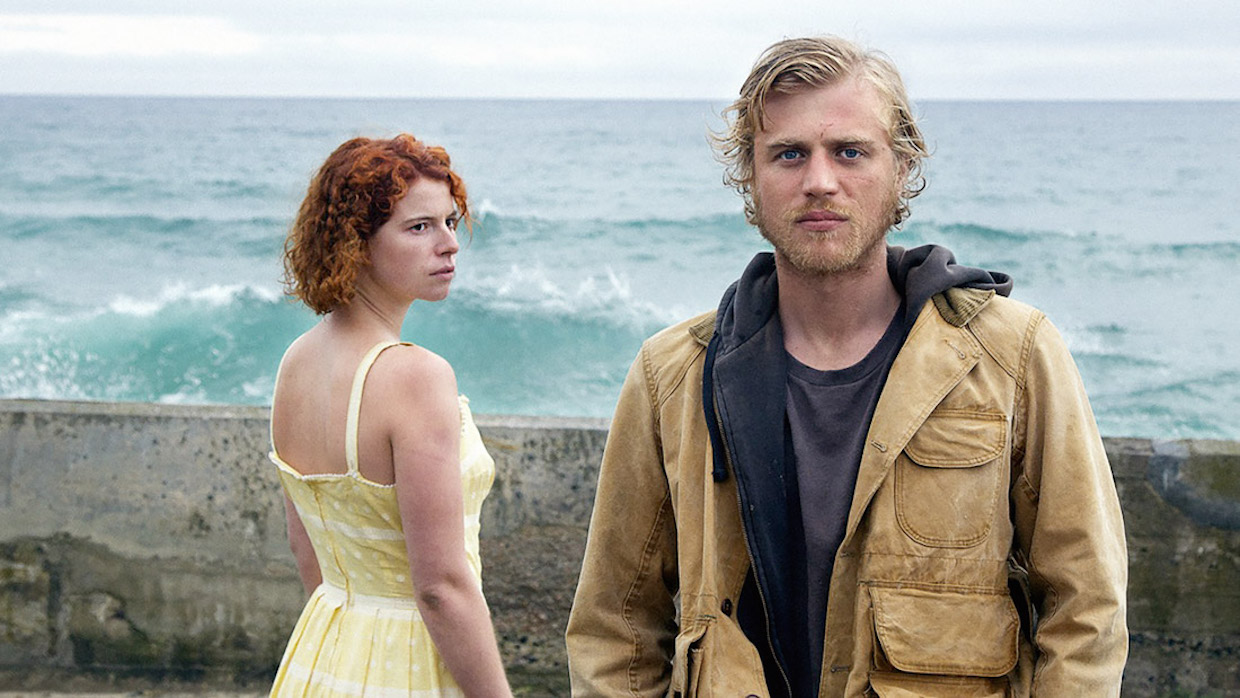 Beast
The debut feature from writer/director Michael Pearce, Beast arrives at the Sundance Film Festival after having screened at festivals in Toronto, London, Thessaloniki, Stockholm and elsewhere. The film takes place on a small island in the English Channel and chronicles an intense relationship between between two outcasts: Moll (Jessie Buckley) and Pascal (Johnny Flynn). Pearce hired his longtime friend from film school Benjamin Kracun to shoot Beast. Below, Kracun shares his thoughts on filming this romantic psychological thriller.
Filmmaker: How and why did you wind up being the cinematographer of your film? What were the factors and attributes that led to your being hired for this job?
Kracun: I've known Michael 12 years now; we first met at the National Film and Television school in London 2006. We had a joint obsession with world cinema and trying to soak up as much of it as possible. We became close friends and subsequently I ended up shooting all his short films. We quickly realized we had a similar visual taste and developed a shorthand very quickly. When we finished shooting the short Rite, Michael mentioned about wanting to make a film loosely based on the Beast of Jersey and in some indirect way we've been discussing and prepping since then. That was eight years ago.
Filmmaker: What were your artistic goals on this film, and how did you realize them? How did you want your cinematography to enhance the film's storytelling and treatment of its characters?
Kracun: Beast is a romantic psychological thriller with dark fairy tale coating. We wanted to slowly build the tension throughout and twist reality as the lines between reality and nightmare become more hazy. Although the budget was modest we wanted to create a cinematic experience with an ambitious and bold style. The world in Beast is a real and recognizable world but we wanted to elevate the tension and psychological moments. In the opening few minutes I used a few key track & zooms to isolate Moll (Jessie Buckley) and suggest that all is not as comfortable as it looks, slowly bringing the film into a heightened reality. Moll's family life is controlling, claustrophobic and oppressive; to show this I used a lot of oblique and off framing.
In contrast we filmed the love story as intense, tactile and wild. Pascal's (Johnny Flynn) character appears to be free and live by his own rules, so the camera would be free and responsive. This was key to making the audience side for the love story even if Pascal may be a killer. I love a subjective camera, and as Moll's world begins to turn on its head I wanted to visually emphasize that.
Filmmaker: Were there any specific influences on your cinematography, whether they be other films, or visual art, of photography, or something else?
Kracun: Over the years Michael and I have discussed many films and watched many films together and most importantly we share similar aesthetic sensibilities, which we developed through making shorts. I have a huge bank of images I collect, some from films, some photos, art work, etc., and at the start of a project I like to put together a look book. We would share lots of references back and forth, we watched films but often more in line with a scene than an overall reference. Dogtooth, Badlands for example and Point Break (original version), but that always seems to be a reference as its Michael's favorite film.
During prep we came across a photo series The Curiel Sisters by Robi Rodriguez. It's about three sisters who never married and stayed together forever in the same house. It's a beautiful series, especially for lighting. Out of context the images have quite an ominous feeling; all the shots are day interiors but the curtains are closed or half closed and the faces of the sisters illuminated by the practical tungsten lamps, creating a sinister warm up light. I really liked the daylight and tungsten mix; I played with similar ideas in Moll's home environment.
Filmmaker: What were the biggest challenges posed by production to those goals?
Kracun: The ambitious nature of the script verses a modest low budget meant we had to be creative from the beginning. There are a lot of big scenes in Beast and no contingency. As everyone will know who has worked on low budget, often there's no getting a location again or bringing some actors back and dropping scenes isn't an option as the schedule has no breathing space. So you get one go. Meticulous prep and creative scheduling became key. Some shots we would only have one take, it was crazy. I think for sure we never managed more than three takes on a shot. You wouldn't get a sense of this watching the final film as the amazing performances from all the cast, especially Jessie; her performance was so mesmerizing. I think after the first take of the shoot everyone was stunned. She set the bar so high and in turn the crew followed. We all pushed each other, It was a great way to film.
Filmmaker: What camera did you shoot on? Why did you choose the camera that you did? What lenses did you use?
Kracun: We shot on the Arri Alexa XR with Hawk APL C Anamorphic lenses. Due to the dark fairytale-esque element and island setting we always felt strongly about shooting anamorphic. Wide landscapes just seem to work on anamorphic. The Hawk APL lenses are vintage lenses with a lot of character, full of great aberrations and imperfections. Combined with the Alexa sensor I think it became a very filmic combination. They are tricky lenses to work with on set: the front element moves when you focus, they breathe, they're not the lightest for handheld and they're not very fast in low light. I should have ran a mile, but in testing I really fell in love with the look. The 60mm for example could be used wider more objective but as you moved in closer it had this subjective nature to it, perfect for singling out Moll and seeing the world through her eyes. Ultimately the character they bring to the picture is worth dealing with their tricky nature.
Filmmaker: Describe your approach to lighting.
Kracun: I always like light to be motivated and more often than not natural in feeling. I heighten the light depending when I want to emphasize an emotion or psychology. The great thing about the Beast script was it had a very strong psychological element and the story is told from Moll's perspective. This meant as Moll's reality becomes more blurred I could heighten reality. Nightmares and reality begin to mix and the undertone of a killer on the loose meant that at specific moments the light also could become very subjective. I did this by adding heightened splashes of bold color into certain scenes to emphasize the emotion. I play a lot with light and dark, often keeping foreground darker in the more tense moments.
Filmmaker: What was the most difficult scene to realize and why? And how did you do it?
Kracun: The climactic sequences from the car stunt to the night exterior required meticulous prep from all departments. It was weeks of planning, a lot of recce's and mapping out. Three separate stunt vehicles, stunt drivers, tracking vehicles, a role cage, a camera in a crash box and one chance to shoot it all. It was a tense evening but the stars did end up aligning.
Filmmaker: Finally, describe the finishing of the film. How much of your look was "baked in" versus realized in the DI?
Kracun: I'm from the school that you get as much and as close to what you want in camera. Also in my experience the director and editor choose what works from the rushes, so getting it as close and baked in is good practice. We were lucky enough to work with Rob Pizzey at Gold Crest in London, he is a fantastic grader with an amazing attention to detail. In prep we had a LUT made up that was based on older Kodak stock, that got us into a really strong ballpark for the shoot. In fact we actually went back to it in the final grade, and we were really only enhancing what was there, as the springboard was already set.
TECH BOX:
Camera: Arri Alexa XR Plus
Lenses: Hawk APL C-Series. Angénieux Anamorphic Zoom
Lighting: Tungsten, HMI and Natural
Processing: Digital RAW
Color Grading: Gold Crest London