Back to selection
From Euromaidan to the Naked Cowboy: The 15th Docudays UA International Human Rights Documentary Film Festival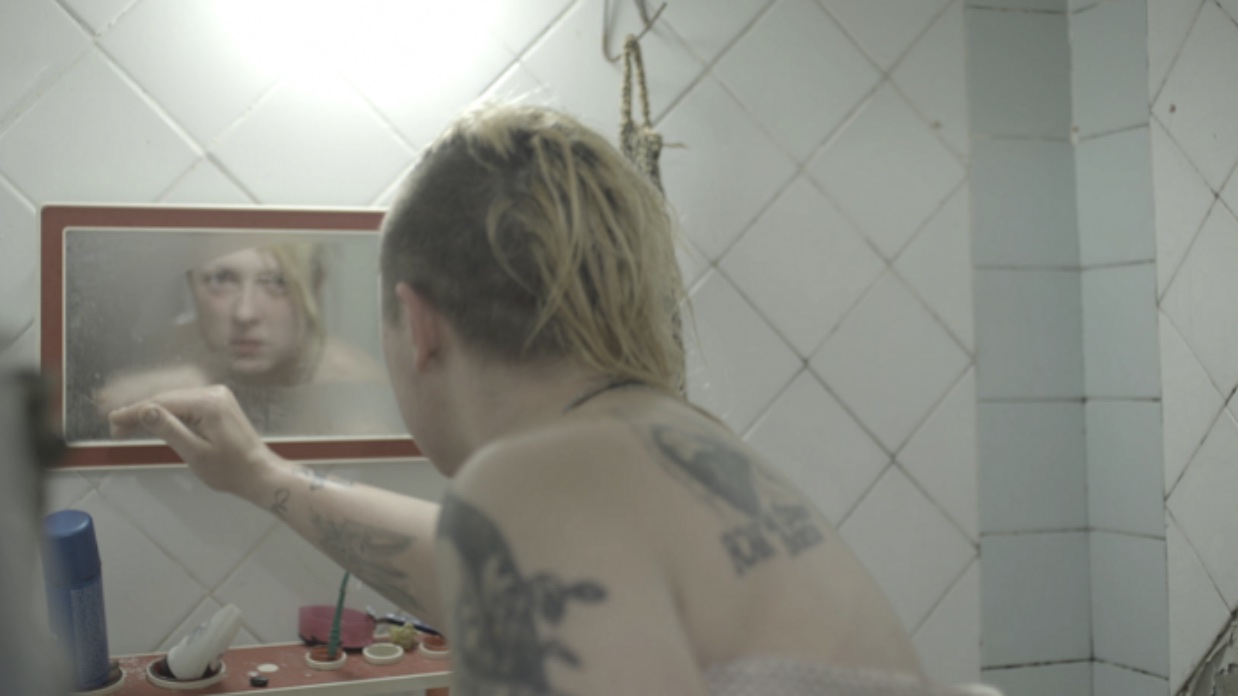 Women in War
Covering this year's Docudays UA International Human Rights Documentary Film Festival (March 23-30), a 15-year old event held primarily in Podil, an eclectic artists' hub (think Kreuzberg or Williamsburg on the cusp of gentrification) and one of the oldest neighborhoods in Kiev, was an experience both endlessly inspiring and completely surreal. And though I've attended other fests in once communist countries (Camerimage in Poland, Karlovy Vary in the Czech Republic), my first visit to Ukraine also marked the first time at an international fest that I found myself fully aware of my otherness. (Possibly because I was the only American in attendance.) And the first time the host country's current events colored every screening, each discussion and random encounter. Indeed, the Euromaidan Revolution had overthrown the government of Viktor Yanukovych just four years prior, and the subsequent War in Donbass still rages today. The ongoing conflict with Russian separatists (and the Kremlin), as the locals told me over and over, is a "sensitive" topic.
To say the least. I learned this lesson on my initial day at the festival, when I took part in an international film critics' panel and expressed surprise at the Ukrainian government's decision to award 50% of all government funding to "patriotic films." To my American ears it sounded suspiciously like state-sponsored propaganda, as if Ukraine itself was taking a page from its archenemy's playbook. Without thinking I made an off the cuff remark about finding any form of nationalism "disturbing."
When the conversation eventually opened up to include questions from the audience the first came from a young man who responded passionately to my globalist outlook. If Canada suddenly invaded the US and annexed our northern border states I might have a different view of "nationalism" he noted carefully, then added that the war is a "sensitive" subject. While the Canadian comparison seemed a bit off the mark, I couldn't help but think of US nationalism right after 9/11. I was in NYC when the towers came down, and while I wasn't exactly championing the Bush administration's insane response, I probably would not have liked to hear that the banding together of my nation (and especially my beloved city) after being attacked was "disturbing." Right then and there I decided to shut my mouth and open my ears. And learn as much as I could about how a human rights film festival functions in the historic space between a heady revolution and the uncertain outcome of a border-changing war.
Fortunately, Docudays UA happens to be one of the most impressive, participant friendly and professionally run fests around — starting with our Premier Hotel Rus guest lodging, an efficient, three-star hotel with all your typical western amenities, plus a free farm-to-table style breakfast buffet. (My partner for the "Poetry in Documentary" talk, longtime journalist/critic/programmer Luciano Barisone, even received the added bonus of breakfast with a mercenary there one morning. Or at least some wannabe from Tennessee, who presented the former director of Visions du Réel with a handmade business card touting his military background and shooting skills — if not his grammatical expertise, as he spelled "shooters" wrong.) There was also the cozy and welcoming Zhovten Kino (October Cinema) headquarters where most of the films and events took place. (And which also served free homemade lunches daily in its attached café. That said, every food option in Kiev seems to be farm-to-table. I've never been in a country that eats so few processed goods.)
And within an hour of mentioning to my topnotch press liaison Iryna that I was hoping to explore some sights of the city and get a sense of where the festival fit into its surrounding environment, I found myself in the company of a twenty-something volunteer named Daria Sposobna – an enthusiastic, proud Kiev native who could easily hire herself out as a tour guide and/or serve as city ambassador. (Later in the week when Daria was busy Iryna also managed to wrangle yet another tireless volunteer, Yesenia Vitenko, to walk me over to the Ukrainian National Chornobyl Museum. My normally terrible sense of direction is nonexistent in Cyrillic.) Daria went above and beyond the call of intern duty, showing me around the different neighborhoods for hours that afternoon, explaining the history behind everything from the various stunning monasteries, to the recent re-embracing of Soviet style architecture, to how the city has changed since the Maidan protests. It had become less dog-eat-dog, less capitalistic in many ways. A new, shared sense of national identity, and of a community coming together to take care of one another, had sprung up from the pain. (Independence Square, by the way, looks much smaller than the newscasts would have it. I also didn't realize that the protests happened right next to the luxury, western shopping district.)
I was especially taken with the streets around the Zhovten cinema, though. Podil's hodgepodge of high-end stores, crumbling Soviet-era buildings, and centuries-old, graffiti-filled edifices is remarkable. (They don't get rid of anything in Kiev.) I felt like I was back in Berlin, when I visited a few years after the wall came down. Kiev is a city filled with young idealists who think anything is possible. And why not? They just toppled a dictator, after all. The post-revolution excitement mingled strangely with the heavy tension of the war.
I also learned that the city's current mayor, the former boxing champ Vitali Klitschko (whose brother Wladimir I interviewed back in 2011 — the only time a chat with a heavyweight boxing champion of the world has ever graced the Filmmaker site) has a habit of cycling around Kiev to prove his everyman bona fides. Since he's the brother I've long had a crush on I fleetingly thought about camping out at city hall. But of course, I was there to check out films, not keep an eye out for biking boxers. And Docudays UA certainly boasted more than enough to keep even the most jetlagged doc geek energized.
There was the Rights Now! program (which was actually six programs dedicated to subverting stereotypes by investigating "the most common inequalities from different perspectives"), the two DOC/PRO open pitches (B2B DOC: Producers Meet Producers and Civil Pitch: Civil Activism Films), and the wide-ranging DOCU/CLASS section to inspire newbie filmmakers. There was also the Living Library (a movement started in Copenhagen, in which humans are checked out instead of books!) and even something called DOC/SADOC, an educational and play center for kids from 3-6 and 6-14 (including those with special needs), expanding their young minds while moms and dads attended screenings.
And while the lineup included many stellar standouts (such as opening night's A Woman Captured, whose director Bernadett Tuza-Ritter I interviewed prior to the film's Sundance premiere, and Mila Turajilic's The Other Side of Everything, one of my IDFA finds) I was most curious to check out the selections in the DOCU/UKRAINE competition, hoping to watch some current events unfold onscreen a mere 20-minute walk from where they happened. (Talk about an immersive experience!)
Three films in particular stood out for a wide range of reasons. First was Igor Minaiev's The Cacophony of the Donbas, an amusing and lighthearted (and filled with dark humor), cinematic meditation on this suddenly-thrust-into-the-headlines region. B&W archival footage, which later gives way to Soviet propaganda in lush color, including from Dziga Vertov's films, alongside a grave male voiceover initially introduces us to Donbas as the regional heart of the Soviet "myth" of the working class. "New people, new technical standards," Stalin declared, and Donbas as the quintessential mining hub featured prominently in this narrative. The heroic laborers of the USSR worked and lived their cookie-cutter lives here, families all watching the same state TV channel together — "which continuously broadcasts Swan Lake," as the narrator drily notes.
While the state presented the miners as living wealthy lives more suited to corporate executives (the narrator describes them as appearing like "demigods") the reality of course was much bleaker. These "perfect" men had one sole "fault" — alcoholism — that the USSR naturally had a remedy for: Hypnosis. "Blind members of the party welcomed blind young people to the working class," the narrator says as archival footage of such absurdity actually happening plays in visual (pun unintended) metaphor across the screen. And we haven't even gotten to the propagandistic miner musicals yet.
The real miners, meanwhile, were taking to the streets in protest, grumbling to TV cameras about not even having enough soap to clean themselves with. These images surely had more influence on Gorbachev's mindset than Reagan ever did — as he soon caved in to all their demands. Next thing you know a female singer in a cheesy music video is celebrating businessmen over "penniless boys." A photographer tells the camera, "It is not the change of clothes that's important, but the change of one myth into another" before we're treated to his arresting pictures of the miners. Their blackened faces and manly bodies are now costumed in ballet wardrobe — including tutus, and often naked or nearly so. Cut to modern day Donbas, the Russian invasion, and the return of Soviet propaganda. None of which stops everyday life, including weddings — flowers and Kalashnikovs on proud display. It's an inventive, highly artistic cacophony indeed.
The second competition film I saw also happened to tackle this region, albeit in a more direct way. With strong camerawork and sound design, Masha Kondakova's Women in War is a straightforward, fascinating portrait of the Ukrainian female soldiers currently training and fighting — and being injured and irrevocably changed — alongside the men at Donbas. (All volunteers with no prior military experience, Kondakova's three main protagonists, like many of their male counterparts, just showed up for service after having been radicalized during the Euromaidan.)
A striking scene of camouflage-clad ladies filling a grand hall at an International Women's Day celebration — ironically, to listen to a tone deaf male politician laud them for adding strength to the military even as he references them with condescending terms like "beautiful" and "girls" — makes one ponder how a sexist society squares championing its women warriors. The men in their units don't seem to care that they're women, and treat them as equals. (One soldier even telling his tatted-up female counterpart that she has "big balls.") Yet these female soldiers can only fight in the ragtag "anti-terrorist" units at the front lines, in the most dangerous zones. Ukrainian gender bias prevents them from joining the National Guard or the regular military. (Though in the end, and in no small thanks to these fearless trailblazers, we learn that Ukraine now allows them to officially serve.) A kid visits his mom at the front line, a kitten sits beside a Kalashnikov — it's moments like these that capture the paradoxical lives of women fighters. Ultimately, Kondakova has provided us with an insightful, eye-opening look at a headline-grabbing conflict through a new, much-needed female point of view.
Polar opposite in tone, form and topic to Women in War, my third top pick of the DOCU/UKRAINE lineup was also the surprising (though refreshing) winner of the competition. The war was most certainly not first and foremost on the minds of director Dmytro Lavrinenko nor his protagonist Zhenya, a middle-aged, working-class Ukrainian who must visit America every year to maintain his green card. Whereufrom is a daringly edited, insane collage of this lovelorn street cleaner's life, addictive in its odd moments — like when an old man approaches Zhenya on the street as he's sweeping to ask if he's seen the lower dentures that he'd lost the night before. Or when Lavrinenko cuts from the Naked Cowboy in Times Square to Zhenya vacuuming his apartment in his underwear. Zhenya himself is an unconventional character, hoarding whatever Soviet-era items (everything from diving gear to porn) he finds at work, and casually stealing the food and wine that relatives have left at the graves of their loved ones, eating and drinking his way through cemetery tombstones as if at a street fair.
A fascinating addition to the usually predictable, video diary genre, Lavrinenko's film seems to contain footage of every random event in Zhenya's life, from meeting an old woman wearing felt boots, to beekeeping, to having sex — which all unexpectedly adds up to something more. "Many objects are more reliable and useful than some people," Zhenya explains. Which seems to be his life's mantra.
While Lavrinenko's YouTube clip-quick editing doesn't allow viewers even a second to fully comprehend what they just saw, it also makes Zhenya's disjointed existence more palpable. Indeed, it feels a bit like being inside his chaotic brain. Lavrinenko's camera captures a break-dancer at Independence Square that Zhenya must also be watching. "The most important thing is that they don't divide us," a protester says before the cut to the inevitable violence. And then suddenly there's Zhenya again – showing us his grandmother munching on watermelon in old B&W home movies. And of course, there's that final shot — the familiar sound of the NYC ice cream truck jingle over black. Which feels absolutely perfect. Or perhaps it was just the first time I felt at home in a foreign land.