Back to selection
IFP Announces 20 Feature Films Selected for 2018 Filmmaker Labs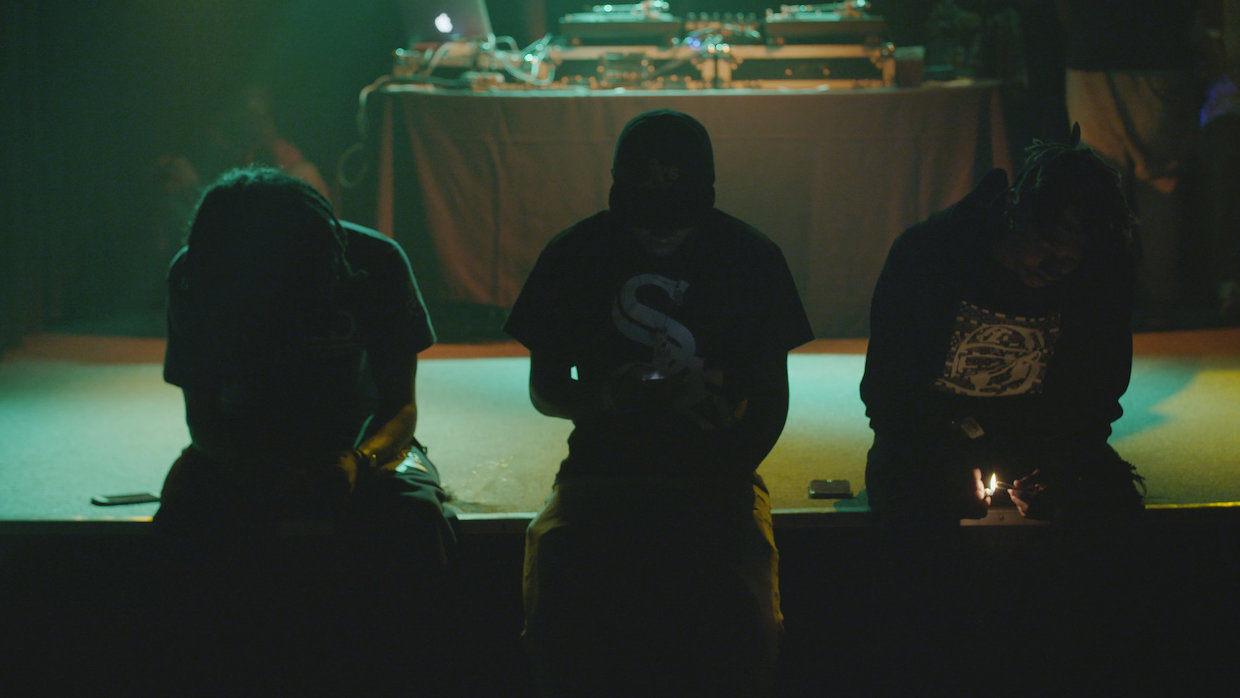 Bloodthicker
The Independent Filmmaker Project (IFP), Filmmaker's publisher, announced today the 20 feature films selected for the IFP Filmmaker Labs, IFP's year-long fellowship for first-time filmmakers currently in post-production on their debut feature. Combining documentary and narrative features together for the first time, the program begins today, running May 21-25 at the Made in NY Media Center by IFP located in DUMBO, Brooklyn.
The Filmmaker Labs continues its dedication to supporting underrepresented voices. Over 60% of this year's attending Lab Fellows, and over 70% of the directors specifically, are diverse in regards to gender, ethnicity, sexual orientation and disability. Furthermore, this year's Labs projects represent a range of creative visions from all over the world, with films shot around the United States, as well as Brazil, Costa Rica, Ghana, Lebanon,  Mexico, Russia, South Korea and the United Kingdom.
"In today's independent film landscape, with modes of distribution and exhibition in seemingly constant flux, the Filmmaker Labs remain firm in their commitment to supporting the next generation of boundary-pushing filmmakers," says Joana Vicente, IFP's Executive Director. "By removing the boundaries between non-fiction and fiction storytelling labs, these ambitious, wildly diverse  and highly international Lab projects will receive more opportunities than ever to have their voices heard."
THE 2018 IFP DOCUMENTARY LAB FELLOWS ANNOUNCED INCLUDE:
512 Hours For 512 hours, hundreds of thousands of visitors from around the world flocked to experience the latest exhibition by acclaimed performance artist, Marina Abramović. Her idea was simple: remove the distractions from everyday life and experience something new. What that experience would be, Abramović had no idea. It was an experiment, she recognized, that could succeed or fail. Adina Istrate (Director, Producer), Giannina La Salvia (Director, Producer), Irina Albita (Co-Producer)
Bloodthicker Bloodthicker is the story of Young Juve, T.Y. and Lil' Soulja Slim, three young rappers and friends whose fathers were three of the most influential Southern rappers. Their journeys to success are fraught with the appeals of excess and the trappings of street culture, immutably influenced by their fathers' distinct legacies. Zac Manuel (Writer, Director, DP, Editor), Chris Haney (Writer, Producer), Justin Fontenot (Executive Producer).
Border South Under intense U.S. pressure to stem immigration from Central America, Mexico cracks down on the old trails north, forcing migrants into more dangerous territory. Told against the backdrop of the North American migrant trail, Border South weaves together migrant stories from different vantage points. Raúl O. Paz Pastrana (Director, Producer, DP), Ellen Knechel (Editor, Co-Producer).
The Burning Field The Burning Field is a uniquely intimate portrait of life in an environmental wasteland, as seen through the eyes of four Ghanian children who spend their days burning computers and other electronic appliances in the largest unregulated e-waste dump on earth. Justin Weinrich (Writer, Director, Producer, DP, Editor).
Charm Circle Catalyzed by her sister's upcoming polyamorous wedding, filmmaker Nira Burstein delves into the most significant partnership she's been witness to—that of her parents, which is in a constant state of chaos. A meditation on love, family, dreams and sacrifice, Charm Circle explores what makes marriage a tie that binds. Nira Burstein (Writer, Director, DP), Jameka Autry (Producer).
Chèche Lavi (Looking for Life) A month before the presidential election of 2016, thousands of Haitian refugees appear at the US-Mexico border in Tijuana. Among them are Robens and James, two friends whose American dream unravels in the eye of a complex geopolitical storm. With no way forward and no way back, what comes next for these travelers? Sam Ellison (Director, DP), Abraham Ávila (Producer), Rachel Cantave (Producer).
Flood A filmmaker tries to fix her problems with her evangelical father in a screenplay with a happy ending. When her plan backfires, she quits writing lines, starts to listen, and becomes a character in her own movie. Katy Scoggin (Writer, Director, Producer, DP)
The In Between At the intersection of northern Mexico and Southwest Texas exists a symbiotic community spanning two countries. Through a collection of interweaving vignettes, The In Between explores the border and is a poetic ode to the greater reality of it, offering a nuanced and intimate portrait of a place and its people at the heart of Mexican-American identity. Robie Flores (Director, Producer, DP, Editor), Alejandro Flores (Producer, DP).
A Machine to Live In This sci-fi documentary paints a complex portrait of life and myth in the space-age city of Brasilia, a sixties-era architectural mega-project, and the flourishing landscape of cults, religious movements, and transcendental spaces that have emerged around it. The film is assembled from found documents and texts from key figures who were called to chronicle this monumental social experiment. Yoni Goldstein (Writer, Director), Meredith Zielke (Director, Editor), Sebastian Alvarez (Producer).
Socks on Fire: Uncle John and the Copper Headed Water Rattlers A failed poet takes up cinematic arms when he returns home to Hokes Bluff, Alabama to discover that his aunt has locked his drag-queen uncle out of the family home. Through a series of stylized reenactments and an editorial investigation into family VHS footage, Socks on Fire documents the fluidity of identity, personality, and performance in one particular place, among one particular family. Bo McGuire (Writer, Director), Tatiana Bears (Producer), Max Allman (Editor).
2018 IFP NARRATIVE LAB FELLOWS ANNOUNCED INCLUDE:
1982 An 11-year-old boy is determined to tell a girl in his class that he loves her but has trouble finding the courage to do so until the unexpected occurs; an air invasion reaches Beirut and the school is being evacuated. He gets even more determined. Oualid Mouaness (Director, Writer).
Aquí y Ahora Lara's world takes an unexpected turn when she decides to leave her home country of Costa Rica for the first time to join a dance company in Berlin. Paz León (Director, Writer).
Clementine A heartbroken woman steals away to her estranged lover's lake house and becomes entangled with a teenage girl. Lara Jean Gallagher (Director, Writer), Aimee Lynn Barneburg (Producer), Alexander Morris (Editor).
House of Hummingbird Seoul, 1994 In the year the Seongsu bridge collapsed, a teenage girl named Eunhee wanders the city searching for love. Bora Kim (Director, Writer, Producer), Zoe Sua Cho (Producer, Editor).
Lost Bayou After news of her mother's death, a struggling addict ventures out into the Louisiana swampland to reconnect with her estranged "traiteur" (Cajun faith healer) father, only to discover he is hiding a troubling secret aboard his houseboat. Brian C Miller Richard (Director, Editor), Kenneth Reynolds (Producer), Hunter Burke (Producer, Writer).
Nhomlaau A young South Sudanese woman is staggering away from a past event that contradicts the way she was brought up. Tormented with guilt and condemnation, she tries to discover who she really is and seek liberty. Asantewaa Prempeh (Director, Writer), Natalie Eakin (Producer), Emily Iason (Producer).
Noah Land Omer struggles to fulfill his father's dying wish to be buried under the "Noah Tree" — a tree his father swears he planted but the surrounding village believes was planted centuries ago by Noah the prophet. Cenk Ertürk (Director, Writer), Alp Ertürk (Producer).
Sanzaru As dementia engulfs her employer, a fragile home health aide begins to question her own sanity. Xia Magnus (Director, Writer), Alyssa Polk (Producer), Joshua Raymond Lee (Editor).
Saul at Night With an odd worldwide curfew in place, one man's life of solitude is interrupted when he meets another woman who suffers from the same bizarre affliction that he does. Cory Santilli (Director), Kentucker Audley (Co-producer), Bart Breve (Editor).
Siberia and Him Two men fall into forbidden love in a rundown town of Siberia, Russia. Viatcheslav Kopturevskiy (Director, Writer), Anya Elnikova (Producer), Wayland Bell (Cinematographer).
IFP also announced the 2018 Filmmaker Lab Leaders, who will help provide multiple levels of mentorship throughout the process. Leaders will include:
Jennifer MacArthur, Producer (Whose Streets?) and Media Strategist (Borderline Media)
Heidi Reinberg, Producer (93QUEEN)
Shrihari Sathe, Producer (It Felt Like Love; A Woman, A Part)
Pierce Varous, Producer (Always Shine, H.); Founder, Nice Dissolve