Back to selection
"I Love Unpacking Human Behavior…": Five Questions for Night Comes On Director Jordana Spiro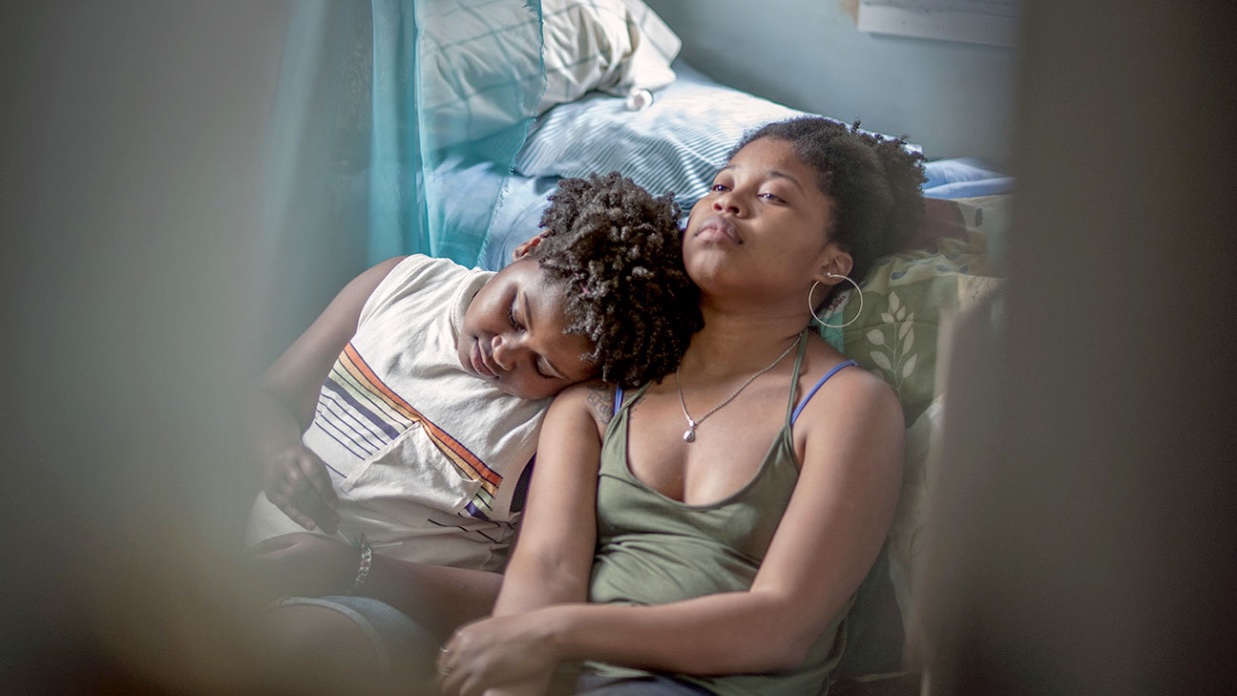 Tatum Hall and Dominque Fishback in Night Comes On by Jordana Spiro. Courtesy of Sundance Institute.
Opening in theaters today is the debut feature from actress and short-film director Jordana Spiro, whose Night Comes On subversively wraps both a coming-of-age tale and story of sister bonding within a work of hardboiled revenge. Dominique Fishback, the breakout star of HBO's The Deuce, plays Angel, a teen who, after being sprung from juvenile detention, trades sex for a handgun and hits the road, traveling towards the man who murdered her mother years ago. She picks up her younger sister, Abby, from her foster home, and as their relationship is teased out, the film's rhythms shift, with the hours before Angel's fateful encounter becoming lined with a tender, emotionally devastating weight. If the film's initial description makes it sound like a kind of youth-driven Kill Bill, the overall tone winds up being closer to the neorealist classics Spiro notes in our interview below. Indeed, Night Comes On, with its accomplished tone and complex drama, is a strong debut for all concerned, who also include Tatum Marilyn Hall as Abby and co-screenwriter Angelica Nwandu.
Filmmaker: What drew you to this story, and why did it become your first feature? Particularly, how did you background as an actor factor into your interest in telling this story?
Spiro: I wanted to explore a person who felt so lost that they would give themselves a purpose so destructive that, even while righting a wrong, would destroy their own life. You know, a light comedy…. I love unpacking human behavior and that's why I wanted to be an actor. So when I first started to think about stories of my own, I was automatically and pretty unconsciously pulled towards stories that really dig into the inner workings and the push and pull inside of a person.
Filmmaker: Night Comes On references classic tales of revenge even as its treatment of this theme is quite unexpected. How do you see this film in relationship to the revenge genre? What other films and stories inspired you, and what was important for you to subvert or twist in this kind of story?
Spiro: I knew I wanted to go deep into character development but, at the same time, I personally gravitate towards films that have a clear narrative engine, where it's not portraiture but a story that's moving forward to an end. So the revenge structure was a way to give the film this nice forward momentum while still focusing on the character. Having said that, I didn't want to use it to such an extreme that the character was exploited by the genre. So while I watched a lot of revenge films, the films that tended to be stronger reference films were more neorealist films where a character is fighting for their place in a society that disrespects them — Bicycle Thief, Nights of Cabiria, Killer of Sheep for example. And also films with magical and poetic aspects to them, like Los Olvidados, L'Atalante, Biutiful, because I think a departure from reality can describe our emotional logic so succinctly sometimes, especially as a way to let us into how a character is thinking when that character doesn't share how they feel to other people.
Filmmaker: How did you find and work with your screenwriting collaborator, Angelica Nwandu?
Spiro: I met Angelica though a foster youth organization called Peace 4 Kids. We started with a story that I had written and used that as a kind of jumping off place and then through a mix of methods it developed into its own thing. We brainstormed together a lot — sometimes we gave ourselves assignments of writing different scenes solo, and then we would trade those scenes and build on each other's writing. We watched a lot of movies and discussed them…. One of our epiphany moments came from our being a little stuck and so we went on a roadtrip together. At the time, the story took place all within the city, and from the movement that trip provided, and how it started to shake up our ideas, we decided that our two characters also needed to move — to be able to see things from a different perspective.
Filmmaker: When did Dominique Fishback become involved? How did she shape the character of Angel and bring to her something that perhaps wasn't on the page?
Spiro: Dominique came on board a couple of months before we started filming. She is so different than Angel. Dom is gregarious, quick to laugh and just eats life up. Angel is totally detached, committed to this narrative that she is insignificant so that she doesn't have to feel her own heartache anymore. But in order to make a character who is that shielded compelling to watch, there needs to be all this stuff cooking and bubbling underneath. Because Dom has so much energy and curiosity, our rehearsals were a matter of really digging into what it going on for Angel at any given moment. So that Dom could digest all of that and make Angel's stillness really active and engaging. She just really transformed. And then in rehearsals we also worked together with Tatum as Abby so that the closeness of their sister relationship could already be established before we started shooting.
Filmmaker: You made this film as a pure indie — private money, no studio. As an actress you've worked on much larger scale projects. Has there been anything that's surprised you about the making of this film on a production or business level? And now that it is coming out in the world, has its path been one that you could have predicted?
Spiro: I knew it was going to be challenging creatively to direct my first feature but that's the fun challenge… and I knew that the film would be really difficult to finance, less fun. As an indie on this level, where it is all hands on deck, I was involved in all aspects of the production and the business, so there was a lot of on the job learning. It took some effort to keep the business and the creative in balance and make sure one didn't compromise the other. But it's really a testament to producers Alvaro Valente and Jonathan Montepare that we were able to make the movie as economically as we did without sacrificing creatively.
The cool thing, with the film being difficult was that I got to know some of the most huge-hearted people along the way, people who are so committed to helping films that don't, I guess you could say, check mainstream boxes — [the Sundance Institute's Michelle Satter and Ann Lai, and [Cinereach's] Paul Mezey to name a few — I owe them so much gratitude.
It was definitely a dream to premiere the film at Sundance. I wouldn't have predicted it, but I definitely hoped for it. And now to get to play in theaters, in today's world… not taking that for granted one bit!