Back to selection
Camden International Film Festival Announces 2018 Festival Slate and Storyforms VR Lineup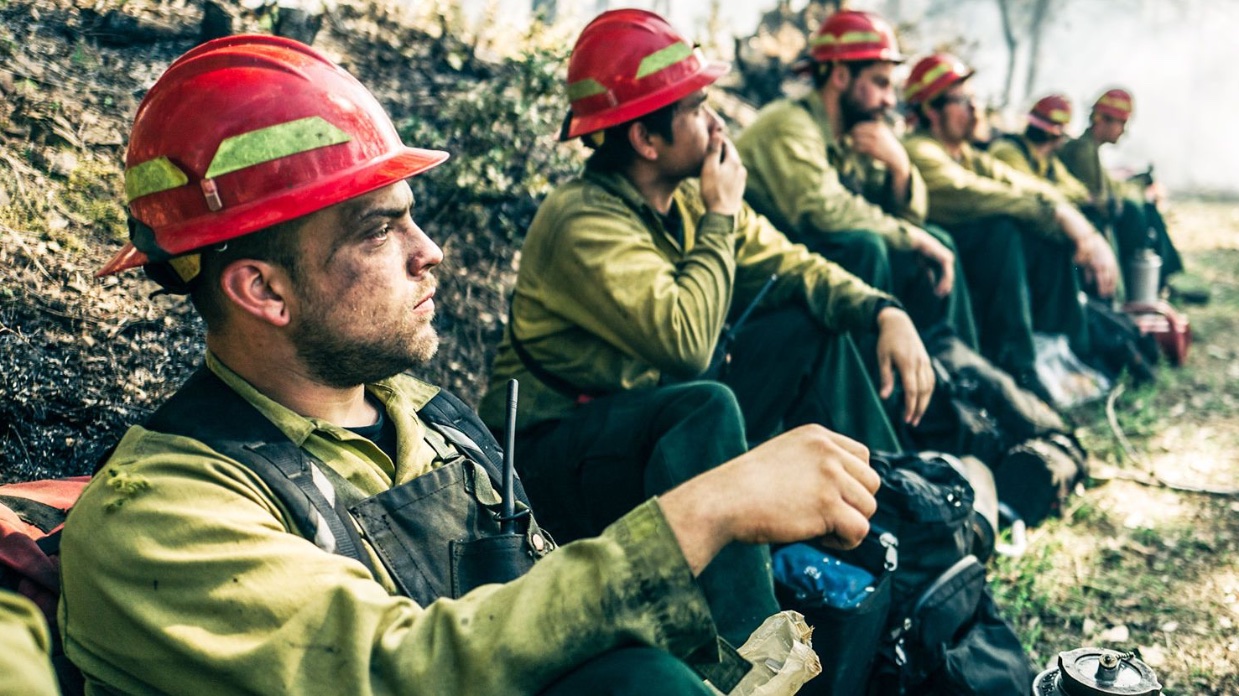 Wildland
The Camden International Film Festival announced today its 2018 lineup, which includes 37 features, 43 short films, one episodic series and 20 virtual reality and immersive experiences from over 30 countries. Included among the features are three world premieres: Young Men and Fire, by Kahil Hudson and Alex Jablonski (a latter one of our 25 New Faces); Lana Wilson's series, The Cure for Fear; and Jane Gillooly's Where the Pavement Ends. The Opening Night film is Morgan Neville's Orson Welles doc, They'll Love Me When I'm Dead. Significantly, the festival is reporting that there's gender parity across all sections, with half or more of the selections directed or co-directed by women. And, half of the films are made by first or second time filmmakers.
From the press release:
"Our organization has always embodied a spirit of inclusivity, and this spirit goes all the way back to our very first program in 2005, which featured a majority of remarkable women directors. This year, we're honored to showcase over a hundred of the most inspiring and creative voices from across the globe working in nonfiction storytelling today," says Ben Fowlie, Executive and Artistic Director of the Points North Institute, and Founder of the Camden International Film Festival. "Our 2018 slate underscores documentary as a creative, diverse, thriving and political art form, one that provides unique opportunities to engage with the world around us."

"Programming at parity celebrates the contributions of the many formidable women in the field, while also emphasizing the fact that, in a century of documentary filmmaking, we've largely known one dominant perspective," states Senior Programmer Samara Chadwick. She adds: "At CIFF we're drawn to directorial approaches from outside the canon, and we value all the creative voices and cinematic languages that have been otherwise underrepresented."
The 2018 Camden International Film Festival and Points North Forum will take place September 13 – 16 in Camden, Rockport and Rockland, Maine. For more information, visit the festival's website.
A complete list of the films follows.
2018 Camden International Film Festival Features
Angels Are Made Of Light, James Longley | USA, Denmark, Norway | 117 mins
Angels Are Made Of Light reveals the daily struggles and inner lives of students and teachers at a school in Kabul, Afghanistan during the closing years of America's longest war. US Premiere, Filmmaker in Attendance.
América, Chase Whiteside, Erick Stoll | USA | 77 mins
América is a story of brothers confronting the chasm between adolescent yearning and adult realities when brought together to care for their ailing ninety-three year old grandmother.
Filmmakers in Attendance.
Blowin' Up, Stephanie Wang-Breal | USA, Japan | 94 mins
Within a broken criminal justice system, a team of rebel heroines work to change the way women arrested for prostitution are prosecuted.
Ceres, Janet van den Brand | Belgium, The Netherlands | 73 mins
A poetic and textured film that follows four children as they experience the natural cycle of life on a farm, learning the profession of their ancestors with the dream that one day they will take over the farm. US Premiere.
Commander Arian – A Story of Women, War & Freedom, Alba Sotorra | Germany, Spain, Syria | 77 mins
In this tale of emancipation and freedom, a young and severely wounded Syrian commander redefines herself after retaking an ISIS-controlled city with her female battalion. US Premiere. Filmmaker in Attendance.
Communion Los Angeles, Adam R. Levine, Peter Bo Rappmund | USA | 68 mins
Communion Los Angeles explores California's oldest freeway as it courses from the mountains to the ocean, defining and dividing the communities it is designed to serve. North American Premiere. Filmmakers in Attendance.
Dawnland, Adam Mazo, Ben Pender-Cudlip | USA, Wabanaki Territory | 86 mins
A story of stolen children and cultural survival: inside the first truth and reconciliation commission for Native Americans. Filmmakers in Attendance.
Divide and Conquer: The Story of Roger Ailes, Alexis Bloom | USA | 107 mins
An "origin story"—the story of our current moment in American life — told through the triumph and downfall of Fox News founder Roger Ailes. US Premiere. Filmmaker in Attendance
Easy Lessons, Dorottya Zurbó | Hungary | 78 mins
Kafia, a young girl on the brink of adulthood, has to leave behind a lot of what defined her Somalian life as she tries to adapt to her new existence in Hungary.
Exit Music, Cameron Mullenneaux | USA | 71 mins
A rare invitation into the world of a young artist dying of cystic fibrosis as he and his family navigate the ominous, sacred, and unmapped journey at the end of life. Filmmaker in Attendance.
Fausto, Andrea Bussmann | Mexico, Canada | 70 mins
Through literature and myth, characters from the Faust legend intermingle with the inhabitants on the Oaxacan coast, while attempting to control nature with a never-ending building project. North American Premiere.
First Stripes, Jean-François Caissy | Canada | 106 mins
In 12 weeks, young civilians are gradually moulded into Canadian Armed Forces soldiers, and must adapt to a world governed by its own rules and values. US Premiere. Filmmaker in Attendance.
.
Free Solo, Jimmy Chin, Elizabeth Chai Vasarhelyi | USA | 97 mins
With no ropes or safety gear, Alex Honnold becomes the first person to ever free solo climb Yosemite's 3,000ft high El Capitan Wall, arguably the greatest feat in rock climbing history. Filmmaker in Attendance.
Going South, Dominic Gagnon | Canada | 104 mins
The post-truth era Internet: a mesmerizing echo chamber in which everything – from shopping lists to intimate outpourings, conspiracy theories to innocent holidays and tropical cataclysms – is connected. North American Premiere, Filmmaker in Attendance.
Hale County This Morning, This Evening, RaMell Ross | USA | 76 mins
Intimate and unencumbered moments of a community trumpet the beauty of life, the consequences of the social construction of race, and a testament to dreaming – despite the odds.
In the Realm of Perfection, Julien Faraut | USA | 95 mins
Vibrant 16mm footage of John McEnroe's 1984 French Open final illuminates a fascinating essay on the kinship between tennis and filmmaking. Filmmaker in Attendance.
Island of the Hungry Ghosts, Gabrielle Brady | Germany, UK, Australia | 94 mins
On a small island in the Indian Ocean, forty million crabs make their way through dense jungle to the rugged coast and, finally, to sea. Yet the island's sublime beauty hides other, darker presences. Filmmaker in Attendance.
Maiden, Alex Holmes | United Kingdom | 93 mins
In a moving portrait of resilience, Maiden chronicles the unprecedented journey of 24-year-old Tracy Edwards and the first all-female sailing crew to enter the Whitbread Round the World Race. US Premiere. Filmmaker in Attendance.
My Father is My Mother's Brother, Vadym Ilkov | Ukraine | 76 mins
A bohemian singer/artist becomes father to his five-year-old niece when his sister's health deteriorates, and finds himself balancing parenthood with his rowdy nightlife and provocative art. US Premiere.
Of Fathers and Sons, Talal Derki | Germany, Lebanon, Syria | 99 mins
Talal Derki returns to his homeland where he gains the trust of a radical Islamist family. Filmed over two years, this film provides extremely rare insight into what it means to grow up in an Islamic Caliphate.
Filmmaker in Attendance.
On Her Shoulders, Alexandria Bombach | USA | 95 mins
Nadia survived genocide and sexual slavery committed by ISIS and now, at 23, finds herself thrust onto the international stage as the voice of the Yazidi people. Filmmaker in Attendance.
Pipeline, Vitaly Manski | Russia, Germany, Czech Republic | 120 mins
Cameras follow the Trans-Siberian gas pipeline from Russia through Europe, chronicling the landscapes through which it passes and the lives that it impacts. Filmmaker in Attendance.
Putin's Witnesses, Vitaly Mansky | Latvia, Switzerland, Czech Republic, Germany | 104 mins
On December 31, 1999 Vladimir Putin ascended to the president's chair in Russia, and only a camera separated documentarian Vitaly Mansky from the upper echelon of politics. US Premiere. Filmmaker in Attendance
Science Fair, Cristina Costantini, Darren Foster | USA | 90 mins
Nine high school students from disparate corners of the globe navigate rivalries, setbacks, and hormones on their quest to win the international science fair.
Survivors, Banker White, Anna Fitch, Arthur Pratt, Lansana Mansaray | Sierra Leone, USA | 87 mins
Through the eyes of African filmmakers, an unforgettable portrait of Sierra Leone's heroes as they confront Ebola during the most acute modern public health emergency. North American Premiere. Filmmakers in Attendance.
The Ancient Woods, Mindaugas Survila | Lithuania | 85 mins
The ancient woods are the place where the boundaries of time melt and everything that exists does not wither or age but "grows into" eternity. Welcome on an endless journey deep into the forests of Lithuania. North American Premiere.
The Cure for Fear (Series), Lana Wilson | USA, The Netherlands | 4 x 12 mins
A scientist says she's found the cure for fear, but what are the ramifications–and is it okay to be erasing human emotions? World Premiere. Filmmaker in Attendance.
The Feeling of Being Watched, Assia Boundaoui | USA | 87 mins
When journalist Assia Boundaoui investigates surveillance rumors, she uncovers one of the largest pre-9/11 FBI terrorism probes, and reveals its impact on her Chicago Muslim-American neighborhood community. Filmmaker in Attendance.
The Gospel Of Eureka, Donal Mosher, Michael Palmieri | USA | 75 mins
Love, faith, and civil rights collide in the south as evangelical Christians and drag queens step into the spotlight to explore the meaning of belief. Filmmakers in Attendance.
The Price of Everything, Nathaniel Kahn | USA | 105 mins
Holding a mirror to our consumerist culture, the film reaffirms the transcendent power of art and the deep need for it in our lives. Filmmaker in Attendance.
The Proposal. Jill Magid | USA | 83 mins
Celebrated conceptual artist Jill Magid sets her sights on an ambitious new project: an exhibition inspired by the visionary Mexican architect Luis Barragán. The only trouble is, one woman in Switzerland owns Barragán's entire professional archive and the legal rights to any reproduction of his work. Filmmaker in Attendance.
The Truth About Killer Robots, Maxim Pozdorovkin | USA | 81 mins
Robots are great… except when they kill people and steal jobs. That's the conclusion of filmmaker Maxim Pozdorovkin's eye-opening work of science non-fiction. US Premiere. Filmmaker in Attendance.
They'll Love Me When I'm Dead. Morgan Neville | USA | 98 mins
Orson Welles' final film remains unfinished, locked in a vault for almost four decades. Neville's take on the archive exposes a dense story of betrayal made up of many fragments of high and low culture. Filmmaker in Attendance.
Virginity, Vitaly Manski | Russia | 85 mins
Three young women each have a sought-after commodity – their virginity. Kristina, Karina and Katya each try to make their way in a world ruled by fame, popularity and money. Filmmaker in Attendance.
What is Democracy, Astra Taylor | Canada | 107 mins
If we want to live in democracy, we must first ask what the word even means. What Is Democracy? connects past and present, emotion and the intellect, the personal and the political, to provoke and inspire. US Premiere. Filmmaker in Attendance.
Where The Pavement Ends, Jane Gillooly | USA | 85 mins
Beginning with a 1960s roadblock that divided then-white Ferguson from black Kinloch, the film depicts a micro-history of race relations in America. World Premiere. Filmmaker in Attendance.
Young Men and Fire, Alex Jablonski, Khalil Hudson | USA | 77 mins
A wildland firefighting crew struggles with fear, loyalty, dreams, demons: a story of working-class men's exterior world, interior lives and the fire that lies between. World Premiere. Filmmakers in Attendance.
Young Solitude, Claire Simon | France | 100 mins
Young Solitude is a coming of age film on the words exchanged between young people aged seventeen who are learning to look at each other, to listen to each other, to deal with each other's entangled stories. US Premiere.
Yours in Sisterhood, Irene Lusztig | USA | 101 mins
Hundreds of letters sent to Ms. Magazine in the 1970s – the first mainstream feminist magazine in the US – are resurfaced from the archive and read aloud by strangers in communities across the country. Filmmaker in Attendance.
2018 Storyforms Slate
Anote's Ark VR Matthieu Rytz | Canada | 10 mins
Anote's Ark VR takes you on a journey to Kiribati to bear witness to one of the biggest challenges facing humanity.
Bloodless, Gina Kim | South Korea | 12 mins
Bloodless is a ten-minute VR film that deals with camp town sex workers for US army stationed in South Korea since the 1950s.
Ch'aak' S'aagi (Eagle Bone), Tracy Rector | USA | 5 mins
One of the first VR pieces ever created by a Native American filmmaker, Eagle Bone ("Ch'aak' S'aagi") combines freestyle spoken word and lush Pacific Northwest scenes in a journey of remembrance and reflection on the lessons of the old ones.
Fireflies: A Brownsville Story (Beta Test), Brownsville Community Justice Center, Peoples Culture | USA
Traverse the structural realities of a Brooklyn neighborhood divided by an ongoing rivalry between public housing developments.
Guardians of the Forest, (360 Cinema), Ben Ross, Brittany Neff | USA | 7 mins
A VR expedition into the Amazon rainforest, where a volunteer monitoring force of the Guajajara tribe brings illegal loggers to justice.
rack/pull focus, Rachel Lee Zheng | USA
A site-specific, sculptural installation of mono-filament, LED lights, and reflective material.
ListenTree, Gershon Dublon, Edwina Portocarrero | USA, Mexico
An "audio-haptic display" embedded in the natural environment, ListenTree points to a future where digital information might become enmeshed in material.
Manic VR, Kalina Bertin | Canada | 10 mins
Through room-scale interaction and 3D animation, Manic VR unearths the destabilizing effects of bipolarity – delve into the heightening of senses and the untamed imagination that accompanies this complex and mysterious condition.
Mind at War, Sutu | USA | 22 mins
This immersive virtual reality project explores the banality and horrors of war and England's battle with mental illness through hand-drawn VR illustrations of places based on his memories.
Roxham, Michel Huneault | Canada | 15 mins
This immersive story centres on Roxham Road, a small section of the border where people are arrested and welcomed at the same time.
Sanctuaries of Silence, Emmanuel Vaughan-Lee, Adam Loften | USA | 7 mins
Silence just might be on the verge of extinction and acoustic ecologist Gordon Hempton believes that even the most remote corners of the globe are impacted by noise pollution. In "Sanctuaries of Silence," join Hempton on an immersive listening journey into Olympic National Park, one of the quietest places in North America.
She Flies by Her Own Wings, Jesse Ayala | USA | 10 mins
Shannon Scott driven by the military tenet of "Leave No One Behind," pulls the levers of democracy urging freedom and justice for all be secured from the marbled halls of Washington D.C. to the hallowed ground of those who championed LGBTQ equality before her.
Terminal 3, Asad J. Malik | USA, Pakistan | 12 mins
Terminal 3 is an interactive, augmented-reality documentary that explores contemporary Muslim identities in the U.S. through the lens of an airport interrogation.
The Hidden, Lindsay Branham | USA, India | 10 mins
There are currently more people living in slavery than at any other time in human history. Indian government representatives, supported by the human rights group International Justice Mission, plot a daring raid to free a family enslaved in a rock quarry in southern India for 10 years.
The Real Thing, Benoit Felici, Mathias Chelebourg (co-director) | France | 16 mins
Around China's largest cities, entire neighbourhoods have been inspired by foreign models. The Real Thing is a VR journey into a copy of our world.
This is Climate Change: FEAST, Danfung Dennis, Eric Strauss | Brazil, USA | 9 mins
Witness the beautiful expanse of Brazil's ecologically valuable rainforest, threatened by loggers as massive trees are cleared to make way for sprawling industrial cattle ranches. Can the Amazon survive the growing global demand for beef?
This is Climate Change: FIRE, Danfung Dennis, Eric Strauss | USA | 11 mins
In just the last three decades, changes in climate have doubled the amount of land burned by wildfires in the western United States. Experience the scorching California fires of 2017, and follow the dedicated fighters – by air and on the ground – whose jobs have turned into year-round battles against these catastrophic blazes.
Tidal Drift, Allison Moore | Canada | 24 mins
This immersive cinematic experience uses ambient textures exploring the micro / macrocosm of natural wonders. Hypnotic marine-landscapes superimpose with growing plants, crystals, cloud formations, and the glowing cosmic stars.
Topophilia, Peter Bo Rappmund | USA | 62 mins
Topophilia traces the 800 mile path of the Trans-Alaska Pipeline System (TAPS), and examines one of the most historically productive oil routes in the United States.
Walden, Daniel Zimmermann | Switzerland | 106 mins
In the forest of the Catholic Monastery of Admont in Austria a fir tree is felled and processed into planks of wood. By train, truck, boat and finally by hand, the stack is transported to a mysterious destination right in the heart of the Brazilian rainforest.
UPDATE: Young Men and Fire has been retitled Wildland