Back to selection
Alex Jablonski & Michael Totten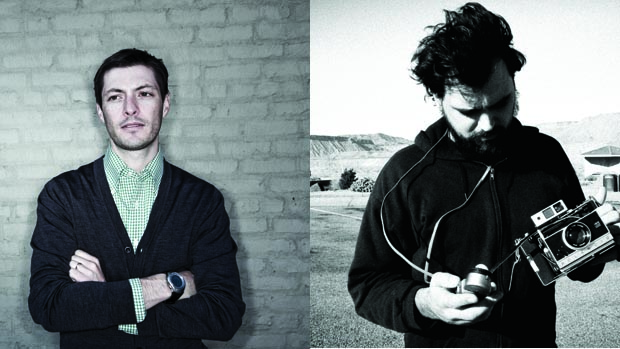 "This project has been like what musicians call 'woodshedding,'" says Alex Jablonski about his collaborative venture with Michael Totten, Sparrow Songs. "We are finding our voice, trying out different styles, and learning so much." Adds Totten, "In the past I've let this idea of 'I don't have the right money or equipment or subject matter' prevent me from moving forward. Sparrow Songs has taught me to get rid of the idea of perfection because it doesn't exist."
What is Sparrow Songs? Simply, it's a year-long filmmaking project in which director-editor Jablonski and d.p. Totten make and upload one short doc a month. Averaging about eight minutes, the films are beautifully shot (on the Canon 5D Mark 2) poetic essays capturing specific people and the communities that form around them. In their brief span, the films subtly move from the specific to the universal, arriving at small-scale epiphanies about the ways we all choose to lead our lives. The films include Porn Star Karaoke, about the crowd that gathers weekly at an L.A. club for an evening of karaoke with adult movie stars. In The Donut Shop, the filmmakers themselves wonder why more people won't talk to them during a night spent at a 24-hour donut joint. In L'Arche, Jablonski and Totten visit a warm, non-institutional home for the developmentally disabled; they focus not only on the residents but also on the caregivers, who include a young woman who has just left a monastery. The Truth looks at the community of 9/11 "truthers." Says Jablonski, "In terms of a larger thematic, each film takes a longer look at people I might normally dismiss, and they all end up having really interesting stories." There's also an accompanying blog, where the filmmakers expose their production process and ruminate on the direction of the overall project.
The knowledge that these are not just disparate short films but rather installments in a time-based project gives Sparrow Songs a quiet gravity. The project began when Jablonski, who graduated from UCLA Film School in 2009, heard about a friend, musician John Wood, who was releasing an album a month. "I thought that was such a cool discipline," he says. Jablonski's narrative short Blue Boy had been playing festivals, including Tribeca, and he was doing the rounds of meetings. "I realized that [industry projects] take a long time," he says. "I wanted to do something where I wouldn't have to ask permission to either make it or show it."
Remembers Totten, whose d.p. credits include the David LaChappelle doc, Rize, and additional cinematography work on The Tillman Story: "Alex and I met on a music video. About six weeks later he pitched me Sparrow Songs. I said I'd love to get involved, but I also thought it might just fizzle away." Indeed, the commitment to the project can be, says Jablonski, "really draining. I've been working as an editor on Stomp the Yard 2 for Sony. I'm there from 9:00 a.m. to 7:00 p.m., and then I'll come home and edit Sparrow Songs from 8:00 p.m. to 2:00 a.m. Every single month, there has been a moment where I've thought, 'This one is going to suck.' But the great thing about the schedule is you don't have the luxury to get in your own way. You have to make intuitive decisions." Adds Totten, "Sometimes it will be the tail end of a job, and the last thing you want to do is shoot another day. But you do it because you've committed to it, and afterwards you feel a great sense of accomplishment. It's therapeutic."
Needless to say, "monetization" is indirect. Says Jablonski, "At least two times a week I get an e-mail from a random stranger saying, 'Thank you for making these films. They give me a lot.' But the big-picture benefit is that Michael and I have developed a great friendship, and that friendship is what's allowed the project to continue."
Sparrow Songs is scheduled to conclude October 2010. As for what's next, Jablonski will only say, "We're going to make a feature documentary together as Sparrow Songs. We're looking for a producer, and we hope to be shooting this fall." — S.M.
Contact: thesparrowsongs.com; alex@fgfohio.com; michaeltotten@mac.com