Back to selection
"Changing the Industry Game": Queen Sugar Showrunner and Directors Talk Career Advancement at IFP Week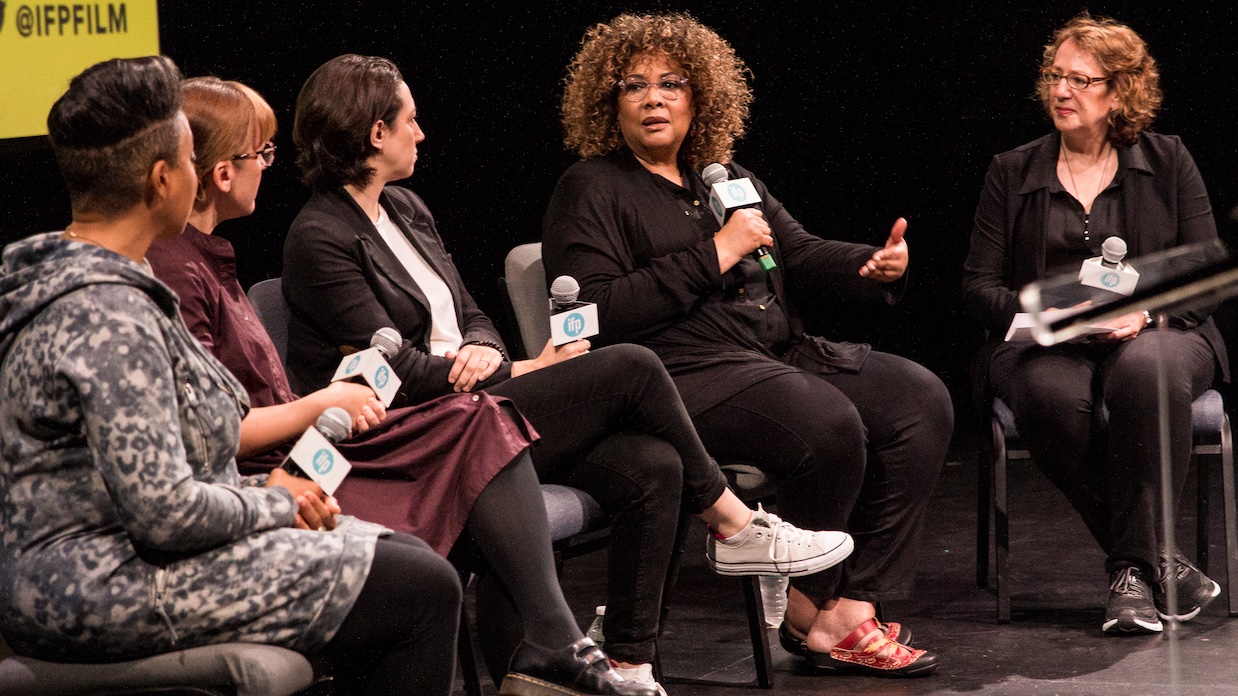 DeMane Davis, Kat Candler, Lauren Wolkstein, Julie Dash, Janet Pierson (l to r)
Filmmaker Elisabeth Subrin (A Woman, A Part) sends this short dispatch from IFP Week's Screen Forward Talks: Notes to the Future Sunday program — specifically, the afternoon panel, "Through the Generations: Queen Sugar: Ava DuVernay and Oprah Winfrey's Queen Sugar." The panel featured IFP alums Kat Candler (Hellion), Julie Dash (Daughters of the Dust), DeMane Davis (Lift), Lauren Wolkstein (The Strange Ones).
Beyond the brilliance of the series itself, Ava Duvernay's production model for Queen Sugar, a cable series on the Oprah Winfrey Network, is visionary and proactive. By choosing to hire only women independent film directors who have never worked in the episodic television form, she is profoundly changing the industry game, and changing women filmmaker's lives in unprecedented ways.
Each director selected is mentored from pre-production through post. During the panel, we learned about each director's journeys to Queen Sugar, from where they were when they got the Ava call to how their careers have been impacted. We also learned about the show's strategies for how the directors were walked through the process, starting with them shadowing an episode, all receiving a comprehensive orientation book, a mood/tone book, and having the showrunner and/or producing director on the set to answer questions and guide them through the fast-paced production (seven days pre, seven days shooting). They all spoke to the generous and supportive energy on the set, and the fact that unlike other series, the director's vision is primary on this show.
The panelists also talked about how their careers have been affected by Ava's call. Perhaps most dramatically, Julie Dash, the director of one of the most groundbreaking films of the past 25 years, Daughters of the Dust, disclosed that she had not had an agent for a decade and could not get calls returned. After she directed two episodes, she now has representation and four projects greenlit. Kat Candler, who was the showrunner for Season 3 and directed five episodes, is now developing multiple TV series projects of her own in LA. DeMane Davis was directing TV commercials and copy editing (this is the director of two feature films, both that premiered at Sundance and one nominated for two Indie Spirit Awards) in Boston. After directing an episode in Season 2, she was the Producing Director for Season 3. She now has several projects of her own in development. And Lauren Wolkstein, who co-wrote and co-directed her first feature, is now in development on her own solo second feature and has already gotten her next TV gig.