Back to selection
Bad Ronald, Trilogy of Terror and More: Jim Hemphill's Halloween Blu-ray Picks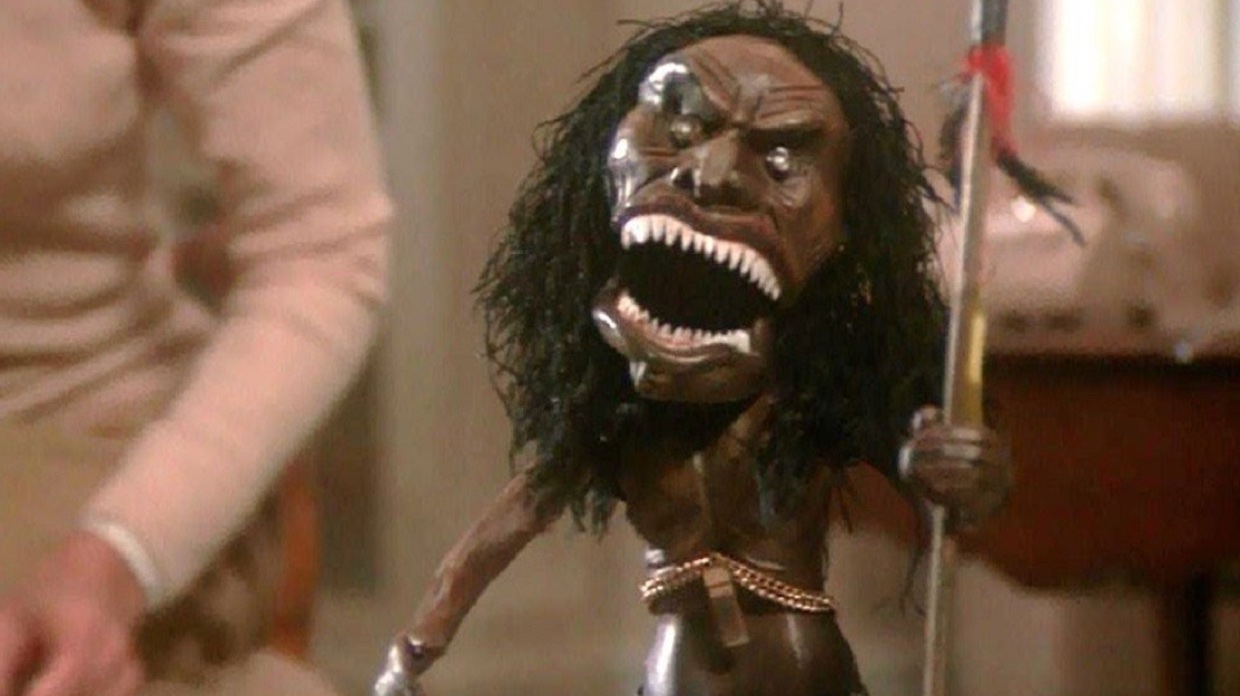 Two of the best films from the golden age of made-for-TV horror are newly available on Blu-ray just in time for Halloween: Buzz Kulik's creepy 1974 gem Bad Ronald and Dan Curtis' 1975 anthology movie Trilogy of Terror. Bad Ronald has long been a word-of-mouth favorite among genre fans for its flawless execution of a genuinely unsettling premise: a teenage sociopath hidden away by his mother is left living within the walls of his home after she dies, only to resurface and terrorize the teenage daughters of the new family that moves into the house. Adapting a novel by John Holbrook Vance, screenwriter Andrew Peter Marin crafts an expertly paced model of suspense that carefully manages the audience's suspension of disbelief, moving slowly enough to carefully layer in each element of the plot and psychology but quickly enough to keep the tension mounting with relentless efficiency. Veteran director Kulik, who just a few years before had helmed one of the greatest TV movies of all time, Brian's Song, exerts a precise and expressive control over Marin's material, striking a perfect balance between naturalism and stylization to give the film a queasily voyeuristic quality that really gets under your skin. Yet the movie also has a fantastic sense of humor, thanks largely to the lively casting; Dabney Coleman is particularly amusing as the father of the new household that invades the title character's space. The real standout among the actors, though, is undeniably Scott Jacoby as Ronald — he's repellent, funny, frightening, and poignant all in the same film, and the nuances of his work are more evident than ever in Warner Archive's extraordinary new transfer. If, like me, you're used to watching Bad Ronald on muddy VHS copies, or even the mediocre DVD that came out eight or nine years ago, the sharp details of the Blu-ray will come as a revelation. If you've never seen Bad Ronald, now is the time to properly discover a delightfully odd and effective horror classic.
Like Bad Ronald, Trilogy of Terror got in the heads of a whole generation of horror-crazed kids and stayed there, mostly thanks to the third of its stories. All three tales are based on short fiction by Richard Matheson, and all three star Karen Black in different roles, a coup for director Curtis given that she was coming off a string of big theatrical releases that included Five Easy Pieces, Airport 1975, and Robert Altman's Nashville. Black is absolutely terrific in each of her parts – as an introverted college professor who becomes the target of a predatory male student, as sisters who want to destroy each other, and as the victim of a murderous Zuni fetish doll — and it's easy to see why she and Curtis would reunite a year later for Burnt Offerings. The first two stories in Trilogy of Terror are compelling but relatively standard TV-movie fare; the reputation of the film rests largely and correctly on the final third, in which Black battles that freaky little doll. It's here that Curtis, a terrific horror filmmaker who created the original Dark Shadows along with many other fine TV shows and features, really shows his stuff, crafting a riveting exercise in darkly comic terror that clearly had a major influence on many horror movies that came afterward. (Sam Raimi's The Evil Dead owes more than a little to the fast moving, low-angle, wide-lens point of view shots, and it's hard to imagine Chris Columbus didn't have Trilogy of Terror in the back of his mind when he wrote Gremlins.) Kino Lorber's new Blu-ray of the movie is, like Warner Archive's pressing of Bad Ronald, a vast improvement over previous home video incarnations and includes a number of excellent supplementary features to boot; film historian Richard Harland Smith's commentary is particularly informative and engaging. Trilogy of Terror is just one of several supplement-laden releases of Dan Curtis productions Kino has released in the last month or so; they've also put out new editions of The Night Stalker and The Night Strangler, both of which are highly recommended.
A far more obscure but quite interesting anthology film, Sharron Miller's 1978 omnibus horror flick The House of the Dead, is also new to Blu-ray and well worth a look. Shot in Oklahoma on a low budget and originally released under the incongruous title Alien Zone, The House of the Dead is framed by a story in which an undertaker tells a visitor the histories behind the various corpses in his funeral home; the stories-within-the-story range from the supernatural to the realistic, but there's an impressive consistency of tone thanks to Miller's superb direction of her actors and her deft manipulation of the audience through sophisticated blocking and camera movement. The House of the Dead is the only feature Miller directed, though she went on to do exceptional work in television (she was the first woman to win a DGA award for narrative work for her 1983 telefilm The Woman Who Killed a Miracle) and had an earlier career as a sound editor on some of the most important films of the 1970s (including Badlands, The Last Detail, The Exorcist, and others). Here she doesn't so much transcend her limited resources as much as exploit them to craft a series of haunting moments made more disturbing by the stark, stripped-down quality of the environments the actors inhabit. The cinematographer is Ken Gibb, a cameraman whose career was spent mostly in exploitation films but who consistently brought a professional polish to disreputable content; here, working with a fine script by David O'Malley and the surprisingly strong cast assembled by Miller, he generates a number of effectively atmospheric images that look fantastic on Vinegar Syndrome's Blu-ray. The disc features a beautiful new 2K transfer scanned from the original 35mm negative, and there's a pair of great interviews with Miller and O'Malley as well. It's a great title to check out for Halloween if you want something a little off the established path.
Jim Hemphill is the writer and director of the award-winning film The Trouble with the Truth, which is currently available on DVD and Amazon Prime. His website is www.jimhemphillfilms.com.