Back to selection
"This Was the Aesthetic I'd Been into Since I'd Started Making Films": Cinematographer Katelin Arizmendi on Lensing Cam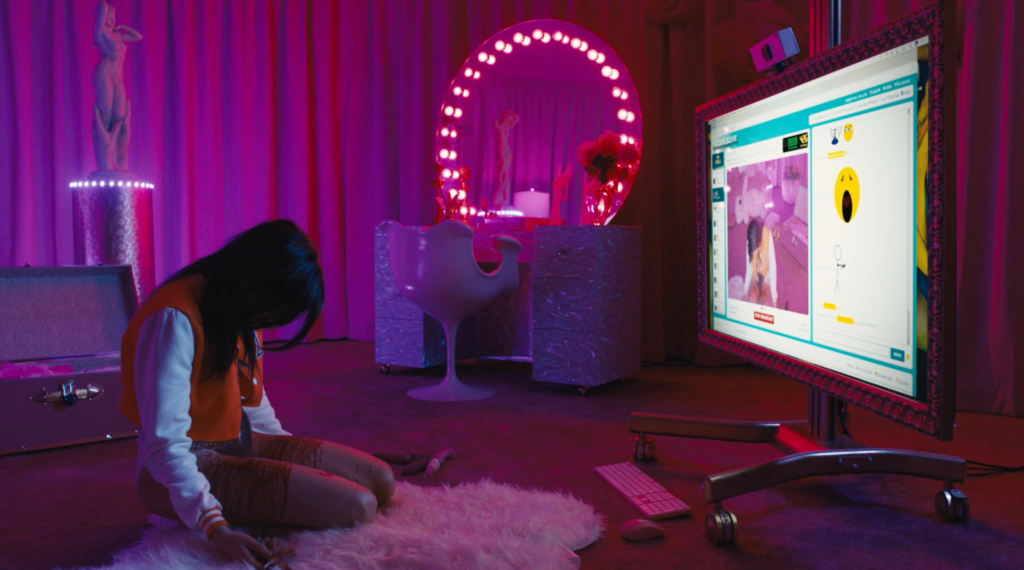 Cam
Alice (Madeline Brewer), the star of Cam, sustains herself as a full-time webcam model at the top of the "FreeGirls.Live" leaderboards. She aspires to break Top 50, but to do so she'll have to descend deeper into her on-screen persona and farther from her off-screen principles. The system of rewards in this cyber cranny conditions her to betray her standards; the more Alice caters to her audience's desires the more her fan base grows and the bigger her tips get. When she's pushed to go beyond her comfort zone, a digital doppelganger of Alice, named Lola, manifests and assumes control of her account — eager to please her audience in all the ways Alice wouldn't.
In their feature debuts, director of photography Katelin Arizmendi and director Daniel Goldhaber visualized Cam — screenwriter Isa Mazzei — with disparate hues and camera moves to distinguish between spaces (both cerebral and literal) and tonalities between scenes. They stuck to a shot list and hardly deviated, but, by inclination and to afford some freedom of movement and performance, Arizmendi lit her spaces 360 degrees. Within her "Cam-world" settings, sourcey monitor lights worked in variable grades of oppressive, literally reflecting Alice's paranoia and anxiety back to her face like a gauge.
It's not all a digital horror show, though. Arizmendi, who has amassed nearly 34,000 followers on Instagram, relates the benefits social media has had on her ever-growing and propulsive cinematography career. Since she started as a D.P., Arizmendi has showcased and curated her work on social media platforms (even prior to Instagram's takeover) with up-to-date clips and stills as a sort of second reel. With Cam as her choice narrative feature film debut, she has already gone on to shoot the upcoming features Swallow (starring Haley Bennet and produced by Joe Wright) and the Sony dirt bike movie 12 O'Clock Boys, the latter from an initial draft by Barry Jenkins.
Filmmaker sat down with Arizmendi to discuss lighting in unnatural environments, finding a way to make actors comfortable and using Instagram to help your career.
Filmmaker: What were some of the first discussions you had with director Daniel Goldhaber?
Arizmendi: When Danny first reached out to me I was immediately drawn to it. It felt like it was tied into a lot of the things I was always attuned to aesthetically, things that I've thought about since film school that are more boundary pushing, experimental, or have to do with sexuality. I wanted to wait to shoot the right first feature. I had read scripts before and none of them stood out to me as particularly bold or different. When I read Cam, I was doing a lot of commercials, and what I was doing was beginning to normalize —all of this branded stuff — which was the opposite of boundary pushing. When I read Cam I knew it was up my alley. This was the aesthetic I'd been in to since I'd started making films.
Our first discussions were about the experimentation of it — how we wanted to create the surrealism of the cam world vs. the reality of her real world with colors, zooms, camera movement, etc. So I put together a mood board with references to the cam world and then a mood board with references to the real world. The real world had neutral, cooler tones and the cam world is more contrasty, vibrant and colorful, with a lot of pink.
But I also wanted to create a strong presence in her computer monitor. It has such a powerful presence in the film, it's almost like this poltergeist-y thing. It's an overpowering light in her room, so we often emphasized that in the cam world.
When we were shot-listing, we were trying to figure out how to shoot each scene in a unique way and with minimal coverage, whether that was a steadicam oner or a long dolly shot. So we developed that visual language pretty early on and very quickly. On set, as blocking would change, it was a challenge to get what we needed with such a specific shot list, but we were ultimately able to pull it off.
Filmmaker: Alice's cam room fluctuates frequently between pink and blue. Does her emotional status queue a color change? Or are these colors used primarily to distinguish between the cam and reality spaces?
Arizmendi: I originally wanted to play with even more color in the pink room [Ed. Alice's cam room], but when we got to the room we found that, no matter what color you threw on it, it looked pink. I thought of having these other colors on the curtains or on the backdrop because I knew we were going to be in this space a lot, and I wanted to differentiate between the different scenes and tones. The dinner party scene does have more green hues but that was only achievable through the color changing LEDs we had in the room. We could bring in some different colored bulbs in the lamps, but besides that, any wash of color I threw on anything in that room was pink.
There is a lighting gag during the jazzercise-suicide scene where the lights go dim and the presence of the monitor light becomes even more prominent. There is that ever-growing presence of the monitor, where it seems to become the only source in the room, that ties into Alice's paranoia and how she's feeling.
Filmmaker: You're able to paint a stylized dramaturgy with lights that still, for the most part, stem from a source. (The end showdown being an exception.) Why is it important that the stylized cam world's light remain practical and justified?
Arizmendi: I feel we could have gone crazier with the unmotivated lighting, but at the same time there was this fine line we didn't want to cross where the cam world could still be real. It's especially believable in this digital world. Having a website with so much video footage of you that they could digitally clone you is not that far off. So not taking it too far in a stylized way made that scarier, I think.
Filmmaker: What was your shooting schedule like and did it dictate your approach to lighting?
Arizmendi: We had 20 shoot days. I already like to light a space as much 360 as possible. I prefer to move through the space quickly and I want the option to look into a different part of the room if I need to or if it makes the shot more dynamic. I already light in that way, but of course it's still challenging lighting in a space and moving that quickly.
I think it was more challenging in the pink room just because getting to the action there was difficult with the solid curtains. It was a small budget and we did what we could with small units. We got Digital Sputnik to donate some lights to us. I worked with a lot of LiteMats and Quasars so we could dial the lighting in for close-ups, but for masters and wides I like to have it lit so we can keep shooting. The most exciting thing to me about working in narrative is that you get to work with great performances and actors and I like to give them as much freedom as I can.
Filmmaker: In the final mirror/webcam showdown between Alice and Lola [in which Alice faces herself and the camera monitor towards the webcam and mirror in front of her] you start to play more with the color shifts and unmotivated/motivated light. Could you talk about the dynamics of that scene?
Arizmendi: That was a mindfuck trying to figure out how to shoot that scene. That was something Danny came up with so that they could both be in a scene together, and for everyone in the chat room to see them together. To actually do that practically was difficult. We did want Lola to embody the color red as her character developed, so with the wardrobe, the vanity lights and the color grading, we emphasized that color as the more powerful source in the scene [over the blue of the monitor].
Filmmaker: How did you shoot and match all the webcam footage that plays throughout and sometimes simultaneously?
Arizmendi: That was sort of the weird job on-set. It was somewhat a camera department thing, but it also had to live feed into this website that was made for the film so that Maddie could interact with it. We had two people specifically in charge of that. We would also try to shoot on our GoPro whenever we were running on our Arri Amira, but that was limiting. It's a wider lens on the GoPro and it would be difficult to always resort to painting out the Amira in post.
I think the actual website interaction really helped, rather than doing that sort of thing in post, especially because Maddie had no webcam experience like that. It's such an interesting world. When I first heard about the idea I thought that this could be a very sexual film. But it's not really. When Danny and I started watching cam girls as research in pre-production, I realized there was quite a bit of it that wasn't that sexual. There're a lot of girls who hang out in their chat rooms just to talk to these guys and keep them company. I found that to be the most interesting part of it.
Filmmaker: I've followed your Instagram for a couple of years now and I've gotten to see your career and social media reach grow almost simultaneously. Would you say social media has significantly helped your career?
Yes, definitely. I think there are a lot of talented people I know that are too nervous to put their work out there. Maybe they're not sure whether people are going to like it. But without doing that no one is going to connect to you and no one will know what you're capable of. As long as I've been creating, I've always shared my work. Before Instagram, I had a Tumblr, I had a website, I had a reel. I always just put my work out there from the beginning. Instagram has just become a universal platform to connect with people on, so it's not weird to connect with a director or company on Instagram that you want to work with. It's almost become more professional in a way, than maybe it used to. There are downsides to it. People get caught up in seeing the same content that everyone's putting out there, so it can also feel repetitive and uninspiring.
Filmmaker: Do you find yourself utilizing it less now that you've become more successful and integrated into the industry?
Arizmendi: I think I definitely used to post a lot more work, especially when I was doing commercials and music videos. That's because when you're doing these short form things you want to feel like you're staying relevant. But now that I've been doing features more, I feel I have something substantial under my belt, and I just don't care to post as frequently as I used to.
Filmmaker: Would you recommend new D.P.s maintain their social media as a sort of second reel?
Arizmendi: Oh, definitely. Even a reel on Vimeo feels outdated at this point. On Instagram you can see where people are at right now. You don't even have to wait for that project to be complete; you can show stills from it that you're really proud of and things like that. I think it's also important to get a vibe for someone's personality too.