Back to selection
The Inner Reaches Out of Space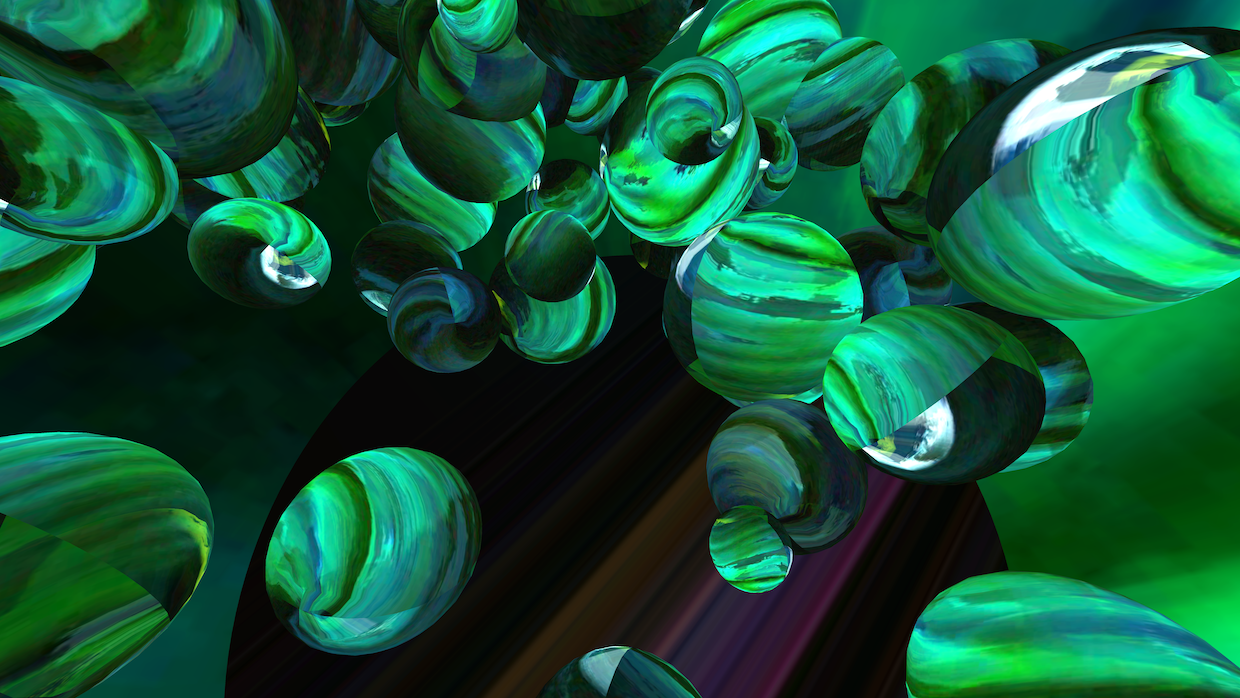 Liminal Realities (by/courtesy of FLOAT LAND)
"I think one of the things I am most concerned about is how we interact with space in a bodily way," says LA-based video and VR artist Kate Parsons, who will co-teach an undergraduate studio class, "The Inner Reaches of Outer Space," next spring at ArtCenter College of Design in Pasadena, California, with VR veteran Ben Vance. The pair was asked to teach in the Immersion Lab by professors Jenny Rodenhouse, a faculty member in the graduate Media Design Practice (MDP) program, and Maggie Hendrie, chair of Interaction Design. Parsons, who teaches a basic video production course for first-year graduate students in MDP, says the new class will be intentionally expansive, using photogrammetry, 2D and 3D graphics and a variety of processes that the pair describes as "often unorthodox in nature" to create immersive experiences.
Parsons and Vance are among the many artists around the world tackling how best to teach VR and the design of spatialized experiences. Many of these approaches are rooted in film classes and, as such, are moving from the well-known workflows and temporal/spatial storytelling codes of cinema to the design of three-dimensional spaces more familiar to game designers. What makes the class that Parsons and Vance will teach interesting is its emphasis on interdisciplinary influences—borrowing, for example, from philosophy, cultural anthropology and religion to explore not only the concept of three-dimensional space but also those of ritual, landscape and cultural metaphors to ask questions such as: What novel, perceptual experiences can we create for ourselves in local space? What effects do architectural and imagined spaces have on embodied cognition? And what kinds of environments, interactions, avatars and locomotion can we design to create compelling and impactful experiences?
Parsons and Vance make a great team for co-designing and co-teaching this course. Parsons, in addition to co-founding and co-curating Femmebit, a platform and festival supporting women's work in video and new media, is also a co-founder of FLOAT LAND, a VR/AR art studio, where she and Vance have created a stellar lineup of innovative new media projects, including a recent immersive collaboration with artist Petra Cortright to create the artist's first VR experience. For his part, Vance brings experience as a director and time spent working at Electronic Arts, indie game studios, VR startups and in museums and galleries. Screensavers VR, the pair's most recent collaborative endeavor, launched in early November. Artists and scholars were invited to revisit classic 1980s and '90s screensavers: The media archaeology inquiry spatializes the screensavers to become navigable environments while the essays muse on historical context and the ironies of obsolescence and return.
"There's a whole realm of possibilities that people haven't thought about yet with VR," continues Parsons. "For example, I think there is something interesting in mapping experience and space from disciplines like cultural anthropology and religion. We've talked about labyrinths, scripted spaces and architecture, but approaching VR from anthropology and religion remains an untapped mode of inquiry."
Parsons is also interested in thinking locally. "People aren't thinking much about local space in terms of storytelling," she says, noting that we tend to default to habitual patterns of scale in the design of VR projects. "How can you interact with small things or large things within arm's reach?" 
Parsons cites the collaboration between FLOAT LAND and Rem D. Koolhaas's United Nude last March, for which Parsons and Vance worked with Magic Leap technology to create small AR experiences throughout the pop-up shoe store in Century City. "You would walk through the space and see shelves of shoes, but then a tiny little storm cloud would form under the shelf and that would give you a nice surprise," explains Parsons. "I was skeptical about Magic Leap at first, but when I tried it, I could immediately see where it's going. It's like adding a layer over reality that's very poetic."
Your Hands Are Feet, a VR project created by Sarah Rothberg and Amelia Winger-Bearskin, offers another great example of the attention to local space that interests Parsons. "In their project, instead of hands you have cartoon-like feet. This gives you a whole set of new challenges, and you have to rethink how you react to things. The rest of the project, with a set of minigames, uses cultural metaphors that are taken literally and that have to do with awkwardness. I think it's a great example of what we can do with this idea of local space." Rothberg teaches a course on VR, "The Poetics of Space," at New York University's Interactive Telecommunications Program.
In their new class, Parsons and Vance are also going to explore how best to move through space, which remains a vexing challenge in VR experiences. "In our work, we often have people stick their heads into a portal that can move you," she says, "but what are the other ways we can navigate?"
Yet another topic that Parsons and Vance plan to investigate is storytelling in a landscape or garden setting. "This already exists as a concept—Homestay by Paisley Smith, with its paper garden, is a good example—and there is the scripted space idea," says Parsons, referencing a term developed by cultural critic and media historian Norman Klein, referencing the often invisible structures and systems that condition how we experience various spaces. She continues, "I haven't had a chance to play with this idea yet in our work, but I know there's more there in regard to spatialized narrative. I can feel that we're just scratching the surface, and there will be a big project that comes out of storytelling through landscape very soon." To underscore the possibilities of this approach, Parsons and Vance will assign Rebecca Solnit's Wanderlust: A History of Walking as a primary reading.
With a nod toward Andy Warhol's provocative 1965 double-screen Outer and Inner Space, which layers film and video imagery of Edie Sedgwick to question the boundaries between the real and the virtual, Parsons and Vance's "The Inner Reaches of Outer Space" promises to query similar potentials of an emerging artform, with specific attention to the body, local space, ritual and movement.