Back to selection
Sonic Menace: Composer Mark Korven on Scoring Robert Eggers's The Lighthouse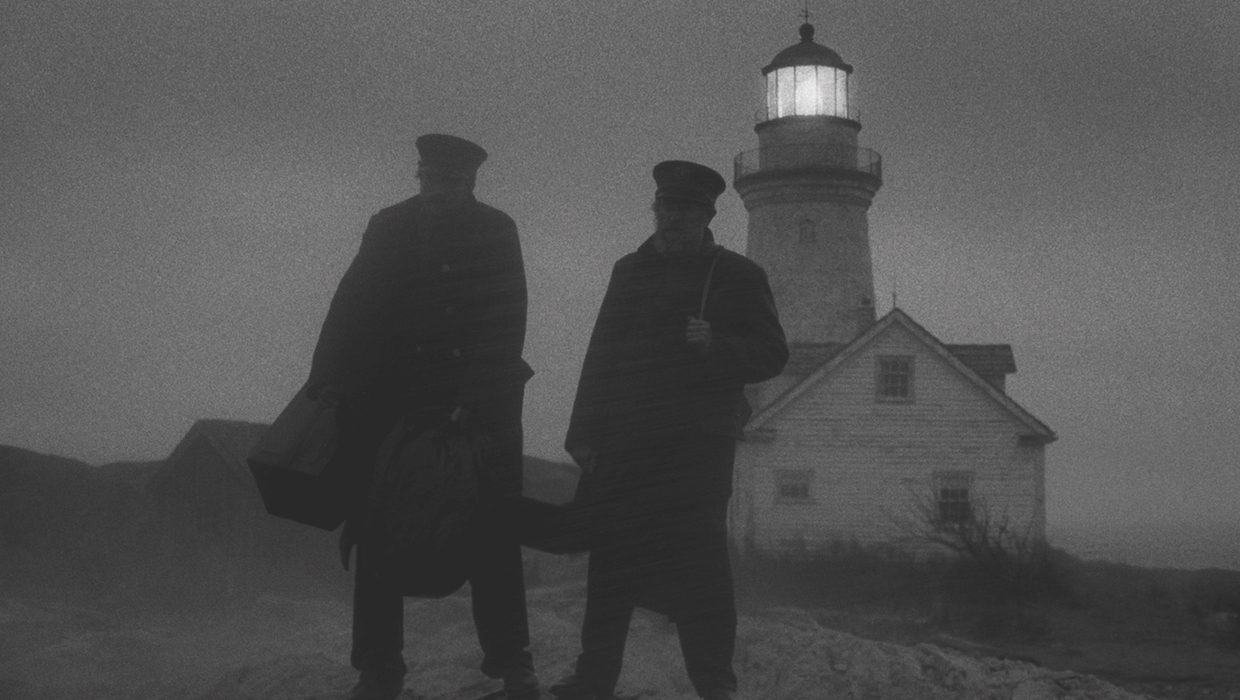 Williem Dafoe and Robert Pattinson in The Lighthouse
Thunderous farts and the roiling sea, booming foghorns and the menacing squawks of predatory seagulls—the Melvillian world of Robert Eggers's supernatural-tinged film The Lighthouse offers a composer many sources of sonic inspiration. Mark Korven, who reunited with Eggers following their collaboration on the director's 2015 feature, The Witch, admits that the environment of the film dominated their early conversations. "We did discuss nature a lot," he says, "and also the world the characters inhabited. There might be a rusty old cornet lying around the lighthouse or maybe a bashed-up accordion. Rob felt strongly about a brass score because there was something ferocious and dangerous about a roomful of brass players playing atonally. It just felt like huge ocean waves ready to carry you out to sea."
But, Korven continues, he and Eggers didn't want to make their score overly illustrative. "There was some talk about the mythology of the sea—mermaids, ancient myths, that sort of thing. We wanted to evoke that, but do so aleatorically, through the textures and instrumentation choices."
Indeed, what's exciting about Korven's work on The Lighthouse is how nightmarishly the score segues from bold modern classical strokes and eerie horror movie tension to improvised, near ambient textures. The score captures not only the terrifying isolation of the movie's island lighthouse, but also the primal emotions fueling the deadly rivalry between lightkeeper Thomas Wake (Willem Dafoe) and younger aspirant Ephraim Winslow (Robert Pattinson). 
The director was poised to enforce strict parameters. In an interview accompanying the film's soundtrack release, Eggers said, "Originally, I wanted a score with no strings at all. The Witch soundtrack was so string-prominent that I wanted a full departure. I only wanted horns, pipes, conch shells, concertina—things that sounded like the sea—or the lighthouse station's ominous foghorn. It would be a minimalist aleatoric soundtrack with a nod to sea shanties and ancient Greek music. As Mark and I embraced the sound of big brass sections, it quickly became a maximalist aleatoric soundtrack."
"There was a ton of material Rob played for me," remembers Korve, who cites classic horror scores like Psycho (Bernard Herrmann) and Alien (Jerry Goldsmith) as inspirations on his work in general. The playlist included that ancient Greek conch shell music as well as the 20th-century compositions of avant-gardist Giacinto Scelsi, one of the forefathers of drone and minimalist music. "That was all left behind fairly quickly, though. I don't like to reference the temp score too much. I was off doing my own thing as soon as I knew the basic vocabulary of what Rob was hearing. I don't overintellectualize much, and neither does Rob, at least musically speaking. Which is kind of interesting because he intellectualizes everything else. But the music is a very unique world for him, and I think he wants to keep it fresher and more spontaneous."
Despite Eggers's aversion this time to strings, some did make it into the final work—a cellist and double bass player—along with the brass section, percussion, woodwinds and instruments that Korven experimented with, including a glass harmonica and "friction mallets" dragged across wood, glass and cymbals. Then, there was Korven's own Apprehension Engine, the composer's response to the overuse of library sounds and sample presets in horror scores. The Apprehension Machine is a homemade electro-acoustic device (literally, rulers, coils, magnets and guitar necks arranged with pick-ups on a set of wooden boards) the composer commissioned from friend and luthier Tony Duggan-Smith. "It's not music in the traditional sense at all, but the Apprehension Engine definitely evokes an emotion, so I would call it music," said Korven in a video on the instrument produced by Great Big Story, which went viral with almost nine million views. 
As for the impressive interplay between score and sound design, chalk that up to one of the project's happy accidents. "There actually was no collaboration there at all! The sound design was not done when we did most of the work on the score. It actually would've been nice because I may well have written a very different score if I had known what was coming, sound-design wise. As it is, though, it does create some interesting hybrid textures between sound and music."
"We both like the happy accidents, the human frailties," concludes Korven about his collaborations with Eggers. "Perfection is so bloody boring, after all. I'm terrified of boring people so I always try to keep the sonic surprises coming."