Back to selection
Location Shooting and Independent Production: A History of Necessity and Innovation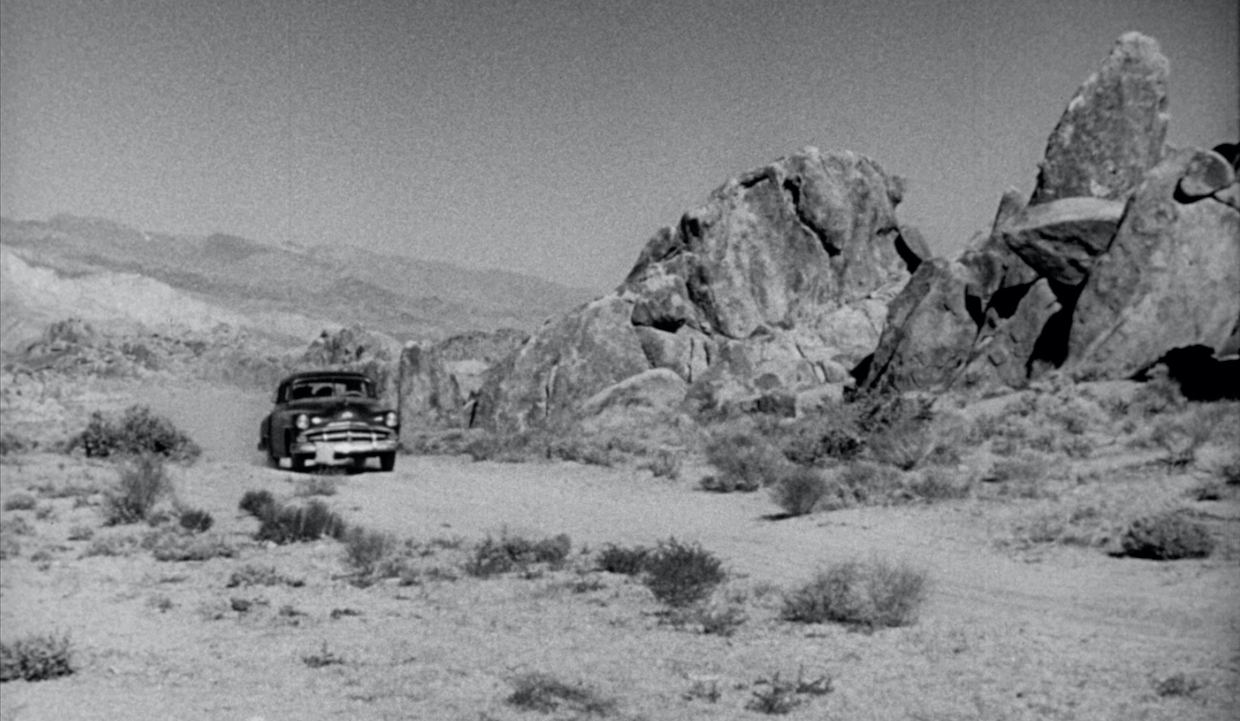 The Hitch-hiker (Courtesy of Kino Lorber)
In the 1910s, movie moguls built the major Hollywood studios to control every aspect of film production. Rather than succumbing to unpredictable weather and transporting an army of workers across the globe, they built massive sets, stages and large backlot settings like Western streets and jungles. Hundreds of employees churned out movies with near assembly-line efficiency. These studios created strong barriers to entry for independent filmmakers, who made do with inferior rental studio lots. However, a dramatic location, creatively captured, could rival any Hollywood construction. On location, low-budget and independent filmmakers sought production value on the cheap.
Westerns proved to be one of the most effective, enduring and prolific genres for location shooting, particularly before World War II. All but exhausting the Western landscapes of Southern California, filmmakers pushed further east into remote but spectacular landscapes in places like Prescott, Arizona, and Kanab, Utah. These "outdoor pictures" relied on bright daylight exteriors, reducing the need for expensive and cumbersome arc lights and generators. Local cowboys served as inexpensive extras, stunt persons and animal wranglers. In a recurring irony, extensive location shooting was reserved for the cheapest independent films and the most expensive studio films. Major studios spent heavily to photograph authentic locations in grand style, paying for scores of personnel to eat, sleep and work on location. Low-budget filmmakers captured a slew of Western footage on location, shooting Indian raids, posse rides and stampedes that might appear in a dozen films.
While the Western remained a privileged genre for location shooting, film noir expanded the use of urban locations in the 1940s and '50s. Thrillers like D.O.A. (1949) clandestinely stole city exteriors in San Francisco and Los Angeles, filming distinctive urban settings while lesser known stars like Edmond O'Brien passed by unsuspecting crowds. This is in stark contrast to major studio productions like Dark Passage (1947), which tried to capitalize on a postwar location-shooting boom but became mired in San Francisco with weather delays and crowd control problems as fans flocked to see Humphrey Bogart and Lauren Bacall. Ida Lupino's independent production, The Hitch-Hiker (1953), smartly combined the location advantages of Westerns and film noir. She took advantage of remote desert highways in Lone Pine, California, one of the most popular Western location hubs, as the setting for a tense kidnapping of two men on a fishing trip. Dramatic locations paired well with dramatic lighting could transform generic locales into nightmarish landscapes.
For better or worse, independent producers had to improvise on location. Producer/director Andrew Stone shot the finale for Cry Terror! (1958) in the Holland Tunnel, where generator fumes began to sicken the actors. As emergency vehicles gathered on the scene, the cameras rolled, and these stolen shots appeared in the film. Recounted with pride in American Cinematographer, this anecdote also points to the danger of independent location shoots that place actors and crew members in high-pressure, uncontrolled situations. 
Until the late 1960s, black-and-white film, a staple of noir, was much faster than color stock. Lower-budget noirs and police procedurals could take advantage of beautiful nighttime exteriors that were all but impossible to recreate in color. By the mid-1950s, these stood in stark contrast to lavish color films shot largely in Europe, as Hollywood's runaway productions took advantage of financial incentives to shoot epics like Ben-Hur (1959) abroad. With fewer films shooting on the lot, studios profitably rented out stages to television series at prices that few independent producers could afford. To avoid these expenses, stars and directors with their own production companies shot more extensively on location. Prominent examples include The Hustler (1961), produced by director Robert Rossen, and Hud (1963), produced by Paul Newman and Martin Ritt's company, Salem Productions.
By the mid-1960s, another independent film genre traversed California, much like Westerns of the silent era: the biker film. These drive-in staples by exploitation filmmakers like Roger Corman shot frequently on location and in color. Young stars like Jack Nicholson and Peter Fonda and upcoming cinematographers like László Kovács learned how to work fast on location; they later collaborated on the seminal low-budget hit, Easy Rider (1969). Companies like American International Pictures soon shifted to another location-based phenomenon, blaxploitation films. By the early 1970s, lower-budget filmmakers relied on faster color film stock and years of location experience to capture black neighborhoods in New York and Chicago. Faster film also allowed independent filmmakers to shoot on location with less (and less expensive) equipment during the indie boom of the 1990s.
Easy Rider and other late 1960s hits like Bullitt (1968), show how location techniques pioneered by lower-budget filmmakers gained acceptance in major studio productions. On Bullitt, Peter Yates used smaller Arriflex cameras and a semi-documentary style honed shooting in the streets of London. In 1968, Bullitt and Petulia became the first studio features shot entirely in San Francisco since the silent era. The success of Bullitt forever shifted the cop film from the backlots to actual urban locations. In another telling example, Warner Bros. allowed Bonnie and Clyde to shoot almost entirely on location because Camelot, an expensive flop, was tying up so many stages. As unexpected hits shot on location out-earned expensive, set-bound productions, what had been an independent style became an industry standard in the 1970s.
The clever use of handheld, lowlight camerawork on location for The Blair Witch Project (1999) presaged today's "found-footage" horror films. The handheld style of high-end independent films like Traffic (2000) is now a staple of action movies like the Jason Bourne franchise. However, ongoing improvements in CGI have once again upset the balance between studio and location shooting, allowing filmmakers to convincingly recreate many locations without leaving the stage. Yet, rather than displacing location shooting, CGI has hybridized it. Mobile motion-capture rigs deployed on Mad Max: Fury Road (2015) helped filmmakers stitch together CGI imagery and ambitious physical stunts shot in striking Namibian locations. The newest Matrix film will deploy a similar mixture of physical stunts, dramatic locations and post-production effects. Despite enormous technological changes, the inventive use of location shooting, pioneered by independents lacking full access to the major studio lots, remains a staple of contemporary filmmaking.