Back to selection
"The Starting Point is Authenticity… Would This Happen in Real Life?": The Sophisticated Location Work of HBO's Succession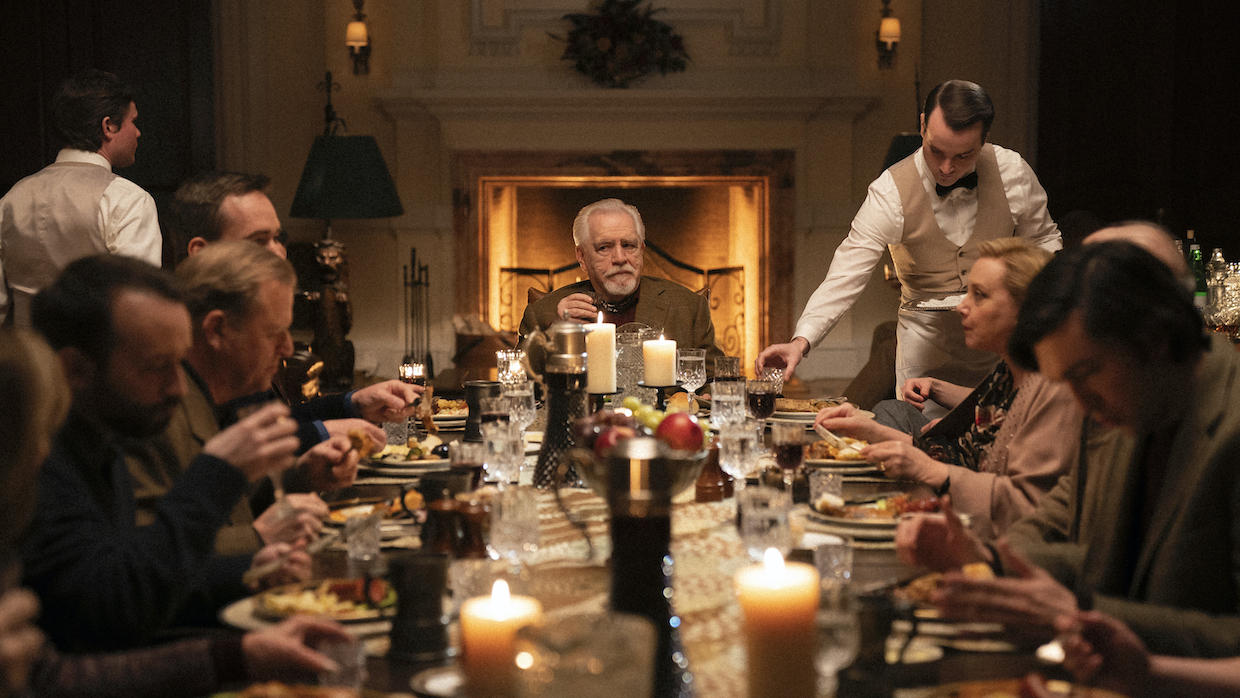 Brian Cox (center) in Succession (Photo courtesy of Peter Kramer/HBO)
A show like HBO's Succession risks being either tone-deaf or ineffectual, especially at a moment of heightened sensitivity toward income inequality and billionaires' amoral business practices. Armstrong's background in unsparing British cringe/political comedy, namely acclaimed sitcoms Peep Show and The Thick of It, helped him adopt an intimately satirical approach to the story of the dysfunctional Roy family, nouveau riche owners of the fictional media/hospitality empire Waystar Royco (a la the Murdochs and News Corp or the Redstones and ViacomCBS). Armstrong filters Shakespearean and Grecian tragedy into the series' premise—patriarch Logan Roy (Brian Cox) fights to preserve his empire from the hands of his Machiavellian scions employed by the company: Kendall (Jeremy Strong), Shiv (Sarah Snook) and Roman (Kieran Culkin)—while seamlessly incorporating topical shots toward failures in the media and culture industries and lampooning the ignorant elite class. It's a tricky balancing act Armstrong has pulled off with relative aplomb, affording his series a captive prestige audience and rapt press attention.
While Armstrong and his team of writers break fresh story involving the Roys, it's up to people like executive producer and frequent series director Mark Mylod to execute their vision. A television veteran who has worked on other HBO episodic projects like Entourage and Game of Thrones, Mylod relies on a core team of creative collaborators, including production designer Stephen H. Carter (Can You Ever Forgive Me?, Spotlight). Together, they're responsible for maintaining the show's distinct look, including finding suitably posh locations for the Roys' luxurious adventures. That became crucial for Succession's second season, in which almost every episode is structured around a new locale: a Hungarian hunting lodge, an international conference, a Senate hearing, a mega-yacht.
Though Succession's production team has built a certain number of sets on their New York stages, such as Logan Roy's in-house apartment, Carter said that he and Mylod wanted to push "the boundaries of location work" from the beginning because "it was going to give the show a tone of realism that [they] wouldn't be able to get from stages." Oftentimes, the approach was to build some of their bigger sets into locations, like the Waystar office suites, constructed on a vacant floor at 7 World Trade Center. That way, they could take advantage of the real views of the city and "craft the interiors with a floor plan that worked for [their] purposes, which involve a lot of long walk-and-talks and a lot of glass [that] allows people to spy and eavesdrop on each other so they know exactly what's going on. We were able to create an environment where intrigue is amplified."
For locations, Mylod says that "the starting point is authenticity—specifically, here, location truth. Where would this happen in real life? Tendrils extend from that. Obviously, finance is one of them. HBO is incredibly supportive with the budgets, [but] we're not Game of Thrones by a long shot. So, there's the question of where we spend the money, where we save the money, that practical thing every show has on various levels." He does note the relative success of Succession's first season opened doors to new location opportunities: "Certainly, in season two, it was easier to get a foot in the door to locations [that] are traditionally incredibly hard to get."
While the production team might get the actual shooting scripts quite late in the process, Mylod says he and his core team know early in the pre-production process the breakdown of what will happen in each episode, and more important, where they'll be set. "From the first conversations, [executive producer] Scott [Ferguson] and I are talking logistics, and Stephen and the locations team are getting together folders of everything in existence. Stephen and I will sit there, look at endless photos of endless places and go, 'Yes. No. Maybe that there.' We'll start in broad strokes, and, in classic fashion, it'll become more about the minutiae and about that location relative to that location or that episode, and then about the balance of the season."
Carter says that they try to bundle location shoots together, especially international ones, which, for the second season, included Iceland, where Kendall has been banished to rehab in the season premiere: "Iceland was in one of the very first drafts of that first episode of season one, went away for a bit and got changed around. Ultimately, it came back, I think, after we had shot the [rest of the] episode. As I recall, that was a reshoot of sorts. The episode started off in a plane with Kendall flying back, and when they started cutting it together, nobody really thought it worked, so we jettisoned that and went back to the Iceland idea. That was the point at which we were like, 'Well, we're going to Scotland, we're close. Let's throw a couple of days into Iceland if we can.'"
"[We] had a small unit go over to Iceland," says Mylod, "to get those driving shots in the opening sequence with Kendall. We lost a location, actually, at the last second. We were due to shoot at the Blue Lagoon [hotel] outside of Reykjavík and had contractual difficulties there, which meant we couldn't move forward in good faith. With about a week to go, we were locationless, which was a little bit scary. I'd been a big fan of Black Mirror and remembered a house I'd seen on an episode, which I knew was in Iceland. It happened to be available, and we jumped all over that. It was a fantastically stark location."
The series also filmed in Scotland—specifically, Glasgow, which doubled for London, and Dundee, Logan's birthplace. Mylod explains that, "to shoot both in London and Dundee was beyond us, particularly [when] we realized that we were going to have to spend a big chunk of our resources on [the finale]. We based ourselves in Glasgow [and] would try to replicate London streets—if it was possible, we did it. Little tricky in places. Of course, we wanted to go right to Dundee proper because Dundee is such a unique town as the birthplace of Logan. We wanted to get that uniquely working class feel to Logan's real soul, so we put our resources into doing a few days' shoot in Dundee proper."
For stateside locations, Mylod, Carter and the rest of the team scouted locations all around Long Island and upstate New York to take advantage of New York state tax credits. For example, the crew found Whiteface Lodge in Lake Placid, a relatively new resort built in the style of the Great Camps of the Adirondacks, for the fictional Argestes international business media conference. "It had such a character of that part of upstate New York that we felt also could have a little bit of flavor of Jackson Hole or other places that families like the Roys might hang out," Carter notes.
Similarly, the season's fifth episode, "Tern Haven," is set in and around the mansion owned by the Pierce family, a rival clan who control a media conglomerate Logan wants to buy. Mylod and Carter filmed the episode at Salutations, an estate on the North Shore of Long Island that originally belonged to Junius Spencer Morgan III, grandson of J. P. Morgan. (It was famously used in the 1995 remake of Sabrina, a film that shares a decorator, George DeTitta Jr., with Succession.) 
Carter wanted the house to evoke a more relaxed, liberal atmosphere while still tying it to the moneyed class. "There were elements of the Kennedy compound in Hyannis Port, a little bit of the Bush Kennebunkport compound. There was a great sense of the history and the preservation of that family house in that location, and that was really something that we responded to."
One of the highlights of Succession's second season was its third episode, "Hunting," which primarily takes place on a boar-hunting trip in the outskirts of Hungary because, as Waystar general counsel Gerri Kellman (J. Smith-Cameron) says, "It's a nice place to shoot a gun where no one cares what you hit." After the hunting expedition, Logan turns up the heat on his own staff to uncover possible dissenters in his ranks, all situated in a sinister-looking European castle fit for a tyrannical king. ("The road to hell is paved with boar carcasses," jokes Carter.)
Originally, "Hunting" was outlined to be set at some sort of upstate facility, but when the team were up in Lake Placid scouting for the Argestes conference, they decided that they wanted the hunting expedition to have a much different feel. They turned their sights to Long Island and found a former residence-turned-hotel called Oheka, built by famous investment banker and philanthropist Otto Kahn. 
"I think it was the [second] largest private residence at the time it was built, in the early 20th century," adds Carter. "It passed itself off for Hungary for a number of reasons, but one was [that] the reason it was built is because Otto Kahn's former mansion had just burnt to the ground because it was all made of flammable materials. Not to be taken twice, he had [Oheka Castle] built essentially out of concrete. It's kind of unburnable. There's something about that truth of its construction that makes it feel incredibly Soviet era, really heavy and foreboding." To Mylod, Oheka was another solution to a fiscal problem, a successful cheat that properly mimicked the Central European landscape. "It would have been great to take a couple private jets over to Hungary to shoot the real thing. [But,] we had such a variety of places that split up [our] resources; we needed to find a Hungary solution. We needed to put our resources into the yacht, for instance."
The yacht in question appears in the season finale, "This Is Not for Tears," which proved the most logistically and financially complicated episode of the season. There was considerable difficulty in securing the Roy family mega-yacht, the primary location and setting for pressure-cooker debates over who will serve as the company's scapegoat following their most public scandal. Carter describes the yacht as the series' white whale, one they were chasing for two seasons, with the idea dating back to an episode from the first season. But as the producers dug into the practicalities of securing such an enormous ship, not to mention the cost, it got pushed further down the line. "There's a running joke now that anytime we talk about an expensive set, or something we want, we rate it in how many yachts will that cost us," says Carter.
He adds that the team "probably looked at 50 different boats with varying different styles, varying degrees of what part of the world they could be at the time we wanted to shoot them." ("Unsurprisingly, none of us had any experience renting mega-yachts," says Mylod.) The team eventually settled on the Solandge, a 279-foot charter yacht, to be filmed off the coast of Croatia. Though it came with a price tag much higher than anyone anticipated, HBO supported the expenditure because they saw the value in what Mylod describes as an "extraordinary gilded cage" that served as an "extended metaphor for lobbing someone overboard." 
The on-set logistics of filming on the boat were also complex, especially limiting the amount of people on board at any given time. "Obviously, the boat has to have its real working crew on board at all times," says Carter, "to keep making sure that we're on best behavior but also to get the boat where it needs to be and run it safely." Carter and his team gave the boat's interior design a minimal makeover to ensure that it would photograph well and not possibly distract from the characters. "We always try to make sure that [the cast] are the focus of attention. If I get into any environment and some billionaire has made design choices that are going to potentially upstage Logan Roy, I'm going to try to rein it back in."
Mylod, the finale's director, admits the experience was difficult: "The logistics of shooting on a yacht, getting everybody from the mainland hotel or the island accommodations [on and off] the yacht every day, protecting the yacht from damage and just getting the yacht actually located pointing the right way, so that the sun was coming from the right direction, was an incredible challenge. Everybody's slightly hanging in rags at the end of the season."
Still, Mylod credits the relative smoothness of the shoot to his good working relationship with local crews in Dubrovnik from his time on Game of Thrones. His praise of local crews around the globe is a common refrain, one signaling his eagerness to push for more location shoots. "I know this sounds cheesy, but honestly, the more I shoot around the world—and Succession and Game of Thrones have been particularly great for that experience—the more you realize what a big committee filmmakers are, just going around this universal [grammar] of action and cuts where everybody kind of speaks the same filmic language. There's this real passion for taking the script and wringing everything they can from it."