Back to selection
As the Calendar Rolls Around: Producers and Sellers on the Pandemic-Altered '21 Festival Season.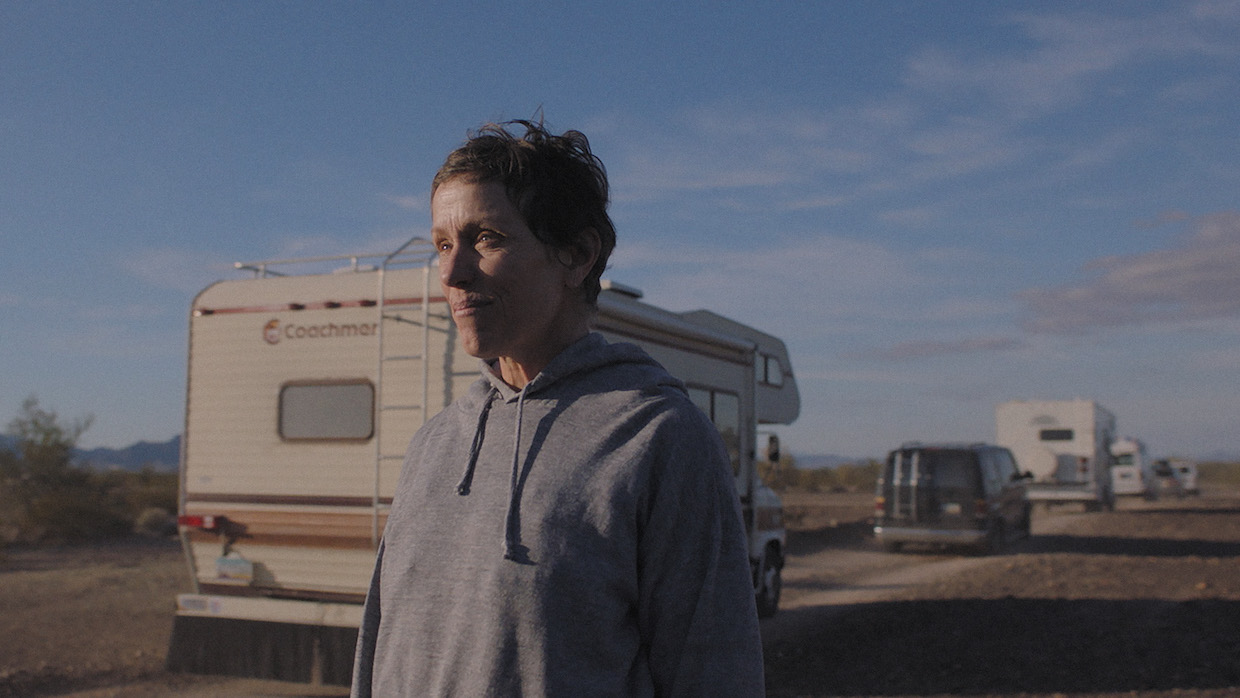 Frances McDormand in Nomadland, courtesy of Searchlight
For more than 40 years, there was a certainty to the film festival calendar—a comfort in knowing that, since 1978, when the Berlin International Film Festival moved to February, followed by Cannes in May, and Venice in the fall, there were three distinct seasons for producers, sales agents and buyers to meet, see films and make deals. But in 2021, things are different, of course. While the inflection points of the business cycle—winter, summer, fall—remain somewhat in place, the ongoing pandemic has scrambled the dates, formats and plans for hundreds of film events, upending launch strategies and causing potential logjams and confusion across the industry. 
The Tribeca Film Festival in June? A Cannes Marché in May? A Cannes festival in July—or even October? A glut of festivals on top of each other in the fall? By the time you read this article, some of the calendar's kinks might be worked out, but the shifts are destabilizing a fragile ecosystem for indie film that has depended on consistency. For example, with Cannes moving forward with an online market strictly for the industry prior to both Tribeca and its own public-facing event, many of the films that would normally have the momentum of festival buzz will be losing out.
"A lot of these films need festivals," argues Ryan Kampe, head of Visit Films, which is representing at least one film from Cannes's official selection for sales. "The breakout Tribeca films need the reviews, and a lot of these foreign-language films can't be brought to the market without the Cannes festival first." 
Kampe cites Sundance's public virtual event as a success because it built buzz around titles, which then led to subsequent sales after the festival and internationally at Berlin's European Film Market. Buyers, he notes, don't want to take risks now, so a carefully orchestrated festival launch, even a virtual one, along with plenty of positive reviews, is necessary. 
But big festivals, like Cannes, have no intention of presenting their world-class cinema virtually. As Kampe says, "They're not going to premiere the new Carlos Reygadas on the Cinando player"—the Marché's screening platform. "I don't think that's going to happen." The situation is making for a tricky period—with film festivals and filmmakers holding out for in-person events that could still very well be forced to go online because of COVID surges.
Mollye Asher, a producer on Nomadland, notes that Chloé Zhao's Searchlight Pictures Oscar contender persevered through the worst months of the pandemic via online and drive-in screenings, thanks to Frances McDormand and rave reviews, but she's concerned what will happen to her forthcoming film, Josef Kubota Wladyka's Catch the Fair One, a smaller project starring a nonprofessional actor that's starting the festival circuit soon. 
"I worry because the kinds of indie films that don't fit into a box need festivals and theatrical to increase attention and buzz," says Asher, who is especially concerned that it's harder to break through in this interstitial period when "theaters are open, but not necessarily in a way that can make an impact." She continues, "I think we all have to work harder right now. Our publicists have to work harder positioning this movie and coming armed with a plan on how to get attention for your movie."
Like Asher, Brad Becker-Parton, a co-producer on Eliza Hittman's Never Rarely Sometimes Always and producer of Adam Leon's upcoming Italian Studies, is also moving forward, despite acknowledging the risks of launching a film over the next few months. "I don't want to wait until people figure out 'the new way' of doing things," he says. "Let's get our films out into the world; figure out how to make whatever way it is screened—online, outdoors, etc.—as big of an event as we can, given the parameters."
Becker-Parton also has more practical and career-driven reasons for pushing ahead. While he has a full-time producing job that comes with a salary—and so doesn't need to sell the film for his own bottom line—he's worried about "generating new opportunities because the way producers attract new business is old business." He says, "I need to be able to talk about and show the work that I've done to be able to source new filmmakers and new projects, so it's a bit disconcerting that the last three years of my work has not been released. If all of those movies don't screen at a festival or get some sort of release until 2022, I'll be anxious."
Endeavor Content's director of film advisory Harriet Harper-Jones believes her agency can proceed with its slate of titles for sale, despite the ambiguities that persist. "However Cannes pans out," she says, "we are confident that we can continue building markets around hybrid festivals, capitalizing on the fact that buyers are hungry for quality content." As with Sundance's virtual event, she adds, "Films that resonate with audiences, be it virtually or theatrically, will find a home."
Harper-Jones cites ways they've successfully maintained momentum and buzz even in uncertain times, such as maintaining close contact with buyers, giving them access to recordings of Zoom roundtables with key talent to get a sense of marketing elements and ensuring premieres feel like an event—such as they did with their Sundance drive-ins.
 "We're just rolling with it," echoes Ryan Heller, head of film and acquisitions at Topic Studios, which had successful virtual markets at last year's Cannes and Sundance. "The role of the festivals is as important as it's ever been, and even if they're virtual, the community is still coming together and watching the same films and talking about them. So, yes, it's impacted how we do things, but not if we do things."
In many cases, producers' reactions to the current period depend on the size and style of their projects. For example, indie producer Mike S. Ryan (The Comedy), who has a new art film in post-production that he defines as "boundary-pushing" with a pace that's "anti-streamer," is waiting the season out. "The only reason why this film exists is that people would go in, the lights would go out and they wouldn't be able to switch it off," he says. "Without the physical components of a theater, I'm not deluded by the film's chances," he continues, "so, I'm hoping for Venice Horizons or Critics' Week, or Rotterdam 2022." 
Another producer with a genre film that will be done in June notes that a "well-attended, in-person premiere feels really important, from a launch perspective, which has us thinking a lot about the festivals in early 2022."
Meanwhile, the fall season looms on the horizon with its own challenges; in particular, a surplus of films. Assuming theatrical moviegoing will expand along with vaccinated people, many of the studios and mini majors—from A24 to Sony Classics and Searchlight—will be dominating the festivals with their long-awaited releases, "which is going to make it tight for slots for acquisition titles," says Cinetic Media's Jason Ishikawa. "There's only so many spots, and festivals are not getting bigger to accommodate all the films."
"It's definitely a concern for me that slots are going to be taken up by distributors," says indie producer Shrihari Sathe (Slow Machine), who is finishing work on a new film that would benefit from a fall launch. But Sathe also has the benefit of being able to hold off until next year. "My investors are OK with waiting," he says. "I suspect that a lot of American films can wait a few months for the next festival year—as long as you're not waiting too long."