Back to selection
500 Extras on a Hot Summer Day: DP Alice Brooks on In the Heights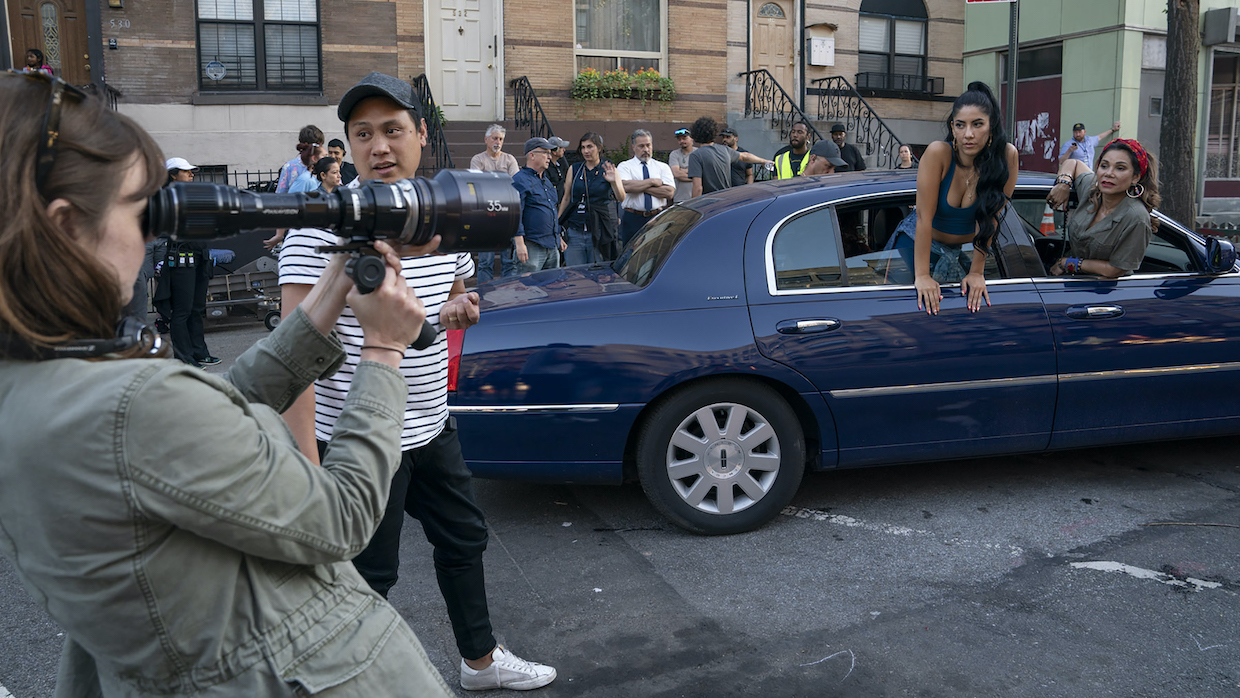 Alice Brooks, Jon M. Chu, Stephanie Beatriz and Daphne Rubin-Vega on the set of In the Heights (Photo by Macall Polay)
On Broadway, In the Heights won four Tony Awards, including Best Musical, in 2008. With music and lyrics by Lin-Manuel Miranda, and book by Quiara Alegría Hudes, the story unfolds in Manhattan's Washington Heights during a heatwave that results in a blackout.
Shot largely on location in 2019, the screen version of In the Heights stars Anthony Ramos, Corey Hawkins, Leslie Grace, Melissa Barrera and Olga Merediz. Directed by Jon M. Chu, the adaptation features several large-scale production numbers with up to 600 extras. Each song brought a different set of problems for cinematographer Alice Brooks to solve.
Brooks worked with Chu when both attended USC, and shot The LXD: The Legion of Extraordinary Dancers with him for Paramount. Her next project is an adaptation of the Jonathan Larson musical  tick…tick…BOOM!, Lin-Manuel Miranda's feature directing debut. Brooks spoke with Filmmaker via Google Meets. In the Heights screened as opening night of the Tribeca Film Festival before its nationwide theatrical release this Friday.
Filmmaker: Let's start with how you joined the project.
Brooks: I met Jon when we made his short When the Kids Are Away, which premiered at the Tribeca Film Festival in 2003. We've been good friends over the years; we've done lots of music-driven or dance-related projects together. We were doing a television series when he asked me to shoot In the Heights. It was great because all of us—Nelson Coates, the production designer; Myron Kerstein, the editor; and Mitchell Travers, the costume designer—went from Vancouver right into In the Heights. We've been together for two years, which is remarkable for a creative team.
Filmmaker: In Crazy Rich Asians, Chu came up with a heightened, romanticized version of Singapore. Did he want a similar approach for Washington Heights?
Brooks: We arrived in New York in March, 2019. It was cold, we were standing in Highbridge Park pool in heavy coats. We immersed ourselves in the community, ate our meals there, interacted with the residents. We wanted to be inspired by Washington Heights itself, and not make a Hollywood version of what we thought it should be. We took what was already there. We took pictures and looked at local photographers, and those became our references for what the movie should look like.
Filmmaker: What was your camera package?
Brooks: We shot with the Panavision DX L2 and anamorphic G series lenses that Panavision customized with us to make them feel a little bit more aged and a little bit softer. We used a lot of ARRI lighting products, huge numbers of ARRI Skypanel S60s and S360s. For the fireworks lighting effect, we had Skypanel S360s on every roof down the street, all attached to a dimmer board. We could light up the whole block as if fireworks were bursting in the sky.
Filmmaker: I cannot figure out how you got some of those overhead shots. Helicopters? Drones?
Brooks: New York City has a no-drone policy—we would have loved to use one at the Highbridge pool. It was originally part of the reservoir system for the city, so you have to cope with all these tunnels underneath. The size and weight of the cranes we could put on the pool deck were limited. We actually had to switch to spherical lenses for one overhead shot to get a larger field of view.
Filmmaker: The pool sequence is gigantic. Can you talk about putting it together?
Brooks: It was a tricky location. We were the first movie to film there. We started on a Monday in early June. It was cold, and it rained for two days, so we ended up shooting there for four days. Once they opened for the summer, we couldn't shoot there anymore.
The production did a huge outreach to the neighborhood to get them involved [and] feel a part of the movie. There were, I believe, 500 extras, many of them members of the community. That day we had three cameras, including a Steadicam with a wonderful operator named Mark Schmidt. Jon loves to do long, long takes, or just reset, not cut, because he knows he will lose people's attention. Mark sometimes held that camera for twenty minutes without complaining.
Filmmaker: Did you storyboard the dances?
Brooks: There was a mix. Some sequences were storyboarded, but we would also film dance rehearsals. Chris Scott, the choreographer, and Jon and I all had anamorphic attachments for our iPhones. We would film the numbers over and over again during the ten-week rehearsal period. On Sundays we would meet up at Jon's apartment and share the footage. Then Jon would start editing it on his computer. We'd be like, "That angle is really great for that moment." So, by the time we were actually on location, we had animatics cut together from storyboards and footage that we shot at rehearsals which I could show to the operators, the dolly grip, the crane operators, so everyone knew what we were trying to go for.
Filmmaker: So you reached a consensus for how to frame each dance move, each lyric?
Brooks: The wonderful thing about doing a musical is you have the cast and the dancers there for weeks before. You know what their performances are, whereas when you're doing a drama or comedy, you don't at first. I remember the first day I went to the dance rehearsal for the "Carnaval del Barrio" number. Chris Scott said, "Just watch for a while." I spent a couple of hours just sitting on the sidelines and then he's like, "OK, I'm ready for you." He put me right in the center of the dance, he put his hands on my shoulders to orient me in the space. He turned me east, then west, then north and south. Then he whispered in my ear, "Now you figure out where you want to be," and I just floated through the space. It was one of the most fun rehearsals I've ever been to. Then we had that footage, looked at it and figured out, "Oh yes, this works," or "This doesn't work."
Filmmaker: How much shooting was on sets versus location?
Brooks: We had ten days of soundstage work and the rest was on location. I believe we shot for 49 days. The interior of the bodega, Daniella's salon, Kevin Rosario's back office were sets. They built out the walls of the salon on location. The actual bodega and car service were on the corner of 175th and Audubon.
The city was amazing, but we didn't know how long they were going to let us block off the intersection. The crane placement there wasn't ideal because we couldn't be in the middle of the street, and we had to stop for public service vehicles to get through. The city worked well with us, but we never knew far in advance how much time we'd be able to shut things down. Each day was different.
Filmmaker: "Carnaval del Barrio" is another enormous production number.
Brooks: We had two days to shoot that number, which is over eight minutes of music. We set up the crane the day before, got all the crane shots first—anything that was high and anything looking west. So, that's the first half of our day. The crane left while we were eating lunch. When we came back, we did all of our 360-degree Steadicams and the other angles we planned.  Jon, Chris and I had gone through it the day before, so by the time we got there, we knew the camera goes here, the dancers do that. We didn't have a moment to pause, and it was one of the hottest days of the summer. The dancers danced for 14 hours. I mean, they were superhuman that day.
Filmmaker: Was weather an issue?
Brooks: I grew up in New York until I was about ten, and this summer felt like the most thunderstorms we've ever had. We would frequently have to shut down our generators.
Filmmaker: Was it difficult shooting in the subway for Olga Merediz's number, "Paciencia y Fe"?
Brooks: That scene was my favorite. Olga is amazing. All the cars and subway platform shots were done in one day. We shot on an abandoned platform three levels down on the D line out in Brooklyn. That was intense. The MTA doesn't let you touch the inside of the existing lighting in train cars, so the gaffer made rigs to hide our lights that were painted the same color as the subway ceiling. We also had to get the MTA to give us permission to use atmosphere smoke down there. I think it took five days to rig all our lights, then we shot over two days.
We used the 900-foot tunnel at the 191st Street subway stop for the other part of the number. We were allowed in at 5:00 p.m. and had to be done by 4:30 a.m. We wanted chasing lights, and a sort of ring of lights around Abuela [Olga Merediz's character]. We had to lay our cable down the whole length to rig the lights. It was 95 degrees at sunset, and the tunnel was soaking wet. The humidity was just pouring off the walls, which actually worked out great for us because you got this beautiful glisten from the lights reflecting off the moisture in the tunnel.
Filmmaker: How closely were you able to work with the colorist, Stephen Nakamura?
Brooks: Very closely. I love working with Stephen. I was in the middle of prepping another movie, tick…tick…BOOM!, in New York, so I could do the color on In the Heights on weekends and nights. Then COVID shut down everything. That August I went back to New York and could be completely focused on the color. We started at the beginning of the movie, but I felt like something wasn't quite right. The heart of the movie, the energy of the movie, is Carnaval, so I thought, "Let's start there." If we got the color right there, we would get the rest of the movie right.
When you say "hot summer," people think, "Let's make it super warm tropical colors." But Washington Heights summer is not LA summer, it's not Hawaii summer, it's not Caribbean summer. It's very, very specific. It's not even like the rest of Manhattan, because the buildings are lower and they have this beautiful patina. They're grey brick, there's very little red brick. When the sun hits the buildings, it has a coolness to it. We didn't want orangey warmth. It became this sort of cool sky with a warm sun. I think the light in Washington Heights is different than almost anywhere else I've been in the world.