Back to selection
Unsparing and Risky Visions: The 2022 First Look Festival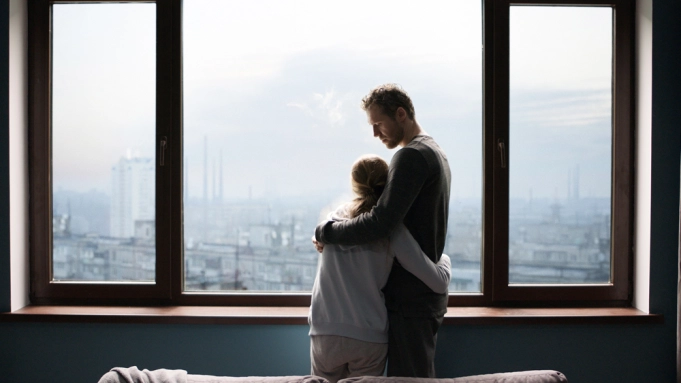 Reflection
Although its current edition overlaps the waning days of industry monolith SXSW, the Museum of the Moving Image's annual international showcase First Look originally really was the first look. A scarce few days into the new year, New Yorkers had the opportunity to sample stateside premieres of often boundary-fuzzing selections from the global festival circuit, kicking off the next round of the same even ahead of Sundance, which it could hardly resemble less.
The timing has shifted since the festival's launch in 2011, under now-New York Film Festival artistic director Dennis Lim, but if anything the mission has become more ambitious, a search for unsparing and risky visions of the world that we live in now, a nervous, nerved-out place and time shadowed by overbearing historical forces yet disorientingly fractionalized into rapid bursts of pixelated debris. The festival, which continues through Sunday night at the museum in Astoria, Queens, also marks its return to "normal" scheduling, after the disruption of the COVID-19, following last summer's extended "20/21" session. As such, it's an all-killer, no-filler affair, packed with surprises: inventive nonfiction from Madagascar (Tovoniaina Rasoanaivo and Luck Razanajaona's Faritra); whirligig genre romps from Indonesia (Edwin's Vengeance is Mine, All Others Pay Cash); and a spree of shorts and intermediates, including A Man and a Camera, Guido Hendrikx's direct affront to COVID-era insularity, which shows what happens when the filmmaker goes door-to-door in a placid Netherlands neighborhood, greeting residents with a running camera and his own complete silence, the subjects' reactions a full gamut of possible outcomes (from calling the cops to a dinner invitation). Ultimately affirming of mankind's goodness, the film has its opposite in the painfully apt Semiotic Plastic, in which Romanian filmmaker Radu Jude subjects toy dolls to a brutal (mordantly funny) stop-motion history lesson. 
If some of the worst of Jude's scenarios now appear to be playing out on news dispatches from Ukraine, the Ukrainian director Valentyn Vasyanovych dials us right into the moment with Reflection. The followup to the eerie prescience of 2019's post-apocalyptic Atlantis, which was shot in the now bombed-out port city Mariupol, the drama unfolds around the 2014 war with Russian forces in the Donbas – a precursor to today's abhorrent events. The story documents the trauma of Serhiy (Roman Lutskiy), a Kyiv surgeon, who is captured almost as soon as he arrives in the combat zone to provide medical aid. His time as a Russian prisoner is horrific, as he is made to witness the torture and killing of other prisoners – one scene with a power drill, harsh enough as it is, would be torture porn were it not for the filmmaker's sustained visual strategy, framing scenes from a distance with a locked-down camera – and forced to verify their deaths. Returned home in a prisoner exchange, Serhiy struggles in his relationship with his daughter and ex-wife, whose new mate Andriy (Andriy Rymaruk of Atlantis) has disappeared in the conflict. 
The plotline ties together a series of moments that the camera quietly observes, only occasionally breaking from its static posture and successive symmetries. Throughout the film, the mid-center of the frame is a shifting, deep-focus site for resonant images. At the start, it holds the clear glass that is splattered with paintball pellets as Serhiy watches his daughter (played by the filmmaker's daughter Nika) engage in non-lethal pretend combat; then, it's a surgical theater; then a torture chamber; then a death slab, an incinerator, a dark road at night, and, at last, the window in Serhiy's apartment, where his daughter's efforts at sofa yoga are disrupted when a bird smashes against the glass, leaving more splatter. The formality yields to further trauma, as the camera chases Serhiy along a recreational run through a darkened park, where he is attacked by a pack of wild dogs. There is seemingly no respite from pain, whether existential, emotional or physical, so when the film's closing moments offer the evidence of healing the sensations radiate from a gut level. The camera's apparent detachment buffers the audience from what could be unbearable, yet in the end the effect is fully felt.
An entirely different film about alienation that likewise grounds its character in a process of recovery, Zero Fucks Given stars Adèle Exarchopoulos (nearly a decade after Blue Is the Warmest Color) as another in the present line of cinema's professionally unsettled young women, but she's not sprinting across Oslo or Encino. She's commanding the aisles of the coyly named Wing, a European budget airline whose near-verite representation by debut feature writer-directors Emmanuel Marre and Julie Lecoustre is at once all-too-painfully familiar for frequent fliers, and also weirdly nostalgic, given that many of us haven't been onboard in awhile. The lead's Cassandre seems to be dog-paddling through some sort of personal crisis/stasis, partying through the off-hours with an uninspiring array of Tinder hookups and resort disco visits, while putting on a shaky game face to hawk onboard sales of cosmetics and cocktails that drive the airline's profits – and boost her career options. Oddly, it's not the hangovers (or drinking onboard) that put Cassandre's job at risk but an act of compassion. It's a plot turn that allows the filmmakers to comment on the dog-eat-dog nature of what we now call essential labor, but it also allows a pivot out of the blank, blinking world of international airport terminals and the functional boredom with which Cassandre meets it, and back to the warmth of her family, where fucks are given and peace must be made with tragedy. The film's conception allows significant space for Exarchopoulos to annex her character's interior psychic space, a Mona Lisa of the multi-lingual homogeneity of Eurozone in transit, a blur of beachy nightspots, Starbucks, baggage claims and AirBnBs.
Much as Vasyanovych, who at 50 is of fighting age and remains in Ukraine, the Russian dissident filmmaker Kirill Serebrennikov could not attend First Look. In 2020, he was slapped with a three-year travel ban that forbade him to leave Russia, although he was allowed a trip to Hamburg, Germany, to direct a production of his play The Black Monk. His 2021 film Petrov's Flu, made after the director was freed from 20 months of house arrest, is based on the novel by Russian writer Alexei Salnikov, and is 2-½ hours of surreal delirium, the titular respiratory affliction having dispatched a woe-begotten shlump named Petrov, a comic-book artist, into an absurdist, booze, blood and sex-drenched landscape perhaps indistinguishable from contemporary urban Russia. I lost track of things several times, as the characters, who include Petrov's librarian wife (prone to black-eyed seizures and murderous fantasies that may not all be fantasies) and kid, as well as various nefarious sidekicks, lurch across Yekaterinburg, adrift between the mad and the mundane. The festering portrait of an everyman barely hanging on amid a public health catastrophe that seems to be a symptom of a far greater collapse of the social order is a lot to wrestle with, but also registers as an all too relevant sign of the times.