Back to selection
Truly Micro: Pete Ohs and Tzvi Friedman on Their Ultra-Low-Budget Features, Jethica and Man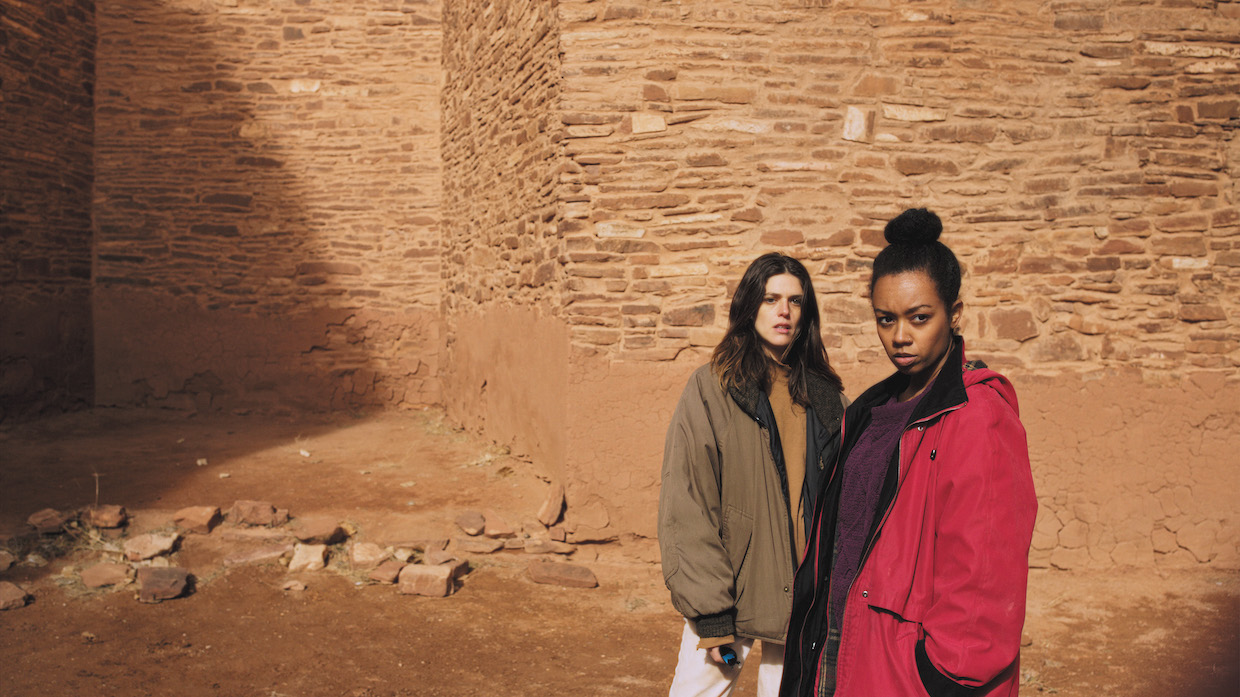 Jethica
While most producers these days are worried about the latest CPI number—that's the Cinematic Price Index—one group of filmmakers is, somewhat paradoxically, not: those working on the lower end of the microbudget, or "no-budget," continuum, producing finished features for the very low five figures. For them, production is retrofitted from whatever money can be raised, and if the price of gas goes up, well, the shoot just has to make do with less in another area.
Among such filmmakers, there's perhaps no one whose model is as stripped-down as Pete Ohs, who recently premiered his latest work, the well-received Jethica, at SXSW just months after his previous feature, Youngstown, dropped in digital release and at the American Film Festival in Wrocław, Poland. Following a more conventionally crewed, Julia Garner-starring debut, 2017's Everything Beautiful Is Far Away (directed with Andrea Sisson), the filmmaker transitioned into being his own one-man crew: He produces, shoots, takes sound (lavs going into a Zoom H4n audio recorder), edits, moves around the two portable lights (a daylight-balanced Aperture LED panel and a 1K open-face tungsten) and is his own DIT, dumping cards at lunch and end of day. Explains Ohs about the shift in approach, "I've been down that road of trying to make a low-budget movie, which ends up involving a lot of asking for favors. Even if you are paying people, you're paying 'a friend rate,' which is asking for a favor. And, as much fun as it is to make things with people, it's not actually that fun to ask for favors." Such an ascetic approach is obviously cost-saving: "No one's getting paid because there is no one to pay," Ohs quips, although he quickly notes that he does pay his actors.
Integral to Ohs's approach is extreme flexibility in all conventional aspects of making a movie, starting with the script. For Jethica, a story of two women haunted by a ghostly stalker, the nominal screenplay was "just an outline of the first half of the movie that I made after having conversations with the actors about their characters," Ohs says. "I brought a lot of ideas to them, got feedback, then filled in the beats in the Save the Cat beat sheet format. I didn't really figure out the rest before the shoot—I just left that to be part of the journey, because it's fun to find things together or to bring in an idea and have the actors help me make it better." (Accordingly, Jethica's script is credited to Ohs and its four actors.) 
As opposed to a conventional shoot, where, Ohs says, "You're giving call times and telling people they have to be there," he treated his 11 days of shooting like "a vacation where you end up with a movie—a fun, low-pressure, low-stakes situation, which means I'm not really fully in control of [the actors'] schedule. If they told me they didn't want to shoot that day, I'd be like, 'OK, I guess we're not going to shoot.'" Actors are responsible for their own minimal makeup and costumes, but again, Ohs stresses the communal, nonhierarchical nature of his project: "A big part of it is trying to not make any one of the actors feel too responsible because responsibility is a weight. So, for costumes, we'll all go the thrift store together and shop in character. It's fun, and it's cheap." Catering and meals? "If we were going on a road trip together," says Ohs, "I wouldn't be paying for your meals, so it's not going to be catered. When you're hungry, you say, 'Hey, I want to get some food,' and we stop what we're doing and get food."
For post-production, Ohs edited and did a first pass at the sound design, which Danny Madden then filled out. A U.S. In Progress post-production grant resulted in a cost-free DI by Warsaw's Black Photon, "which was really great, although I have considered just doing that myself, too," Ohs says.
Ohs freely admits his approach is not for everyone, and not for every project, including his own: "I've written scripts, or half of scripts, that are too big to do with this model." And while strong reviews and the support of sales agent Visit Films suggest that Jethica could achieve a level of success, Ohs would rather go right into another feature later this spring instead of going through the financing process on a larger movie: "I'd rather make another movie than not make another movie." Putting his own funds earned from freelance shooting and editing gigs into his films (he took a break from editing an Instagram influencer's sizzle reel for this interview), Ohs says he sacrifices things like vacations for his filmmaking. "I like making movies," he concludes. "That's where I find my joy in life."
New York-based Tzvi Friedman has been making short films since 2019. For his first feature, Man, he embraced a microbudget approach that's larger than Ohs's but similarly flexible. He worked with a small crew: a DP and assistant camera/grip, editor, sound person, gaffer for interior days, makeup artists, production manager and assistant UPM, AD department and post team. But with a total budget of $30,000 ($10,000 for the shoot and $20,000 for post), it's obvious that Friedman convinced crew to work on Man for far less than their usual rates. He says over his seven shorts there'd be "one person who survived" each shoot and wanted to work together again. Other crew members were found via job postings on Indeed and Facebook. Of his crew, Friedman says, "They work on big commercials but get excited about the idea of underground films. They liked this chaotic, very creative process—a lot of ideas were passed around [when we were] coming up with [parts of the story] together. We were all committed to making a pure piece of art. I got lucky and convinced people more talented than I am to work on this. But you can literally make a film with your DSLR, and the initial idea was to do it for nothing—I was ready to go by myself if it came to that." 
Man is an eerily austere New York-set serial killer drama with a (possible) science-fiction twist and impressive formal control. The film was inspired when Friedman was locked out of a Brooklyn apartment where he was sleeping and wound up wandering the streets. "The story unfolded as I was walking around that night," he says. "I found locations as I was walking, thinking, 'I could have a murder happen in this long alleyway.'" 
"For me, making a low-budget independent film is reverse engineering," Friedman says. A fan of Christopher Nolan, he read everything he could about Nolan's first feature, Following, reportedly made for $6,000, and learned about how the British director wrote his script around the locations he'd be able to access for little cost. Friedman's also a fan of Paul Schrader and Robert Bresson. "Bresson's films, particularly Pickpocket and Au Hasard Balthazar, had a big impact on me," he says. Referencing the director's use of offscreen action, Friedman says, "His films are good ways of learning restraint as a style. They're minimalistic and often have little dialogue." Realizing he wouldn't have the time for much coverage on an 11-day shoot, he says, "I couldn't make a film with long soliloquies. I had to weaponize my limitations, and, anyway, I'm a fan of quiet films where the audience projects into the action."
In post-production, Friedman met producers Cary Woods (Scream, Kids) and Jonathan Gray (Charm Circle, To Dust), who both came on board as executive producers and to guide the finishing process. Now complete, Man is beginning to submit to festivals.