Back to selection
A Collective Voice: Composer Hildur Guðnadóttir on Women Talking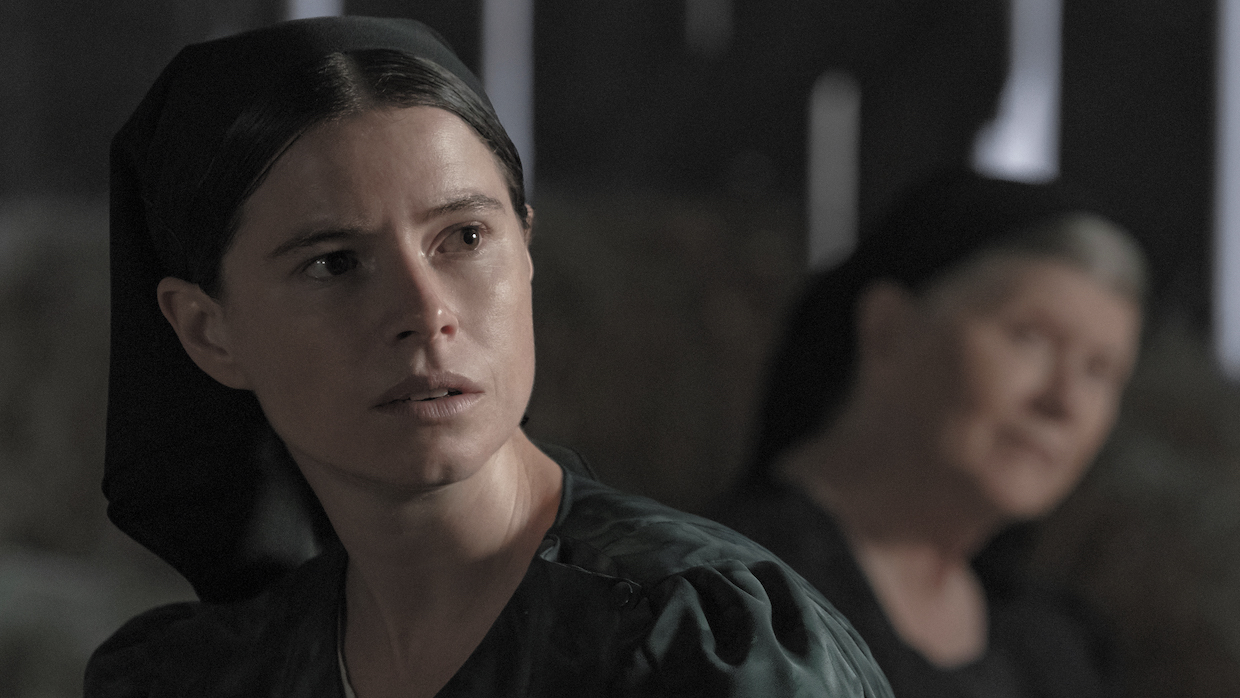 Claire Foy in Women Talking, courtesy of MGM
Upon winning an Oscar for scoring Joker, Hildur Guðnadóttir dedicated it "to the girls, to the women, to the mothers, to the daughters, who hear the music bubbling within," telling them in her acceptance speech to "please speak up." So, when she was approached to score Sarah Polley's drama Women Talking, "after the Oscars were over and I had already given that speech," the Icelandic composer and cellist remembers being taken aback by her own "knee-jerk reaction" to the project: "Who wants to sit through two hours of women talking?" 
"I stood up on that stage, urging women to talk, and my reaction to them doing so was, 'Who wants to listen?'" Guðnadóttir recalls. Confronting this ingrained bias, Guðnadóttir considered "many layers to our psychological perception of women talking" while collaborating with a female filmmaker, noting, "I had to really be honest about myself in this process." 
The result is perhaps Guðnadóttir's most moving score, employing acoustic guitar and a limited string section for a hopeful theme, followed by haunting variations that deepen the film's mood of contemplative melancholy while embodying the characters' shared emotional and ideological progression with each cue.
Set in an isolated Mennonite colony, Women Talking centers on eight women who convene in a hayloft after discovering men from their community have drugged and raped them at night for years. In plain dress, surrounded by farm fields, the women debate faith, power and self-determination in the wake of unimaginable trauma; the pastoral milieu and sense of feminist reckoning, described as "doomsday and a call to prayer," informed Guðnadóttir's folky, guitar-based melodies. 
"I wanted the score to be rooted in the world we were in, not foreign to the situation, simply out of respect," Guðnadóttir explains. "It needed to be real, present, grounded and tangible. I imagined these women would probably not have access to instruments, but if there was an instrument in their nearby vicinity, I imagined it would probably be a guitar, in the next village over."
Guðnadóttir titled Women Talking's theme "Speak Up" to reference her Oscar speech and the process of collaborating with Polley. "Sarah has a beautiful, refreshing way of approaching difficult subjects [that is] very feminine, non-violent and open," Guðnadóttir says. "This was one of the more difficult subjects for me to approach musically because it was just so overwhelmingly terrible what happened to these women. Sarah's way of going about it was inspiring; she's so courageous and unafraid."
Seeking a sense of community, Guðnadóttir chose "to work with people close to my heart," selecting Icelandic guitar and bass player Skúli Sverrisson, her friend and collaborator of nearly two decades, to play acoustic guitar. "One of the huge privileges of working as a musician is to be able to have these long-form conversations through music," Guðnadóttir says. "You can have such beautiful musical communication through all of this passing of time and such knowledge of each other."
Guðnadóttir recalls recording sessions with Sverrisson, the insistent, ambling strings of his guitar and acoustic bass complemented by her cello's low-bowed rumble. "Half the time, we were working on the music, but the other half we were talking about our feelings, our friendships, our hopes and dreams and miseries," says Guðnadóttir. "We poured the love that we have for each other into this music. I thought it was important to genuinely feel that love." 
That's because "you can't fake anything in music," Guðnadóttir adds. "You can hear instantly if someone means something they're saying or not. It's so obvious, at least to me; even if a person is singing one tone with presence or non-presence, it changes everything." 
Guðnadóttir knew the score for Women Talking "needed to be full of hope and forward movement, giving us a glimpse into the possibility of these women," rather than simply amplifying their anguish and rage. "That's one of the things I had to examine: Am I going to allow myself to be paralyzed by my anger on behalf of these women, or am I going to work up the courage to give them a possibility for a better life? How I chose to do that was through a melodic approach, because melodies speak to everyone's emotional reaction more than texture and rhythms," Guðnadóttir says. "Melodies are our way into our emotional side."
Later scenes in Women Talking are charged with dread, with the guitar emerging as a menacing percussive element. Violence looms over the film, never depicted but deeply felt. For flashbacks to the women awakening after assaults, thighs bruised and sheets bloodied, Guðnadóttir suggested striking a bell with a stick; its blunt reverberations convey the abrupt revelation of all that these women have lost. Elsewhere, held strings bring time to a mournful standstill during a sequence where Polley's camera studies faces of boys in the colony, wondering what kinds of men they'll become. 
"Music is wonderful at going beyond the words and what you can sense with your eyes, straight to your heart and subconscious way of processing," Guðnadóttir says. "You can try to close your ears, but the frequencies of what you're hearing will still access your body. That's the good and the bad of music, this power it has. In Women Talking, it was so important from the very beginning for the music to tell us these women are in the worst imaginable scenario, but there is a way out. And as their belief in each other and their faith in themselves strengthens, the music grows with them."
Guðnadóttir has long explored sound's subconscious power, dating back to her 2006 solo recording "Mount A," on which multilayered cello instrumentals overlapped eerily with zither, viola da gamba, morin khuur and subliminally looped electronic drones. Guðnadóttir's other recent film project, Todd Field's orchestral drama TÁR, required her to work subsonically to enter the headspace of Cate Blanchett's conductor Lydia Tár. If Women Talking unpacks emotional process, TÁR examines artistic process. "When you're working on music, you get completely overtaken by what you're rehearsing or writing," Guðnadóttir explains. "What you're processing is happening internally, so most of the process happens in a space inaudible to anyone else." 
Beyond "For Petra," a neoclassical composition Lydia creates that threads throughout TÁR, audiences won't hear Guðnadóttir's work, but it was ever-present on set; she tempo-mapped the script, setting BPMs for Blanchett and a co-star, cellist Sophie Kauer, then writing music to match these "inner tempos," fed through earpieces during filming. Guðnadóttir came in during the script stage on Women Talking and TÁR—"not the most time-saving or money-focused way of working," but preferable to contending with temp scores in post, which can exert undue influence on a film's musical direction. 
"There are no preconceived ideas about what the music is, except for what I feel like it is and what the dialogue we're having says it is," Guðnadóttir says. "A lot of composers I know like to be inspired by the visuals more than anything else, but for me it's more about creating something in dialogue. All these elements in the filmmaking process—cinematography, acting, editing—are very musical elements. [They] can dance, move together and influence each other, without one element specifically taking the lead."
Early conversations between Polley and Guðnadóttir so moved the director that she wrote them into the script. These discussions influenced Guðnadóttir's music equally. "When you work in that way, all the elements are organically connected; all the strands of DNA are growing at the same pace, in the same process. You don't have one element chasing another. You can create a work of art together in that inner dialogue."