Back to selection
"If We Wanted To Visualize This at All, We'd Have to Do It Ourselves": Steve James on A Compassionate Spy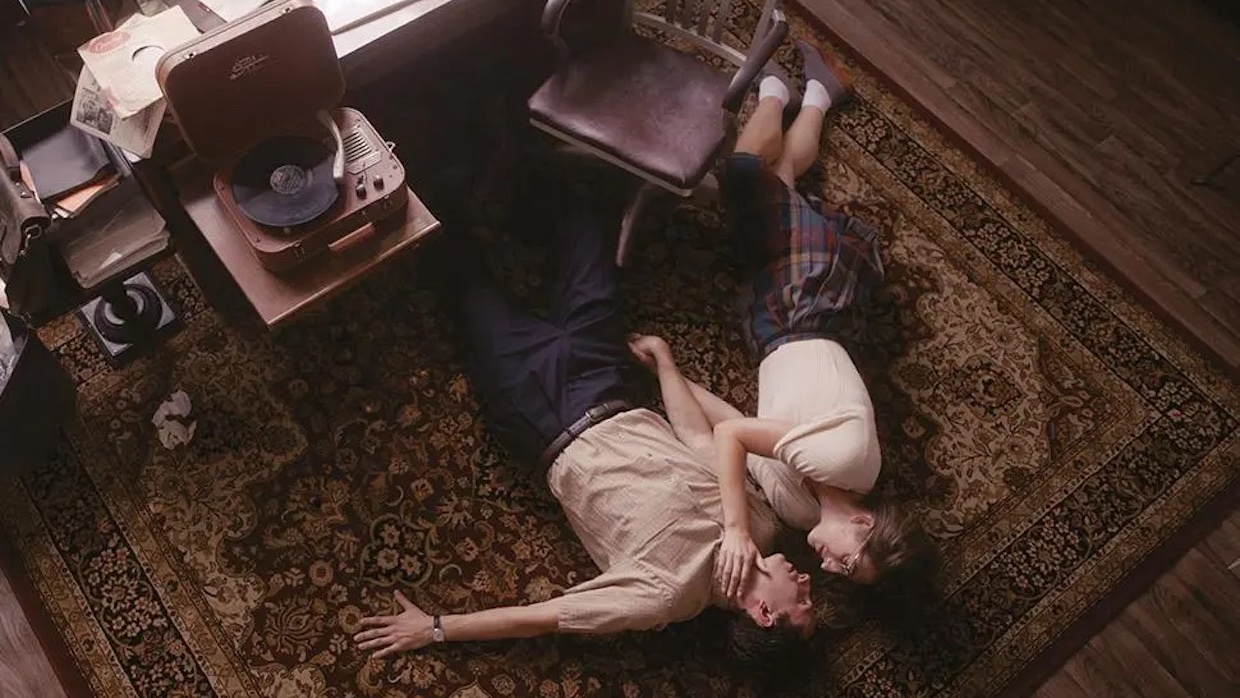 A reenactment from Steve James's doc A Compassionate Spy
Steve James's A Compassionate Spy is an unexpectedly charitable portrait of a man who betrayed his country for a higher cause. Specifically in the case of physicist Ted Hall—still a teenage undergrad at Harvard when, in 1944, he was tasked to help develop the atomic bomb—the greater cause of world peace. But unlike far more famous contemporaneous "traitors" Julius and Ethel Rosenberg, executed in 1953, Hall managed to do something even more remarkable than simply smuggle secrets to the Soviets—he escaped accountability for his actions. FBI surveillance aside, he went on to enjoy a surprisingly normal life with his adoring wife Joan and their seemingly well-adjusted daughters, right up until his death in 1999.
Interestingly, though perhaps not so surprisingly for a director who's made a career out of crafting intimate portraits (from Hoop Dreams to Stevie to Life Itself), it's this family aspect that James turns his lens to, represented by Hall's widow Joan, an unwaveringly unapologetic champion of her husband of 50 years. Indeed, as James has acknowledged in a director's statement (from the film's world premiere in Venice back in September): "What first drew me to make A Compassionate Spy was Joan Hall who, in her 90s, still carried the torch for Ted Hall, the love of her life and a man who, for her, took incredibly courageous risks as a young physicist on the Manhattan Project." This immediately led me to wonder: How exactly does a filmmaker shape a documentary about a controversial figure around a protagonist wearing a pair of permanently rose-colored glasses?
In search of answers to this big picture question and several more—including why the veteran director (who followed up his nonfiction blockbuster Hoop Dreams with 1997's Jared Leto-starring Prefontaine) chose to weave dramatic recreations into this latest—Filmmaker reached out to James a few weeks prior to the doc's January 9th screening at the Palm Springs International Film Festival.
Filmmaker: How did this project originate?
James: A Compassionate Spy really originated with producer Dave Lindorff, a print journalist with a keen interest in history, politics and social justice. Joan Hall had reached out to Dave after reading an essay he'd written about Ted for CounterPunch. (He later wrote another piece for The Nation as well.) Once they met, and Dave heard more about her husband's story, he then approached producer Mark Mitten. Mark and I had already done a film, Abacus, that featured Dave, so one thing led to another, and we ended up traveling to Cambridge in the U.K. to spend several days with Joan. Over the course of extensively interviewing her, I soon decided this was a story I wanted to tell.
Filmmaker: Why did you decide to include the dramatic recreations? Being quite familiar with your documentaries, that really struck me as a surprising choice.
James: That decision was due to several factors. First, Joan is such a vivid storyteller when it comes to what happened to Ted—and to her and Ted. She had a way of really bringing that drama from their past to life. That said, there was literally nothing in the archival record that could possibly, or convincingly, help tell those stories. If we wanted to visualize this at all, we'd have to do it ourselves. However, the other reason was the fact that what Joan and Ted did happened over 70 years ago, when they were both very young. I just loved the idea of letting audiences really see what profound and risky actions they took as young people. And because they did it while deeply in love, this presented a chance to bring their love story to life, too.
Filmmaker: It's pretty clear that Joan's husband was also her hero, which made me wonder if you ever worried that centering this "biased" narrator might tilt the doc into hagiography. Did you take specific steps to try to avoid this?
James: No, I never really worried about that because I was also determined to hear and present dissenting views on Ted's actions within the film, and some of those dissenting views are articulated by Ted himself, like when he expresses some regret regarding his naïveté about the Stalinist Soviet Union. Also, this is clearly a sympathetic portrait of Ted and Joan. The film's position is that—whether you find Ted's actions to be heroic, misguided or both—he did it for the right reasons. It was certainly a brave and consequential act.
Filmmaker: Did you reach out to anyone who ultimately declined to participate?
James: Not really. Unfortunately, most of the additional people I would have loved to have in the film are dead: Ted's friend and collaborator Saville Sax, the FBI agent who led the interrogation, the Soviet agent who handled him, etc. We were able to interview Saville's children, though, which brought a greater perspective to how this affected him and their family.  That said, I was clear from the start that I did not want to have a wide range of interviews. I wanted to keep the film as personally focused as possible on Ted and Joan, and only include a minimal amount of experts to provide historical grounding.
Filmmaker: Have all the living participants actually seen the final film? How have they reacted?
James: Yes. With Joan and her daughters in particular, they were brought into the editing process fairly early to give their opinions on what we were making.  I never hand over editorial control to main participants, but I always involve them. They deserve that agency, given that they have entrusted me to tell their story. The films always get better as a result of this process, even when I refuse to make certain changes that they want. I'm happy to report that, across the board, every participant in the film is very pleased with the final cut. I love when that happens.