Back to selection
WEINSTEINS TO FIGHT "TILLMAN" RATING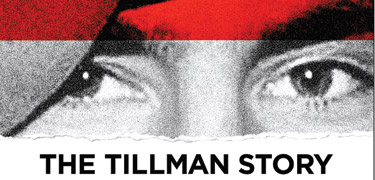 Over at Deadline Hollywood, Nikki Finke reports on The Weinstein Company's announcement today that they will be appealing the MPAA's "R" rating that they have bestowed on Amir Bar-Lev's doc The Tillman Story.
The MPAA says they have given the rating based on the film's excessive language. Granted, the Tillmans do throw out a lot of F-bombs in the film (and you may recall that the original title was I'm Pat F______ Tillman, which in fact are the last words Pat Tillman said before he was killed) but there's a difference between a Kevin Smith profanity-laced film and this family's colorful language.
From the Deadline piece:
"Of course there is excessive language," states [the film's producer] John Battsek. "This is a film that follows a truly exemplary family torn apart by the death of their loved one and the barrage of government deceit they encountered in their pursuit of the honest truth. We should be looking at this film as a way to show our younger generation the power of true family values and the sometimes unfortunate failings of our government."
Bar-Lev certainly had the audience in mind when he changed the original title, a topic he spoke about when I interviewed him for our Summer issue:
"It limits the audience if you're being realistic about it, and there's an opportunity with this film to reach audiences that normally don't watch documentaries."
With Oscar buzz already building for the film (and docs always struggling for big returns in theaters) the Weinsteins certainly want to get the "R" off the film.