Back to selection
Awakening: Hawai'i International Film Festival 2022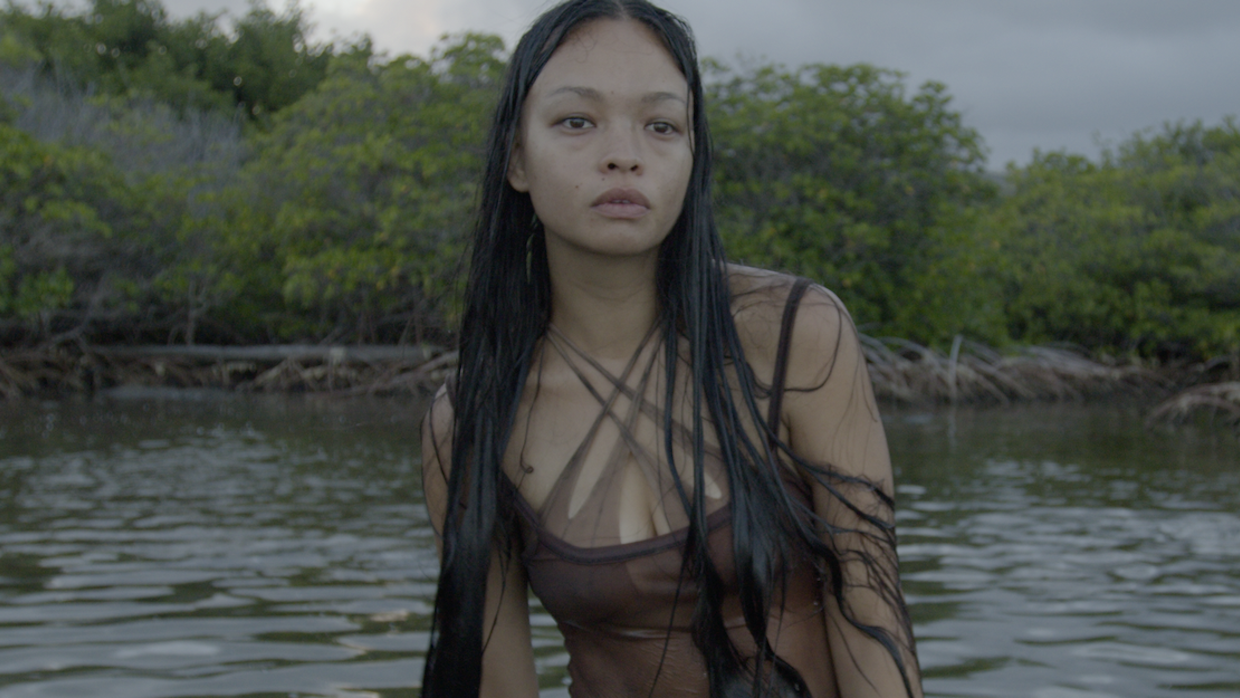 Po'ele Wai
Over the past decade or so, the Hawaiʻi International Film Festival presented by Halekulani—like any good organization—has been in a state of evolution. Ten to 15 years ago, under the then-leadership of executive director Chuck Boller, it was considered one of the best American festivals to celebrate and discover East Asian populist cinema, with guests lists of Hong Kong icons, Japanese auteurs and Korean superstars that put most other festivals to shame. In the 2010s, it shined through its programming of independent Asian American cinema, providing a platform for voices and visions typically shut out of mainstream media. In recent years, it's looked even closer to home, raising up the filmmakers on its own shores to spotlight an ever-swelling Hawaiian Wave, while simultaneously acting as a platform for neighboring creatives across the Pacific Islands. This year's edition blended all the festival's past identities; appearances by Japanese director Hirokazu Kore-eda (Broker), actor Takumi Saitoh (Shin Ultraman) and Korean actor/filmmaker Jung Woo-Sung (Man of Reason) certainly upped the international glamour quota, while Asian American directors featured prominently, with David Siev (Bad Axe) winning the festival's Ka'u Ka Hoku Emerging Filmmaker Award and Tom Huang (Dealing With Dad) nabbing the Narrative Feature Audience Award. It was the local work, though, that came to the forefront, with several aesthetically diverse features and some particularly impressive short films leading the way, including many by Native Hawaiian filmmakers. HIFF's decision to bring in several Māori artists from Aotearoa New Zealand—including actress Rena Owen (Once Were Warriors; Whina) and innovative producers Kerry Warkia and Kiel McNaughton (Waru; Kãinga)—helped broaden the discussion of indigenous filmmaking beyond Hawaiʻi to an international level, with the visiting veterans sharing the wisdom gained through years worth of battles—and victories—in bringing truthful native images to the screen.
"Even though it is still expensive to produce a film in Hawaiʻi and there are still struggles," shared director Scott W. Kekama Amona, whose E Mãlama Pono, Willy Boy won the festival's audience award for best short film, "there are also exciting new opportunities than ever before for Kānaka Maoli (Native Hawaiian) filmmakers to tell our own stories because narrative sovereignty is key, which is the motto many of us have adopted, which is 'not about us without us.' Consumers really do want authentic stories. There's an incredible wave (really a swell of waves) of Native Hawaiian and Pacific Islander key creatives. It's a really exciting time for Indigenous filmmakers worldwide, but particularly in Hawaiʻi."
"To change reality, you need to change the narrative," Amona noted, whether in terms of fighting for accurate indigenous representation, or indeed for any faithful portrayal of a Hawaiʻi beyond the typical tropical paradise postcard imagery. The three local shorts award-winners—Amona's Willy Boy, Erin Lau's Inheritance and Tiare Ribeaux's Pō'ele Wai (As the Water Darkens)—stood out for their diverse approaches towards "changing the narrative" of Hawaiʻi, ranging over the political, the personal and the poetic. 
Shot in a steely, timeless black-and-white by cinematographer Chapin Hall (Out of State, Every Day in Kaimuki), E Mãlama Pono, Willy Boy follows a Native Hawaiian police officer assigned to evict the mainly Native Hawaiian residents of an unauthorized encampment; caught between his job, his overly enthusiastic partner, and a family member on the other side of the protest line, he must decide what is legally—or morally—"right," or "pono." Hawaiian audiences will undoubtedly be familiar with the imagery and agony of several decades worth of Hawaiian land-rights struggles and protests that Amona draws upon, from Kalama Valley to Sand Island to the recent Mauna Kea gatherings, but one doesn't need familiarity with the island's history to be impacted by his skillful summation of the moral dilemmas faced by all those living under economic and political domination. 
"Indigenous people worldwide often deal with similar trauma. Unfortunately, Kānaka Maoli issues of land struggles are intimately linked to colonization, imperialism and occupation, so the narrative we see playing out are on repeat," Amona imparted. (Our Amona quotes are from a much-longer discussion that will be published shortly.) "EMPWB as a story contributes to subverting the colonial narrative, creating space to reclaim and connect the legacy of Kānaka Maoli land struggles from the past to our present and future by breaking a cycle of dysfunction. So, one of the risks I took was making the film in black and white, because it first creates a timeless feeling—you cannot tell if this narrative is happening in the past, present or future. The B&W also strips away the commodification and exploitation of my homeland as a 'paradise' and Native Hawaiians as mere background; there is an indigenizing of the screen so audiences 'see' and 'hear' the Kānaka Maoli characters, and directly connect with how varied the characters perspectives and values are to represent makawalu" (which roughly translates as multiple points of perspective.)
Amona's script, co-written with partner Nani Rían Kenna Ross, pairs that legacy of Hawaiian political disempowerment with more universal struggles against systemic racism and aggressive law enforcement, all within a controlled narrative that spans only one day, from awakening to "awakening." While grounded in all-too-somber realities, the film avoids the weighed-down aspect of similarly themed works, thanks to the script and directorial eye; here, even the perspective of a young girl living in the encampment is given time, with her flights of fantasy adding a sense of lightness to the storyline. Amona's greatly assisted by the camerawork, with Chapin Hall demonstrating again after Out of State and Every Day in Kaimuki that he's one of the most intriguing cinematographers not only "on island," but in the American independent scene, and a cast whose talents bely their experience level; only two, Ioane Goodhue and Kawika Kahiapo, are even professional actors. 
For Amona, "this film removes the guise of paradise and the colonizer's lens and is unapologetically a Kānaka Maoli story that takes control and reimagines the outcome. Although I hope the film resonates with audiences outside Hawaiʻi, it really is a wake-up call for Kānaka Maoli and Indigenous people to not be fooled into being divided." Judging from the raucous reception at the screening this author attended, Amona's film does exactly that, and shows there's still room in American independent cinema for politically conscious films that refuse to make concessions, stick to their roots and still remain universally relevant.
Willy Boy unsurprisingly won the festival's short-film audience award, while an entirely different kind of work, Erin Lau's Inheritance, took home the juried Made in Hawaiʻi award for shorts. Where Willy Boy wears its scars on its sleeve, Inheritance hides its own Hawaiian hardships away at first, but has just as much to say about Hawaiʻi's pained legacies. Co-written by Lau's partner Justin Omori, the film follows a Japanese Hawaiian photographer in Hilo as he wakes before dawn to photograph the erupting lava of a nearby volcano, then treks to local markets to sell them to mostly disinterested tourists. Lau conveys his depression and growing alienation through the hardened crust of the landscape around him, a palette of nocturnal blacks and dark reds. 
"Growing up in Hilo, Hawaiʻi, I spent my high school years carrying my father's camera equipment across barren lava fields; it was a dangerous task, filled with cuts, bruises and adrenaline. After sunrise, we would set up a tent on the side of the road to sell these photos to passing tourists," wrote Omori on the inspiration for the film. "Five generations ago, my ancestors emigrated from Japan to Hawaiʻi to work in sugarcane fields owned by large Western companies, who withheld earnings and ensured their workers remained in poverty. Now here I was, arguing with their descendants over a $5 photo that we risked our lives to capture. I turned to writing as a way to process these frustrations, and in doing so, it became a bridge to reconnect with my family's past. Through Inheritance, we hope to explore the past, the present and the idea that our ancestors and their experiences remain closer to us than we think."
For Lau, whose earlier short The Moon and the Night won Honorable Mention at a prior HIFF, the concept of an artist losing themselves while working to exhaustion hit home. "I was fully consumed by my [non-creative] work and regularly asking myself: at what cost?" Lau shared. "I was losing time with my family, losing parts of myself and overwhelmed with frustration, confusion and loneliness; as a result, a lot of those feelings got poured into the film. It was a way for Justin and I to alleviate our hearts, and speak to what was weighing on our minds."
Like Willy Boy, Inheritance works equally well on two levels—one that draws upon Hawaiian struggles and history, and a more personal, individual awakening within that. Inheritance, though, takes a far more ephemeral approach than Willy Boy; Lau subtly dissects and reflects upon the alienating effects of mass tourism on a local populace, and the scars passed down from generation to generation, worker to worker, through silence rather than confrontation. One doesn't necessarily need to recall Hawaiʻi's ugly capitalist past and exploitation of immigrant labor, either; Inheritance works above all as a patient, observant study of depression and familial pain, and how one's psychological inheritance—whether of hopelessness, entitlement or isolation—can be passed down from parent to child, and down again.
A Made in Hawaiʻi Honorable Mention "for its unique and singular creative vision," Tiare Ribeaux's unclassifiable Pō'ele Wai (As the Water Darkens) took a more poetic, experimental approach to addressing recent Hawaiian issues. Dance, performance art and even Native Hawaiian craftwork flavor this abstract tale of a young indigenous weaver who discovers they're slowly being poisoned by the very waters they work in. Words to relay a plot, though, do little to convey the trance-like beauty and genre-less freedom of Pō'ele Wai; with narrative often simply paused for a performer to tell a story or relay a memory, or for the camera to follow unexplained figures moving in and out of the natural world, it's as close as American independent cinema has gotten to the ephemeral visions of Apichatpong Weerasakul. (With her lead actor, the distinctive Lise Michelle Suguitan Childers, Ribeaux even has her companion to Tilda Swinton in Apichatpong's Memoria). 
Evanescent though the style may be, Pō'ele Wai is grounded in the land, and directly speaks against its defilement by humanity; in this case, the recent discovery of major fuel leaks by U.S. military storage tanks at Kapūkakī (Red Hill) into O'ahu's natural water supply. "I remember when learning of this, at the time feeling powerless against this destructive force that was poisoning our 'āina, our water and our bodies," Ribeaux disclosed. "I felt deeply drawn to telling a story about the experience of someone who was poisoned by water—in a way that showed us an analogy of this poison, this 'monster that hides beneath our everyday lives,' of how unnoticed it can go and how damaging pollution is—in a visceral and poetic way."
Ribeaux's frequent colleagues Jody Stillwater and Sebastian Gallaso of Lenape Creative Group lent their producing and writing talents to the film, just some of many talents united here. An added strength of Pō'ele Wai is the time it gives to the many indigenous creatives working in Hawaiʻi, with weavers, painters, dancers and cultural practitioners all given moments to share their art or presence and their connectedness to the land. Even this seemingly simple decision to give these creatives screen time can be considered an act of resistance against the usual portrait of Hawaiian life—indigenous or not—onscreen, where such un-commercial artistry doesn't even have to be erased; it's simply not shown. "I wanted to include people in the film working in Hawaiʻi whose crafts relate to 'aina-based materials,'" Ribeaux added. "I cast Lise Michelle as they were someone I knew worked in 'ulana' (weaving) lau hala. Lise also carried around a water bottle holder that they had woven, and I thought this was a beautiful metaphor for creating something with care to hold this element that gives us life. As a story that wove many different locations of water, time, and stories together, I thought it a great metaphor for our interconnectedness to 'aina and water. Kunawai, Lise's character, is also named after a freshwater spring that was historically guarded by mo'o [a lizard-like spirit], but has been partially cemented over, like many of our waterways. I wanted to trace this flow of water from mountains to ocean, and imagine what would happen to these guardians if they were also poisoned, paralleling that with the story of Kunawai the weaver and Kunawai the water guardian."
From the political to the personal to the poetic, these three Hawaiian short films are among many that demonstrate the strength in diversity and extraordinary creative flowering of the local film community circa 2022. We'd be remiss to not mention some of the feature-length works as well, such as HIFF's Opening Night film, David L. Cunningham's The Wind and the Reckoning, a historical drama set during the immediate aftermath of the overthrow of the Hawaiian Monarchy by American business interests. With 80% of its dialogue spoken in Õlelo Hawaiian, the official language of the Hawaiian Kingdom, it's drawn from another "true Hawaiian tale," the little-known "Battle of Kalalua" (or "Leper Rebellion") of 1893, where a group of Native Hawaiians stricken with leprosy fought back against the white soldiers and settlers intent on forcibly relocating them to Moloka'i. Jason Scott Lee (Dragon: The Bruce Lee Story) and Lindsay Watson (Finding Ohana) star as the indigenous family fighting both leprosy and the certain death of relocation, with Henry Ian Cusick (Lost) co-starring as the military heavy tasked with bringing them in, dead or alive. Shot in only sixteen days in the midst of the COVID pandemic, it's a pared-down Hollywood epic, "the kind they don't make anymore," only with primarily indigenous talent and heroes. It's a pleasure to see Lee in a starring role again, while relative newcomer Watson holds her own as the young wife about to become a legend. "This film is an important Hawaiian story about a tumultuous and tragic time in Hawai'i history," wrote the Made in Hawaiʻi jury, which awarded the film Best Feature Narrative. "It is a story of resilience and resistance, of family, courage, aloha, and sovereignty." 
It was the discussions with three visiting Mãori filmmakers from Aotearoa New Zealand, though, that may make the longest impact of this year's festival. Innovative producing duo Kerry Warkia and Kiel McNaughton, whose Brown Sugar Apple Grunt production company has been behind such acclaimed titles as Waru (2017) and Vai (2019), brought to town their most recent project, Kãinga, and took part in a discussion on Pasifika representation and filmmaking with local Native Hawaiian filmmakers. (Warkia was also honored with HIFF's Leanne K. Ferrer Trailblazer Award, presented by Pacific Islanders in Communication.) Actress Rena Owen, who first came to international prominence with her starring role in Once Were Warriors (and later starred in George Lucas's Star Wars: Episode II—Attack of the Clones) appeared with her newest work, the biographical drama Whina, on the extraordinary life of Mãori activist Dame Whina Cooper, and to take part in a New American Perspectives panel organized by longtime HIFF allies The Vilcek Foundation. (Both films would go on to win awards, with Kãinga earning the NETPAC Award and Whina the inauragal Pasifika Award.)
With Waru, Vai and now Kãinga, Warkia and McNaughton have created an intriguing playbook to get indigenous, under-represented stories onscreen. Each are omnibus titles, with eight filmmakers responsible for a segment, shot in only one take, that are thematically linked. Their first project, Waru, showcased eight female Mãori directors tackling eight connected tales relating to the funeral of a small child. Vai expanded the scope from New Zealand to Pasifika, with female filmmakers from across the region following one character as she moves through her life and several nations. The most recent work, Kãinga, takes as its linking device the same house in New Zealand, with eight women directors showcasing the different families who inhabit it across the decades. 
The other reason that Warkia and McNaughton's visit was important? HIFF borrowed their playbook, and are leaning on their wisdom, for their own omnibus project, Makawalu (or 'Eight Eyes/Perspectives'). The duo beamed in Zoom-wise last year to lead the eight chosen Native Hawaiian filmmakers through a writer's workshop and retreat, with the film's thematic narrative link being a tourist luau in O'ahu, held on the Fourth of July.
An illuminating panel bringing the duo together with several of Makawalu's Native Hawaiian/Kānaka Maoli filmmakers provided a chance to learn more about the inspiration and evolution of their aesthetic. "What we first began to realize is that Mãori women were being particularly ignored [in the New Zealand film industry], Warkia recalled. "Only one feature film directed by a Mãori woman has ever been made—Mauri (1988), by [legendary filmmaker/activist] Merata Mita. There had not been a feature film since by a Mãori woman. And that was a very shameful statistic."
A further spark was the reception that the few Mãori films that were getting made were receiving. "Previous Mãori films were always framed as addressing 'indigenous issues,' instead of issues that belonged to us as a nation, that we need to address and fix together as a nation, and that was very frustrating to us." 
Cobbling together enough funding sources to finally embark on Waru, they polished their novel omnibus approach. "Because we had that budget, we had to create that 'framework' as you call it—we call it 'a bible,'" Warkia joked, "to suit the budget, but also to be able to be innovative in not just how we used the budget, but how we structured the storytelling. The non-negotiables were mostly driven by budget, but also by the idea that if we had creative restrictions, we could control where that money was spent. The non-negotiables (we called them 'creative restrictions' because that sounds a bit better) was 1. By female Mãori filmmaker; 2. Lead had to be female and same ethnicity as writer/director; 3. one day to shoot, and a 10-minute one-shot take." ("Ultimately," McNaughton added playfully, "if you do it all on your first morning take, sweet, you've got the rest of the day off.") "It was important to create a 10-minute uninterrupted take," Warkia added, "so that no producers or future distributors could really cut your vision."
"We also made sure to do in-person interviews with all applicants," the duo continued. "It didn't matter what their credentials were; we wanted to understand their voice and perspective. Often times with creatives that are indigenous, there's a system that's set up, a western system, of sending all these documents in and filling all this out. But we are much more oral. It proved to be a much more moving experience to hear from all these women, and the personalities of the filmmakers, and where they are on their own journeys. We wanted people who could bring something to the table, but also learn from the experience.
"The next step was this five-day writer's retreat. We planned each of the days, so that we had goals to hit each day. We had actors come in on the 3rd or 4th day. (We almost had a coup when we told the directors that!) But by the time came, they were all like, 'Bring on the actors!' Writing can be a lonely process, so this also made it a much more collaborative process."
Beyond technical and narrative advice, Warkia addressed that particular weight that many creatives from under-represented communities feel encumbered by, that of the expectation to be "the voice of your people," and to represent "correctly." "I have to add," she interjected after a Makawalu discussion, "it's important to remember that these stories are very, very personal; they're personal stories. They're not trying to take on the burden of every single perspective of every single Native Hawaiian viewpoint. And that's really important to be able to liberate yourself from that, as Native Hawaiians, or as Mãori, or Pacific Islander, or as Pan-Asian. So that you can feel like you're honoring whatever truth that you want to talk about, instead of 'I have to just fit or sit into this space.'"
"For myself, I remember seeing Waru at HIFF back in 2017 and being blown away and inspired," shared director Justyn Ah Chong (Down on the Sidewalk in Waikiki), one of the eight local filmmakers chosen for Makawalu. "Being rooted in the impact of tourism on the Hawaiian identity, it seemed like such an opportunity. And the experience of that five-day retreat showed all of us that when we have that time and space to block everything else out, and can take on writing and collaborate with one another, we can create something beautiful, given the right deadlines and the right feedback from Kiel and Kerry. So many of us are so busy in our own lives that we rarely get the opportunities."
"It felt like a writer's room of just Native Hawaiian writers, a kind of next level," remembered Amona, another participant, on the retreat. (Coincidentally, Amona—a former language teacher—actually already had a tattoo of makawalu on his ankle, so fascinated was he with multiple meanings of the phrase). "The hui [group] was elated to come away with a first draft of a feature-length script and there was a special shorthand and camaraderie having Native Hawaiian and Pacific Islander energy in the room that most of us had never experienced before. We truly are in a waʻa (canoe), helping each other build and navigate this film as a collective."
For 'Āina Paikai, another participant whose short Hawaiian Soul won both the Made in Hawaiʻi Award and Audience Award at the 2020 HIFF, the retreat's take-away for him as a Native Hawaiian filmmaker was simple. "There's a lot of us, but there's really just a little of us, so we shouldn't be strangers," he shared at the panel. "We should support each other."
This year's HIFF underlines the role that any festival can play in supporting their local community, whether in creating spaces for films to be screened, discovered, and discussed, or in bringing in like-minded artists who can share their wisdom, or just their presence. Warkia and McNaughton's talks, or even the effervescent energies of Rena Owen, who made sure to greet each of her new and prior fans here with an extraordinary kindness, made their marks this year. One of this author's favorite memories was a multi-generational group of Pasifika women at the screening of Whina, who were moved to teenaged, middle-age and elderly tears respectively by both the film and Owen being there in person. Such efforts may not reveal themselves immediately, but they will in time. "I've been attending HIFF since I was 17," Lau revealed, "and it opened my eyes to what the best of filmmaking can look like. I'm grateful to now have my films screening with them." 
"I loved getting to meet the other local, Hawaiian, and Pasifika filmmakers and discuss our shared visions and processes," Ribeaux summarized. "It made me really excited about the industry here, especially from a non-commercial standpoint, and made me proud to be a storyteller in, about and from Hawai'i."
Filmmaker thanks Kekama Amona, Erin Lau, and Tiare Ribeaux for taking the time to share their thoughts, and for the HIFF staff and other filmmakers in Hawaiʻi that shared their aloha. Mahalo nui.