Back to selection
"I Accumulated Hours of Vital Yet Unpublished Footage": Mstyslav Chernov on 20 Days in Mariupol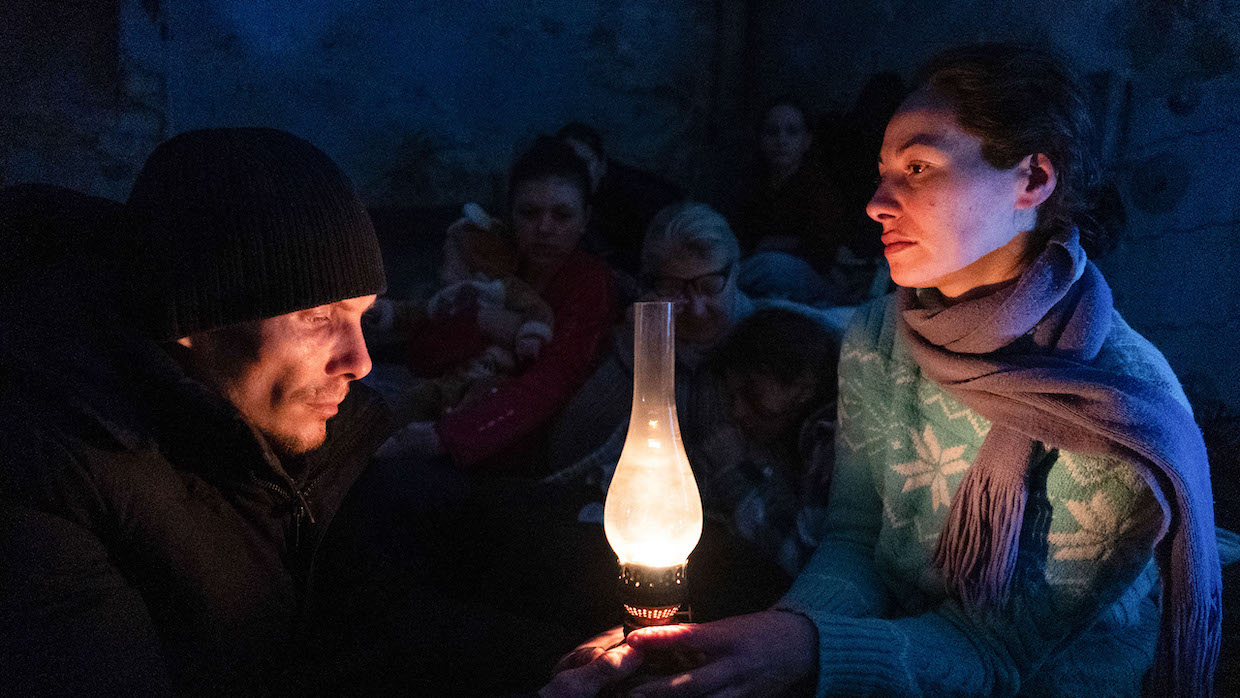 20 Days in Mariupol, courtesy of Sundance Institute.
Mstyslav Chernov, a Ukrainian war correspondent and documentary filmmaker, entered the eastern port city of Mariupol on the eve of the Russian invasion. During the ensuing bombing and siege of the city, Chernov and a team of fellow Ukrainian journalists documented the horrors of the encroaching Russian military as they played out, hoping to survive long enough to share their footage with the world. Taking shelter in a hospital as Russian forces surrounded them, their collective fate became increasingly uncertain.
Director and DP Mstyslav Chernov gives Filmmaker rapid-fire answers as to how the film (his debut feature) came to be—and how he and his team survived to make it.
See all responses to our annual Sundance cinematographer interviews here. 
Filmmaker: How and why did you wind up being the cinematographer of your film? What were the factors and attributes that led to your being hired for this job? What were your artistic goals on this film, and how did you realize them? How did you want your cinematography to enhance the film's storytelling and treatment of its characters? 
Chernov: This is my first feature film and was created in partnership with PBS Frontline and The Associated Press, where I currently work as a visual journalist. On February 24, 2022, our team went to Mariupol, which soon came under siege. In the time we were there, we did everything we could to break the information blockade and to tell the stories of Mariupol's people. Eventually, our team became the last international journalists present in the city, and I accumulated hours of vital yet unpublished footage, of which I was able to publish only part. 
When we finally carried this material through Russian checkpoints and broke out from the siege, I felt it was important to assemble the rest into a film that would more fully and accurately convey the tragedy of the siege of Mariupol. 
You may have noticed that the cinematography and style of the film are different. Along with film's editor, Michelle Mizner, we attempted to preserve the authenticity and immediacy of typical news reports while also including interactions between the cameraman and characters to give the film more intimacy. Our goal was to maintain the urgency of real-time reporting while also enhancing the film's character development.
Filmmaker: Were there any specific influences on your cinematography, whether they be other films, or visual art, or photography, or something else?
Chernov: As I do more and more documentary work, my style has changed. It largely depends on the topic and the story that I'm shooting. I find artistic inspiration in the work of Barry Ackroyd, which is ironic because, as far as I understand, he started his career as a documentary filmmaker.  
Filmmaker: What were the biggest challenges posed by production to those goals?
Chernov: Surviving. 
Filmmaker: What camera did you shoot on? Why did you choose the camera that you did? What lenses did you use?
Chernov: I used the SONY A7SIII for its low light capabilities and the Sony FE 24-240mm F/3.5-6.3 lens for the ability to quickly capture a wide-range of shots from wide angles to close-ups.
Filmmaker: Describe your approach to lighting.
Chernov: I use only natural lighting most of the time. 
Filmmaker: Finally, describe the finishing of the film. How much of your look was "baked in" versus realized in the DI?
Chernov: The finished look and sound of the film are very close to how it was shot. This was done with the purpose of maintaining authenticity and allowing the audience to "feel" raw material.
TECH BOX
Film Title: 20 Days in Mariupol
Camera: SONY A7SIII
Lenses: Sony FE 24-240mm F/3.5-6.3, Voigtlander Nokton 40mm F 1.2