Back to selection
"Everyone on Set Cheered When We Did Playback": DP Santiago Gonzalez on Shortcomings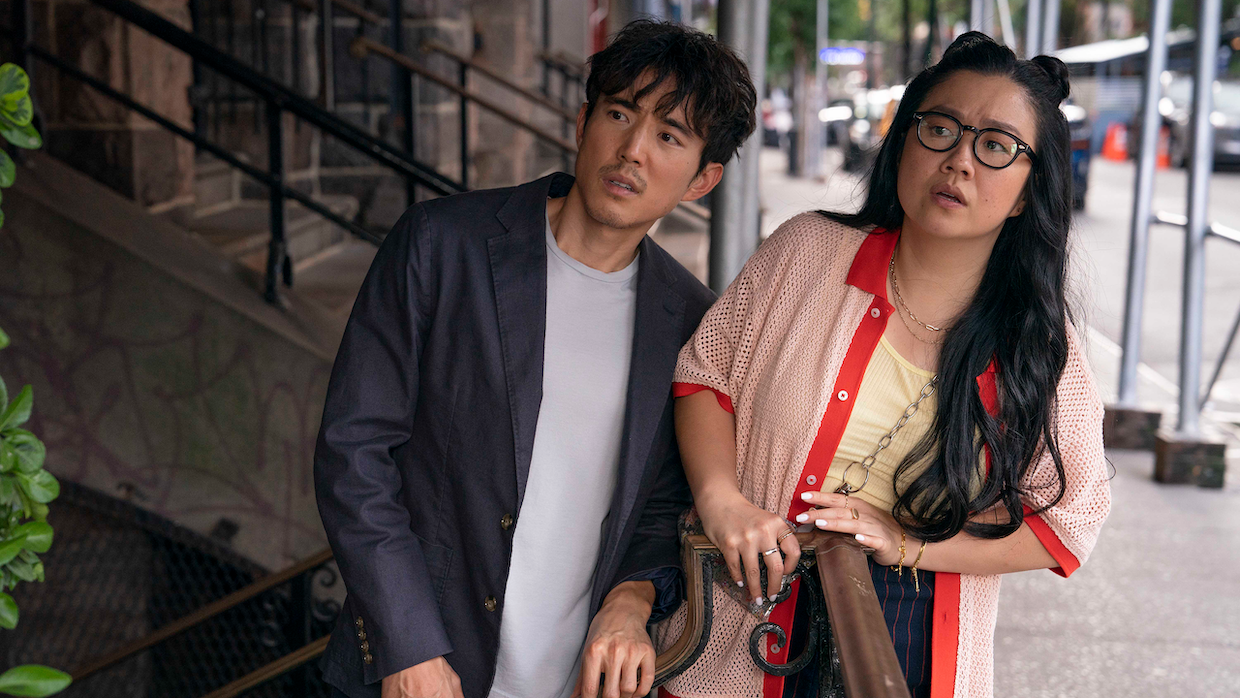 Shortcomings, courtesy of Sundance Institute.
Ben (Justin H. Min) is the manager of a local movie theater in Berkeley, California and an aspiring filmmaker. Despite living with his girlfriend Miko (Ally Maki), he spends most of his free time obsessing over unattainable blond bombshells, watching an endless stream Criterion DVDs and hanging out with his queer best friend Alice (Sherry Cola). When she decides to move to New York to pursue an internship, Ben experiences a personal crisis. Based on Adrian Tomine's graphic novel of the same name (who also penned the film's script), Shortcomings serves as actor Randall Park's directorial debut.
DP Santiago Gonzalez shares insight into his initial Zoom meeting with Park, the filmic influences they looked to for Shortcomings and the euphoria on set when he pulled off a particularly difficult shot.
See all responses to our annual Sundance cinematographer interviews here. 
Filmmaker: How and why did you wind up being the cinematographer of your film? What were the factors and attributes that led to your being hired for this job?
Gonzalez: I went through an interview process with Randall Park and the producers of the film. I was working in Puerto Rico on the Peacock series The Resort and my agent called me about the Shortcomings script. I read the script and really loved it. So, I quickly put together a visual treatment for the script and sent it to the team, hoping it would spark some interest to at least get an interview. Next thing I know, I'm on a Zoom call with Randall discussing how I saw the visual language of the film. Many of the films and ideas I referenced in my visual treatment aligned with Randall's vision. Surprisingly, he had already been working with several of the same references, so we were on the same track. We had a great Zoom meeting and followed it up with another several days later, where I met most of the film's producers. That meeting revolved around budgeting and managing expectations about achieving the visual language. 
Filmmaker: What were your artistic goals on this film, and how did you realize them? How did you want your cinematography to enhance the film's storytelling and treatment of its characters?
Gonzalez: I wanted the look of the film to be stylized while maintaining a sense of naturalism and grounding in reality. I was hoping that the visual language helped enhance the emotions behind each character and their motivations. Framing and using the spaces was a big part of that. For example, we wanted to use walls to highlight the separation between characters, while wide angles would represent the protagonist's loneliness. We also worked with our colorist, Billy Hobson, to create LUTs for the different cities in the film. We used a cooler LUT for the Bay Area to reflect the mood of the protagonist, while NYC was treated with a warm color palette to represent hope and new beginnings. 
Filmmaker: Were there any specific influences on your cinematography, whether they be other films, or visual art, or photography, or something else?
Gonzalez: Our source material was Adrian Tomine's graphic novel by the same name, so some of the framing was a direct reference of Adrian's work. Regarding films, Randall and I spoke a lot about the voyeuristic framing of Annie Hall, the visual representation of loneliness seen in Her, use of color in Punch Drunk Love, composition in Marriage Story, and some of the blocking in Frances Ha. 
Filmmaker: What were the biggest challenges posed by production to those goals?
Gonzalez: The biggest challenge was lighting the scenes to feel as natural as possible while simultaneously incorporating some of the stylistic choices determined by our visual language. We also wanted certain scenes to be a bit more intricate in the blocking and camera movement. So, I had to balance the increased production demands for certain scenes with the need to maintain the production value of simpler scenes. 
Filmmaker: What camera did you shoot on? Why did you choose the camera that you did? What lenses did you use?
Gonzalez: After testing numerous lenses, Randall and I ultimately decided to pair the [ARRI ALEXA] Mini LF with Canon Rangefinders. I loved how this combination rendered natural-looking skin tones and softened highlights, creating a subtle bloom. I also loved the focus fall-off from the center of the frame. While we went for a stylized look, we still wanted to preserve a natural and authentic feeling, and the Rangefinders did just that. The combination added a nice grit to the film. The Rangefinders also are super fast lenses which helped me navigate some of the darker scenes with our lighting package. 
Filmmaker: Describe your approach to lighting.
Gonzalez: My approach to lighting was simple. I wanted to create a natural look with some stylistic elements. To achieve that natural feeling, I ironically used a lot of lighting to sculpt the interior scenes. I pushed light through windows as often as possible and rarely used any lighting fixtures indoors besides the available practical lights. For our night interiors, I tried to maximize color contrast, while the exteriors were about controlling the natural light. I didn't really have access to large sources in our lighting package, so I just tried to shape the natural light with negative frames and diffusions. 
Filmmaker: What was the most difficult scene to realize and why? And how did you do it?
 Gonzalez: One of the most difficult scenes had the camera starting in a CU, then floating over theater seats and people, transitioning into a two-shot and concluding in a wide. I didn't have access to a techno so we achieved it using a Fisher 23 jib off a dolly with an Aurora head. Because we were at full stick on the jib, it was challenging to achieve the intricate movement of the shot. I eventually ended up controlling the remote head manually off the front of the jib, and the shot looked fantastic. Everyone on set cheered when we did playback. It was a great feeling. 
Filmmaker: Finally, describe the finishing of the film. How much of your look was "baked in" versus realized in the DI?
Gonzalez: I had a fantastic DIT, Keith Putnam, working with me to manage our LUTs, depending on locations. He was incredible at adjusting on the fly, and we would review color at the end of the day before any footage was picked up from the set. After that, Billy Hobson, our colorist, reviewed the dailies and considered the intention for each location before starting the grade from scratch. It was great working with Keith and Billy, and I couldn't be happier with how the color turned out for our film.
Filmmaker: If possible, could you fill out the below information about your film's cinematography?
TECH BOX
Film Title: Shortcomings
Camera: Alexa Mini LF – Provided by Arri NYC
Lenses: Canon Rangefinders & Hawk V-lite anamorphics – Provided by Arri NYC & Old Fast Glass
Lighting: Eastern Effects
Processing: Harbor Picture Company
Color Grading: Billy Hobson at Harbor Picture Company