Back to selection
"I Had an Overwhelming Reaction to the Script": DP Matt Henley on Bad Behavior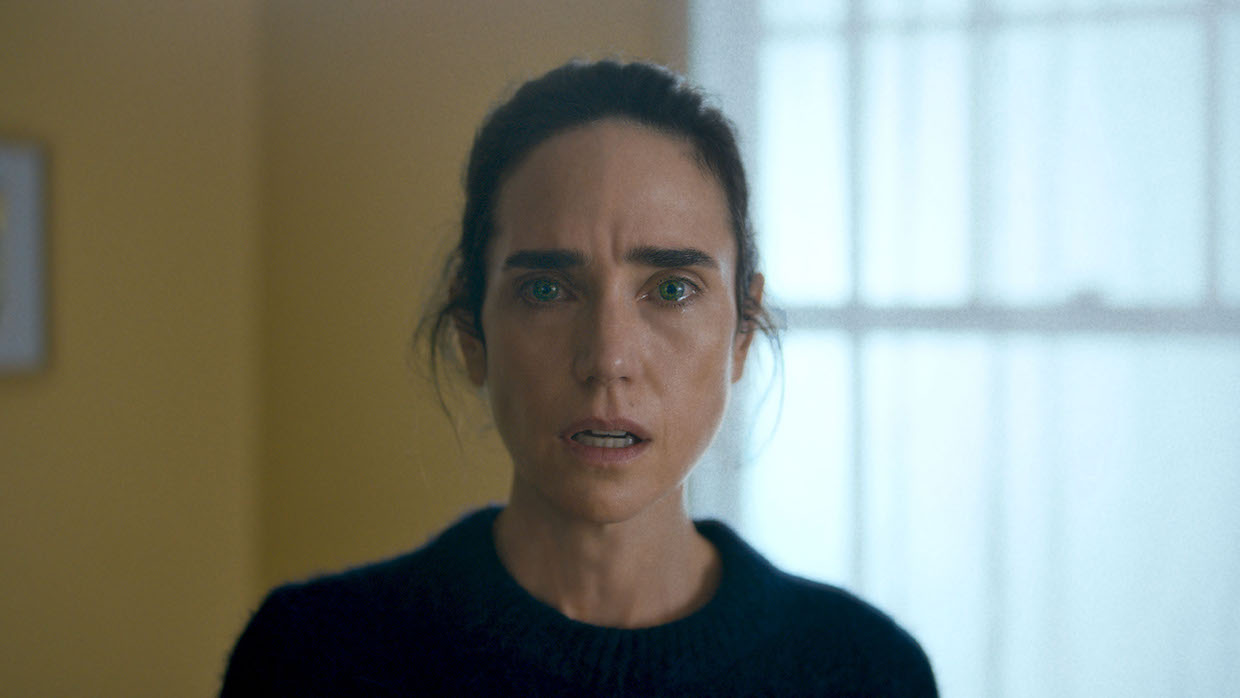 Bad Behavior, courtesy of Sundance Institute.
Alice Englert's feature debut Bad Behavior follows Lucy (Jennifer Connelly) as she embarks on a silent retreat under the guidance of her guru (Ben Wishaw). As the film's title suggests, Lucy is no stranger to behaving badly—and during this so-called "spiritual" getaway, she will sink to shocking new lows.
DP Matt Henley tells Filmmaker about working on the film, including the various media influences he and Englert looked to in order to heighten the film's "emotion, thematics or story."
See all responses to our annual Sundance cinematographer interviews here. 
Filmmaker: How and why did you wind up being the cinematographer of your film? What were the factors and attributes that led to your being hired for this job?
Henley: Alice and I had met when we worked together on a proof of concept for a friend of hers. It turned out Alice liked the way I worked, and how the piece turned out aesthetically. I had previously worked with Alice's producer Desray Armstrong on [Sundance 2021 selection] Coming Home in the Dark. Alice offered me Bad Behavior later that year following our first meeting. I had an overwhelming reaction to the script, and knew I wanted to be involved.
Filmmaker: What were your artistic goals on this film, and how did you realize them? How did you want your cinematography to enhance the film's storytelling and treatment of its characters?
Henley: I don't always see cinematography as being a tool to enhance a film, but it is instead baked into the process as being one of a few key disciplines that serve the whole. Part of the process is developing a harmony that ties all these departments together. In the case of Bad Behavior, I knew I had to allow for spontaneity on the day and let the performance lead to a degree, especially in some key scenes. This took a type of pre-production planning that was rigorous and planned (due to the tight budget constraints and terminal time constraints) in a certain way to allow us enough freedom on the day, as well as satisfying me from a photographic point of view.
Instinctually, I had a feel of how I wanted the film to feel and how I wanted it to communicate its story visually—so I spent time with Alice understanding her and how she felt about Bad Behvaior and letting her understand me. It helped that we were probably very closely aligned in terms of tastes perhaps or general dispositions.
Filmmaker: Were there any specific influences on your cinematography, whether they be other films, or visual art, or photography, or something else?
Henley: The influences on the film were not so much direct photographic/visual ones but pieces that seemed to capture some element, albeit maybe elusive, of Bad Behavior's story world. Alice had curated a music playlist which she shared, that allowed me to quickly discover the feeling of this film.
Films such as Lucrecia Martel's The Headless Woman and La Ciénaga, Alan Rudolph's Remember My Name, Hirokazu Kore-eda's Distance and Claude Charbol's La Ceremonie I presented to Alice in a response to some of the films she presented to me (which included Jack Clayton's The Innocents and John Cassavette's Opening Night). These were not visual references, however, but ones I drew inspiration from the director or cinematographer's analysis of the emotion, thematics or story. We discussed the simplicity of a lot of manga and anime and this seemed to play a big part in developing a style that was very graphic which was the desire. Essentially, we seemed to work minus any specific visual touchstones.
Filmmaker: What were the biggest challenges posed by production to those goals?
Henley: The biggest issue we had was avoiding the production being disrupted or suspended due to COVID. Otherwise, the film was an enjoyable process of treating problems more like obstacles that forced us to think with fluidity. The classic issues were present (budget, talent availability, weather and so forth), but they weren't a challenge specifically. The biggest challenge was being confident in knowing I was accurately translating the phenomenon to screen.
Filmmaker: What camera did you shoot on? Why did you choose the camera that you did? What lenses did you use?
Henley: We used the ARRI ALEXA LF Mini. The larger format sensor was required so the combination of this and our lens choice, being Cooke S7s, meant we were able to utilize a wide field of view with limited distortion, and the lenses had the right sharpness and detail ratios without featuring overly distracting characteristics. The desire was for something that was clean and stark without being incredibly sharp.
Filmmaker: Describe your approach to lighting.
Henley: I lit the film with clean sources. I varied the intensity or hardness of this light depending on how I felt the scene should be represented and tried to execute restraint. I wanted to create an end product that had a sense of slightly heightened photographic realism and play with concepts such as enlightenment and clarity without these two things being overbearing visually.
Filmmaker: What was the most difficult scene to realize and why? And how did you do it?
Henley: The hardest scene to realize was the finale of the film. It was not difficult from a logistical or technical point of view, but it required attention to the way in which the performances were wanting to depict the story. We had a plan, but once we turned up to location we ended up shooting it differently. We had many more scenes that were far more logistically compromising or technically so, but not ones that were as important to the film.
Filmmaker: Finally, describe the finishing of the film. How much of your look was "baked in" versus realized in the DI?
Henley: Much of the look of the film was captured in camera. The coloring process was more a matter of creating texture in the image, grain consistency, coarseness, etc and taking the color that had been put in front of the camera and doing them the justice they deserved.
TECH BOX
Film Title: Bad Behavior
Camera: ARRI Alexa LF Mini
Lenses: Cookes S7s + Angenieux 24-290mm
Lighting: Sophie Lloyd (Gaffer). ARRI 18k / 9k + smaller HMI. RGB LED. Various practicals.
Processing: Images and Sound NZ
Color Grading: Alana Cotton @ Images and Sound NZ using Baselight