Back to selection
"From the Beginning I Knew This Film Was About Performance": DP Frederic Van Zandycke on When It Melts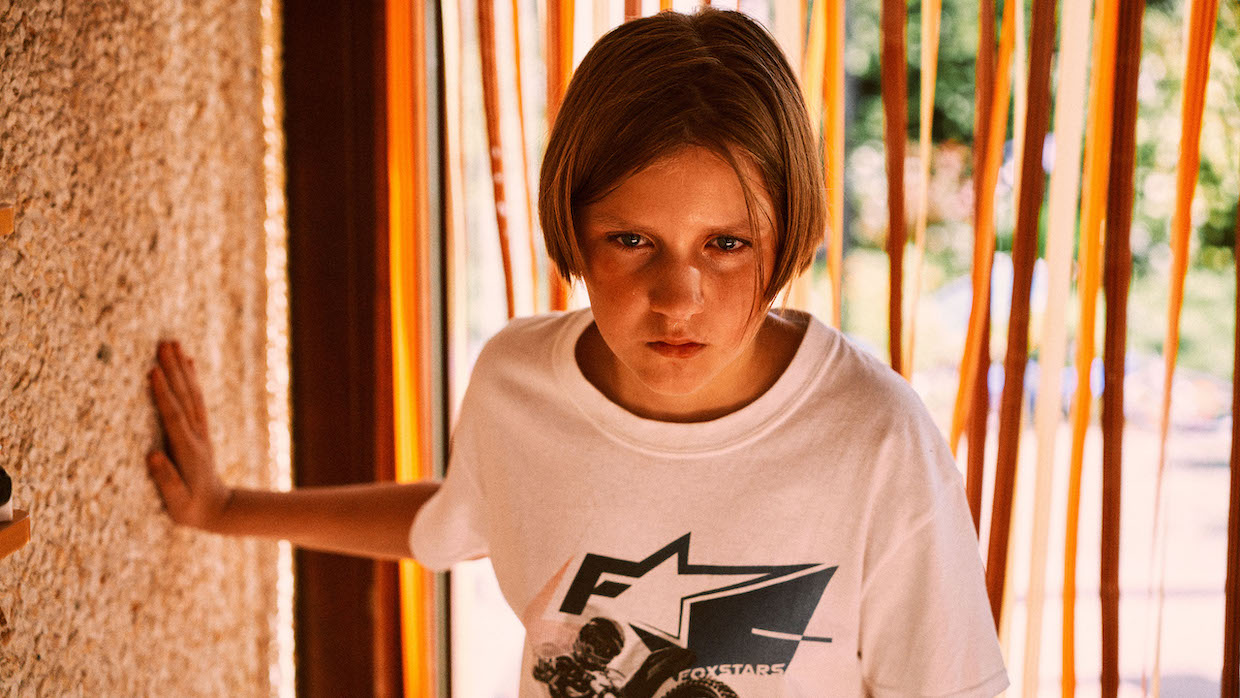 When It Melts, courtesy of Sundance Institute.
The feature film debut from actress Veerle Baetens, When It Melts follows Eva (Charlotte De Bruyne) as she returns to her hometown for a childhood friend's funeral with an ice block stashed in the back of her car. As the bitter winter rages on (and the ice block slowly begins to shrink) Eva recalls via flashback a sweltering summer from her adolescence that forever altered her life and identity.
Cinematographer Frederic Van Zandycke discusses his previous collaboration with Baetens, working with the young actors of When It Melts and the film's most emotionally challenging scene to shoot.
See all responses to our annual Sundance cinematographer interviews here. 
Filmmaker: How and why did you wind up being the cinematographer of your film? What were the factors and attributes that led to your being hired for this job?
Van Zandycke: This is the debut film of actress Veerle Baetens. In 2019 I shot a French TV series where she played one of the leading roles. During this shoot we connected on a personal level and we stayed in touch. During this shoot she talked about her upcoming film that she would direct a lot and there was already an experienced DP on board. Months later the DP dropped out because of various reasons and she started the search for a new DP. As this was her very first film she wanted an experienced DP by her side so she was hesitant to ask me since I'm quite young but after many talks we both decided to go for it. She brought me into the auditions of the younger actors and wanted me to participate in the coaching process of the kids. This was a little bit out of my comfort zone since doing improv exercises is not something I do regularly but it did establish a connection between the young actors and myself. When the final cast was chosen I gave small workshops about acting in front of the camera and what's important from the technical point of view. The kids were 10-15 years old so I had to come up with a soft approach without making it too complicated. The workshops paid off and on set I could easily refer to stuff we already practiced on and I already established a close connection to the young actors which helped us overcome certain difficult scenes. 
Filmmaker: What were your artistic goals on this film, and how did you realize them? How did you want your cinematography to enhance the film's storytelling and treatment of its characters?
Van Zandycke: From the beginning I knew this film was about performance. Normally I work quite stylized but this film asked for a different approach. Almost none of the kids had previous acting experience so we needed to invest as much time as we could in their performance. The director asked for as much space as we could have and she doesn't like too much technical stuff (lights, etc.) on the set so I knew I had to change the way I normally work.
This often brought challenges and we needed to come up with other techniques to offer space but still have a little control lighting wise. You have two time settings in this film, the past and present, so I wanted to give each setting a different approach in terms of camera movement and lenses without it becoming a gimmick. The past needed to feel warm, a sense of freedom and spontaneity. The present needed a closer, longer lens approach to give a sense of tension. I shot everything on my shoulder to be able to work fast and have a sense of realism that the story needed. I also intentionally ruled out the color green in this film, aside from trees and grass. I wanted a certain color palette which did not involve green in any way so as far as clothing, decoration and attributes green was left out for most of the film.
Filmmaker: Were there any specific influences on your cinematography, whether they be other films, or visual art, or photography, or something else?
Van Zandycke: My main influence was Blue Valentine by Derek Cianfrance. This film gave me a sense of realism in terms of camera but also the approach of scenes and acting. The imperfections stood out and only added to the beauty of this film. The movie also has two different time settings and the way this was approached was sublime. Other influences were Son Of Saul by László Nemes, A Woman Under The Influence by John Cassavetes, Dancer In The Dark by Lars Von Trier and many more. In all of these films there are a lot of oners or long shots. We loved this style and the realism it gives so we tried to incorporate this into our movie as well. A lot was shot in long takes but not everything made it into the movie as one take. 
Filmmaker: What were the biggest challenges posed by production to those goals?
Van Zandycke: Actually not that much. We had a wonderful production crew who gave us almost carte blanche in what we wanted to do. We had a great 1st AD (Joke Pevenage) who knew that we wanted as much time as possible to get the acting right so she planned very generously. Of Course we had battles with the sun and other weather conditions but for most of the time we were very lucky to work in a very gentle environment with a very respectful and dedicated crew to make this film happen. 
Filmmaker: What camera did you shoot on? Why did you choose the camera that you did? What lenses did you use?
Van Zandycke: We shot the film entirely on Arri Alexa Mini LF. For years I stayed true to Arri and I know these cameras inside and out. I know exactly what I can expect and how far I can push the image in post. They provide me with a soft image with great detail and handle highlights exactly how I want it. I always work with different  LUT's for each project and there's just a sense of reassurance that when I face some challenges in terms of lowlight conditions, I know what I can expect. The lenses we used were Cooke Anamorphics 1.8x FF SF. I've used these lenses on the last three projects I worked on and I quickly fell in love with them. The 75mm is my go to lens and it gives the anamorphic look without distorting the image too much and still remaining a certain sharpness I'm looking for. 
Filmmaker: Describe your approach to lighting.
Van Zandycke: Like I said earlier the director wanted as much freedom as possible. Especially on the more difficult scenes. So from the get go we tried to light all the interior scenes from the outside as much as possible. We tried to block scene's in a way that we could assure acceptable lighting to the actors faces but still maintain the freedom to feel the whole space. This does not work for every scene of course but the big scenes were approached this way. There's a big dining scene in the middle of the film where the family sits together and eats cheese fondue. Since this scene relied on improvisation we had to make sure to be ready for whatever happens. We had a full day for this scene so we also had to make sure the evening lighting stayed consistent throughout the whole scene. Therefore we covered the whole side of the house in black and recreated daylight inside the sas. We had the curtains half shut and used a trashy toplight above the table. We shot the scene with 2 cameras and did takes of 10-14 minutes and we didn't adjust the lighting anymore after the first take. This way all the attention could go towards the scene and no time was lost on technical adjustments.
Filmmaker: What was the most difficult scene to realize and why? And how did you do it?
Van Zandycke: There 's an important scene in the film where the kids are playing the truth or dare where it escalates and the main actress falls on the floor. It had to be shot in one long shot. We thought of it very carefully how we could film this important scene without making this gratuitous. This obviously posed quite some challenges. I wanted to try and do this all in one take so we rehearsed this for quite some time. I figured out where the camera should be and what the timing has to be in order for this long shot to work.
We also had an issue with the floor which needed to be rough concrete but since this was a one-shot, she could not wear protection for the fall. So our production designer (Robbe Nuytens) and I came up with a special kind of foam layer to put on the floor to resemble concrete but was soft enough for our actress to fall. We painted and structured this to look as real as possible within the limits of the budget.
Another thing that made this scene challenging besides the emotional impact this had on our young actors was the weather. This needed to be a very sunny hot afternoon but in reality it was very gray and raining outside. We again did most of the lighting from the outside and some little par spots on the inside and placed this in function of where our actress would fall. This scene worked out perfectly and it only needed four or five takes.
Filmmaker: Finally, describe the finishing of the film. How much of your look was "baked in" versus realized in the DI?
Van Zandycke: Most of it was done in camera. Me and the color grader (Olivier Ognieux) made a strong LUT which did most of the work. We gave the past setting in the film a little more roughness and lowered the sharpness a little bit as well as added some grain. The initial idea here was to print the past part of the movie on 16mm and rescan it back in to have that authentic feeling but timing wise this option was ruled out in the end. 
TECH BOX
Film Title: When It Melts
Camera: Arri Alexa Mini LF
Lenses: Cooke Anamorphics 1.8X SF FF
Color Grading: Baselight