Back to selection
CPH:DOX 2023: The Platinum Anniversary Edition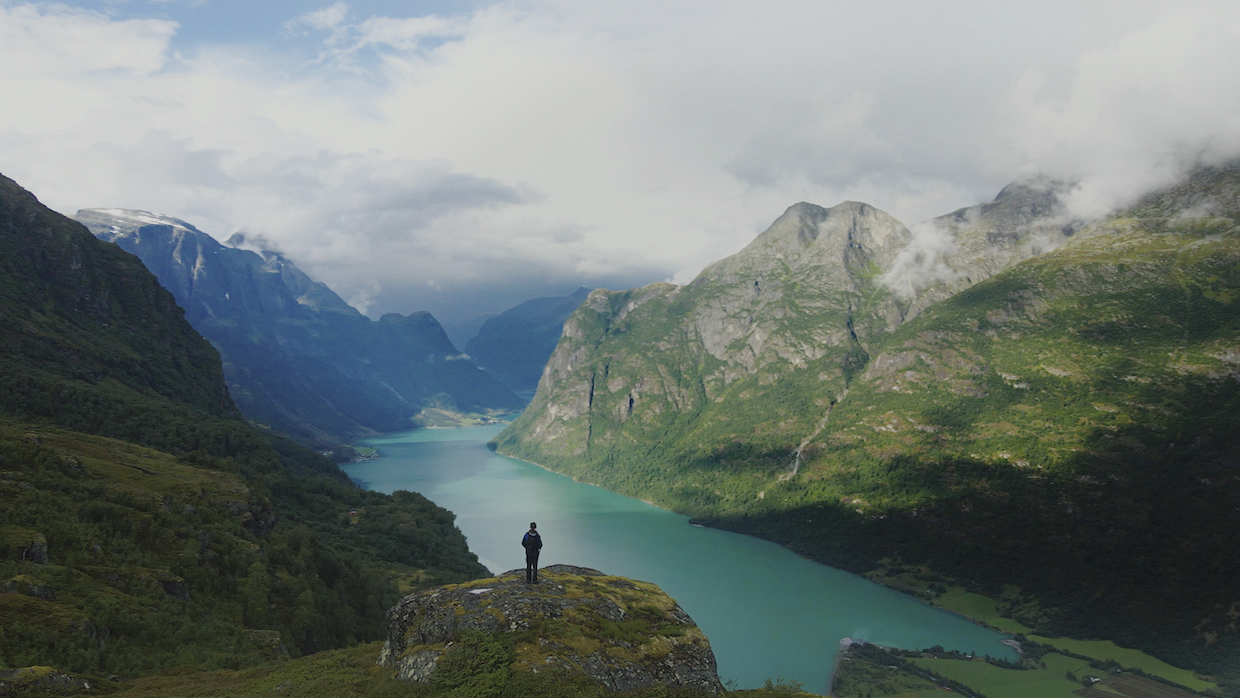 Songs of Earth
If there's one thing pandemic shutdowns have proven over these past few years, it's that (far too) many film festivals can just as easily be covered online. (Do I really need to hop on a plane and into a faraway cinema to view the latest Netflix Original?) That, thankfully, is not the case when it comes to the Copenhagen International Documentary Film Festival, now in its 20th year  and still one of the most punk rock rebellious events around, as evidenced by e.g. the fest's decision this edition (March 15-26) to team up with Kunsthal Charlottenborg, the palatial contemporary art space (literally, as it's housed in Charlottenborg Palace) that's long served as festival HQ, to present British artist Jeremy Deller's head-spinning Welcome to the Shitshow! Through a variety of media—everything from photography and film to graphics and sculpture—Deller takes the attendee on a time-warped trip through British culture from Bowie and Depeche Mode to The Troubles and Brexit. In other words, the perfect way to reenergize between screenings, caffeine optional (the fest's pop-up cafe conveniently located a few steps from the entrance) but not required.
In addition to the aforementioned "shit show" and the must-experience-in-person CPH:INTER:ACTIVE component, CPH:DOX just doesn't program for a laptop, as most of the fest's selections are either too cinematic (and really need that big screen) or too didactic (and require a post-screening discussion/debate, which can then be continued over drinks at the attached Apollo Bar). This "revelation" of sorts actually hit me as I started digging into my online DOX:AWARD queue the week prior to the start of the fest. (Once again I was a member of the Danish Filmmagasinet Ekko's team of six international critics tasked with rating all 13 world premieres in the DOX:AWARD competition, and once again I was the sole American contrarian.) Four films in particular were just too overwhelming for my MacBook, while a fifth made me want to grill the director at the Q&A. (Did I mention my American contrariness?)
But I'll start with the "winners" (at least in my critic's notebook), the first of which I chose as my DOX:AWARD top pick. (Though Ukrainian-Belarusian director Alexander Mihalkovich and Belarusian director Hanna Badziaka's Motherland ultimately—and unsurprisingly, considering its timely takedown of post-Soviet Belarus's "culture of cruelty"—nabbed the prize.) "I'm amazed by the stories nature can tell," says Margreth Olin's father in Songs of Earth, the Norwegian director's stunning cinematic love letter to both her elderly parents and the dramatic topography that shaped them (and her). Indeed, infused with a palpable sense of wonder—equaled only by the reverence Olin shows for her mamma and pappa (further enhanced by a mesmerizing yet subtle soundtrack)—the film is, as the spot-on synopsis says, "a magnificent, existential journey" that eschews all the usual yawn-inducing trappings of the climate crisis-centered doc. Instead, we get crevices and ice sheets meeting cracks in skin as Olin juxtaposes jaw-dropping, drone-captured images of the awe-inspiring Norwegian landscape with closeups of her dad's bald pate, his tender hand on her mother's back, as the environment and humankind become one. Or, as the end titles put it, "Our first love was nature. Let's not forget our first love." It's an unforgettable portrait that captures the essence of ourselves, and a lament for what we all will eventually lose to time.
Losing a part of oneself—or rather, gaining a second self—was the bizarre focus of my other four-star pick, aptly titled The Other Profile. With startling openness (and surprising dry humor), French director Armel Hostiou goes on an international quest to track down the shady Congolese character behind a fake Facebook profile in his name—and then allows himself to be sucked down a twisted rabbit hole into a land of scam, hustle and remarkable youthful ingenuity. When he does finally find the guy the real adventure—and education in post-colonial capitalism—begins.
"Would making a real film be profitable for me or not?" wonders the fake Armel when eventually confronted with the notion that perhaps he shouldn't be holding (and charging hopeful ingenues for) auditions for movies he never makes. Indeed, with the right creative racket the final product becomes irrelevant. "Human rights are for whites, not blacks," he further explains, and goes on to school the real Armel in his own country's original swindle: The DRC is a land of "fake presidents" (chosen by whites overseas) that appoint "fake chiefs," and "when a real chief dies we do fake burials." In fact, the most unnerving aspect of The Other Profile is the disturbing double truth that the real Armel ultimately discovers: one man's subterfuge is another's high art of survival, and his doppelgänger may be more of a visionary than he is.
A second central African nation—in this case, the Central African Republic—is likewise the setting for another of my DOX:AWARD picks (three stars). While Ningyi Sun and Pascale Appora-Gnekindy's Eat Bitter wasn't on my radar (though it probably should have been—it received support from Sundance, Hot Docs, IDFA, JustFilms, Women Make Movies, Chicken & Egg and more), the talented international duo behind the doc (Chinese national Sun, CAR citizen Appora-Gnekindy) are now undoubtedly on my female-filmmakers-to-watch list.
While most films centered around the Central African Republic (and the DRC for that matter) focus on conflict, Eat Bitter (the title referring to the Chinese saying "Eat bitter, then taste sweet") upends all preconceptions by zooming in on parallel tales of a pair of average blue collar men: one a Chinese construction manager with a (likely bipolar) wife back home, the other a single father and local "sand diver" whose job entails excavating underwater sand for the (up for re-election) government's latest proudly capitalist project (a bank, of course). While civil war certainly looms in the background, it's the mutual understanding and tender solidarity between these two completely foreign, working class camps that might be the real revolution in the end.
Then there was my final three-starrer, Emil Langballe and Lukasz Konopa's Theatre of Violence, every bit as provocative (and evocative) as its title would suggest. Another Africa-set drama (yes, it's the place to be with a camera these days), like The Other Profile it's crafted by white European men unafraid to interrogate their countries' (and thus by extension their own) complicity in what could be termed today's "neo-colonialism." In this case, Exhibit A is none other than that righteous symbol of Western liberalism, the International Criminal Court. "The ICC, much as it was supposed to be a global body, consciously or unconsciously, it was really meant for Africa and the Third World countries," says Krispus Ayena, the clear-eyed main protagonist of the Danish-Polish pair's doc. The International Criminal Court defense lawyer has the Sisyphean task of representing the first former child soldier ever to face crimes of humanity charges at The Hague. And while the now-adult Dominic Ongwen may be the convenient face of African evil, it's the storied ICC itself that the filmmakers thrillingly decide to put on trial instead.
At its core, the Euro-developed entity set up to bring accountability to its former colonies is really just another extension of colonialism, which may explain why so many Africans resent the Court and its trampling on their preferred manner of due process: restorative justice. It's a sentiment that Ayena's (white) co-counsel wholeheartedly agrees with, likewise pointing out that this distinguished body was conceived to prosecute only the side unfriendly to Western powers; hence the human rights-violating Ugandan government escapes the law's reach while Kony's LRA (embodied by Ongwen, the only member facing trial) takes the fall for all. "How do you detach a man from his past?" Ayena asks rhetorically towards the end. Indeed, it's as impossible as Africa itself breaking free from the zombie tentacles of colonialism—evidenced by that three-man panel of judges (captured in a biting wide shot) deciding Ongwen's fate. None are African, of course.
And Theatre of Violence likewise could have been the title for the one (two star) DOX:AWARD debut that also got me thinking (i.e., triggered)—specifically about "access," and how that can be a heck of a slippery concept when it comes to media-addicted, self-styled puppet-masters like Roger Stone (and Steve Bannon for that matter—just ask Errol Morris). Danish director Christoffer Guldbrandsen's "long-awaited film about Donald Trump's former adviser Roger Stone" (per the synopsis), A Storm Foretold, is certainly riveting, because Roger Stone is riveting. Just ask all the fly-on-the-wall, would-be filmmakers who've been drawn into the gleeful showman's spiderweb orbit since Dylan Bank, Daniel DiMauro and Morgan Pehme's 2017 doc Get Me Roger Stone. I'm personally of the belief that we need another Stone doc like we need another Trump tweet.
It's, uncomfortably, a film the "political dark arts" wizard would be thrilled to stand behind. To put it bluntly, like another straight white male director (see the aforementioned Morris)—and unlike Alison Klayman, who managed to outfox Bannon in The Brink— Guldbrandsen got played. Like Bannon, Stone is a moth drawn to the spotlight—any spotlight—and though he will tell the truth behind the lie every so often (relaying to someone on the phone that he doesn't want Giuliani involved in Trump's reelection campaign because the nutty former mayor "likes booze and pussy too much"), these moments are few and far between. Get Me Roger Stone came out over a half decade ago (and is forever available—on Netflix naturally), and though A Storm Foretold follows Stone right through the final months of the Trump show and the attack on the Capitol, it unfortunately does little to add to the story that Stone tells about himself.
Indeed, the "Great and Powerful Oz" narrative remains unchallenged and completely intact. Even more frustratingly, Guldbrandsen doesn't seem to have done his homework on the out and proud (and longtime happily married), bisexual swinger. I only bring up this titillating detail as a way of illuminating that "exclusivity" is just not Stone's thing. His number one kink is to be desired, a slut selling himself to the highest bidder (someone's gotta foot those legal bills). And yet the Danish filmmaker seems to naively (inexplicably) think he's in some sort of monogamous relationship with Stone, expressing genuine shock when he learns there's another documentary film crew following him around at the same time. (Of course there's another documentary film crew—there's always another documentary film crew!) And unfortunately, there's always another camera-toting chump to be transactionally exploited by a right-wing media whore.