Back to selection
Visions du Réel 2023: Nights Gone By, Linda and Irina, This Woman, Chagrin Valley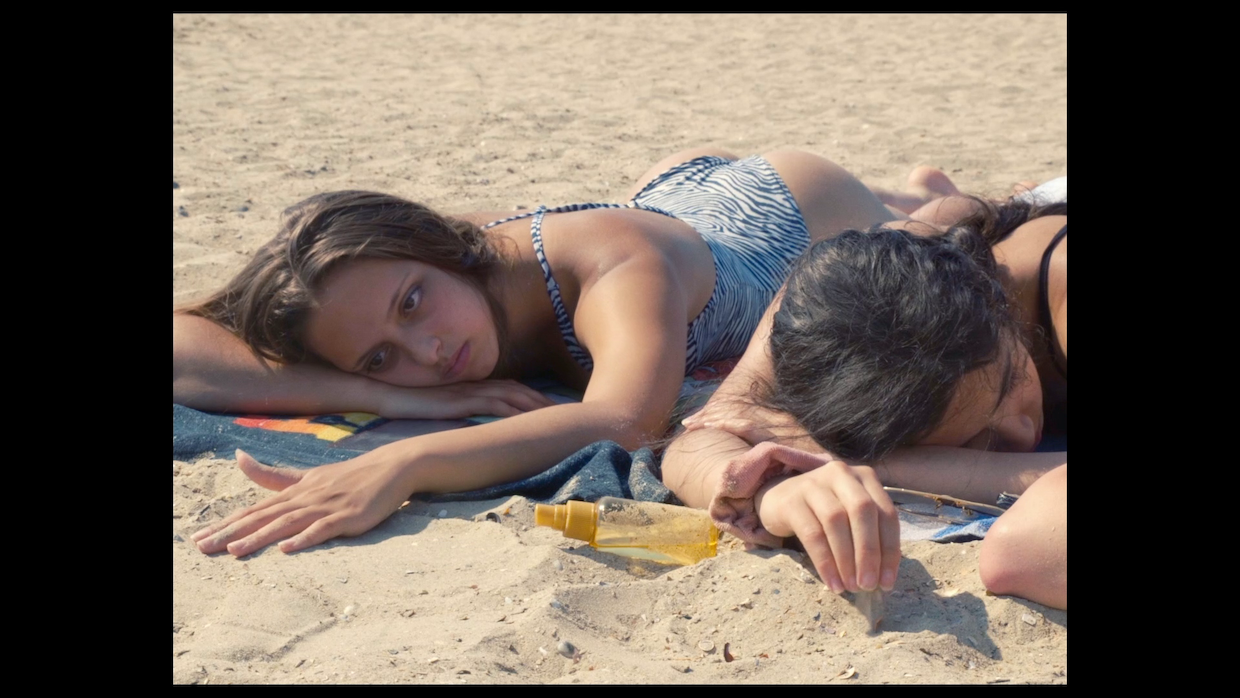 Guillaume Brac's Un pincement au coeur
Visions du Réel is so punctilious about its nonfiction festival identity that the program booklet explicitly labels the few titles not fitting that (honestly very broad) categorization as "Fiction," a tag only deployed this year for sidebar retrospectives of Alice Rohrwacher and Lucrecia Martel. For myself, I wanted to attend less because of any particular predilection for nonfiction and more because VdR seems full of stronger iterations of a type of movie I tend to enjoy, roughly categorizable as "relatively well-financed art-leaning European (co)productions"—i.e., I was primarily interested for aesthetic reasons, with the filmmakers chosen for this year's sidebars illustrative of that general orientation. While I've previously thought of the festival as offering a more capacious version of FIDMarseille's sometimes comically severe curation (which I admire, to be clear), I heard this year VdR discussed as being positioned more often in relation to CPH:DOX (which I've never attended), as that larger event's more prestigious alternative. In a wrap interview published in (VdR media partner) Variety, artistic director Emilie Bujès describes CPH as "much closer to the U.S. and a certain understanding of cinema and the film industry" in its programming, while also describing VdR's pitching panels as designed to "address those who are more [interested] in journalistic [docs], and also bring them onto projects they might consider slightly more arty, which still address strong topics." I can't speak to her CPH evaluation/not-particularly-coded diss, but as a non-industry participant I kept hearing that the panels were more relaxed and less pressurized than their equivalents at many festivals, and as a viewer I consider VdR's baseline mission accomplished.
"Did you do the film?" a man's mother asks her on-camera son over the phone in Alberto Martín Menacho's Nights Gone By (Antier Noche). "Did they say if it's going to be on TV?" Most features on my schedule clocked in around the 70-minute mark—helpful for relatively painless ingestion of three screenings a day but also, a colleague suggested, probably a length chosen to make titles more broadcaster-friendly rather than one arrived at in the spirit of "the film is as long as the film needs to be." At 105 minutes, Menacho's medium-tempo portrait of a rural village where old ways of life are fading away as the younger population leaves for the city is not in that durational pocket. This feature debut belongs to a nonfiction subgenre prolific enough (e.g., Mercedes Álvarez's 2004 The Sky Turns, Pedro González-Rubio's 2012 Inori) to breed its own cliches in the tonal register of "stately and elegiac," but Menacho's variant is sure-footed and distinctive. The opening, a casting interview with one of four primary subjects, foregrounds the more-commonly-obscured mechanisms by which this hybrid work chose its protagonists.
After that, the filmmaker remains unheard and unseen, instead making his presence perceptible through overt formal control. A long, wordless post-main-title sequence begins with animals wandering through seemingly abandoned buildings (Nights Gone By is endearingly crammed with greyhounds, black sheep and a donkey), then moves outside to recontextualize those structures as part of a farm. A farmer brings his herd onscreen within a careful composition, one obviously built from careful study of the daily ritual of feeding the herd; animals fill the previously unpopulated frame in a way that maximizes the visual drama of everyday labor without constraining his work. Both director and subject benefit from this coordination, and throughout there's a sense of collaborating on a heightened reality that's rewarding for both.
Credited as his own editor, Menacho takes his time in showing how his characters—that young farmer, a young woman with a supermarket day job who's thinking of leaving town, the young boy interviewed pre-title card and his mother—intersect. The most uncomplicatedly warm of the films I saw here, Nights Gone By is distinctive for its willingness to make time for side characters that "only" offer additional color, rather than underlining the broader thematics, and the flexibility of its visual language, fluid and responsive to the needs of each sequence—like repeatedly quickly panning left-to-right to keep up with two fighting halves of a couple, a strategy used for that one scene only rather than sticking to an all-tableaux, all-the-time model; it's just mostly stately master shots.
Likewise, Guillaume Brac's Linda and Irina is a non-standard-TV-length work (39 minutes in this case) in another oversaturated category, this time the nonfiction summer coming-of-age portrait, whose original title—Un pincement au Coeur, which translates to "A twinge in the heart"—gives a much better feel than the English one for its tonal destination. The two title girls are supposed to be besties, but as Linda explains, she moves often and after every relocation only stays in touch with friends for a maximum of two weeks before blocking them. Irina is understandably hurt by this statement, and while Linda tries to walk it back ("You know I don't think before I talk"), the damage is done. Most scenes involve some variation on this dynamic between the more cheerful Irina and Linda, whose fraught childhood has left deep damage which she obliquely summarizes: if "from the moment you're born until you're 12, you only see bad stuff, you can't say 'Life is fine. Everything is beautiful.'"
The push-pull between Linda's desire for connection and self-preserving/-locking sense of distance is much more specific than the usual "two friends experience a summer of change" arc and a dilemma that resonated strongly with me—halfway through, I started to feel the kind of fraught empathy impact that producers dream of. After another fight in this vein, the girls reconcile and head to the beach; Brac soundtracks their outing with Françoise Hardy's melancholy "L'Amitie," whose lyrics (fully subtitled!) about the joys of true friendship (and, implicitly, the sorrow of its loss) fit perfectly. The song is doing a lot of on-the-nose emotional work, a tactic I often bristle against—but I can never get mad about being asked to listen to a Hardy song, and its sentiments land precisely and movingly here.
Alan Zhang's messily/borderline-confoundingly structured This Woman presents as the Chinese observational documentary equivalent of a bourgeois melodrama about infidelity. (An Éric Rohmer biography is spotted on the main subject's bookshelves, and I wondered if it was a clue to this movie's aspirational reference points rather than an organically captured detail.) The titular woman, Beibei, says in an opening sequence interview—returned to for intros to what (seem like) the second and third acts—that she thinks of herself as a "proper wife," and this kills her because she "hate[s] the idea to the core." How much she actually conforms to gendered expectations is questionable given that a lot of This Woman is devoted to her affairs; Beibei and Zhang have a close enough bond to (apparently?) capture unstimulated sex on camera as the former entertains a variety of extramarital possibilities.
Beibei barrels her way through the pandemic—closing deals in her job as a realtor, retreating for beachside flings, buying an apartment for her mom and visiting her grandmother. This Woman gradually comes to seem like an unexpectedly educational index on a diverse group of topics (traveling in China during the pandemic, the current norms of real estate there), even as its primary appeal remains chaotic personal drama bordering on lurid. Beibei is definitely comfortable crying on camera, but the film muddies the waters in a final scene that returns once again to that opening interview: what, Zhang asks, will Beibei do if the movie damages her world once friends and family see it? "I would tell them it's all fake." This on-camera ass-covering—verite self-analyzing its own problematics? an attempt at plausible deniability?—adds a final fillip to this intriguingly unstable object.
Per festival norms, VdR offers a surplus of awards; This Woman received what's effectively second place (after Knit's Island) in the Burning Lights competition as well as the "Zonta Award" ("Prize for a female filmmaker whose work reveals mastery and talent and calls for support for future creations"). The prize for best film in the National Competition (that is, Swiss works, either in part or whole) went to Nathalie Berger's Chagrin Valley, a graduate project shot almost entirely in The Lantern, an elder care facility in the suitably grimly named Ohio city of Chagrin Falls. Berger's initial two characters are dementia patients at different stages of symptomatic severity. They live inside a simulation '50s suburb for the very old who can no longer safely go outside on their own, where blue skies are painted on the ceilings and backed by the ambient sounds of recorded birdsong.
While there are moments of humor in the two primary subjects' interactions, it's predictably grim material; Berger's way of (relatively) leavening it is by repeatedly shifting narrative focus to parallel characters, two caregivers who respectively take the night and day shifts. Both are black women who are clearly heinously underpaid on every axis imaginable: relative to their 12-hour shifts, the amount of emotional and physical labor involved, the fact that their caretaking and janitorial tasks are seemingly equally weighted, the disturbingly minuscule amount of sleep powering their precarious self-sustainment. Correctly motivated social realism is offset by the nursing home's unexpectedly surreal qualities, especially the nighttime "streets" that contribute a layer of the uncanny. It's the type of aesthetic disorientation an especially attentive documentarian can locate in the unlikeliest of settings, and showcasing the resulting work is exactly what a festival like VdR productively does.