Back to selection
"The Result of On-Camera Conversations Spanning 15 Years": Christian Einshøj on The Mountains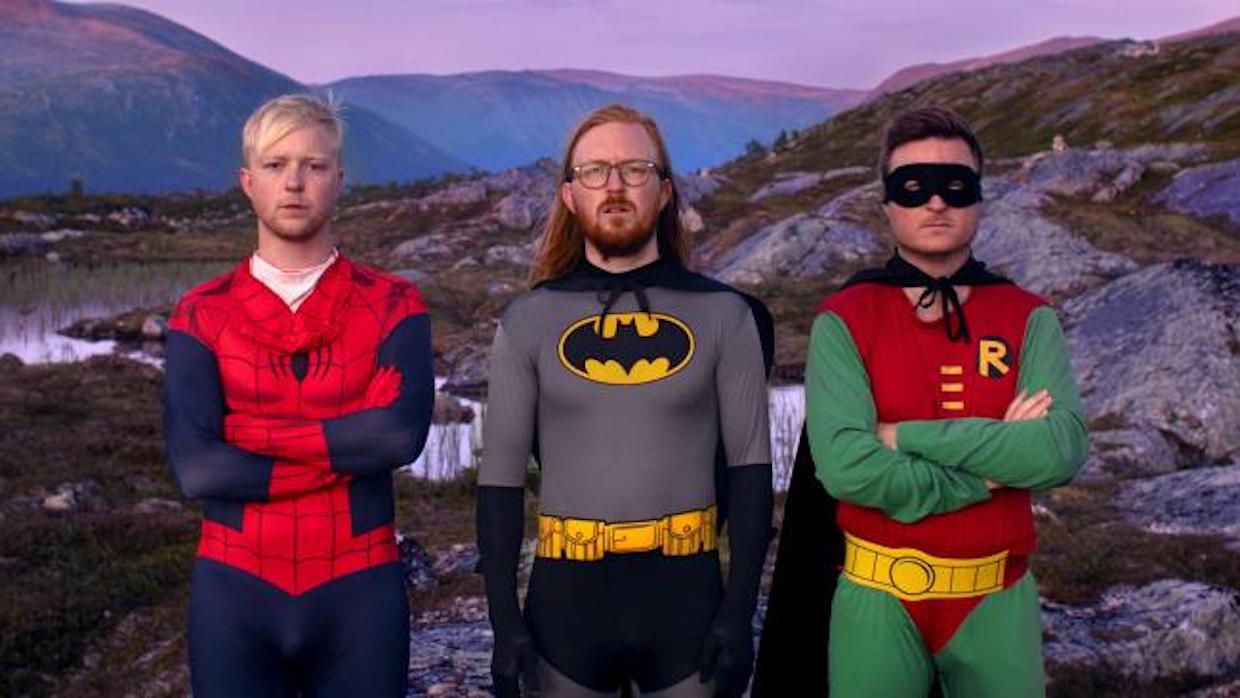 The Mountains
Shockingly (as the films I adore usually fly under the radar) but deservedly, this year's winner of the Best International Feature Documentary Award at Hot Docs, first-time feature director Christian Einshøj's The Mountains, proved to be a prime example of my mantra that the smaller and more specific the story, the more universal the reach. Influenced by Ross McElwee's Sherman's March (it thrills me just to type that), and also Jonathan Caouette's Tarnation, the doc is equal parts oddball charming and emotionally devastating. As the (very specific) logline puts it: "Armed with 30 years of home video, 75,000 family photos and three tightly fit superhero costumes, the director Christian ventures into landscapes of long-lost time, in an attempt to confront a 25-year old tragedy, and the hidden wounds left in its wake." Which translates into a brave and beautiful film involving a questioning son, a restless father, a Danish-speaking brother, a Norwegian-speaking brother, buried grief, unbridgeable disconnection, a quarter century of silence—and finally, an embrace of the reality that boys do cry.
A week prior to the film's UK premiere at Sheffield DocFest, Filmmaker caught up with the self-taught director-editor, and two-time Hot Docs award winner (2018's Haunted took Best International Short), to learn all about this highly idiosyncratic, cinematic trip.
Filmmaker: Was everyone always onboard with participating in this project, or did it take some convincing? Did you consult with all your family members throughout the process?
Einshøj: I've been shooting home videos of my family since forever, and I think their shared attitude towards it has been a blend of mild indifference and sincere annoyance.
Over the years, however, my videography developed into actual filmmaking. In 2018 I finished a short called Haunted, which, similar to The Mountains, explored (through attempts at humor and an analog synth soundtrack) how my family was affected by the loss of my brother in the early '90s. But instead of my dad and my brothers, the camera was turned on my mom.
This was really the first any of them had ever seen of all of the video that had been shot over the years. I think they recognized it as a genuine attempt at making art, but also at processing this difficult part of our family's story. In hindsight, it's clear that making the short and showing it to my family were the most important—and an absolutely crucial—step in establishing some sort of common ground before moving ahead with the feature.
Filmmaker: How exactly did you go about pitching such an unusual project, and how did that initial idea change from start to edit? Was the theme of male vulnerability always top of mind?
Einshøj: The film was pitched as a family story spanning 25 years, exploring the repercussions of a traumatic loss. Initially, I wanted to make an anthology film where the short about my mom would play as the first of four chapters. As soon as I arrived in editing, though, my mom's chapter just didn't fit in with the rest. But it took me a while to figure out why.
In the film, all the men are going through some sort of crisis. My overworked dad has just lost his all-consuming CEO job; my tie-and-suit, banking brother Fred is going through a divorce; and my younger, laissez-faire, slacker brother Alex is flunking school. There was no personal crisis in my mom's story. But more importantly, it lacked a different element—one that took me until the very end of the four years I eventually spent editing the film to recognize as the binding fabric of these separate stories. And it was something I consider a very male act: flight in the face of crisis.
Starting with my dad's 25 years of roaming the earth on business class following the death of my brother, the film really becomes an exploration of the different ways in which we flee instead of confronting that which hurts. (From the privacy of clandestine birdwatching, through the ad libitum working hours of corporate finance, to a one-way ticket to a Spanish beach resort.) In the end, my mom became a sort of counterpoint to this behavior, as the one person in the family who'd always remained in the same place, anchoring the family.
Filmmaker: I read in the press notes that the doc was influenced by Jonathan Caouette's Tarnation and Ross McElwee's Sherman's March, which I'm likewise a big fan of. But there's also an almost Rashomon quality to it, in the sense that the same incident can be experienced so very differently by each individual person. Did that present particular challenges in terms of getting everyone to open up?
Einshøj: Growing up, and a long way into adulthood, I was convinced that we as a family had dealt with the loss of my brother in a very healthy and sound manner. My parents had always been very open about what had happened during the years of his sickness and eventual death. There really wasn't any mystery or sense of something unspoken.
It was only by chance that, in an early attempt at filmmaking as I started talking to my family about that time, I came to realize something deeper. While a lot of words had been spent on discussing his physical condition and the practicalities related to hospitalization, I had never heard anyone put into words how they themselves were affected by what had happened.
For the most part, everyone was perfectly willing to open up about this; it's just that we didn't have a tradition, or a language really, of talking together about our feelings or inner lives. I was the first one to ask these questions. As expressing or even thinking about ourselves in this way was so foreign to us, the opening up that appears in the film didn't happen overnight; it's the result of on-camera conversations spanning 15 years.
On a quick, Sherman's March-related sidenote: Immediately after the screening of the film at Vision du Réel, I was celebrating with my parents and some colleagues on this terrace above the festival center when I noticed an older gentleman standing by himself in a corner, leafing through the program guide. I turned to one of my friends at the table and asked, "Doesn't that look a lot like Ross McElwee?" Well, turns out it actually was! So I approached Mr. McElwee and told him how much his film had meant to me. He was very generous and actually expressed an interest in going to see the film. (Unfortunately, logistics got in the way, but I did secure a now-cherished memorabilia of the encounter in the form of a selfie.)
Filmmaker: Your dad's home videos are such a crucial element to the film. You've even said that, "To have a childhood as thoroughly documented as mine, is an experience that's very unique to middle class families in the 90's. I like the idea that the medium is so heavily linked to the thing it is depicting. Like writing a poem about Vikings in runes, or a novel about the ancient Egyptians in hieroglyphs." And yet your first interaction with filmmaking, through your dad's camera, was quite unlike other kids'—in that it was as a tool to desperately stave off loss. Did that influence your original decision to become an editor? Has it complicated your relationship to cinema throughout the years?
Einshøj: I was always very conscious of the existence of my dad's archive, and the thought of someday using it as raw material for a film existed from very early on. But I didn't know how to go about it, and it took some detours getting there.
Growing up, I wanted to be a director of fiction films—but I wasn't any good at it. Editing, however, came fairly easily to me; and from the very beginning, I was drawn to documentary projects that depended on some kind of archival footage. Looking back, my affinity for these fossils of light feels like an unconscious preparation for getting a grip on my own family archive.
In fact, my whole oeuvre as an editor might be seen as preparation for making The Mountains. Increasingly over the years, the projects I picked would be concerned with the theme of family, father-son relationships, or the act of filming. It was like I used other people's projects as proxies for the film I dreamed of one day making myself.
Ultimately, this parallelism reached a completely ridiculous degree; I found myself working on a film about a Danish redheaded man in his late 30s who goes back home to reconnect with his parents and explore (through humorous and quirky voiceover) the ways in which they were affected by his own cancer treatment 25 years ago. That really felt like a "now or never" moment: either I make this film as an editor, and it will be as close as I ever get to telling my own family's story, or else I jump ship immediately and set all sails on the other film about a redheaded man in his 30s that I'd been postponing for so long. (So I jumped ship.)
Filmmaker: Now that the film's out in the world and nabbing awards, have you been surprised by any reactions from either family or audience? Has the response been positive all around?
Einshøj: The response has been overwhelmingly positive, and it's my impression that most people are both moved and amused by it.
That said, there have been a handful of men from my dad's generation and older that have taken issue with how he's treated in the film. All I'm saying in the doc is that he wasn't much around after my brother died, and that I missed him. These men's reasoning, I think, is that his alibi for not being there was acceptably professional—i.e., earning money for the family. That response is rather interesting and, I think, very telling for a specific generation in which going to work justified any sort of behavior.
When I first screened the film for my dad, he'd been fairly mute on his own feelings towards it. I honestly wasn't really sure how he felt. But a few months later, on the day of the world premiere, the whole family went on a Danish morning show; and when asked about his reaction to my portrayal of him, he said he didn't oppose it at all but, conversely, indicated that it had been enlightening. Through this outside view of himself, he'd been able to see his own actions in a new light.