Back to selection
FRANÇOIS OZON, "HIDEAWAY"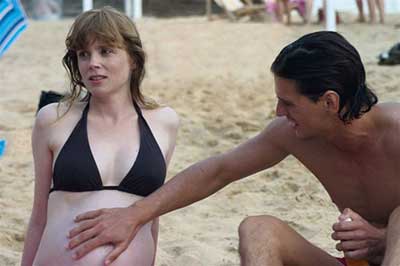 Ten years ago, François Ozon's dark, Hitchcock-tinged melodrama See the Sea caught the attention of American film critics. The New York Times' Janet Maslin marked him as "an impressive new filmmaker with a flair for implicit mayhem." In the 12 features since then, Ozon has expressed his mayhem in various genres (musicals, fairy tales, magical realism, period romances, etc.), with different cinematic influences (Chabrol, Fassbinder, Renoir, Pasolini, etc.) and in a range of production scales. But central to all his films is a deep sense of the essentially conflicted nature of emotional relations, be it the comic sadomasochism of Water Drops On Burning Rocks, the perverse family values of Sitcom, or the life-affirming death wish of Time to Leave. As Louis-Ronan Choisy, the star of Ozon's new feature, says about the director, "He's so good at illustrating conflicting relationships. He tells it like it is, very naturally, without passing moral judgment."
In Hideaway (due out from Strand Releasing this week), Ozon strips out all affect, irony, and influence to present a raw tale of the most basic human condition — a pregnant woman. Mousse's (Isabelle Carré) life comes crashing down when she wakes to find her wealthy, charismatic boyfriend Louis (Melvil Poupaud) dead from an overdose. Days later, she discovers that she is pregnant with his child. Overwhelmed by grief, she escapes to the country to hide, later to be joined by Paul (Louis-Ronan Choisy), Louis' demure gay brother. The relationship between this unlikely pair and the way they deal with the life growing inside of her make for the film's plot. But the other story, the strange tension between the hard reality of human bodies and the drama and the characters they are asked to don, comes through in Ozon's unique production demands. As Ozon explains, "For ages, I'd dreamt of doing a film with a pregnant actress. I've often explored the theme of motherhood, but I've never really looked specifically at pregnancy. It was either passed over with an ellipse, briefly illustrated with a fake stomach, or the film began after the child was born." While the film is hardly a documentary, its empirical documenting of the life of a pregnant woman (both actress and character) seem as important to this character study as is the question of what she will ultimately do with the child.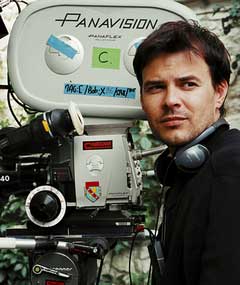 Filmmaker: What came first––her pregnancy or the script?
Ozon: It's a long story. Another actress I had often worked with called me to say, "Good news, I'm pregnant. Again." Two days later I called to ask her about making a film. First she was seduced by the idea, but after two days, she called back: "Francois, I won't be able to do the two things together. I know that you can be hard and tough, so I won't be able to." So I forgot the project, and then my casting director called me to say, "Three French actresses are pregnant, and Isabelle is one of them." I met with Isabelle to propose the idea to her, which she accepted. But after the first day of shooting she was so tired, she told me, "If I had known what it would be like, I wouldn't have accepted.
Filmmaker: Did you have a script before she started?
Ozon: No, I had the idea but no script. I developed the script when she said "yes." We wrote the script in two weeks, but I knew the idea for the beginning and the end from the start. But I didn't know exactly how it would happen. So we shot the pregnancy part and six months later, after Isabelle had given birth, we shot the beginning of the film.
Filmmaker: You brought on a co-screenwriter for the project?
Ozon: I worked with Mathieu Hippeau, a young scriptwriter, because I didn't have a lot of time. I asked him to research about pregnancy, speak to many pregnant woman about their behavior, what they did and such.
Filmmaker: Did you have to change your production style to adapt to the pregnancy?
Ozon: We had no time to think about things; we just had to do them. We had to shoot the film very quickly.
Filmmaker: And you made this film digitally rather than in 35mm?
Ozon: That was new, but good. It allowed me to work with a very small crew. All the shooting during the summer we were just eight [people]. I did not use tracking shots. I had to change a lot of my mise-en-scene. I ended up using the zoom a lot, which I had not used before. Very often the digital image is very flat, without depth, so I shot with a long focus length, as well as in 'scope, to give it a cinematic feel.
Filmmaker: How long was the shoot?
Ozon: We shot the middle part for three weeks during the summer. After I had time to do the editing, to think, to change things that didn't work, we shot the other parts in two weeks. There were some scenes, like the nightclub scene, we couldn't shoot during the summer because Isabelle didn't want to dance while she was pregnant. I shot the beginning of the film and other parts for two weeks much later.
Filmmaker: You've talked about how Isabelle was different with her pregnancy than the character was?
Ozon: Isabelle is exactly the opposite of the character of Mousse. She is very serious. She has something very sweet and very kind about her. I think it was good because there was no confusion between her and the character. But in some scenes, like when she is with a man at the hotel, her pregnancy brought her closer to the character. She was so tired, that she began to sleep in his arms. And I used this take because I thought it was interesting to see this man totally lost, wanting to have sex with a pregnant woman, and suddenly he finds himself cradling this woman like a baby. But as mothers, Isabelle and Mousse were opposites. As a mother, Isabelle was always talking to her baby, explaining "I'm an actress, it's not reality, so don't worry." That was the exact opposite of Mousse, who is in denial of her baby; it didn't really exist for her.
Filmmaker: How did her being pregnant effect the production?
Ozon: Isabelle had two requests during production. One was that we shoot in the southwest of France because she was supposed to be on holidays with husband at that time. She wanted to be in a comfortable place with the man she loves and to be secure. And her second request was that the baby not be a boy, but a girl. She knew that she personally was going to give birth to a boy, so she didn't want later for her son to think it is his story. She didn't want the confusion.
Filmmaker: This is your second film, after Ricky, dealing with babies. Why the baby fixation?
Ozon: Well, the films are different. Ricky was looking at how a baby changes the relationship of a couple, how they become captivated by it. But here, the baby was not the important thing. Mousse used the pregnancy as a way to survive and come to terms with the death of her lover.
Filmmaker: You've gained a reputation by the innovative ways you handle genre, but this film, and A Time to Leave, are done as realism. They also interestingly feature out gay men.
Ozon: Hmmmm, that's true. I hadn't thought about that. But, you know, each film is new story, a new adventure. In certain ways, realistic stories are easier for me since you don't have to create a brand new world. When I make a film like 8 Women, it is very stylish. It takes more work to prepare the film, which means it's more expensive. I think small films like Time to Leave or this one are easier for me to do.
Filmmaker: For this film you had two conditions. One was that the actress should be actually pregnant, and that Paul should not be played by an actor. Why a non-professional?
Ozon: I wanted someone very fragile, very pure, very virgin, next to Isabelle, who is very professional. I'd met Louis [-Ronan Choisy] and asked him to do some test with Isabelle, and there was a real chemistry. I had to direct him a lot since he was not comfortable with his acting. But I think that there is something very sweet, because he has no idea of his beauty. A man who doesn't know that he can be beautiful, for example, was interesting for me to capture.
Filmmaker: Both characters have elements of what you might call "the real" — one is actually pregnant, one is not acting. What do you gain by that rawness in the film?
Ozon: You gain reality and a sense of depth. Isabelle has been naked on camera before but when she had to do the sex scene she started to cry and didn't want to do the scene anymore. She felt her body wasn't her. And Louis, the actor was very disturbed by all of it. And after a while she did the scene, but it was very tender, very different than I imagined. I originally had the idea that it should be a more sexual scene, more aggressive. But what they gave me was better.
Filmmaker: You mentioned that every film is an adventure. What was the adventure here?
Ozon: I wanted to do a portrait of a pregnant woman. She is not a likable character at the beginning of the film, but by the end you understand her. That is what interests in me in all my films, to have people who are twisted or far away from you and during the picture you begin to understand them. I understand this woman is not ready to be a mother. She needs more time. Maybe at one point she'll be ready, but by the end of the film she has to make a very hard decision.
Filmmaker: In many ways, the films seems to be exploration of the cultural concept of motherhood.
Ozon: Yes, I think the idea of mother hood is very is very ideological today. There are lots of stories that defy traditional images of motherhood. There was the story of a woman [Veronique Courjault], who seemed very normal. She was pregnant and didn't want the husband to know, so she had the baby and put it in the freezer. It was interesting for me to explore this dark side of motherhood. There is so often this idealized, beautiful vision of motherhood, but the truth is more complex.
Filmmaker: I don't know how it is in France, but in the States there is fierce debate going on about what constitute a family — socially, biologically and legally.
Ozon: Yes, there is a big debate in France as well about what should be a family. All the right-wing press and right-wing politicians say marriage is a man and woman. They don't want to give the rights to the gay people; they won't allow surrogacy, So there is a fight between traditional and more modern people. In France, the right attacked this film, saying it was favor of gay parenting. But that was never my intention.
Filmmaker: You made one English-language film, Angel, and one, Swimming Pool, that was in English and French. Would you want to make more work in English?
Ozon: I don't know I made one English-language film and it was never released in America. People say, when the Americans want you, they expect you to stay in France, and when you come to America, they crush you and despise you. So maybe it is better for me to stay in my small country.