Back to selection
Apply for PAM CUT's 2023 Sustainability Labs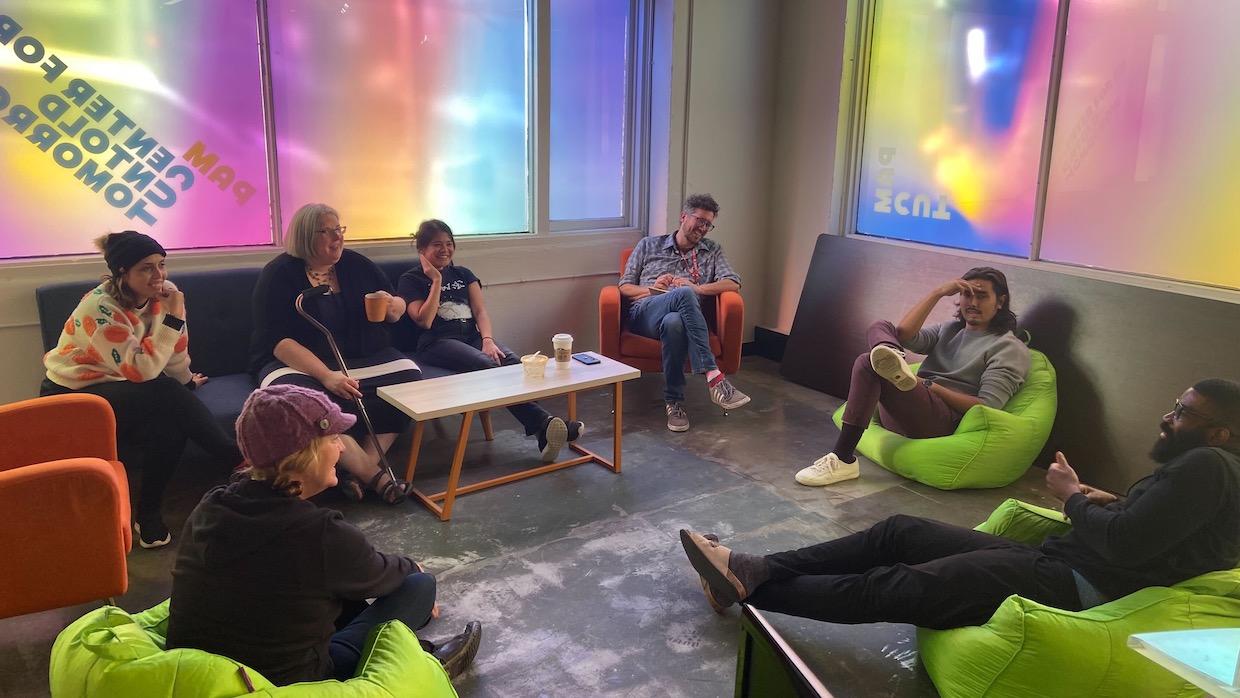 Sustainability Labs 2022 cohort, courtesy of Ben Popp.
PAM CUT // Center for an Untold Tomorrow, the film and new media arm of the Portland Art Museum, is currently accepting applications for their third annual Sustainability Labs. The six month program is specifically tailored for multidisciplinary media storytellers, providing mentorship, career-developing resources and stipends to further their artistic practices. Applications close on July 1.
"Our organization is all about artists who aren't content to be contained—by medium, what's come before or a singular type of media that they're working with," Amy Dotson, director of PAM CUT and curator of Film & New Media at the Portland Art Museum, told Filmmaker. "Our Sustainability Labs are for folks that are working in two [or more] mediums. We've had folks that are coming from wildly different perspectives—filmmakers and dancers, animators and poets—and it's specifically for mid-career artists. There are so many amazing programs out there for folks that are just getting started, but what we realized even before the pandemic is that folks need to figure out how to sustain themselves long-term from a financial perspective and in an artistic practice that's unique to them."
Those elected to participate in the program will convene on-site in Portland for a week in October, where they will meet with a mentor and additionally be partnered with a life coach who will work closely with each artist for the next six months. Fellows will receive a $3,000 stipend as well as travel and lodging accommodations.
"The most important aspect of this program is looking at the different avenues that are available for these creatives and  storytellers in general," added Ben Popp, organizer of the Sustainability Labs and Head of Artist Services at PAM CUT. "If you hit a wall trying to find funding for a particular project, you can change direction and suddenly take it from a documentary film to a video game. It can be incredibly exciting and potentially more appealing towards funders. It also propels the artist forward into a different realm that they themselves would not have necessarily thought about beforehand. So rather than just making a single-channel film, maybe it is something that's a little bit more interactive, performative or done through an avenue of new media."
The 2023 Sustainability Labs will culminate with the fellows presenting their work at the 2024 Cinema Unbound Awards, which recognizes those working within the intersection of art and cinema. Something unique to this year's cohort is the opening of PAM CUT's recently announced Tomorrow Theater, which will begin operating this fall. The 9,000 square foot space will be located in Southeast Portland and present films, series, animation, video games, XR media, performances and audio stories.
"One thing that I'm hoping to be able to do is have the fellows program work in our new space—not just showing their own work, but maybe working with us to showcase works that are inspirational or influential to them," said Popp. "Our audiences would also get to experience where these individuals are coming from and see that direct connection between this particular filmmaker or artist and where their seed is originally stemming from. I think that's an exciting thing for both the makers and the audience, because it's fostering a direct connection."
To learn more about the Sustainability Labs and apply, visit PAM CUT's official website.