Back to selection
DP Markus Mentzer on Shooting Six Episodes of I Think You Should Leave in 24 Days
I Think You Should Leave
With only 24 days to capture nearly 30 sketches, the average I Think You Should Leave bit is shot in roughly six to eight hours. That might be for the best. When you're slopping up steaks or shooting body after body busting out of cheap wood and hitting pavement, probably wise not to linger at a location for too long.
Cinematographer Markus Mentzer, who has been behind the camera for all three seasons of the Netflix show, breaks down the newest crop of sketches for Filmmaker.
Filmmaker: Your first three camera department credits on IMDB are Out of Time, In the Cut and The Manchurian Candidate—so films by Carl Franklin, Jane Campion and Jonathan Demme. Not the best films by any of them, but still impressive company to start out your career with. How did you get those first jobs? Did you go to film school?
Mentzer: I didn't go to film school. I started out by working at Panavision New York and, while I was there, began doing free internships and worked my way up the chain. In the Cut and Out of Time were both just free camera internships. My first loading gigs were non-union jobs in New York and in L.A., then The Manchurian Candidate was my first union loading job.
Filmmaker: Wasn't Out of Time shot down in Florida?
Mentzer: It was, but they had a bunch of reshoots in L.A. at L.A. Center Stages. It was the same crew that had done [principal photography], but they were all from L.A. and when they did the reshoots they needed a runner. In the film days, when the trucks were parked around the block, at the very least they needed somebody to run mags back and forth. I remember on my first day I couldn't find the stage because I was pretty new to L.A. I think I was like an hour late and I thought, "I'm never going to make it in this business. I'm shot already." [laughs]
Filmmaker: What is the shooting schedule like on I Think You Should Leave? There's six episodes and they're each around 15 minutes long. So, it's about 90 minutes total of show, but that includes somewhere between 25 and 30 sketches.
Mentzer: We had 24 days to shoot all of them. On average, I'd say we had between six and eight hours to shoot each sketch, but there were a bunch of sketches that were full-day sketches.
Filmmaker: How much of the show is practical locations and how much is stage work?
Mentzer: I'd say 90% of it is on location. That's partially budget, but also [series creators] Tim Robinson and Zach Kanin like to be in real locations. It just makes things feel very grounded and real. We do try to limit our company moves. What we've figured out after three seasons is that if we have a location that we like, we try to find another location that's, like, next door because company moves are pretty brutal on our schedule. The crew works incredibly hard. 
Filmmaker: Each episode has anywhere from two to four directors listed in the credits. So, it's not like one director comes in and shoots their episode of sketches, then another rotates in.
Mentzer: Tim, Zach and Alice Mathias—who's our lead director—break down who should direct each sketch early on in prep. Then the schedule is based on locations and casting and other factors, and it's constantly moving. Sometimes a director might think they're not directing one week, then suddenly they find out that they need to shoot tomorrow, or now they're doing two sketches back-to-back on the same day instead of one.
Filmmaker: Is the show pretty tightly scripted? Is there much ad-libbing? 
Mentzer: There is a lot of ad-libbing, but, honestly, not much of it gets used. We do it just because it's  fun and gets everyone in a rhythm and maybe something interesting will pop out of it. But when you look at the scripts and then look at the way the show turns out, it's all really [on the page]. The sketches have so much detail in them that any kind of ad-libbing can destroy the logic. 
Filmmaker: In prep, do you know which sketches will be in which episode, or is that determined in post?
Mentzer: They don't curate it until they cut everything together. I'm not involved in that, but from my understanding that curating process takes a long time, because the rhythm of the show determines each episode. They spend a lot of time figuring out what feels right.
Filmmaker: You had two Sony Venice cameras, then a Sony FX3 as your C camera for season three. Has it been a similar setup for all the seasons?
Mentzer: For season one we used a Red Helium. One advantage of the Sony Venice is that we can record in-camera proxies and send them straight to editorial. We have limited resources in terms of crew, even on the post side, so that just speeds everything up.
Filmmaker: You have so many different looks in a season. At times you're imitating reality shows, game shows or pharmaceutical ads. Did you have a multitude of LUTs so that those proxies that were going straight from the camera to editorial were closer to your final intent?
Mentzer: I have a collection of maybe 10 LUTs that I use for the show. During prep I use my Sony a7S III and take some quick video and stills to see if there's a certain look that might potentially work at a location. The LUTs are designed for the Venice, but they can give you an idea of what it might look like using the a7S III. Then, on the day, that might totally change depending on how the sketch has evolved or what the directors are looking for out of that sketch tonally. We definitely aim for a different look and feel on every single sketch. 
Filmmaker: You shot the show with a combination of zooms and Panavision Panaspeeds, with the zooms being used about 75 percent of the time. What situations called for the primes?
Mentzer: If there was ever a call for a more cinematic look. For example, there's a Patti Harrison sketch this season that was mostly Steadicam, and we went with the primes. The pharmaceutical commercials were primes. But even when we are emulating the look of something, we always want there to be something that's a little bit off. We're not aiming for an exact replica the way SNL might do it. We want it to get into the zone of a pharmaceutical commercial, but then there's something a little bit weird and off and you don't know where the sketch is going to go.
Filmmaker: With the speed you're moving at on the show, what is your lighting package like?
Mentzer: The hero units were Asteras of all sizes and Vortexes. Those were the hero units for every single set. We try to get in early and pre-rig when we can, but it was rarely possible. We just don't have the bandwidth to pre-rig a lot of things. We rely on house power for most of the shoot. It's very indie in that sense. We have to use all the tricks.
Filmmaker: Let's get into a few of the sketches. Tell me about the "Summer Loving" sketch, which is a dating reality show where one of the contestants [played by Robinson] is more interested in the swimming pool's zip line. What reality show was the inspiration for the look?
Mentzer: We were aiming for this HBO show called FBoy Island. It's basically the hottest looking dudes you could find and then Tim. That was a one-day sketch. We shot it at a mansion up in Glendale with a pretty small loading area. That was a big day. 
Filmmaker: The conceit behind the "Driving Crooner" sketch is that Robinson's character has stickers on his car window that make it look like he's smoking a cigar in a top hat….but only when cars in the next lane over are at the right angle, and he goes ballistic if a driver speeds up next to him and ruins the illusion. You have to deal with that same issue in the sketch—you have to line the camera up and move it at the right angle to make the gag work as well.
Mentzer: Exactly. Tim's character is having is the exact same problem we were going to have shooting it. We had a process trailer with a dolly on it so we could line up the shot, then travel back and forth. Also, with the process trailer you're able to control the lighting and everything so much more.
Filmmaker: Any good stories about the raccoon or the pig on the "Darmine Doggy Door" sketch?
Mentzer: The animal work for that sketch turned into a second unit day. At that point we had the set already built and could go in and spend eight hours just shooting animals, because there was more than just the raccoon. There were a bunch of options [that didn't ultimately make it into the final sketch].
Filmmaker: That sketch has a cutaway joke where Robinson says something about his wife swing dancing with a guy at a wedding. That one line means you have to create a wedding scene with a room full of people in costume and a dancing stunt.
Mentzer: Those pieces are the hardest schedule-wise. Jay Patumanoan, one of our EPs and our line producer, is constantly juggling, and those little breakout piece can end up anywhere in the schedule at any time. Theyfloat around and if we have access to a location where we can make a little wedding over in a corner, it gets thrown onto the schedule. Then we have to make sure that we have some kind of continuity [that extends to any of those breakout pieces]. My ACs were constantly keeping their notebooks full of all that info and the correct LUT for each sketch so that we could match everything. 
Filmmaker: For the sketch where Tim is part of a sitcom's studio audience, was that an existing sitcom stage you took over?
Mentzer: That was actually a two-sketch day. The first half of the day, we shot the Fred Armisen sketch with Street Sets. That was a location that had that fake street set. It's right next to the 405, so it's loud. Then inside on the stage, there wasn't a set. Our production designer, Elaine Carey, basically designed that whole sitcom thing from scratch.
Filmmaker: When Tim's in the back of the limo, did you fake that in some other space?
Mentzer: No, we actually shot that in a limo. We got a real limo, then one of our set designers built that fake wall in there. That was a case where the Rialto [camera extension system] came in handy. That's another great thing about the Venice—you can get really small, which we needed to do a lot of times. I could get in there with Tim and do those little beats pretty quickly.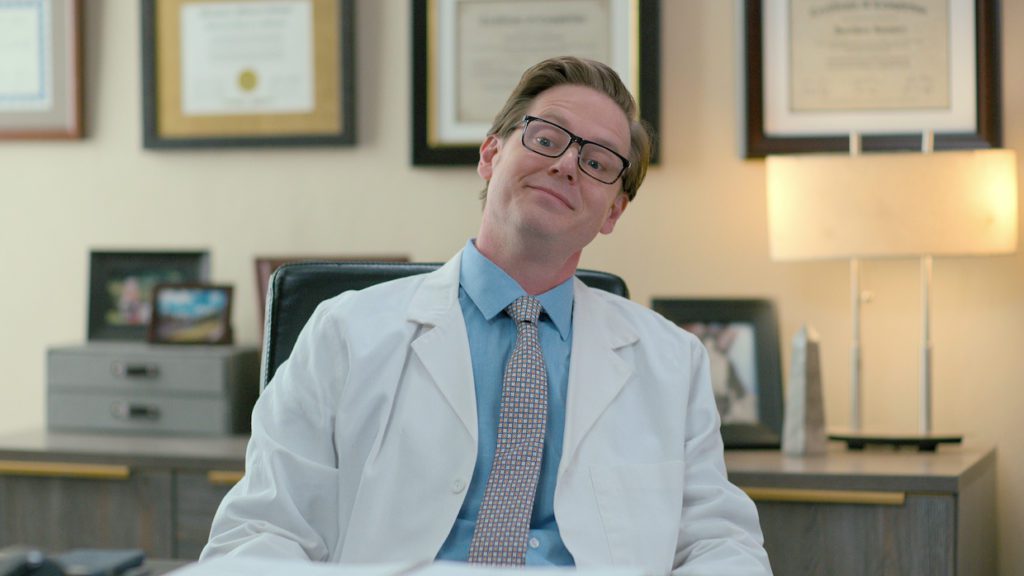 Filmmaker: The sketch that probably has the most components to it is the pharmaceutical ad, where the doctor keeps trying to get Tim to take him to the club. You've got the opening bit at Tim's construction work site. You've got the doctor's office. You've got Tim on a white cyc. You've got both of their houses, then you've got the club interior and exterior.
Mentzer: Yep, and it was stretched out. I think we started that sketch during the second week of the shoot and shot pieces of it all the way until the last day. Jay referred to it as our "Coffin Flop" of this season in terms of the scope of what we had to do.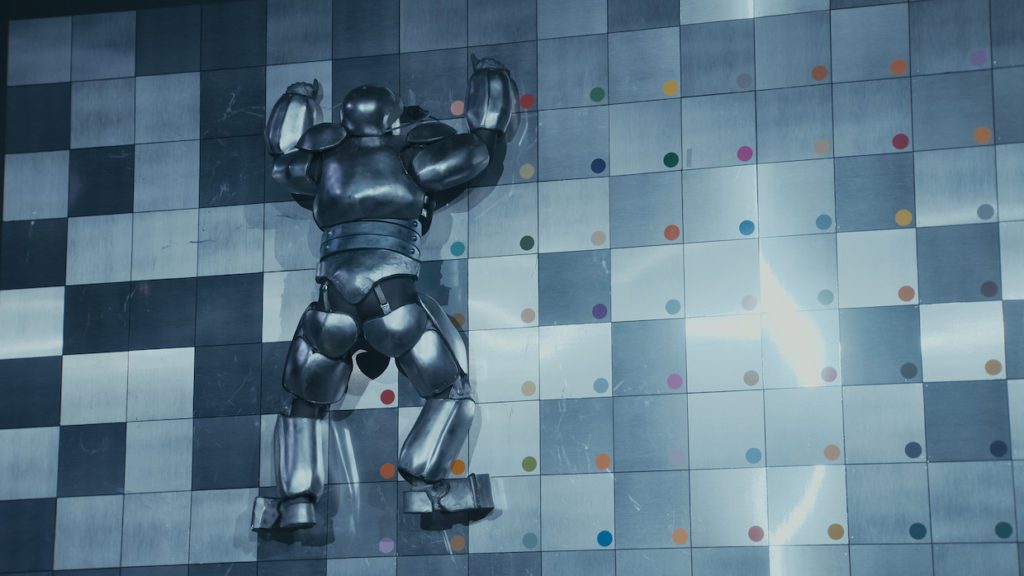 Filmmaker: The Metal Motto Search gameshow is one of your stage-based sketches for the new season. How did you get the POV shots for the cam that's rigged to the Metaloid Maniac mascot, who has to climb up the game's board to flip over clues?
Mentzer: It was a GoPro Hero 4 Session, which is just like a little cube. Fatal Farm directed that sketch, so they're super used to using things like GoPros. They actually went ahead and bought a bunch of cameras on Amazon, and we tested them out to see what would work best mounted to these metal helmets.
Filmmaker: Was that wall reflective in a way that was troublesome with lights?
Mentzer: Correct, it was troublesome. [laughs] But in some cases, those reflections really helped sell the gag. That set was by far the biggest thing we've done on the show in all three seasons. We had roughly a week and a half pre-rig [to construct the set], then we had a pre-light for that which took a day. Safety was obviously a real concern and it needed to be able to look like it was extremely difficult [for the Metaloid Maniac] to climb the wall, which it was. We had a lot of stunt harnesses working and cables rigged, but I was really happy with the way it turned out.
Filmmaker: In the last episode, there's a sketch set at a campaign headquarters where an employee keeps trying to get Tim to watch his YouTube channel. You actually have to make those YouTube videos, which all revolve around Frankenstein's girlfriend.
Mentzer: That was another two-sketch day. We shot those on the tail end of our Gelutol day. We actually just shot them on an iPhone and production found a motel around the corner from the [Gelutol] location. It was a really small crew. It was just me, the director and actors and Tim and Zach.
Filmmaker: Do you have a favorite sketch from the three seasons you've shot?
Mentzer: I'd say it's between "Calico Cut Pants" and "Brooks Brothers," which is the hot dog one. Brooks Brothers was fun because it had an action beat and then a Steadicam beat as well, but it's completely silly. Those two define the show for me and were the most fun to shoot as well, because they just let Tim riff the whole time.