Back to selection
TIFF 2023: The Holdovers, Hit Man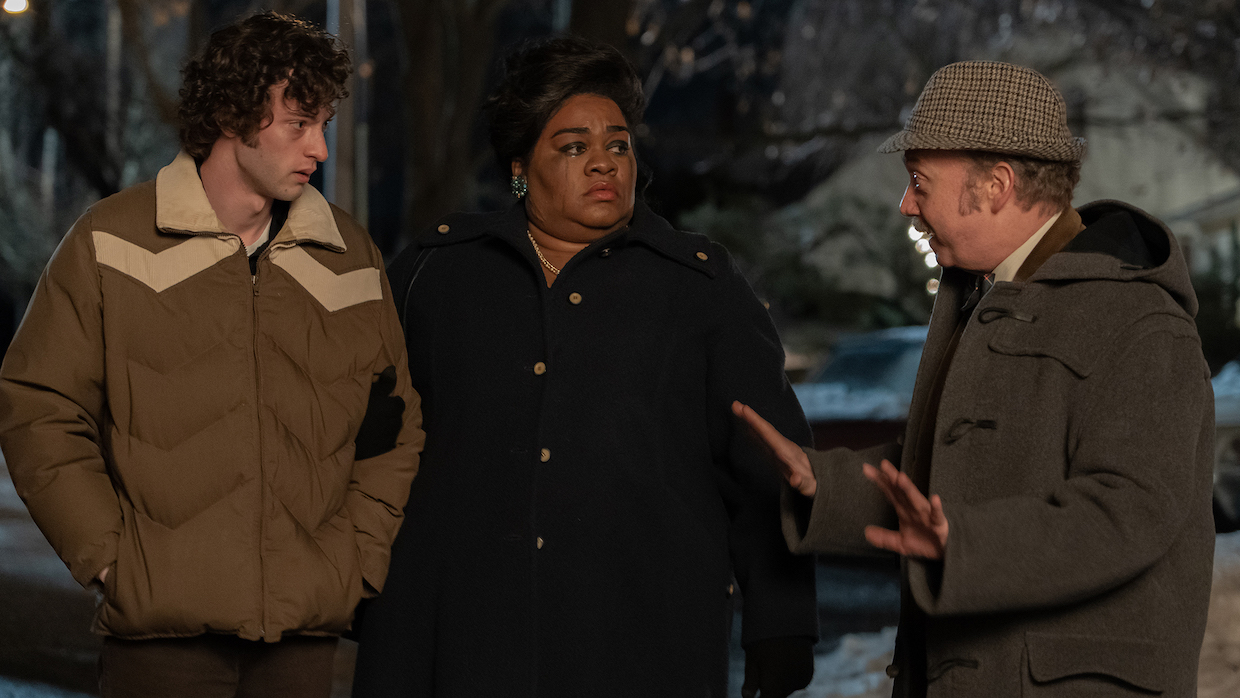 Dominic Sessa, Da'Vine Joy Randolph and Paul Giamatti in The Holdovers (Photo by Seacia Pavao, courtesy of Focus Features)
In terms of acquisitions, the most financially significant screening of last year's TIFF was an industry-only one of The Holdovers, a Miramax-developed title whose worldwide rights promptly sold for $30 million to Focus Features; this year, it returned for press and public inspection following its Telluride premiere. It is, as previously announced, a crowdpleaser directed by Alexander Payne, designed for career rejuvenation after the ambitious, unwieldy and expensive commercial failure of 2017's Downsizing, and effectively written under his instruction by sitcom writer-producer David Hemingson. He cannibalized what was initially written as a prep school-set pilot by, among other things, following Payne's directive to modify a plotline from Marcel Pagnol's Merlusse. Payne saw that film at Telluride in 2011 while promoting The Descendants, and despite the very specific provenance of the resulting plot, the synthesized result—high school teacher Paul Hunham (Paul Giammati) and wayward student Angus (Dominic Sessa) bond, grow—veers generic, lacquered with a finishing layer of "humanism."
The Holdovers announces its intention to not just be set in 1970 but seem of the year itself by opening with an ersatz '70s MPAA rating and two retroactively stylized studio logos. The reformulated one for (founded in 2002) Focus Features got a little cheer from the press corps; the subsequent Miramax logo audibly startled them—no matter its current context, the Weinstein aura still carries a little sting. There's a number of fake celluloid scratches in the opening stretch, often pasted on snowy exteriors where they'll be most conspicuously visible; once I got past my dislike for that affectation, I have to admit that the digitally-captured movie often does a solid job of looking plausibly from its depicted era, especially in its judiciously regular application of space-flattening telescope lenses to both indoors and outside.
It was hard for me not to think about Payne's contemporary Wes Anderson while watching this, not least because of their twin sophomore efforts, the overachiever diptych covering prep school (Rushmore, Max Fischer) and public (Election, Tracy Flick). Giammati's hardass pedagogue is like if Max Fischer realized his dream of never leaving campus, in the process becoming a pedant classicist rather than a frustrated filmmaker. Hunham is tasked with looking after the five boys who aren't leaving for the winter holidays, a chance for ensemble comedy to warm up the crowd. Plot mechanics then subtract them all minus Angus, creating a triangular opportunity for growth between characters who each have one obstacle and/or core sadness. A habitual drunk, Hunham needs to leave campus and maybe have a romantic relationship; Angus keeps getting kicked out of schools and needs to chill and apply his natural smarts; cook Mary (Da'Vine Joy Randolph) is mourning her son, recently killed in Vietnam. The more the script shades its characters within those broader lines, the more perceptible the inevitability of each of their arcs becomes. The animating impulse of Payne's earlier films—to point out things that are objectionable, stupid and/or politically toxic in a hyper-American context—has long since been traded for a kinder gaze. I miss that impolite, potentially condescending caricaturist of awful places and mockable people around us. He still peeks out through unkindly rendered smaller players: a red-nosed alcoholic Santa waving a cigarette and ranting over his PBR at a bowling alley bar, a secretary who brings Hunham cookies with lipstick on her teeth. But the latter turns out to be a sweetheart who invites the awkward trio to her holiday party, and the rehabilitation of everybody proceeds apace.
The movie is a skillfully crafted tribute to the effectiveness of standard coverage when well executed with talented performers, frequently funny while avoiding the unacceptably maudlin and overtly cynical. Because I so rarely watch crowdpleasers, the general plot architecture of how they unfold flooded back into my head as The Holdovers hit every beat you might expect precisely on schedule; it is both an exemplar of the form and a catalogue of its most mechanical requirements. The general premise—given enough time and space, we can all shake off the carapaces of our most off-putting behaviors and become the kindest, most overtly interesting/lovable versions of ourselves—is obviously comforting, but also strikes me as a fairy tale ostensibly for adults; recent American history does not seem to prove that good things happen when we all "get together and talk it out."
I couldn't help but think about why this is a period film, aside from the obvious appeal of being able to fetishize and replicate a beloved cinematic era's tics. An obvious, if unfortunate, answer is that it's effectively impossible to visualize such benevolent interactions at this time. This has the inadvertent effect of creating nostalgia for 1970, a reasonably bleak year out of many in American life. (I couldn't help but noticing that everyone minus one character, including every single white person in Boston, is notably un-racist.) Downsizing's unexpected divergence into climate change drama proposed, pretty unconvincingly for my purposes, that if we all help each other out maybe we'll get through this. I prefer the fire-and-brimstone approach of First Reformed, but at least Payne offered a clear engagement with the present; subsequently repackaging 1970 into comfort food seems regressive to an almost sinister extent. The Holdovers's 131 minutes fly by, and if I were watching it by myself over Christmas, that would be exactly right—but I do begrudge the film's conception of redemption and growth on schedule. Its most contemporary-resonating thread is Dunham's anger towards the rich, in his case manifested by the draft-dodging "best and brightest."  But even this, it seems, isn't self-explanatory, as we eventually get an origin story for why the teacher hates rich kids, as if the righteous principle weren't enough—truly, this was unavoidably made in the present no matter how much Payne might wish otherwise.
Richard Linklater's Hit Man is also a comeback crowdpleaser, leveraging the increasing star power of Glen Powell, who first appeared appeared in the director's work in 2006's Fast Food Nation and who's since developed an authoritative command of charismatic cockiness. He's both the title character and co-writer of a movie that's all his to dominate from start to finish, announcing that Here Is a Movie Star, not just a talented supporting player. Powell proves himself up to carrying the film, minus a few bumps, one of which isn't his fault but a familiar problem with asking the world's most beautiful people to embody human lumps. As philosophy professor Gary Johnson, Powell is initially presented someone his colleagues like but find a little dull and sexless, the kind of guy who'd start droning on about birdwatching at a moment's notice. Because Powell looks the way he does, the best the movie can do is have him be unshaven and in glasses, roughly akin to Rachel Leigh Cook in She's All That.
Hit Man begins where Everybody Wants Some!! ended, in a college classroom where Linklater can have an excuse to explicitly write out his philosophical underpinnings on a chalkboard. It was "Dreams = Destiny" in Some!!—a succinct summation of his work applicable to this ode to self-transformation via a quasi-fantasy life. In scenes breaking up the acts, Johnson lectures on philosophy, starting with Nietschze and self-determination; the film then briskly launches into a human demonstration of same, as Johnson is recruited by the police to pretend to be a hit man when someone's looking for a contract killer. (This also allows Linklater to sneak in a brief, virtuoso and thoroughly cinephilic montage of hitmen throughout film history.)
The role-play gives Gary a newfound confidence and the intellectual satisfying opportunity to expand his psychological studies into the world. For Linklater, who's always seemed a little skittish around violence and heavy emotions, having a guy who's merely playacting at being a killer is perfect: because we understand nothing will come of it, the dialogue can lean into the goofier aspects and more baroque manifestations of hitman cool for comedy without worrying about negative consequences. It's also a chance to quickly sketch a multitude of conversations with eccentric southerners who express their desire for the death of others in colorful ways, like a condensed version of Bernie's chorus of Texan talking heads. (The story is adapted from the life of a Houston-based cop; presumably for tax incentive reasons, the Texas Monthly story has been filmed in New Orleans.) Ever resistant to fatal consequences, the film even suggests that some of these encounters were good therapy for angry, subsequently-acquitted spouses who got the homicidal fantasies out of their system.
One of Gary's would-be contractors, Maddie Masters (Adria Arjona), wants her husband taken out; the fake assassin talks her out of it and soon enough they're an item. She thinks he's actually a hit man and Gary is understandably reluctant to disabuse her of the notion. It's already been much-noted that the film is sexy, though the extent of its sole actual sex scene is minimal (though it is, as Powell proudly notes in the press kit, the first one in a Linklater movie). On their first morning after, Gary lays down some rules for their relationship that basically propose, "What if Last Tango in Paris but nice?" Hit Man has Linklater making everything hum in part because he's so adept at getting disparate parts to all live in the same amiable tonal place—this movie's discomfort with death as something other than a punchline takes the sting out of violence even once it does arrive.
Despite the uncharacteristically sitcom-y score by Graham Reynolds, Linklater's idea of smooth entertainment is more idiosyncratic than it presents, even if his supporting cast includes two performers (Retta and Sanjay Rao) whose back-and-forth riffing suggests that he's now comfortable with including straight-up Apatow-style comic improv per contemporary norms. The film is as fluidly edited as ever by Linklater's longtime collaborator Sandra Adair, sometimes generating laughs from the rhythm of cutting from one reaction shot to another rather than anything the performers are doing, the kind of invisible craft that gets overlooked. Linklater remains a master of disguising all the work he's doing.