Back to selection
The Night The Lights Went Out in Maine: Camden International Film Festival 2023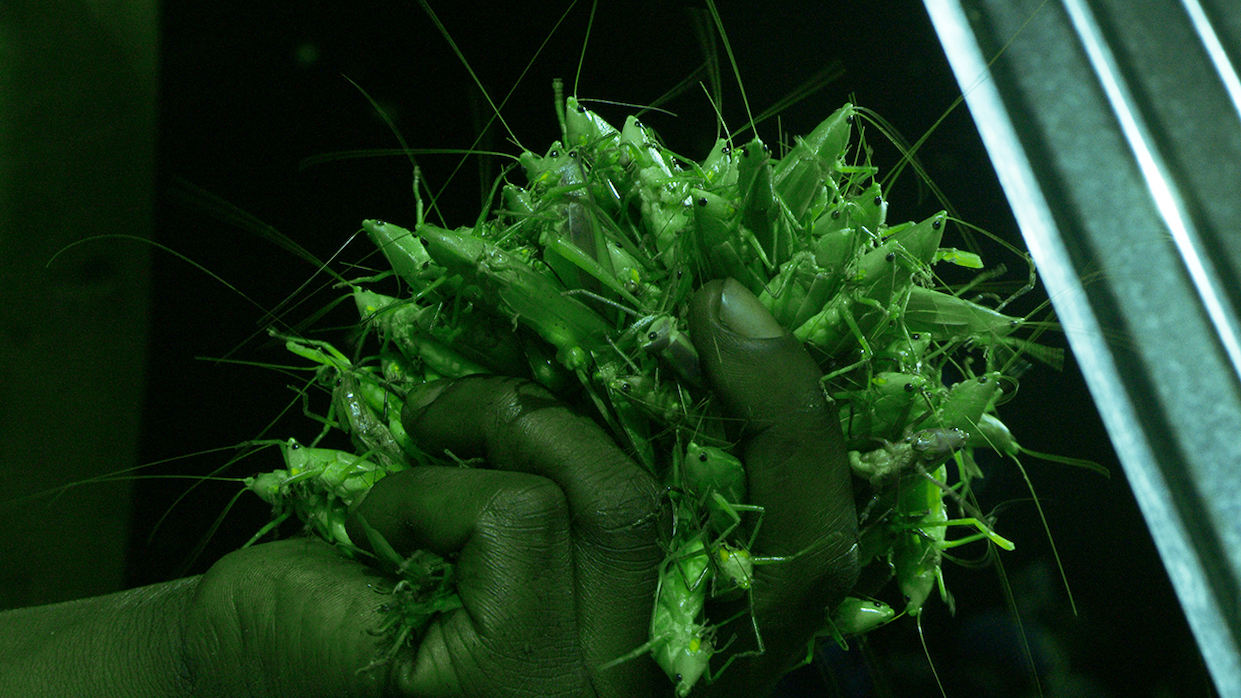 Grasshopper Republic
Neither high winds nor power failures could throw the Camden International Film Festival far off course this year, as the annual nonfiction showcase executed a nimble pivot to accommodate a late-arriving guest: Hurricane Lee, which had weakened to become a post-tropical storm by the time it reached north coastal Maine halfway through its 19th edition.
"We've been right in the middle of hurricane season for our very existence, but for a tropical storm to get as far north as it did and make landfall as close as it did was unique," said Ben Fowlie, CIFF founder and artistic director. The heavy weather shut off the lights at the Camden Opera House a few minutes into the fest's centerpiece, the Points North Pitch session, and forced the cancellation of afternoon forum events and screenings of Alex Gibney's In Restless Dreams: The Music of Paul Simon and Danish filmmaker Christoffer Guldbrandsen's Roger Stone doc A Storm Foretold, both marquee presentations (along with other prominent features poised for awards season, including Jesse Moss and Amanda McBaine's compassionate but not uncritical examination of evangelism at the edge, The Mission, and Errol Morris' fanciful and customarily interrogatory encounter with spy-lit god John le Carré The Pigeon Tunnel). But the Pitch carried on, relocated to the considerably more intimate confines of a festival patron's nearby boathouse, as did screenings in nearby Rockland, where the downtown Egyptian Revival theater The Strand was celebrating its centennial, and a dockside marine warehouse fittingly called Journey's End was transformed into a supersized screening facility.  
"What happens is always unscripted," said Fowlie, who also noted how the fest's "Yeti lounge" in Rockland became an ad hoc site for industry and filmmaker conversations originally scheduled in Camden. "You saw that play out this year, in some ways, more than any other year." The experience of producing the festival throughout the pandemic "prepared us for a lot of contingency planning," added Sean Flynn, program director of the festival's umbrella organization, the Points North Institute. Moving the Pitch "very much created this space where we were all human beings huddled together as the storm passed through."
Such adaptivity to nature's surprises also offered a thematic undercurrent to some of the festival's more engrossing selections, which played from September 14 to 17 in theaters and concluded online earlier this week. 
Everything's gone green in Daniel McCabe's Grasshopper Republic. The film opens with screen-encompassing macro photography of grasshopper nymphs emerging from their egg sacs, slowly and steadily tugging their wiry antennae free. The pale, translucent bugs are a few shades lighter than the grass blades to which they cling, and as the camera closes in on their squishy forms it all feels a bit sci-fi. It's a vibe more awe-struck than ominous, enhanced by the ambient, spacey drones and percussive ephemera of soundtrack composer Robert A.A. Lowe (A Spell to Ward Off the Darkness, the 2021 Candyman remake), which felt even more resonant and immediate if you were seated near one of the rear speakers in the Journey's End. The stunning opening yields to an immersive look into the crucial role these creatures play in the economy of an Ugandan village, where they make a lucrative harvest for a small army of trappers. 
The filmmakers spent three years off and on tracking grasshopper season, working with photographer Michele Sibiloni, whose longer-term work in Uganda and published images inspired their project. They make the story as much about raw labor as the natural world, with a lot of time invested in capturing the rigors and risks of the enterprise, which has no guarantee of success. The process requires lots of corrugated metal to fashion traps, loud gas generators and raw lighting from filaments removed from their glass bulbs. The glare is so harsh that it can scorch flesh, only one of the hazards endured by the trappers. The payoff finally comes in the film's last 20 minutes as swarms of grasshoppers blot out the sky in scenes that are at once ecstatic and apocalyptic. 
The Spanish film Fauna, directed by Pau Faus, is introduced by a quote from Georges Bataille: "I believe that truth has only one face: that of a violent contradiction." It's an assertion that might seem at odds with the seeming tranquility of rural Catalonia, where an aging shepherd contemplates his retirement as he struggles with failing health. The bucolic scenes, framed with patient observance, evoke an almost storybook charm—hashtag the simple life—as we witness this gentle man rescue a baby goat from a gully and guide his flock of sheep across the verdant countryside. The contradiction announced at the outset is the shepherd's neighbor, a sealed-off laboratory where scientists are working on a COVID-19 vaccine. They work with animals, too—as test subjects, destined for a distinctly non-Disney end. These disparate yet inseparably linked worlds meet through a large picture window in the lab, whose vista of field and forest is a counterpoint to the sterility inside the facility where, nonetheless, a worker mops up as she shimmies to a bachata soundtrack. It's not the only unexpected moment of levity. In an ongoing situation, the laboratory management freaks out over a centipede that has somehow found its way inside. Nature persists, but humanity ages and weakens. The shepherd, Valeriano, must also submit to medical science and, in the end, has to give up his profession. The finale is the heartbreaking, but unsentimentalized, sight of his flock skittishly navigating the lab's corridors. 
The natural landscape cedes to the virtual one in Knit's Island, another film made during the pandemic. It distills 963 hours spent by a trio of French filmmakers (Français Ekiem Barbier, Guilhem Causse and Quentin L'helgoualc'h) inside a multiplayer video game called DayZ. The "Z," of course, is for zombie, and the VR scenario is the de rigueur post-apocalypse, where cadres of survivors band together to annihilate the undead (or often enough the living, as in the case of a self-styled cannibal gang). This world proves much deeper, stranger and also more mundane than the above plotline suggests, however, as the filmmakers (themselves cohabitating through lockdown) engage with freelance mystics, party animals and other citizens of this sprawling digital terrain, whose more outlandish avatars resemble terrorists by way of a military surplus bargain bin. Nothing deflates the fantasy quicker than the sound of an infant crying offscreen, but as reality increasingly pokes through the construct, initial annoyance with role-playing pretensions turns to fascination with what underlies them.
Virtual reality might be preferable to the real one endured by the school kids who are the original authors of Manifesto. The "Russian TikTok movie" is a found-footage composite of social media videos uploaded by dozens of minors, mapping a dismal contemporary Russia. It all begins innocently enough, as various children go through their morning preschool routines, typically sleepy and complaining. Then begins a descent into trauma, from cruel and menacing teachers to the jarring impact of drills in which classrooms are trained in response to school shooters or terrorist assaults. This segues into scenes from actual assaults, and further into what appears to be a teenage suicide pact, which concludes with off-camera gunshots. The credits were greeted by the audience's deathly silence. The film is credited to a collective that remains anonymous (for obvious reasons), with no filmmakers present to unpack some troubling issues. Although I'm willing to credit them with amplification rather than exploitation, this was by far the most disturbing example I've yet seen of the "Russian found footage" genre (most popularly accessed via YouTube channels such as Dashcam Russia) and I remain curious about its purpose, and the ideas that preceded its design.
Bill Morrison's 30-minute short Incident might feel as blackpilled if it didn't so powerfully demonstrate the power of moving images to expose institutional murder, aka killer cops. The harrowing spectacle of police shootings and fatal beatings amid routine traffic stops (and the like), repeatedly targeting Black citizens, has become a tragic staple of the Internet, via cellphone and police body cam footage. Incident makes use of the latter, as well as that from more remote surveillance and storefront security cameras, to reconstruct the killing of a Black barber who encountered five police officers on the street in his Chicago neighborhood. Morrison carefully tracks back and forth chronologically—juxtaposing time-frames to get closer to the potential truth of what happened—while also capturing the Rashomon-like nature of narrative accounting. The victim, Harith Augustus, is described as mild-mannered merchant who appeared only to be reaching for his wallet to show the officers his gun permit. Or did the cop who shot him—Dillon Halley, who was in his probationary first year of service—save everyone's lives by firing his weapon? Morrison's use of split screen (into as many as four squares) creates an intensive mosaic of data that includes police radio chatter and the shouts of bystanders. It's a change-up from the filmmaker's established canon, built on the creative reclamation of decaying silent film footage, yet at the same time benefits from Morrison's anatomical eye for detail and honing a perspective from material at hand. So far, Halley received only a two-day suspension in the 2018 shooting. He failed to switch on his body cam quickly enough. The footage used by Morrison clearly shows an officer removing a holstered handgun from Augustus's body. 
The nonfiction future loomed at the only slightly delayed Points North Pitch, where fellows representing seven projects gathered to advocate for their films before an expert panel of corporate and nonprofit funders (including representatives from Magnolia Picures, the Ford Foundation and the Catapult Film Fund). Ironically, perhaps, the sudden power outage made things less stressful for Alex Westfall, who came to pitch My First Brush with Infinity, which explores the work of visionary photographer Francesca Woodman in ways counter to biopic convention, as discussion of her work has customarily been framed with her suicide at age 22.
"I was moved seeing the festival and local community show up," said Westfall, a native of Manila, Philippines, whose 2020 short The Rose of Manila imagines a teenaged Imelda Marcos. "A pitch attendee mentioned having to chainsaw a tree to get to the Opera House! The nerves immediately left my body once I knew the plans would be changing, and that we would have more time before getting up on stage." Writer and actor Tavi Gevinson, a producer on the film, passed the time between venues by giving tarot card readings, reflected on ways the pitch workshops surprised her."I'm used to thinking of pitching as diluting something," she said, "and it was great to see how it can actually be a way to distill your vision." In that regard, the give and take with the panelists helped to reinforce what Gevinson's described as Westfall's approach to the subject, using Woodman's life "as a kind of portal and creating this kind of intergenerational ecosystem of images and ideas inspired by her work and its sense of possibility."
Former fellow Assia Boundaoui (The Feeling of Being Watched) returned as a mentor and found herself standing alongside filmmaker Zahraa Ghandour, who had traveled solo from Iraq to pitch her project, Women of My Life. "More than anything it was the film itself that moved me," said Boundaoui, who also enlisted as a consulting producer. "Blisteringly personal and deeply political, it is both a story of Zahraa's childhood friend and a story of the girls and women of Baghdad who have suffered through both patriarchal violence and political upheaval of a country nearly destroyed by decades of U.S. sanctions and occupation."
Ghandour, with a background in television documentaries, had pitched previously in major European nonfiction forums but never in the United States. "This opened a new door for me that I didn't know about before," said the filmmaker, who received an in-kind post-production package from Boston-based Modulus Studios. "[The North American market] is hard to reach because we are so far away […] People in the U.S. have to see and connect to us as humans, and not as numbers in the news."
As for electrical issues, Ghandour was ready. "For years, we had no electricity," she said, reflecting on life in Iraq during, and after, wartime. To finally arrive in the United States on behalf of her project, only to have the power cut off right as the pitch session began, was a kind of cosmic joke. "I said, 'What's going on? If you need a workshop or mentoring on how to live without electricity for a very long time, I could offer it."