Back to selection
Man Out of Time: Justified: Primeval City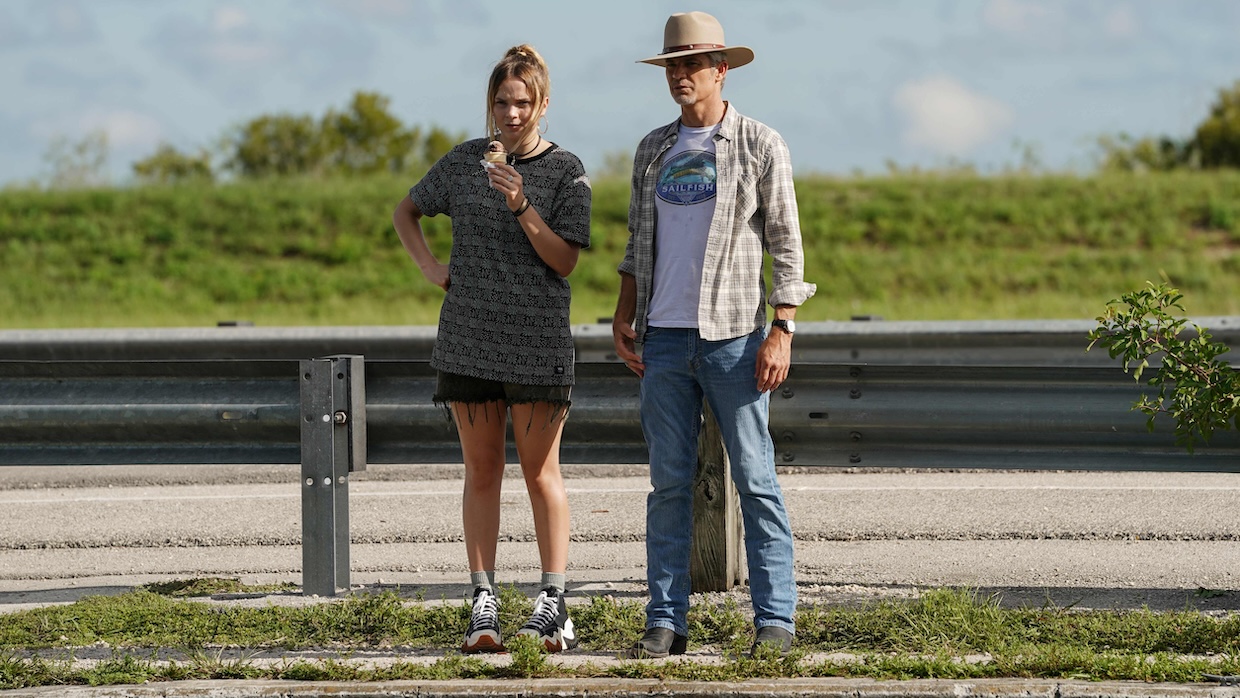 Vivian and Timothy Olyphant in Justified: City Primeval
A neo-Western that premiered on March 16, 2010, Justified is about a man outside of time: Deputy US Marshal Raylan Givens (a tall, lithe and supremely self-confident Timothy Olyphant), who metes out frontier justice (i.e. shoots folks at the drop of his very large hat) despite his temporal position in Obama's America. Elmore Leonard made his bones writing (lots of) Westerns in the '50s and, even after branching out into the super-cool super-bare crime novels he became famous for starting with The Big Bounce (1969), continued to dip into the genre; his 2001 long short story "Fire in the Hole," first published as an e-book by Steven Brill's short-lived Contentville Press, served as Justified's source code. The Western can be expressed via a myriad of well-known plots, but all circle around an Ur-narrative: the white man pushes his way West, outpacing various legal structures and the precious imaginary of civilization. On the frontier, violence is both found to be, and becomes, unconstrained, and therefore must be adopted and shaped by civilization's (usually unlikely) avatars. The individual, the gun, the personal code of honor: all are fetishized but ultimately driven under by world-historical forces. Finally, often as postscript, a state monopoly on violence is imposed, and we all know how well that's worked out.
Justified's pilot exactingly follows "Fire in the Hole" as Raylan is forcibly returned from Miami—which, in 2010, could still stand in for civilization—to his birthplace of Harlan County, Kentucky, a very settled patch of post-coal country which hasn't been the frontier for quite some time. With family trees running back to the American version of prehistory, Harlan's locals consider themselves exploited during King Coal's reign and abandoned by all after, creating the perfect conditions for a rather large amount of violent crime. In the absence of enforceable law, these insular clans operate on an outlaw order resembling the Old West. As both a federal law officer and the scion of one of these clans, Raylan uneasily straddles these two worldviews, creating the dichotomy the show would pivot around. Justified's creators resolve this tension by allowing Raylan to abuse his position's power: he violates various shitbirds' civil rights, backs his opponents into shootouts and arranges for the murder of a big city gangster, but will not fully immerse himself in blood-feuds. This ultimately allows him to leave Harlan alive. 
Creator and showrunner Graham Yost considered Justified an opportunity to "meld" Leonard's two favored genres and his final novel Raylan (2012)—written to provide content for seasons two and three—thus a fitting swan song. While most episodes lead inexorably towards Western-style showdowns, structurally the show hews far closer to a sub-genre of crime, the police procedural. Emerging out of the Anglo-American mid-century, the police procedural focused on grinding case work, backseating mystery, action and (at least initially) character development. After a long run of popular novels (the most innovative, Ed McBain's 49-year, 55-volume 87th Precinct series, was roughly coterminous with Leonard's career), the genre's most significant contemporary manifestation is on network television, where a variety of slick, interchangeable, acronym-dependent shows with slowly rotating casts provide sub-hour case-of-the-weeks, the glory days of their forebears (Homicide: Life on the Street, NYPD Blue, Hill Street Blues, Dragnet) long vanished. 
While early episodes of Justified were structured similarly, seasons two and three morphed into a hybrid of case-of-the-weeks and serialized, season-long narrative arcs. By then a staple at FX (see also The Shield, Sons of Anarchy), this now-abandoned format allowed for the pleasures of the standalone episode (routine, repetition), while simultaneously freighting each episode with the narrative import increasingly expected by audience appetites whetted on early-aughts premium cable (The Sopranos, The Wire). Following macro-trends in a landscape increasingly hijacked by big streamers, subsequent seasons of Justified sloughed off procedural elements to forefront serialization to varying degrees of success.
Part of the appeal of Justified's early seasons was Yost and co.'s success in replicating the tone of Leonard's novels, which offer similar pleasures to those of the case-of-the-week (routine, repetition). Raylan itself reads less like a novel and more like three casually interconnected novellas, either a knowing nod to Leonard's affection for the show or a result of a Late Style which refused Campbellian narrative scanning, ditched consensus grammar and ran almost solely on the hot energy of character. Justified's bluegrass setting also differentiated it from the close-quarters pack of big city police procedurals. By 2010 the hinterlands, hollowed out and abandoned by neoliberal capital, had become established as America's latest twisted reflection. As the ravages of big pharma had yet to be moralized (see: Dopesick), the setting became an acceptable and, at least optically, white analogue to the "inner city" of the '80s and '90s, an anti-Andy Griffith where only predators and prey exist. Justified thrived in this newly generated archetypal setting. Its downhome villains were, more often than not, white and underestimated, crafty and intensely verbal (Walton Goggins' mesmeric Boyd Crowder) or tragic-comic buffoons (Damon Herriman's scene-stealing Dewey Crowe). Even while the show (mostly) refused the easy humor of stereotyping, Raylan's penchant for police brutality and shooting folks seemed easier to stomach out in the backwoods amongst former Nazis, pillmill operators and trailer park pimps rather than in gentrifying cities which had, a generation prior, served as shorthand for racialized fear. 
Seven years after the original series' end, Raylan finds himself in such an urban setting— specifically, like any good Leonard protagonist, Detroit. Justified: City Primeval is based on Leonard's 1980 novel City Primeval: High Noon in Detroit. While the novel is not one of the four to include Raylan, it makes sense to mine for Justified content, despite Leonard's concerns that Justified might turn into McCloud. Not only is the novel one of Leonard's relatively few which could be considered a police procedural, it concerns an Old West style showdown between lawman and badman in a city that's now shorthand for "contemporary urban hellscape." A "polite" divorced cop, Raymond Cruz, who idealizes Gregory Peck in The Gunfighter (1950), finds himself dealing with the unprecedented urge to draw down on Clement Mansell, a psychopath seemingly impervious to the court system. 
However, the novel's central tension (will Cruz shoot first?) is defused by swapping him out for Raylan. Is Raylan going to shoot this guy? Of course Raylan is going to shoot this guy. The miniseries attempts to short-circuit this issue by presenting a Raylan long out of Harlan, his rich vein of anger now lying under the surface of a silvering, medium-chill Florida dad. If Raylan's ex-wife Winona (Natalie Zea) ends the original series' pilot by calling him "the angriest man I've ever met," it takes until episode three for his miniseries love interest Carolyn Wilder (Aunjanue Ellis-Taylor) to declare, "Not everyone gets to be as angry as you do." To put it in the language of development, the stakes of the miniseries are "Will Raylan Go Back To Tha Old Me"? These stakes are never overtly articulated, as admirable restraint is shown in not having a Justified recurring regular pop up to say, "Hey Raylan, y'know, once upon a time you'd have just shot this asshole." There is an early, heavy intimation that Raylan is trying to be a less brutal man for the sake of his tween daughter, but this subplot is clipped curiously early, leaving most of the heavy lifting to Olyphant's performance, which is more than up to the task. The appearance of the Albanian mob not only allows a welcome, rare B-plot reminiscent of the original series (a pair of thugs do what thugs always do in Justified: menace innocent people in novel ways, deliver off-kilter comic beats, get shot and provide moments of unexpected pathos) but also gives headman Toma (Terry Kinney) the opportunity to denigrate Raylan's attempt to achieve the "satisfaction of a mandate for the appearance of order." Raylan's casual admission that he might "sympathize in a way" with Toma's Old World justice is the closest the show comes to resurrecting the tension which animated it. Since precisely nobody in Detroit would mourn Mansell and it doesn't appear as if Raylan's job, immortal soul, or (after episode three) family is on the line, the miniseries ends up landing like a TV movie from an earlier era, an entertaining postscript rather than a defining extension.
Contra development best practices, lowered stakes and entertaining postscripts can make TV equally adequate to that of the endlessly iterative stakes of the prestige serialized streamers. In the 20th century, TV characters were not meant to change. Stakes remained static, and the narrative was an attempted perpetual motion machine or an increasingly unconvincing Zeno's Paradox. This is why Justified worked so well in a case-of-the-week format, no matter how hybrid. The audience doesn't want Raylan to wise up and settle down. They want him to drink whiskey, deliver wry one-liners and shoot gunthugs. These essential qualities retained, one can see Raylan profitably inserted into a variety of Leonard properties, including and especially the ahistorical The Moonshine War (1970) and the Tarantino-optioned Forty Lashes Less One (1972). Unfortunately, the miniseries ends with a stunningly obvious pivot signaling brand servicing rather than a continued branching out into Leonard's back catalogue.
While the miniseries' cast and writers' room are excellent (the former featuring the great Vondie Curtis-Hall, the latter legendary crime author Walter Mosley), eight instead of thirteen episodes gives everyone far less time to work themselves into a comfortable groove. The direction attempts for what a pitch deck might describe as "cinematic," losing the narrative economy of the original series. (Perhaps in an homage to Motor City's history of vehicular production, there are a lot of cars slowly backing out of parking spaces in the half-light of garages.) As Mansell, Boyd Holbrook channels Alec Baldwin in Miami Blues harder than anybody might be prepared for, but the scope, abilities and ambition of his character—Raylan's frenemesis Boyd without the smarts—are too limited to sustain the show. 
Mansell does, however, do the lion's share of shooting folks. In the largest shift from original series to miniseries, the body count is kept relatively low, and Raylan doesn't fire a single round until the final episode. When people get shot in 2023's Justified, the show signals (primarily through over-direction) that this is an unnatural, deeply upsetting event, rather than just Tuesday afternoon in Harlan or Detroit. We've come a long way from season four's promos, dropped less than a month after Sandy Hook, which featured Olyphant aiming a pair of guns at us. 
In its original inception, Justified allowed audiences to work through their anxieties about gun violence, rural economic degradation, the meth->oxy->heroin plague and what comes after the civilizing of the American West in the controlled, comforting environment of the case-of-the-week police procedural. The miniseries does not attempt to do the same for police violence, racial inequality, polarized American politics and the newly redemonized urban landscape. (Leonard's novel, typically, maximally exploited the frissons of its times.) Contemporary audiences, unlike those of 1980 or 2010, are understood, probably correctly, as either unwilling or unable to abstract the distance between reality and entertainment. The result is a miniseries equally well-executed and purposeless. In 2023, it is not Justified's protagonist who is outside of time, but the show itself.