Back to selection
Sundance Institute Announces 2023 Episodic Lab Fellows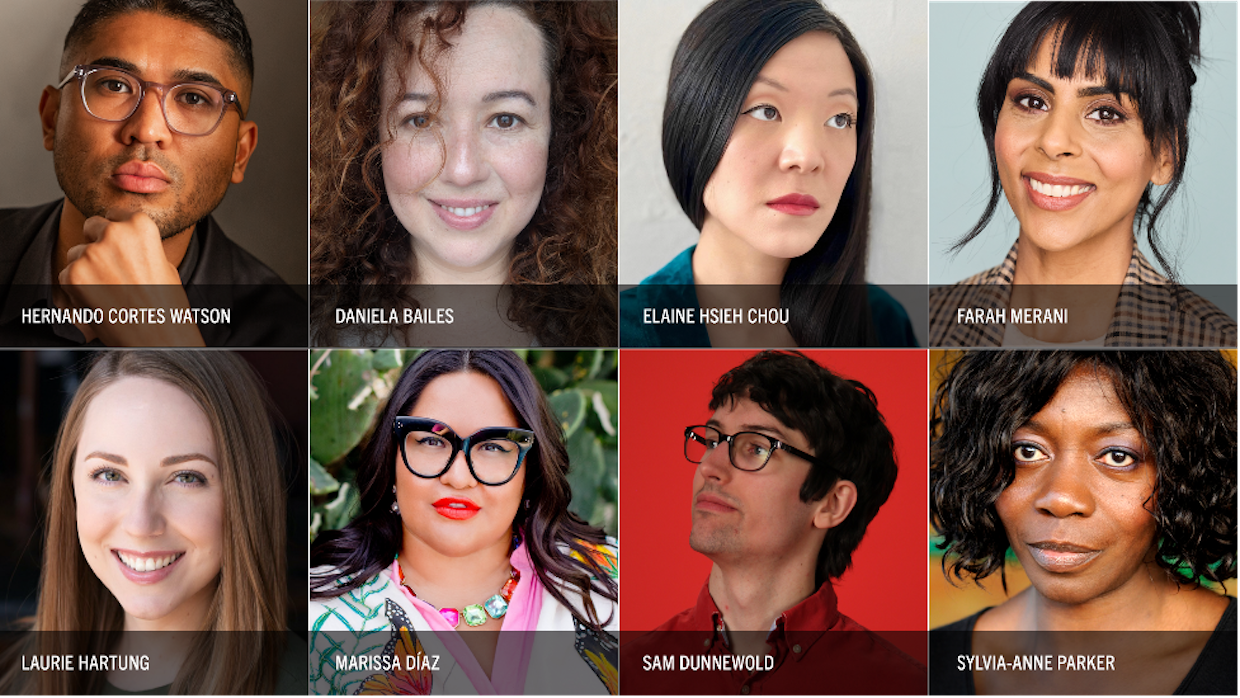 Sundance Institute announced today the 2023 lab fellows selected for their 10th Episodic Lab program, taking place at the Sundance Resort in Sundance, Utah. The selected eight artists are Daniela Bailes (The Letters), Elaine Hsieh Chou (Get Home Safe), Marissa Díaz (Cochinas), Sam Dunnewold (Guts), Laurie Hartung (Rabbit Hole), Farah Merani (The Painted Muse), Sylvia-Anne Parker (Blackbirds) and Hernando Cortes Watson (Horsepower). From the press release:
Their eight projects include themes that explore family secrets, vengeance, sex positivity, magic, revolutionaries, and world-class stallions.

Designed to bring together early-career writers with an original series IP that has not yet been produced, the Episodic Lab is a five-day immersive experience allowing them opportunities to work under the guidance of established showrunners and executive producers. From November 3–7, fellows will workshop their pilot and participate in one-on-one story meetings, case study screenings, panels, and writers' rooms focusing on their scripts.
The 2023 Sundance Episodic Lab projects and fellows are:
Daniela Bailes with The Letters: After discovering her mother's extensive correspondence with a notorious serial killer on death row, Violet finds herself entangled in family secrets when a similar murder occurs in her own backyard.
An alum of the Yale Writers' Workshop and the NHMC TV Writers Program, Daniela Bailesrecently staffed on Kathryn Lyn's sci-fi series The Shift for Paramount. Her horror feature She Lives was included on the 2023 Latinx List, and her thriller feature was sold and set to be produced for A+E.
Elaine Hsieh Chou with Get Home Safe: After an unproven hate crime leaves their friend dead, four messy Asian American post-millennials strike out to reclaim their lives in a world that feels inherently unsafe.
Elaine Hsieh Chou is a Taiwanese American writer from California. Her debut novel, Disorientation (Penguin Press), was a New York Times Editors' Choice, a 2022 NPR Best Book, and an NYPL Young Lions Finalist. The film adaptation was optioned by AppleTV+ the same month the novel was released.
Marissa Díaz with Cochinas: An irreverent raunch-com that follows Malinche, a third-generation closeted "cochina" who decides to live life "cochina and proud," because her bisabuela didn't cross the hot Mexican desert for her great-granddaughter to be a 16-year-old virgin, DUH!
Marissa Díaz is a Tejana writer, director, and producer who is most known for her work on Generation. Her writing has been supported by Spotlight Dorado, Film Independent, The Black List, and the PGA. She is a graduate of NYU Film/TV with an MFA from USC's Stark Producing Program.
Sam Dunnewold with Guts: Following her best friend's death by medical malpractice, enraged sophomore Allison plots to befriend Kenzie — the sick, sweetly naïve daughter of the doctor responsible — in her quest for revenge… only to find that she wants in on the plan.
Sam Dunnewold is a small-town Minnesota boy and a huge nerd. After honing his comedy voice editing videos at The Onion, he moved to Los Angeles to cut fiction podcasts and learn to write. In 2022, Sam was a finalist for the Austin Television Festival's pitch competition and became an Inevitable Foundation Accelerate fellow.
Laurie Hartung with Rabbit Hole: After a magician pulls her out of his hat, a bright young bunny seeks to understand what the hell happened to her while protecting the town that thinks she's gone crazy in this animation-meets-live-action dark comedy.
An alum of Second City and iO, Laurie Hartung writes and performs sketch and musical comedy. Her writing has been recognized by the Austin Film Festival, ScreenCraft's Comedy and Animation competitions, and PBS. Before moving to Los Angeles, Laurie was a teaching artist at Chicago's Old Town School of Folk Music.
Farah Merani with The Painted Muse: A talented Ismaili art restorer is commissioned to hunt down a series of rare Mughal masterpieces for a major British museum and discovers she's digging into long-forgotten and conflicted pieces of her own royal ancestry, forcing her to reckon with everything she thought she knew about her family.
Farah Merani is a Canadian Muslim actor, writer, and producer. She has performed across North America, Europe, and Asia. Her credits include NBC's Quantum Leap, Apple TV+'s See, Shadowhunters, and Annapurna Interactive's upcoming video game Thirsty Suitors. You can find her onstage with the Ensemble Shakespeare Theater in Pasadena.
Sylvia-Anne Parker with Blackbirds: Behind the decadence of 18th-century England, whispers of abolition in the air, a young woman from the London slums uses her past ties to wealthy society to change the game for her fellow Black Britons.
Sylvia-Anne Parker, a British screenwriter, fuses fact with fiction to create emotionally charged stories helmed by women of color who exhibit a strong sense of purpose and identity. She was selected for the Writers Lab UK & Ireland, Sony-sponsored Creative Corridor Program, and Wscripted/MUBI Cannes Screenplay List.
Hernando Cortes Watson with Horsepower: A Filipina horse whisperer, on a mission from God, works relentlessly to free her fellow oppressed estate workers on Connecticut's most powerful Arabian stallion-breeding farm.
Hernando Cortes Watson is a Filipino nonbinary director, producer, and screenwriter known for crafting diverse characters rooted in the epic. A multigenre artist, they have worked on features large and small, in premium television, and are in post-production on their feature documentary debut, Body Of Work: The Rebirth Of Hernando Cortes.