Back to selection
Archive Fever: The Films of Matt Wolf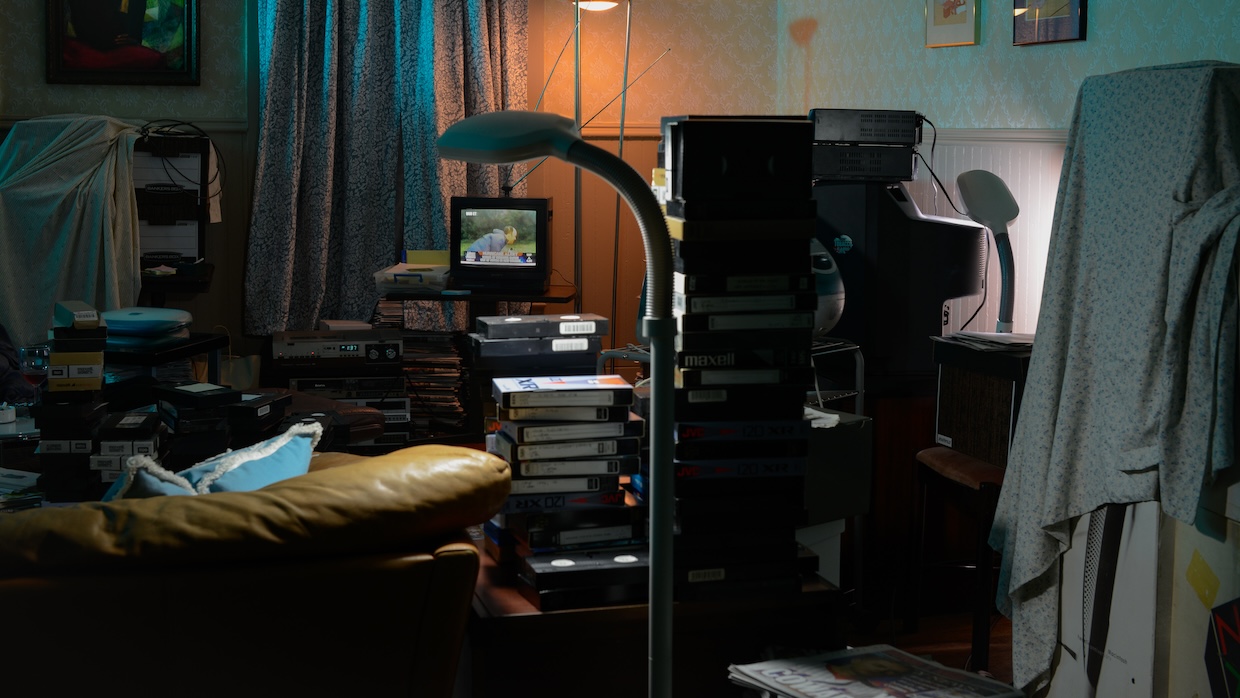 Recorder: The Marion Stokes Project
When I was a student at Bard, I spent a lot of time looking at a poster taped to Ed Halter's office door for Matt Wolf's 2008 film Wild Combination: A Portrait of Arthur Russell, about the composer, country-folk singer, disco trailblazer and avant-garde pioneer who passed away in 1992 of AIDS. Sometime later, I hosted a screening of Keep The Lights On by Ira Sachs, which is full of Russell's beautiful music. Ira told me afterward that he had discovered the artist through Wild Combination, a film that introduced a lot of people to Russell but which also introduced me to Matt Wolf and the brilliant films he makes. 
Currently available to stream on the Criterion Channel, Wolf's films are acts of cultural excavation, fascinated by forgotten and largely unknown figures and reliant on vast archives. For example, in 2014's Teenage, the filmmaker uses not only archival footage, but archived text as well, in order to illustrate the creation of the age stratum we know today as the "teenager." In voiceovers, actors Ben Whishaw, Jena Malone, Jessie Usher and Julia Hummer recite excerpts from the diaries of young people in the 20th century, who were coming into consciousness about who they were, both as individuals and as a collective.
In 2016, I saw Wolf introduce a screening of Arthur Dong's 1997 documentary about gay-bashing, Licensed to Kill, at Light Industry, and we met sometime after that. One summer, he reached out about volunteering to look at an archive he had particular interest in: the many, many VHS tapes–more than seven thousand–of one Marion Stokes. Starting in 1979, Stokes had begun recording multiple TV feeds onto VHS tapes in order to preserve the history unfolding via broadcast news. She never stopped–even on the day of her death in 2012, she had still been recording. Wolf wanted to make a film about her, and he needed help logging what had been written on the tapes. So, for some weeks, I squinted at photos of Stokes's tapes, deciphering what was written–things like "SNL NBC 1990" or "WINTER OLYMPICS" or "TODAY SHOW 2003." I remember she recorded a lot of CNN. Then I copied that down into a sprawling spreadsheet where other volunteers simultaneously plugged away. 
That was the extent of my contribution to what would become 2019's Recorder: The Marion Stokes Project. When I later saw the film, I was blown away by the story Wolf had illustrated through Stokes's tapes. He had made an emotionally compelling portrait of his subject, but even more captivating was the picture he painted of our world through the lens of the changing media landscape, a tapestry of two-dimensional background graphics and endlessly scrolling chyrons. It's one of Wolf's best films, precisely because of the sheer breadth of the archival library he was working with. (Although he's gone on to make several other films, it seems he too has a soft spot for the archive at the heart of Recorder, because he's now created an art book, Input, made from still images found throughout Stokes's tapes.)
In 2018, Wolf reached out to me again, asking if I would like to join the team as an archival assistant for his newest film, Spaceship Earth (2020). This time, he would be telling the story of Biosphere 2–a two-year long science experiment beginning in 1991 wherein eight "Biospherians" lived inside of a large glass dome in Arizona. Biosphere 2 had been constructed to replicate each biome of the Earth, and it was meant to serve as an experiment to see if human beings could eventually live on the moon or Mars. Wolf told me that the team had recorded footage the entire time they lived inside Biosphere 2. My task would be to sort through hours of this, label sequences, transcribe meetings and sort through other images and documents as well. 
In the 1970s, before the Biospherians became Biospherians, several of them lived on Synergia Ranch, Biosphere 2 founder John Allen's hippie commune. They also built an entire ship and sailed around the world performing with their theater troupe, The Theater of All Possibilities. It was also my job to watch recordings of the plays they had written and performed—they were…not so great. Another task was to dig through several archives to see if I could find any references to Biosphere 2 in the media at the time. Jay Leno had made an offhand reference to the experiment in a standup set in Washington D.C. for the National Press Club. Wolf and the team were positive he must've joked about it on his late night show as well, but I couldn't find anything. They pressed me to look everywhere. "Try looking for some online Jay Leno fan clubs," I remember my superior suggesting to me, to which I exasperatedly replied that no such thing could possibly exist. However, I did find a sketch from Mr. Show clearly spoofing Biosphere 2. In it, the Biospherians are putting on a party to celebrate the end of their experiment. David Cross plays a lonely scientist who can't find a female companion to go with, so he ends up mating with one of the animals enclosed alongside them. The sketch ends by revealing their spawn, a bat with Cross's head edited on top of it. (Somehow, this did not make the final cut of Spaceship Earth.)
Another hallmark of Wolf's work, beyond the use of archives, is the theme of queerness. Many of his documentaries are focused on gay individuals and artists–Arthur Russell, for one, or the poet Joe Brainard (the 2012 short I Remember: A Portrait of Joe Brainard). One of his most interesting films is a 2017 short called Bayard and Me, about the relationship between Walter Naegle and Bayard Rustin. A committed socialist and proponent of nonviolence, Rustin was one of the organizers of the March on Washington, and a close collaborator with Dr. King. Naegle and Rustin fell in love, and in order to live together under some kind of legally recognized relationship, Naegle actually adopted Rustin. If Bayard Rustin's name sounds familiar, it may be because there is a biopic coming out about him, Rustin, from George C. Wolfe. The film, starring Colman Domingo in the titular role and produced by the Obamas, will hopefully bring Rustin's story before a wider audience. However, as with most sleek, mainstream Netflix productions, there is a danger that the more radical edges of Rustin's life and work will be sanded down.
Wolf, on the other hand, has found a way to subtly use mainstream methods to his advantage. I don't mean that derogatorily. Most of his films use quite standard tropes of mainstream documentaries–talking head segments, voiceovers, archival footage. But it's the particular archives he pulls from, and what specifically Wolf gleans from those archives, that is so powerful. Consider Recorder. Wolf decided to use the vast archive of Marion Stokes, a Black communist and librarian (who had produced her own public access talk show!) to not only tell a story, but to tell her story, and to illuminate the causes she was passionate about through the kinds of things she focused on taping.
One history that Wolf has paid particular attention to throughout his filmography is that of the AIDS plague. He made two short films dedicated to the topic—The Face of AIDS (2012) and Another Hayride (2021). In The Face of AIDS, Wolf recounts the story at the heart of one of the most iconic and heartbreaking images of all time—Therese Frare's photo of activist David Kirby's lifeless body, cradled by his wailing father and witnessed in mourning by his mother and sister. In 1992, the fashion brand Benetton colorized the image and used it as a purposely provocative advertisement, intending to spread awareness about the scourge of HIV/AIDS. Benetton's decision spread more than just awareness—it caused a lot of anger over what seemed to be the commodification of a man's death. But Kirby's family approved of the advertisement. They thought it was something David would have approved of. The short thoughtfully examines the layers of tension between the photographer's intent, Benetton's intent and a family's wishes. In Another Hayride, Wolf shines a light on Louise Hay, a new-age self-help influencer who told those fighting AIDS that self-love could help them defeat their illness. Hay seems like she was a pretty direct inspiration for "Wrenwood," the mysterious health commune seen in Todd Haynes's 1995 film Safe, where Julianne Moore's character Carol White goes to escape her "environmental illness." Wolf's film makes sure to point out that Hay's teachings could not, of course, cure diseases, but also highlights the idea that her support alone did a lot to comfort those afflicted with HIV/AIDS. 
Wolf's films are not just empathetic and illuminating, they also serve as guides on how to engage critically with the systems around us. What Matt Wolf has done with his filmography is teach us that the most fascinating stories are often buried by history–and, with a keen eye and an open mind, we can begin to uncover them.