Back to selection
PRODUCING ONE HUNDRED MORNINGS, PART TWO
Below is the second blog post from Katie Holly, producer of One Hundred Mornings, winner of the Workbook Project's Discovery and Distribution Award. It begins a one-week run today at L.A.'s Downtown Independent.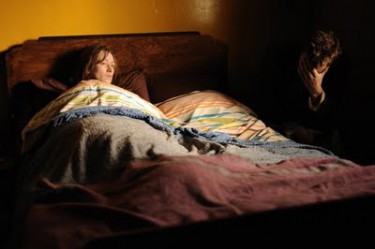 As I mentioned in my last post One Hundred Mornings was made as part of the Catalyst scheme, which was established to give writers, directors and producers a chance to make their first feature. Essentially it was a competition, and three winning films were given a chance to make a movie, fully financed and with additional production support provided in the form of mentorship.
The mentorship element was truly invaluable as it meant there was a "go to" person for when any kind of query or problem arose. As one of my mentors I requested a marketing and distribution expert who worked with me from before we began to even shoot the film and indeed right throughout the whole process. She read the script and we discussed possible hooks we could use to market the film, and things we could do during the filming process and "bank" for use later on. Lots of wonderful advice, not all of which I could employ due to the fact I don't yet know how to clone myself…
I've been reading lots lately about the new role of the PMD (Producer of Marketing and Distribution), and it seems to me that, particularly on lower-budget productions, having someone to completely take ownership of this absolutely crucial side of the process would be very useful indeed. During production I was consumed with day-to-day concerns over the budget, schedule, logistics, as well as random crises like broken gear boxes from the hill of death that was the only route down to our location or a mis-performing hare (who didn't make the final cut.) Since we finished I have gone on to produce two other features and while the future life and distribution of One Hundred Mornings is an absolute priority, it can't become my full-time job.
There were however a number of things we did that I have no doubt helped when we had to deliver the film, seek festival play and attract sales and distribution interest. For one thing we had a really great stills photographer, and as well as getting on set shots we set up singles and group shots of the key cast down at the location in character, and in costume thus avoiding the need to go into studio at some point down the line for poster shots. We also captured a lot of EPK material, from casting to rehearsals, behind-the-scenes and interview with all key cast and crew during the shoot. We even interviewed the four main cast in character and had them talk about themselves and their relationships. This has yet to see the light of day but it may well do at some point… And on completion of the film we created a great set of production notes and artwork, built a website and cut a trailer and Making-of featurette.
Other things we were not so quick off the mark about, and I share them in the hopes that it might be instructive. For one thing I wish we had begun the process of social networking, building our website, blogging, Facebook and Twitter much earlier on. I have been following a number of really interesting and successful campaigns online over the past few months, (some for films that haven't even been shot yet!), and I'm convinced that it's a terrific way of building a strong and committed audience for your film that will continue to follow you and grow as the film nears completion and onwards to festival launch and ultimate release. It also gets your film profile in the wider community, and builds an awareness and anticipation for it. Much of this work is really time intensive but something that can be handed over to a great production assistant, researcher or intern to execute. All it needs in advance is a clear strategy and good planning. Seed images online, blog about the process, make an audience feel part of the journey.
I also wish we had invited some press down to set during production to do interviews on location and observe the madness. We were blessed with a truly magical location that was so perfect for the world of the story that sometimes it began to feel like we were living it. To capture that for future press would have been a nice additional element. Of course the trick is to ensure they hold the story until it's useful for you to run it, which isn't always possible.
Notwithstanding all of this we did catch up with ourselves and by the time we got to Slamdance our social networking strategy was in full swing. Seeding questions and starting conversations over some of the issues the film raises was a great way to engage an audience. We took along a video camera and filmed people as they came out of the theater about their reaction to the film. We took pictures, tweeted, shared our experience, and our online following grew. We also hired a publicist who got us great coverage, particularly useful since in coming from Ireland we had no connections whatsoever with US press.
In the build up to our theatrical run at the Downtown Independent our online presence and following has continued to increase, and has been amplified by the great support of all the partners of the Discovery & Distribution Award — the Workbook project, the Downtown Independent, Cinefist, Cinema Speakeasy, Indieflix, and of course the Slamdance Film Festival.
I'm particularly excited about the curated shorts programme which will screen a different short film each evening before the film. It's a great opportunity to see some new work, meet some filmmakers and hopefully reach a bigger audience for both the shorts and the feature.
In terms of a future life for the film, things are looking good. We are currently planning our domestic theatrical release in Ireland which will take place towards the end of the year and are currently also in talks for a UK release. Who knows, with any more luck we may end up playing more widely in the US – to keep up to date sign up for our mailing list on www.onehundredmornings.com.