Back to selection
Jiri Menzel, I Served The King Of England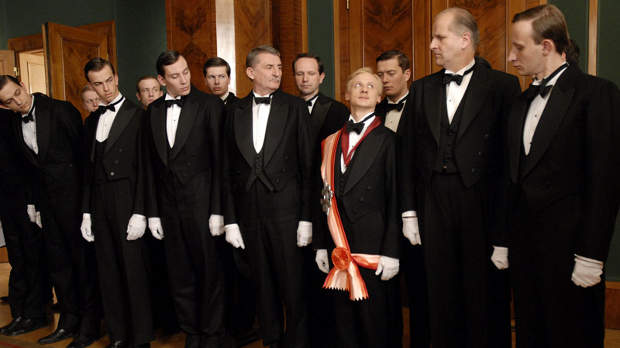 IVAN BARNEV AND ASSORTED FEMALE FRIENDS IN DIRECTOR JIRÍ MENZEL'S I SERVED THE KING OF ENGLAND. COURTESY SONY PICTURES CLASSICS.
Ji?í Menzel is rather like a character from literary fiction, the brilliant best friend who is beset by bad luck but accepts his lot in life with a wry, philosophical smile. Menzel, born in the former Czechoslovakia on the cusp of World War II, grew up with a passion for theatre but failed to get into drama school due to a perceived lack of ability. Instead he went to film school, where he was taught by the seminal Czech director Otakar Vávra and was part of a group of students that included pivotal Czech New Wave directors like Jan N?mec and V?ra Chytilová. All three contributed to the portmanteau film based on short stories by cult Czech writer Bohumil Hrabal, Pearls of the Deep (1966), a project which lead to a lifelong friendship between Menzel and Hrabal. Menzel's full directorial debut, an adaptation of Hrabal's Closely Observed Trains (1966), won Best Foreign Language Film at the Oscars, but soon after he was prevented from making further films until 1974 due to his anti-Communist views. Menzel's 1969 film Larks on a String – yet another Hrabal adaptation – was banned until 1990, when it won the Golden Bear at Berlin. Menzel has also frequently collaborated with writer-director Zden?k Sv?rák (Kolya), who wrote the Oscar-nominated My Sweet Village (1985) as well as Menzel's last film, The Life and Extraordinary Adventures of Private Ivan Chonkin (1994).
Since the mid-90s, Menzel has essentially been inactive as a director (he contributed a segment to Ten Minutes Older: The Cello in 2002), but he was lured out of semi-retirement when offered the chance to helm his sixth Hrabal adaptation, I Served the King of England. The film is a colorful and hugely entertaining look at Czechoslovakia between the 1920s and the 1950s, told in flashback as recently released ex-con Jan Díte (Ivan Barnev) recalls his eventful progression from rags to riches and then rags again. Menzel brings a pleasingly light touch to proceedings as he casts an eye over the prostitutes, hedonistic millionaires, hoteliers and Nazis with whom the childlike Díte – a perfect satirical naïf – becomes involved as he stumbles from one misadventure to another. A picaresque romp through history, Menzel's film skillfully offsets its affectionately nostalgic celebration of the delights of a hedonistic lifestyle with a subtle, thoughtful commentary on the Czech national psyche.
Filmmaker spoke to Menzel through an interpreter about his connection with Hrabal's work, his decision not to work in Hollywood, and the time he beat a producer in front of a film festival audience.
DIRECTOR JIRÍ MENZEL CALLS THE SHOTS ON THE SET OF I SERVED THE KING OF ENGLAND. COURTESY SONY PICTURES CLASSICS.
Filmmaker: You've now done a number of adaptations of Bohumil Hrabal's work. What is it particularly that attracts you to his writing?
Menzel: I really enjoyed Hrabal's work from the moment it started to be published in Czechoslovakia. Hrabal's work was quite delayed – a lot of it was written much earlier, but didn't really fit into the mold of the Stalinist literature of the 1950s and so it didn't come out until a bit later. It came out in the early 1960s, first in magazines and then in book form. As soon as it started to come out, I fell in love with Hrabal's work because I love Czech literature and I saw in Hrabal a continuation of the outstanding traditions of interwar Czech literature, writers like [Karel] ?apek. I was not alone – my whole generation fell in love with Hrabal. When a bunch of my contemporaries decided to put together a film of short stories based on Hrabal's work, they asked me to join that project. So I met Hrabal while working on those short films, Pearls of the Deep, and then after that I had the chance, of course, to work extensively with him on Closely Watched Trains. From that time, I remained close friends with Hrabal until his death.
Filmmaker: Was your close relationship with Hrabal the reason you collaborated with him so many times?
Menzel: I got to form a much closer personal relationship with Hrabal at a time when Hrabal was not allowed to publish and I was not allowed to make films, so I spent quite a lot of times at Hrabal's summer house and got to know him quite well beyond the artistic level as well.
Filmmaker: What was your particular artistic connection?
Menzel: I always admired in Hrabal the ability to look at people and see them as they truly are, with a truly uncompromising perspective, but he still loved people. He wasn't a misanthrope after all that. I would contrast with this the perspective of more recent Czech writers – and world literature in general – where I see a strong misanthropic tendency which is not there in Hrabal's work, where that love for people is really present.
Filmmaker: Do you feel like you and Hrabal shared a worldview?
Menzel: I would say that's fair to say, and similarly that Hrabal's ideas and perspective influenced me. A lot of other Czech authors did but probably Hrabal's influenced my own ideas about art a great deal.
Filmmaker: There was a 12-year gap between you making your last feature, The Life and Extraordinary Adventures of Private Ivan Chonkin, and I Served the King of England. What was the reason for that?
Menzel: Well, just for a long time I didn't really have any offers for work that appealed to me. When finally the offer came around to do this film, I was, of course, very enthusiastic about it. I think part of it is that in order to make movies in the Czech Republic now you have to know how to raise the funds for it and that's something that I don't really know how to do. I've been really engaged in it and this was a project that really came ready to go. This film had the support already, it was a project that appealed to me and it was something that just logistically could be done.
Filmmaker: From what I've read, this was a project you had worked on in the 1990s while Hrabal was still alive, and that it's had a difficult production history.
Menzel: It's true that we did begin collaborating on it, but at one point the owners of the rights sold the project to a private television company. That was the incentive for which I gave [the producer] a public beating at a film festival because at that point the rights had been lost. It was only finally many years later that the owner of the rights returned to me with the offer to complete the film.
Filmmaker: The period that this film covers is really before you were born or when you were relatively young, but do you feel as if it is indicative of Czech history as a whole?
Menzel: There's a very key sentence that actually isn't in the book but that occurs here [in the film], that "We Czechs do not make war." That's probably a pretty important leitmotif in Czech history.
Filmmaker: The film is a paradox in many ways, an affectionate, nostalgic look back at a period of history where the majority of people suffered greatly. Why did you choose to frame it that that way?
Menzel: Perhaps this approach again is something that I'm carrying over from Hrabal's work – it's something that Hrabal chose and discovered. If there's a lesson or a moral to this story that is to be told or to be gained, it can't be told in too harsh a way it has to be the way a friend tells a friend something.
Filmmaker: Yes, it really seems like an appreciation of the good life at the worst of times.
Menzel: This is a wild contrast. If you want to draw someone's attention to things that are black, you have to put them on a white background.
Filmmaker: Another one of the aspects of this film is a celebration of young women by older men.
Menzel: This is something that I share with Hrabal, but I wouldn't say that it's particularly an older man's perspective – I've been obsessed with girls since I was a 10-year-old boy.
Filmmaker: There's a line in the film where the hero Jan Díte is told "You are small and from small people." Does that line refer to the Czech people generally also?
Menzel: This is again straight out of Hrabal's book, it's not my own idea, but I would say that it's also this idea that small people have to stick together and help each other out, because after all it's another small man who tells this to Díte. It's in the spirit of solidarity.
Filmmaker: Going back a number of years, what impact did the huge success of Closely Observed Trains have when it came so early on in your career?
Menzel: The effect was rather limited because four months after [winning the Best Foreign Language Film Oscar] the Russian tanks came and my career was interrupted, and really derailed it for an indeterminate period.
Filmmaker: Your Czech contemporaries Ivan Passer and Milos Forman went to Hollywood at this time. Was this something that you thought of doing also?
Menzel: There were certain particularly depressing moments when I did consider it, simply for the reason that there was nothing for me to do here, but I never had the ambition that Milos did.
Filmmaker: Did you ever consider what path your career might have taken had you followed Forman to America?
Menzel: I don't think it would have turned out well – I don't have quite the same sort of elemental energy, the same sort of force that someone like Forman does.
Filmmaker: Then what is it that still now drives you to keep on making films?
Menzel: It's my job.
Filmmaker: And do you feel as if you will ever be able to to retire from that job?
Menzel: It's not possible. I like it when someone sees me on the street and says "I liked your film." It's very satisfying.
Filmmaker: I read an interview with you in which you said something very Wildean: "Apart from being a genius, modesty is my only character flaw." While that was obviously a tongue-in-cheek statement, how much do you feel you have been able to fulfill your "genius" and have it recognized by the world?
Menzel: Well, you can probably never say that you're truly satisfied with what you've achieved entirely, but overall there is certainly some satisfaction. From the very beginning, I wanted my work to have meaning and that means that people would go to see these films and appreciate them. I didn't make films for critics and or to be famous, but for people to enjoy the films. They will go to the films – even if the films are not stupid.
Filmmaker: I'm still trying to grasp what you meant by saying you kept on making films because it was your job.
Menzel: I will make films as long as I feel they have meaning, this significance, which means that people go to see them and appreciate them. As long as that possibility is there, then I will continue to feel the need to make them.
Filmmaker: You're known globally famous as a director, but what's less widely known is that you've acted in Czech films for many years. Did you start acting because you were unable to make films for a period of time?
Menzel: It wasn't a matter of the censorship. At the time that I was banned from making films, I was also banned from performing or doing anything else in film. I'm not an actor by vocation or by profession but I was the right type initially for my first film role, for [Accused,] a film made by the Slovak director [Ján] Kadár. Then once people saw me in that film they assumed that I was an actor and that they could continue to cast me, and so they did. I've also had some success in the theater as well as films, but I still don't consider it really either a vocation or a profession.
Filmmaker: How has your acting informed how you operate as a director?
Menzel: I'm very nice to actors.
Filmmaker: From what I've read, theater was your first love and you initially wanted to study theater rather than go to film school. Do you still feel passionate about theater, and how does it compare to how you feel about film?
Menzel: Yes, theater was my first love and I wanted to do theater but I wasn't accepted to the drama academy, for lack of talent. So I saw at that point that TV was an emerging medium and I saw that they would need actors of lesser talent and abilities for television, so I applied to the film and television academy (a single academy at that time). I had the good fortune while I was studying there that the great Czech director Otakar Vávra taught me how to make films.
Filmmaker: What were you at school: the smart kid, the class clown or the dunce?
Menzel: I was a bad student. When my father saw my first report card from high school, he broke a rod on me.
Filmmaker: So when did you start becoming more studious?
Menzel: Never.
Filmmaker: So what do you attribute your success to?
Menzel: I'm a child of fortune.
Filmmaker: Which film do you wish you had directed?
Menzel: The Bible. No, I can't think of anything else that fits that description.
Filmmaker: Should a director always take risks?
Menzel: No, because he's not working with his own money.
Filmmaker: So have you never taken risks yourself?
Menzel: I don't enjoy taking risks and I don't enjoy exhibitionism.
Filmmaker: Finally, what's your best piece of advice for aspiring filmmakers?
Menzel: To have a good relationship with the people you're working for and for the audience, not to look down upon them and not to humiliate them or make fun of them.