Back to selection
DOCUMENTARY HEAVYWEIGHTS TAKE TO THE STAGE
Tuesday was a day dedicated to documentaries at the Independent Filmmaker Conference, starting off with a conversation with Sheila Nevins from HBO, fielded by Toronto Film Festival documentary programmer Thom Powers (also well known in NYC for his Stranger Than Fiction doc series at the IFC Center). Nevins brought the biggest crowd yet to the conference, despite speaking first thing in the morning.
She talked cheerfully about how difficult it is to get people to care about tough issues and how documentaries are always a struggle. "We're very lucky because we're the Off Off Broadway of HBO. People don't subscribe to HBO for the docs." She explained that this gives her department a certain amount of freedom and that they never feel corporate pressure to say or not say things as long as they are true. "We're not risk averse" she said, "We're very competitive and we don't want anyone to discover something before we do." Discovery is the key for Nevins and she brought that word up often, explaining that it is their job to say no to things so that they can say yes to something new, a new angle, a new filmmaker, "We're too insecure to be elitist [but] it's our job to say no to something, to figure out why not to do it. You have to convince us that your film is different."
Nevins defended the role of television arguing that although most filmmakers want the theatrical experience, their films can get lost in the theater shuffle and that by the time do they do end up on TV they're tired and they've lost their buzz. "We lose our business with theatrical but we take it on a case by case basis." Why so much passion for TV? "There is something incredibly exciting about entering someone's living room with a story." When asked about what made films stand out for her she replied, "We're looking for noise. You have to work through the clutter between the Internet and the number of docs being made and say 'Look at me! I'm here! Rattling the cage of this busy world'" Nevins emphasized that her department is not a news department and that they are always trying to find ways of looking at things differently, with a new angle. She concluded by saying that her favorite films are works that raise a character up to a new visibility, to a point where we can feel real empathy for them. "Documentary as an artform does this better than anything else. There are heroes or villains in all of our films."
She also conceded, "We're not the only game in town." Swiftly adding, "But we are the best game in town!"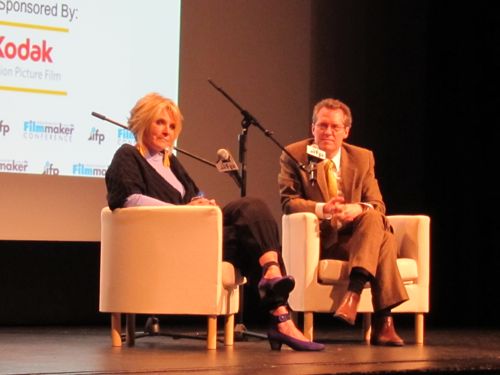 Nevins and Powers chatting on stage
Tuesday concluded with a Cage Match on filmmaking and activism. P.O.V.'s Yance Ford moderated a discussion between Nick Fraser (BBC's Storyville), Debra Zimmerman (Women Make Movies) and Julie Goldman (Motto Pictures). I think the point of the panel was supposed to be a big argument about social issue filmmaking with Fraser firmly against and Zimmerman and Goldman rallying in favor but they all agreed with each other for the most part. Nick Fraser had the audience laughing and applauding with his usual British gift of the gab. "I don't have anything against activism. Why would I? It's just not what has excited me about films these past 15 years." He described most of the output funded by NGOs as "buttock-clenchingly boring" and said that much of what passes for documentary these days is liberal propaganda, "Propaganda tells you things you already knew. Good films should tell you something new about the world."
Debra Zimmerman took an historical approach, talking about how regional and NEA funding went away and foundations moved in to fill the gap and that this has been responsible for much of the social issue output since. "It disturbs me that films are not fundable as a piece of art. But I congratulate filmmakers that want to make a difference." Zimmerman also noted that these things are in flux and that there are solutions as far as how films get funded, pointing to the creation of ITVS as one such solution: creating public media funding for documentaries. She talked about foundations like Creative Capital who support artists rather than issues and said that crowdfunding is also "a tremendous way of being creative and not being self-censored" adding that "we need to be bold and start demanding more as a community." Fraser said that what's missing is often a sense of humor, lauding films like Winnebago Man and The Biggest Chinese Restaurant in the World. "You can make hilarious films about remote places in the world. Poor people shouldn't equal sobriety."
You'll be pleased to hear that Fraser had a last word of hope for American filmmakers, "In this country documentaries will be revived through organizations like Netflix. People will fund and distribute their own films. Some of them will be good. Some of them may be art."
Ingrid Kopp is Director of Shooting People in the U.S.