Back to selection
Martina Egi, Barefoot to Timbuktu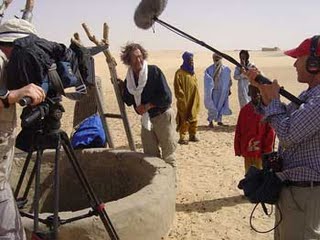 Ernst Aebi, the subject of Martina Egi's keenly observed new documentary Barefoot to Timbuktu, is something of a renaissance man. Artist, SoHo real estate pioneer and social activist, he is full of paradoxes: easy going yet driven, humble yet self-assured, a man of much wealth who nonetheless spends his leisure time among the dispossessed. Egi profiles Ernst with affection, but she doesn't shy away from examining the effects of his restless nature on his family and friends. His often rocky family life, along as his many guises and activities, are only the preamble to Egi's portrait of the subjects very real and lasting manifestations of his humanitarian commitment,
While on a trip to the Sahara in the late 80s, Aebi came across the destitute settlement of Araouane, a barren collection of buildings that is a long camelback ride away from Timbuktu in central Mali. Without any infrastructure, agricultural tradition or reliable source of water, this was an endangered community. Aebi dropped everything and settled there, using his expertise to help the town's people make their settlement a viable one. A new vegetable garden, school and hotel rose from the barren Sahara sands in the three years Aebi spent there. As Egi's film deftly explains, a civil war broke out in the country that forced Aebi to leavea place that had truly become a second home. When she picks up his story, he's on the verge of returning for the first time in nearly 20 years.
Barefoot to Timbuktu opens at Manhattan's Quad Cinema on February 12th.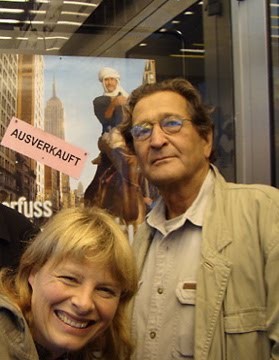 Director Martina Egi and Ernst Aebi. Courtesy of A Mesch and Ugge productions.
Filmmaker: When did you first encounter the work of Ernst Aebi?
Egi: I was first struck by Ernst's work when I notced an attractive book cover. It was an image of a village drowning in sand. I picked up Seasons of Sand. It a book by Ernst Aebi that Simon & Schuster put out in 1993. I was in a Greenwich Village second hand bookstore when I found it. While reading it, and with my old fascination for the Sahara, it became almost an obsession trying to bring the story to film.
I contacted the author, Ernst Aebi, in New York. Already from that first conversation on it seemed filming his story would be made easy by his gung ho attitude. "Can't be done" is missing from his vocabulary. Beat Hirt, my boss at Mesch & Ugge AG, the film production company I work for in Zurich, Switzerland, liked the idea of creating Barefoot to Timbuktu. Off we went.
Among many other things, Ernst Aebi told me how in the early nineties an American film company, MPI, had filmed extensive footage about his Sahara project. Apparently that footage had never been used. Once I knew that, I was even more convinced that his story was a perfect match for the needs of a documentary. Aebi's biography reads like a filmscript. The difficult thing was to find the right focus.mSo I decided to zoom in on the Sahara aspect.
Filmmaker: What are the primary means of financing projects such as this in Switzerland?
Egi: Switzerland is small. 7.7 Million people, four different languages – German, French, Italian and Rhaeto-Romanic. Films are usually financed with the support of the National Broadcasting Enterprise and also with some help from cultural institutions. The road of financing is long and rocky. Fortunately documentaries are very popular. I think, Switzerland is the country where you can see more documentaries in the cinemas than anywhere else in the world. So I was in an advantageous position to complete this project, being a Swiss documentarian making about a Swiss personality.
Filmmaker: Do you think you discovered what informs Ernst's impulse to selflessly serve the people of Araouane?
Egi: I think, the film shows Aebi's character quite well. There are things I never understood. For exemple, his impatience. His restlessness was quite a challenge for the whole film crew. His children and also his friends describe his character better than he does. There's an essential lack of self-consciousness. There is one part in his personality, that I couldn't reveal and which only apears in the things he does.
At first it's difficult to understand, why he spent tree years in the middle of the Sahara in a village, whith no vegetation, no shade, just sand and rubber and swarms of black flies. Even the governor of Timbuktu said that there was no hope for that place. They had given up on the village because it's so far away from anything. This is probably exactly the reason why Aebi did it. He's like that. Nobody believed, that anything could be done in Araouane and nobody really cared, so he took up the cause and made it his mission. Aebi was looking for a challenge in his life. I think he needed a project like this. He wanted to do something "impossible". It's not only some "selfless" impulse. Each moviegoer should discover for himself, who the real Ernst Aebi is, but I this is at the heart of what I discovered about him. I think different answers are possible and that makes his personality so interesting.
Filmmaker: There's archival footage from Ernst's first trip to the area, but had anyone ever made a film before in Araouane before your arrival?
Egi: I don't know if there is any other footage of Araouane prior to Aebi's arrival. I don't think that the place ever looked different or had any other history of development in the immediate period before he arrived. However, we know from the history of the region that Araouane once was an important meeting place for the salt-caravans and even bigger than Timbuktu. When Aebi arrived, there were only a few people and houses left. After 40 years of drought, most of the wells had dried out and the caravans had taken different routes. The inhabitants were about to abandon the place. Aebi took some pictures with his videocamera at the very beginning of the project. We could use very few of them. They were too shaky. Although he is many things, he isn't a cinematographer! The footage that was provided by Bob Marty, who visited Araouane after Aebi had been working there for three years, is the primary archival footage source. Without that footage, we would never know how the garden in Araouane looked like and it would be very hard to imagine.
Filmmaker: How did the local people react to your presence as a filmmaker?
Egi: The poeple in Araouane didn't know, that Aebi would visit their village after 20 years. So they were just surprised to see Aebi and also our guides from Timbuktu, who grew up in Araouane and are rarley able to visite their hometown and families.The local people in Araouane were very friendly. It took a while, until the women dared to come out of their houses. Conversation was nearly impossible. The people in Araouane have their own language. The men brought us tea and the children followed us in groups to all the places where we were filming. For me, arriving in Araouane was quite a shock. I had studied the footage and had heard a lot of stories beforehand, but as Araouane emerged out of the dunes after 2 days driving in the sand, I probably had similar feelings to what Ernst had 22 years ago. He wrote then in his diary: This is hell on earth. I'm glad that this was only the first impression and things have improved since he left.
Filmmaker: What was the most difficult aspect of your journeys with Ernst?
Egi: Ernst is probably the easiest protagonist I ever worked with. He made everything possible, even certain things he was not very happy about. For example was he totally against a military troop, who accompanied us from Timbuktu to Araouane. The armed troop for the protection of the film crew was a set term by the governor of Timbuktu. Ernst had some bad experiences with those troops who "prefer to shoot befor they think" as he said. So we had to persuade him on that point. I'm very happy that I had the chance to meet Ernst. He is a very creative person and his view of life gave me new inputs and power for further projects.