Back to selection
IN SEARCH OF SLACKER: LINKLATER'S AUSTIN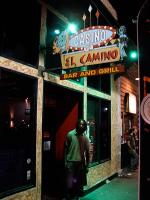 It doesn't matter where we're from, we all remember the way the place used to be. You know, before the local dive bar became a TGIF, the Kroger became the Whole Foods, and back when the scene was truly a scene. But, of course, as powerful as nostalgia can be, it is also self-generating. What's around us right now will one day be a newcomer's "way it was."
In terms of a filmmaker's celebration of his hometown, Rick Linklater's Slacker has, perhaps, no equal. It not only documented a place, Austin, but it grafted a sensibility onto that place, a sensibility that was both a generational and cultural marker. A year ago, filmmaker Spencer Parsons (I'll Come Running) revisited the Austin of old for FilmInFocus, and on the eve of SXSW it seems appropriate to read again his piece.
From his intro:
They used to call it "The Fingerhut," or the "Ollie Trout House," and for a while it was home to a hive of Austin filmmakers. Now it's a Quiznos, after a few years in the guise of a Johnny Rockets and another few as a Mark Pi's Express, if I remember correctly. To me it was the Slacker house, recognizable for the pointing finger painted on its side, the place where the guy in an Army tee-shirt goes after he runs over his mom near the beginning of the movie. I was surprised to find it on a walk to work days after I moved here, but disappointed that it appeared abandoned and in the kind of disrepair you would expect had it been recently associated with a real life vehicular homicide rather than one in a movie. So something had to be done with it.

At that time, people spoke wistfully of the recent loss of Les Amis, notorious as the University of Texas neighborhood's best place to get a $3 lunch, spend all afternoon shooting the shit, then stick around to prove punk not dead well into the night. Among its appearances in Slacker is the one at a sidewalk café where Charles Gunning memorably tells a pair of young documentarians, "To all those workers out there: every single commodity you produce is a piece of your own death!" But of course the place wasn't important because it had been in a movie; it had been in a movie because it was important. The cheap beans and rice, the free refills of coffee, the ornery staff more likely to sit down and add a cigarette to your conversation than actually serve food, it all fed the culture that inspired the film. It did a lot more for the lives of a relative few in Austin's artistic, political, crackpot and homeless scenes than it would for the relative many who would see its shadow in a cinema. Try to contain your surprise when I tell you that where Les Amis once stood is now Starbucks.
And, on the third page, there's a listing of a bunch of great bars, galleries and restaurants, most of which, we hope, are still there.