Back to selection
CAULEEN SMITH PREMIERES VIDEO INSTALLATION AT THE KITCHEN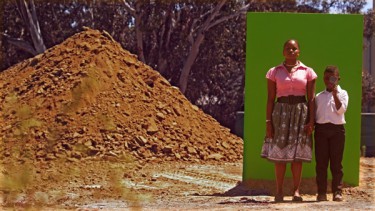 Filmmaker and artist Cauleen Smith, one of our "25 New Faces of 1998," is premiering a new video installation at New York's The Kitchen this week. Remote Viewing will be on view January 7 – March 5, 2011. Admission is free. There will be an opening reception for the exhibition at The Kitchen on Friday, January 7 from 6:00-8:00pm, and a special screening curated by the artist on Monday, February 28 at 7:00pm.
From the catalog:
California-based filmmaker, screenwriter, and video installation artist, Cauleen Smith is best known for Afro-futurist cinematic works that weave intimate narratives of love, yearning, and the dream-world with known histories, imagined landscapes, and cultural symbolism to activate collective memory. For her first New York solo exhibition, Smith presents three new distinct but interrelated video works that draw from abstracted historical narratives of absence, loss, displacement, burial, and excavation—not only exposing that which has disappeared, but also investigating the gestures and traumas associated with the violence of erasure. Smith's new works triangulate these re-enactments with iconic site-specific land art practices of the seventies to reveal nuances of contemporary shifts in the displacement of people and of the natural landscape.
Remote Viewing was the recipient of a grant by Creative Capital.